After a brutal winter and an unusually cold March, I'm more happy than ever to see early spring wildflowers. Two weeks ago, nothing was blooming yet around my corner of Windsor Heights. About ten days ago I finally saw the first blossoms on bloodroot, which can sometimes flower in mid-March. Within the past week I've seen the first Dutchman's breeches, rue anemone, toothwort, and even a dogtooth violet flowering. I've heard reports of spring beauties opening up in central Iowa, but haven't seen any in bloom yet.
The star of today's diary may be the Iowa wildflower most commonly planted in gardens. Thomas Jefferson himself cultivated the plant at Monticello. In fact, many people are unaware that Virginia bluebells (more commonly known simply as bluebells) are a native plant in Iowa. But you can find them in wooded areas, and they will spread easily across your yard if you give them free roam and have enough moisture in your soil. Photos of this stunning flower are after the jump.
This post doubles as a mid-week open thread: all topics welcome.
Virginia bluebells (Mertensia virginica) grow in most of the eastern United States. In Iowa, they can start blooming in March (but not this year) and can continue to bloom through May. Other common names include
When leaves of the bluebells first appear, they look like a clump of salad greens to me. But as far as I know, no part of the plant is edible.
Small pink clusters of buds soon appear. You can see one near the center of this photo. Near the top, note the mottled leaves that will soon have dogtooth violet blossoms. A few splotchy leaves of Virginia waterleaf are in the upper right corner.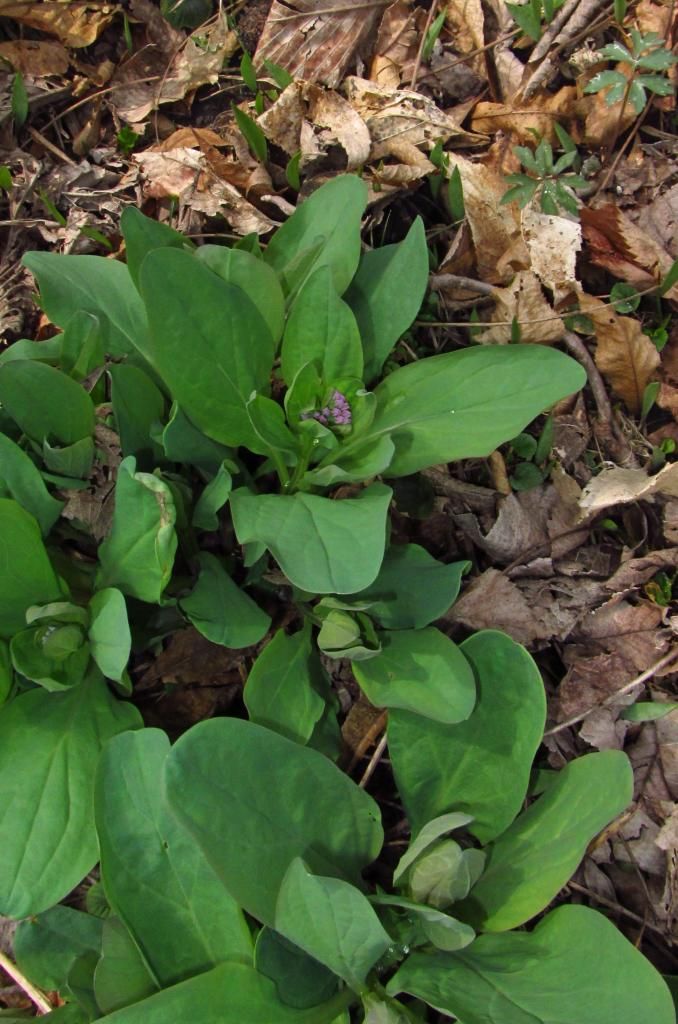 Pink buds turning to faint blue flowers are unusual and may help explain the evolutionary success of this wildflower.
Virginia bluebells have two interesting properties that contribute to their success as ephemeral wild flowers. Virginia bluebells form buds that are pink in color due to the anthocyanin (from the Greek anthos meaning flower and kyanos meaning blue) or colored cell sap that they contain. When the flower is ready for pollination, it increases its alkalinity to change the red pigmentation into blue pigmentation, a color that is much more attractive to pollinators. When the flower is pollinated and seed formation begins, it falls to the ground so that subsequent pollinators will only find those that still require their ministrations. The ubiquity of bluebells in their preferred riparian habitat (like Bull Run and the Potomac River Valley) is testimony to the success of their adaptations to attract insects.
Here are close-up views of Virginia bluebell flowers. The blossoms that haven't opened yet still appear pink.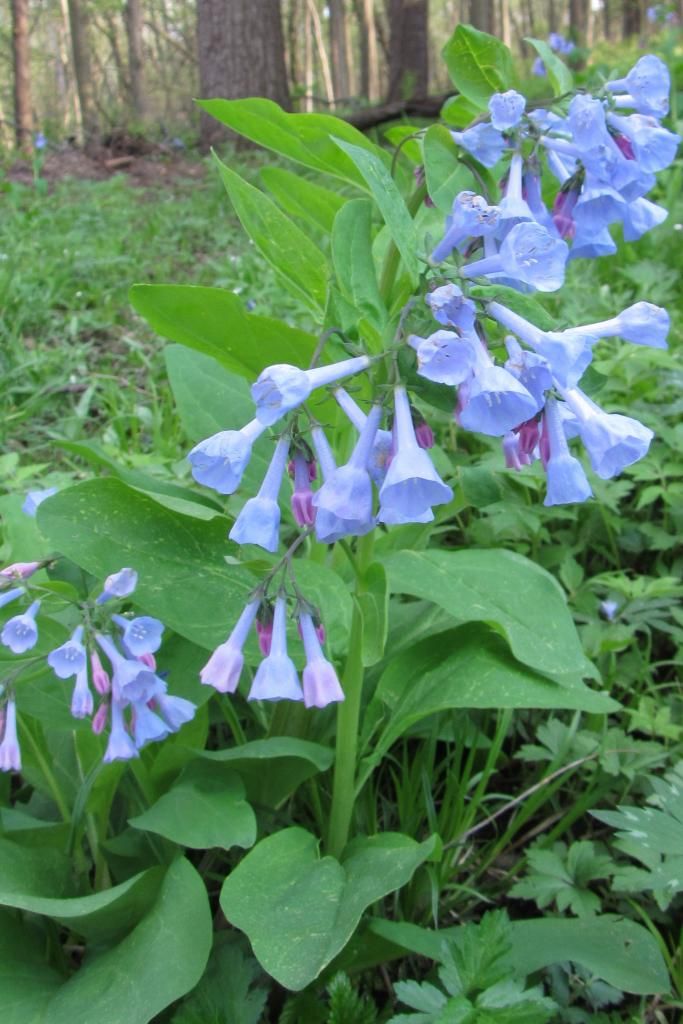 Bluebells look pretty in any yard or garden, but I love seeing them interspersed with other flowers in the woods. In this photo from last spring, bluebells are surrounded by umbrella plants, also known as May apples. The small white flowers near the bottom are spring beauties that haven't opened yet. Just to the left of the bluebell flowers, you can see a tiny spray of toothwort.
Last photo for today: more bluebells and umbrella plants. In the foreground you can see foliage where dogtooth violets and Virginia waterleaf will bloom soon.
One strange feature of Virginia bluebells is the way the prominent clumps of leaves disappear not long after the flowers fade. With lots of other spring wildflowers, you can still see the foliage months later. Sylvan Runkel and Alvin Bull commented in Wildflowers of Iowa Woodlands,
A forest floor carpeted with colorful bluebells in early spring may show no trace of the plants by midsummer. Stinging nettles and jewelweeds are the likely successors.