Thanks to Iowa naturalist Eileen Miller, Bleeding Heartland is able to feature two more native plants I've never seen in person--only in wildflower guides. Eileen contributed the commentary about hoary puccoon and fringed puccoon as well as the beautiful photographs below.
This is also a mid-week open thread: all topics welcome.
HOARY PUCCOON (LITHOSPERMUN CANESCENS)

(family--BORAGINACEAE)
It's always a treat for me to see the bright yellow to orange flowers of the hoary puccoon in April and May on a small remnant prairie along the Russell White Nature Trail in Carroll county. This native plant is quite short, reaching only about 6 inches to a little over a foot in height. The flowers are arranged in flat, leafy clusters, often curled over at the end of the stem. Hoary puccoon is a native perennial plant with a deep tap root. Thus, is it not a good idea to try to transplant it to your own yard or garden. You will end up depriving the prairie and most likely, killing the plant. Four shiny, yellowish, very hard seeds (nutlets) are produced by each flower. The genus name, Lithospermum, means 'stone seeds'.
If you see Hoary puccoon growing in a prairie, it is a sign of a "good" prairie. It can be found throughout the state growing in mesic to dry prairies and woodland edges.
Native Americans used the plant to extract a red dye from its larger red taproots.
The attached photos are of the flowers, foliage and of the seeds (nutlets).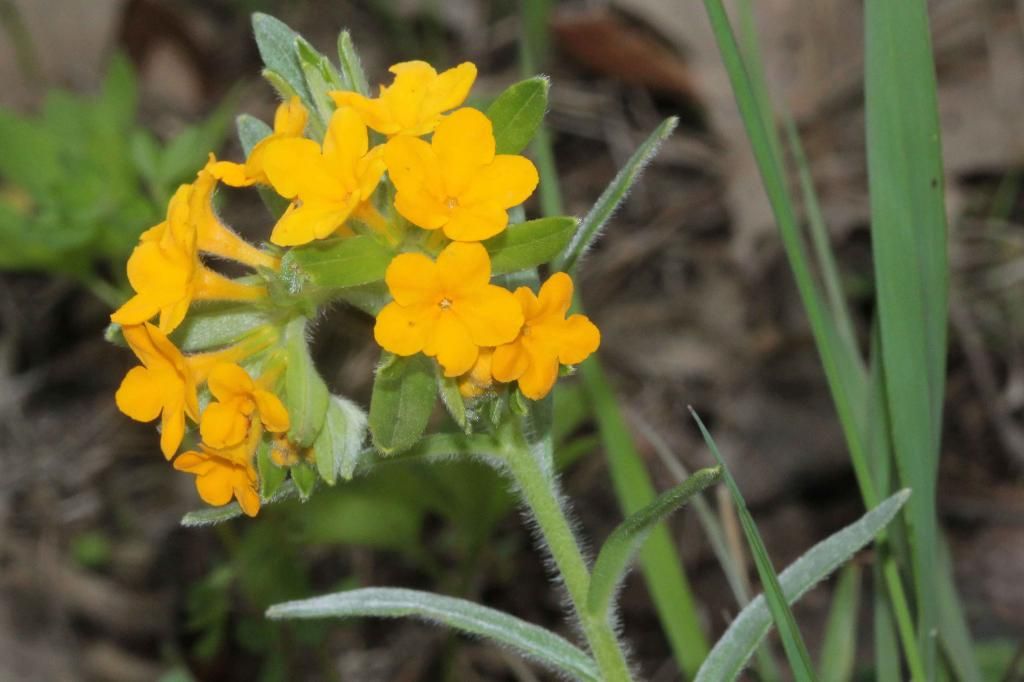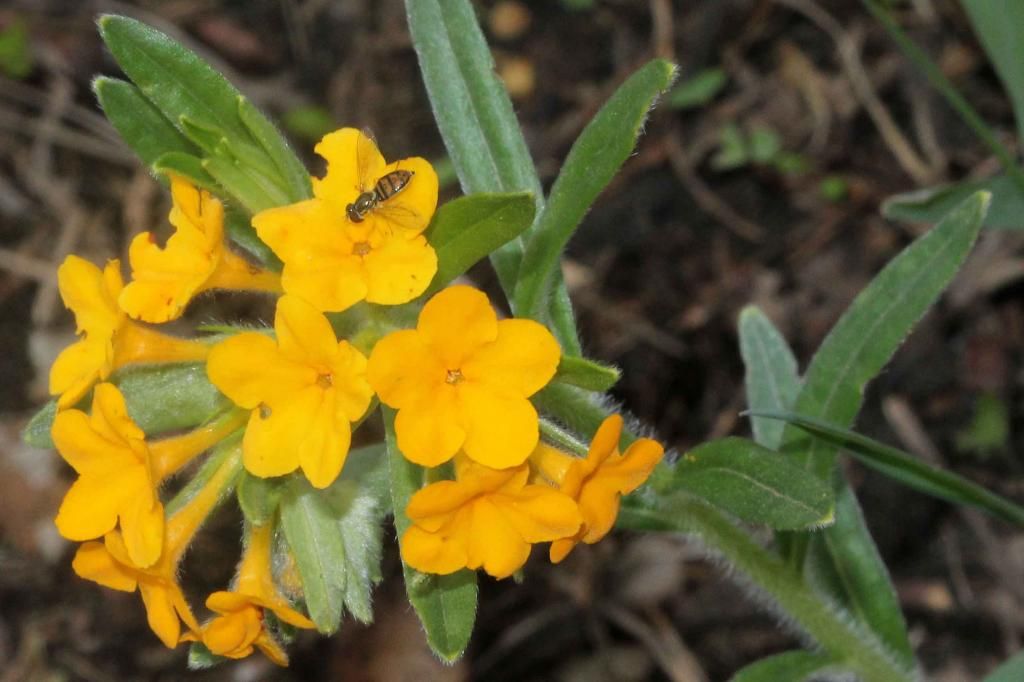 FRINGED PUCCOON (LITHOSPERMUM INCISUM)

(family--BORAGINACEAE)
In the same family and genus as Hoary Puccoon, Fringed Puccoon is also a native perennial with a deep tap root. It is common in the northern half and in southwestern Iowa, rare elsewhere. This puccoon, which blooms in April and May, has tubular, lemon-colored flowers with fringed lobes. Its leaves are very narrow. It prefers dry prairies with sandy soils. The plant is short, growing only to a height of 6 inches to a little over a foot.
The showy flowers that bloom first produce few seeds. Late in the season inconspicuous flowers that remain closed produce most of the seeds (hard nutlets) in the lower leaf axils.
Attached are photos of the flowers, foliage and the nutlets.