This week's featured wildflower is native to almost all of North America and thrives in sunny spots with relatively wet soil. After the jump I've posted several pictures of Common sneezeweed (Helenium autumnale). As you can probably guess from the Latin name and the alternative common names Fall sneezeweed or Autumn sneezeweed, this plant blooms in the late summer or early fall. Eileen Miller showed me this patch of sneezeweed in a wet area of Whiterock Conservancy earlier this month.
The name sneezeweed made me wonder whether this plant was allergenic for many people, as is ragweed, which also blooms in the late summer. But according to the website of the Lady Bird Johnson Wildflower Center at the University of Texas in Austin, "The common name is based on the former use of its dried leaves in making snuff, inhaled to cause sneezing that would supposedly rid the body of evil spirits."
This post is also an open thread: all topics welcome. As tonight marks the beginning of Rosh Hashanah, I also want to wish a very happy new year to all the Jews in the Bleeding Heartland community.
The Illinois Wildflowers and Minnesota Wildflowers websites contain good descriptions of Helenium autumnale. Two features stood out for me. First, "wings" run along the length of the stem, similar to those in wingstem, now blooming along many wooded trails in Iowa. Here are a couple of close views showing the little extra flaps along the stems.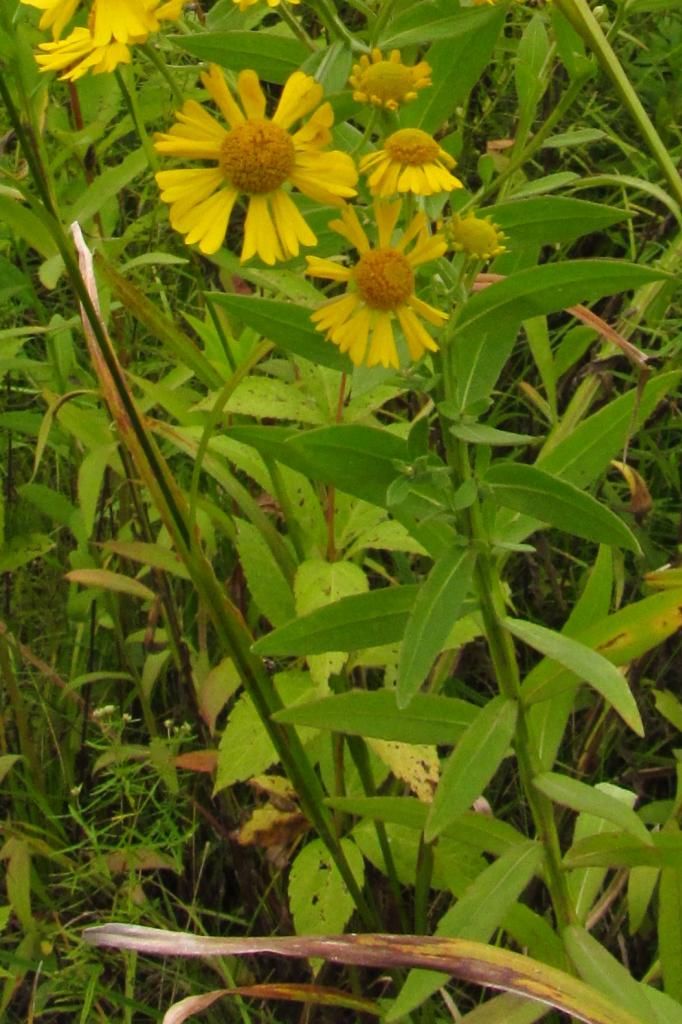 The flower heads of sneezeweed are also distinctive. Like other members of the aster family, they have rays surrounding a center disk. But as the Illinois Wildflowers site notes, "The tips of these unusual rays are doubly notched, creating an interesting effect." In addition, the disk flowers form "a conspicuous, greenish-yellow, ball-like structure at center of head. The flowers have raised centers and wedge-shaped, yellow petals which end in three teeth."
Common sneezeweed can produce "Up to 100 flowers per plant, each 1 to 2 inches across with 10 to 15 bright yellow petals."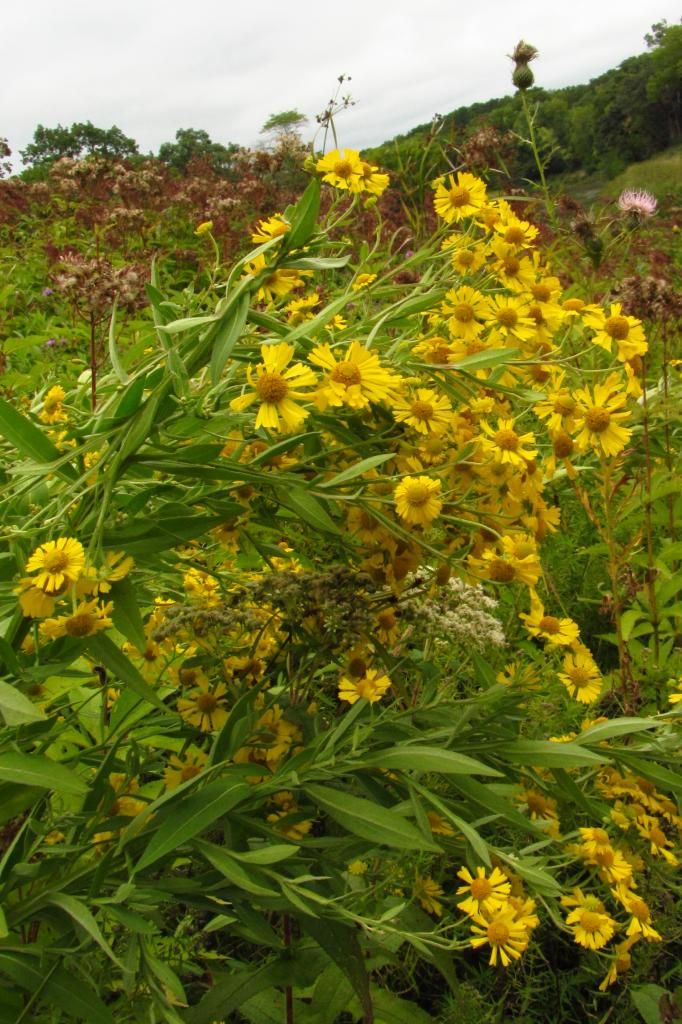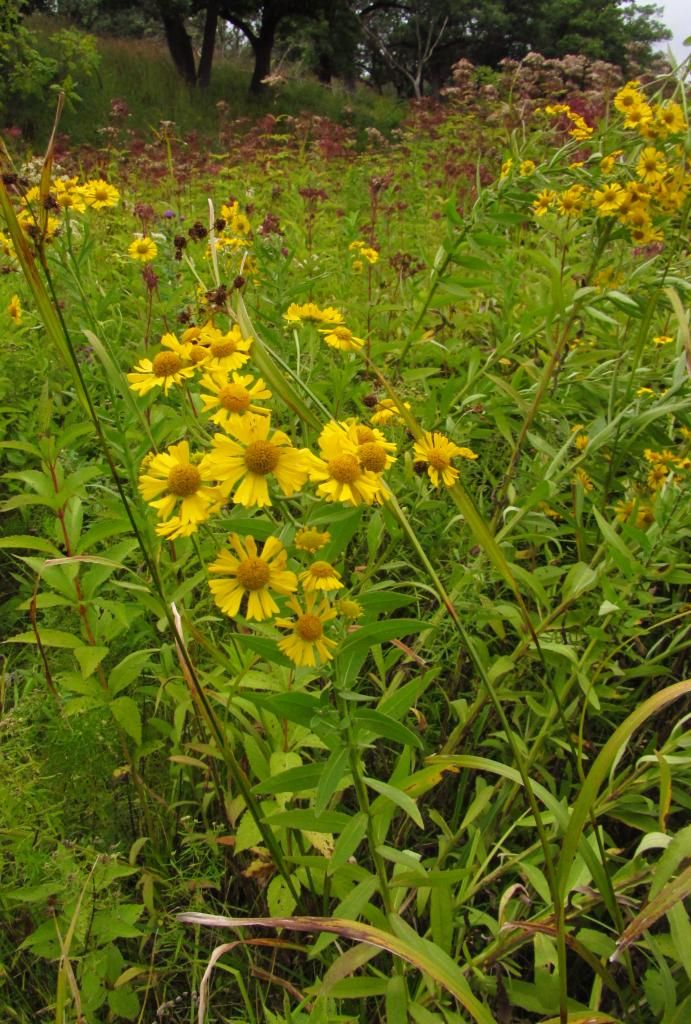 Incidentally, I think that many of the plants in the background of the previous two pictures are a kind of ironweed, which has gone to seed already.
Habitats where one might find common sneezeweed include "moist black soil prairies, moist meadows in wooded areas, moist meadows along rivers, moist open woodlands, soggy thickets, fens, marshes, poorly drained pastures and abandoned fields, low areas along streams and ponds, and ditches. It is not uncommon to find this plant growing within a few feet of water in both disturbed areas and higher quality habitats." Many bees, wasps, flies, butterflies, and beetles visit the flowers, but mammals avoid the foliage because it is bitter and contains toxins.
Here's one last photo of sneezeweed, to demonstrate that not every plant produces numerous flower heads or grows to the typical height of four feet tall.