After a somewhat late start, many spring wildflowers are blooming now in central Iowa. If you walk in a wooded area over the next few days, you may see Virginia bluebells, spring beauty, toothwort, rue anemone, Dogtooth violets (also called trout lilies), or today's featured native plant, Dutchman's breeches. Thanks to the distinctive shape of the flowers, Dutchman's breeches are among the easiest spring wildflowers to identify.
The arrival of spring also heralds the return of Harlan Ratcliff's Central Iowa Butterfly Forecast, updated every two weeks at the Poweshiek Skipper site.
This post is also a mid-week open thread: all topics welcome.
Dutchman's breeches (Dicentra cucullaria) is native to most of North America east of the Rocky Mountains. The Illinois Wildflowers website contains a botanically accurate description of the foliage and flowers, adding,
Habitats include deciduous mesic woodlands, especially along gentle slopes, ravines, or ledges along streams. This species occurs in original woodland that has never been plowed under or bulldozed over.
To my eye, the foliage of this plant looks almost fernlike. The leaves appear first; then flowers bloom in clusters, resembling pants hanging on a clothesline. The flower stalks rise above the leaves. This plant is related to squirrel corn and to the "bleeding heart" many people plant in their gardens, which has pink or red blooms hanging from a flower stalk.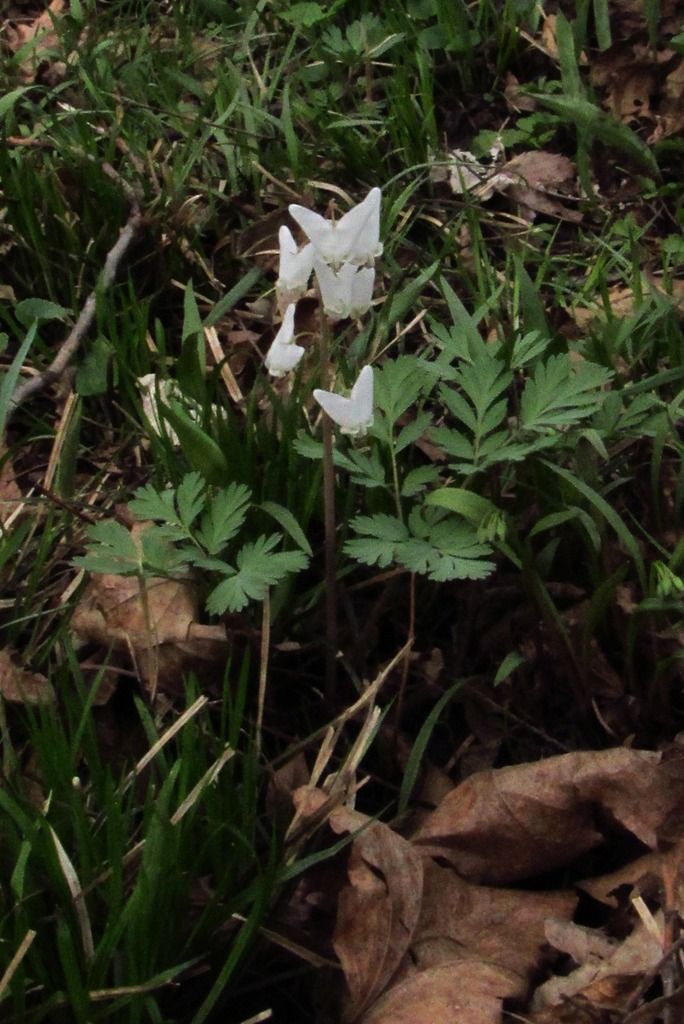 Although the flowers are usually white, I've seen many Dutchman's breeches with a pink tinge. In this photo, the mottled leaves surrounding the Dutchman's breeches are foliage for Dogtooth violets.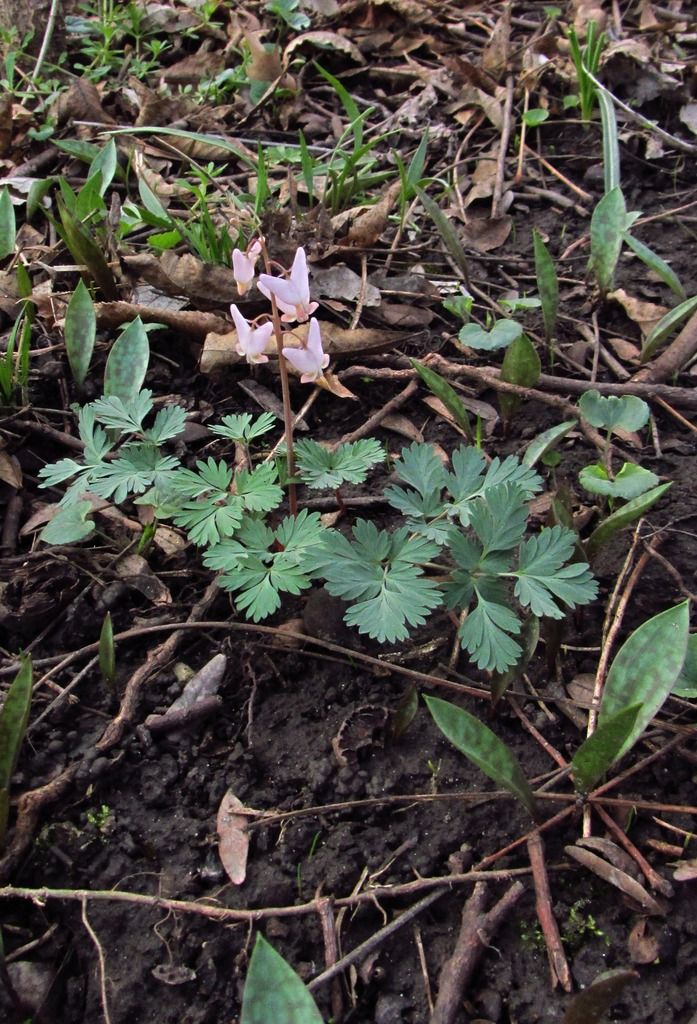 Here's another group of dogtooth violet foliage around a Dutchman's breeches plant.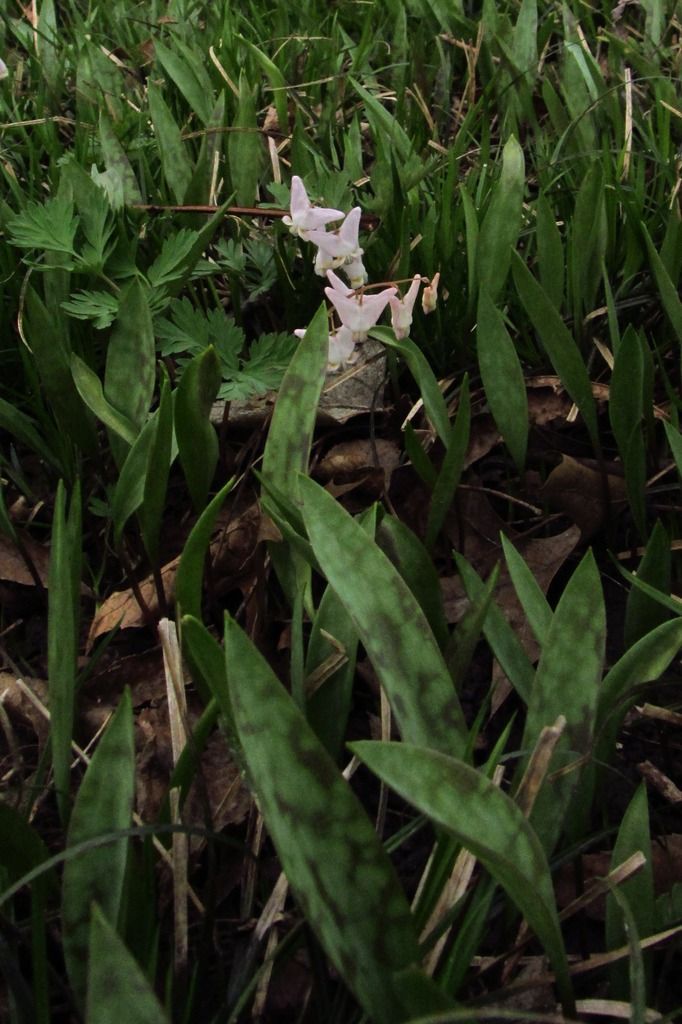 Dutchman's breeches are among the first woodland flowers to bloom every spring. I was excited to find these growing last week. I believe that the large dead plant is a white snakeroot that did not decompose over the winter.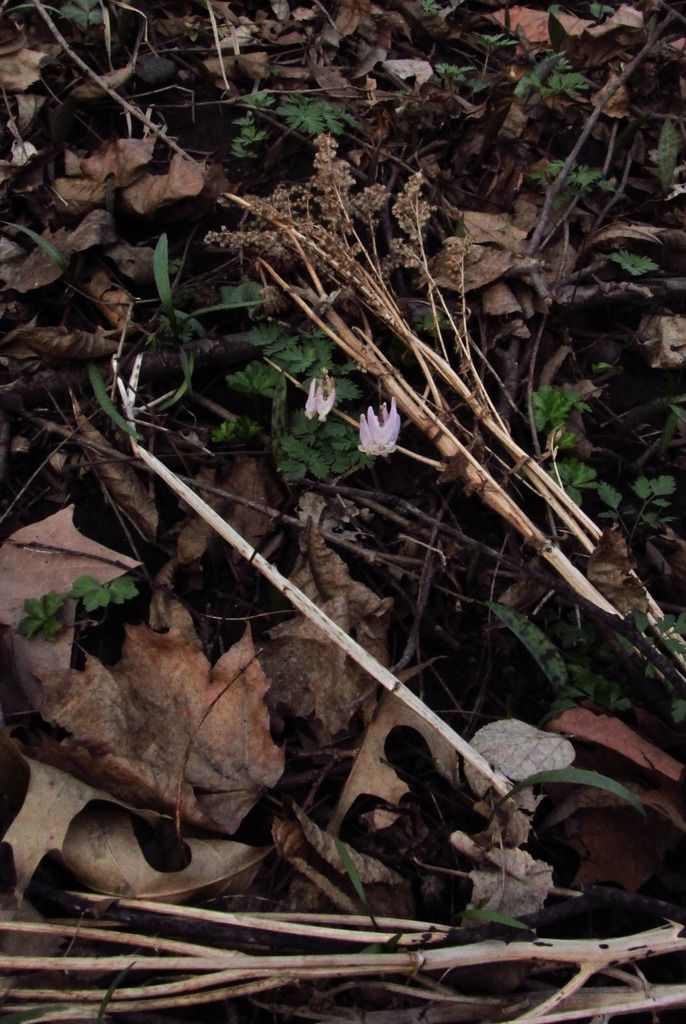 The splotchy leaves surrounding these Dutchman's breeches are foliage for Virginia waterleaf, which will bloom sometime in May.
In the middle of this photo, you can see toothwort that is budding but not blooming yet.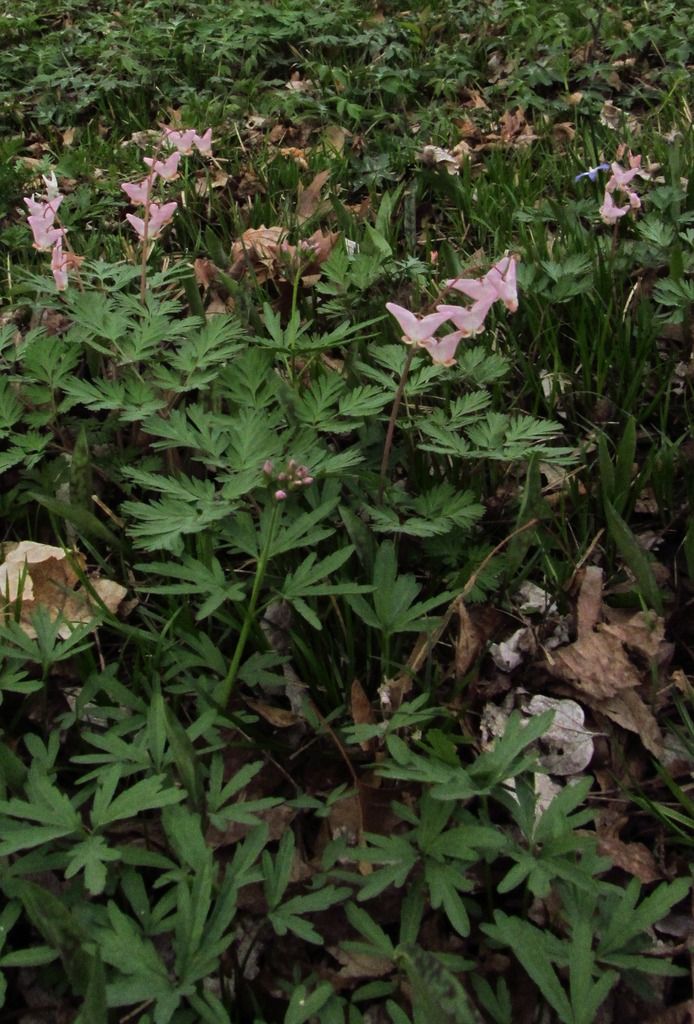 Here's another group of Dutchman's breeches flowers, with some toothwort and dogtooth violet foliage in the mix.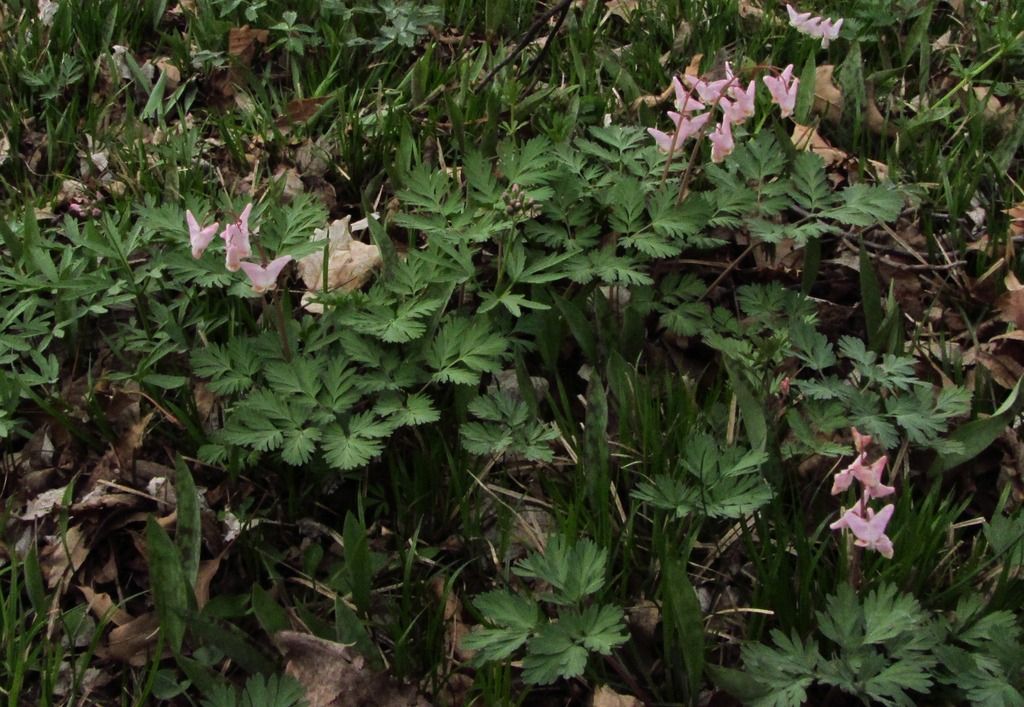 According to the book Wildflowers of Iowa Woodlands by Sylvan T. Runkel and Alvin F. Bull,
Ducthman's breeches were used in early pioneer medicine to treat urinary problems and as a poultice for skin disease. Apparently, American Indians made little if any use of this attractive and distinctive plant.