This week's featured wildflower is among several meadow rue species that are native to Iowa. Early meadow rue (Thalictrum dioicum) is a smaller plant that blooms earlier in the year than Purple meadow rue or Waxy meadow rue. Early meadow rue typically grows "in open woods and wood edges in sandy to loamy soil. It is quite shade tolerant (no full sun) and survives in moist to dry conditions."
The meadow rues have male and female flowers, which look quite different and bloom on separate plants. As with the purple meadow rue Bleeding Heartland featured last summer, I was only able to capture the male flowers of early meadow rue in the photos enclosed below. The Minnesota Wildflowers and Eloise Butler Wildflower Garden websites include close-up shots of the female flowers.
I've also enclosed below some pictures of a "mystery" plant I found in a neighbor's yard in Windsor Heights. The leaves and flower clusters look like early meadow rue, but the blossoms didn't resemble either the male or female flowers. I hope some Bleeding Heartland reader who is more knowledgable about native plants will be able to identify the species.
This post is also a mid-week open thread: all topics welcome.
For botanically accurate descriptions of early meadow rue leaves and flowers, click here, here, or here. Once you've seen the male flowers of any meadow rue species, you will recognize the "feathery" flowers above the lobed leaves. In this picture, a few splotchy leaves of Virginia waterleaf are visible below the flowering early meadow rue.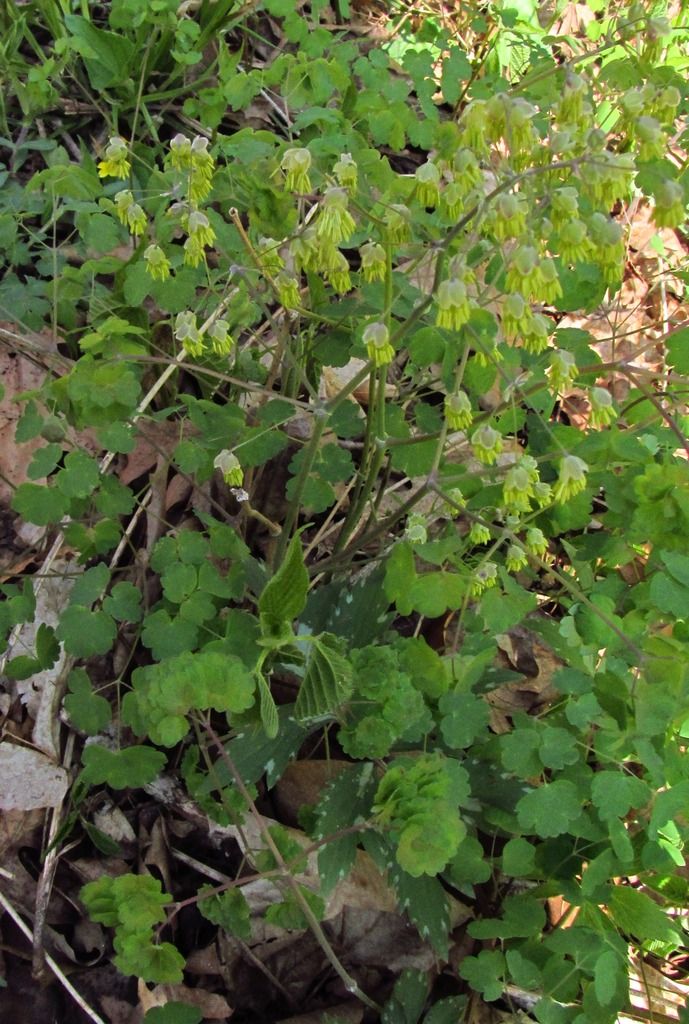 More early meadow rue flowers: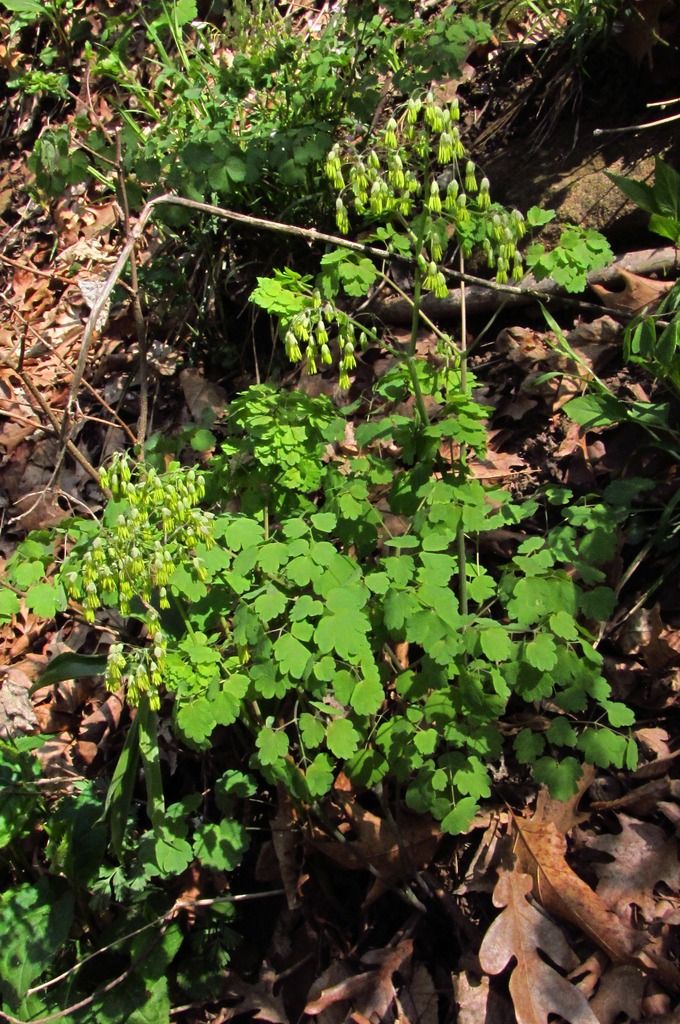 In the upper right corner, you can see foliage for Dutchman's breeches, which have already finished blooming for the year. Near the lower left is false Solomon's seal, which will bloom in the late spring or early summer.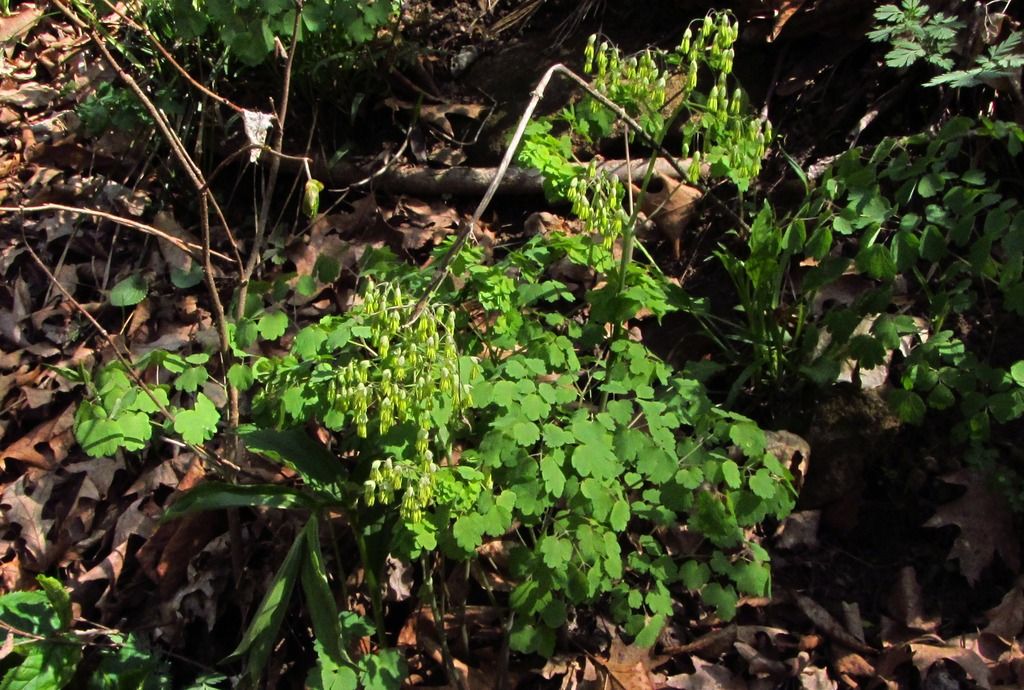 Here some early meadow rue in bloom is mixed in with foliage of wingstem, which will flower in the mid to late summer.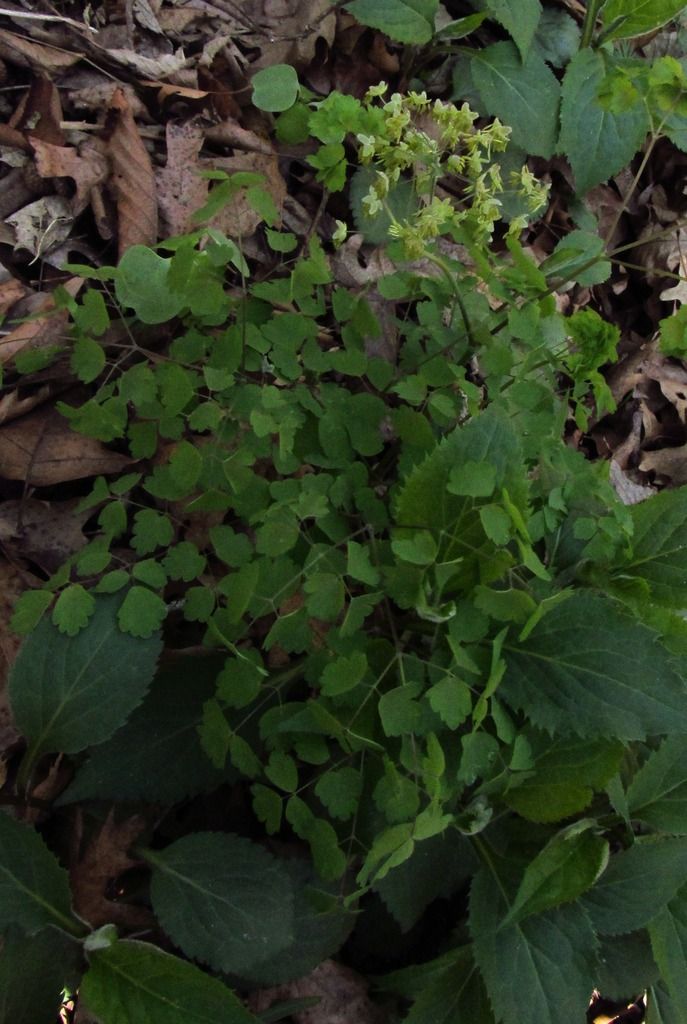 Not the best shot of the early meadow rue, but you can see a few flowers. Mottled leaves of dogtooth violets (also known as trout lilies) are scattered throughout this shot. In the middle right and lower left corner, you can see the large leaves of bloodroot, which bloomed earlier in the spring. Just below the meadow rue a curved plant is growing, which I think is false Solomon's seal.
Now, here are the "mystery" plant photos from my neighbor's yard. In these pictures taken a few weeks ago, you can see lobed leaves and flower clusters that resemble pictures of Early meadow rue from the Eloise Butler Wildflower Garden site.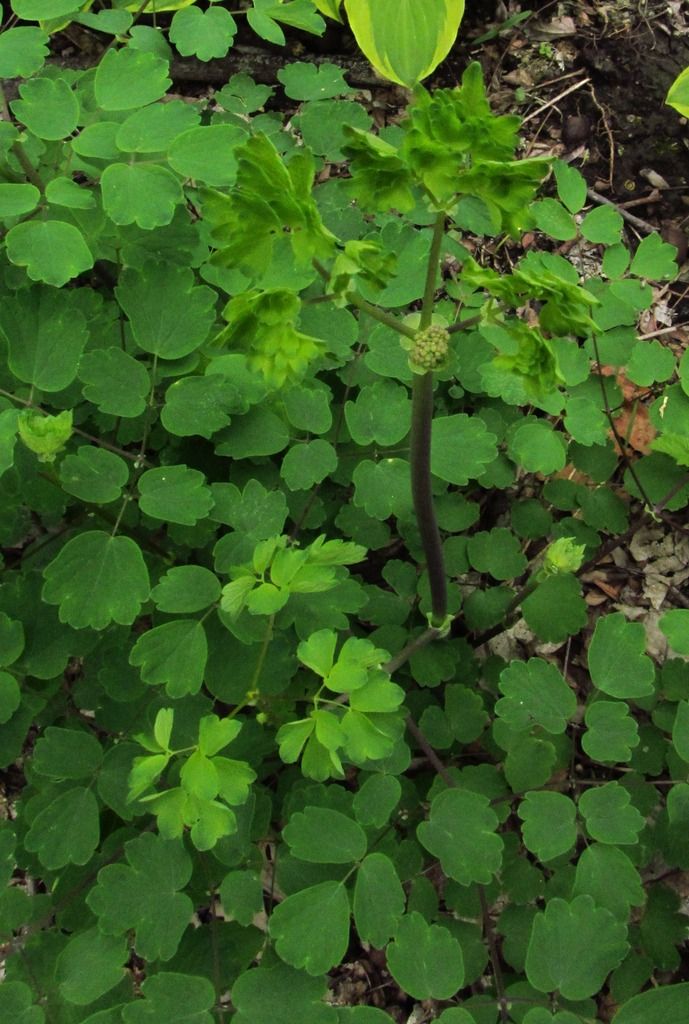 This week, I took pictures of the flowers. As you can see, they don't droop down like the male early meadow rue flowers I have seen. However, they don't look like pictures of female flowers either (see also here).
Any suggestions on an ID for this plant would be most welcome. By the way, that's foliage of hostas (not a native plant) on the right side of the picture. Near the bottom of the frame, you can see foliage of white snakeroot, a common native plant that will bloom later this summer.