Eddie Mauro announced this week that he will seek the Democratic nomination in Iowa House district 41, covering some neighborhoods on the west side of Des Moines in Polk County. I enclose below a district map and background on Mauro and State Representative Jo Oldson, who was first elected to the legislature in 2002. Mauro's campaign is on Facebook here. Oldson has a personal Facebook feed, but I'm not aware of any campaign Facebook page or other social media account.
The winner of the Democratic primary will almost certainly win next year's general election. House district 41 contains 9,648 active registered Democrats, 4,766 Republicans, and 5,441 no-party voters, according to the latest figures from the Iowa Secretary of State's Office. President Barack Obama won nearly 68 percent of the vote here against Mitt Romney in 2012. Bruce Braley won nearly 67 percent of the vote here against Joni Ernst in the 2014 U.S. Senate race. Oldson defeated her Republican opponent in 2012 by more than a 2:1 margin. She did not have a GOP challenger in 2014 and won more than 80 percent of the vote against a Green Party opponent.
Iowa House district 41: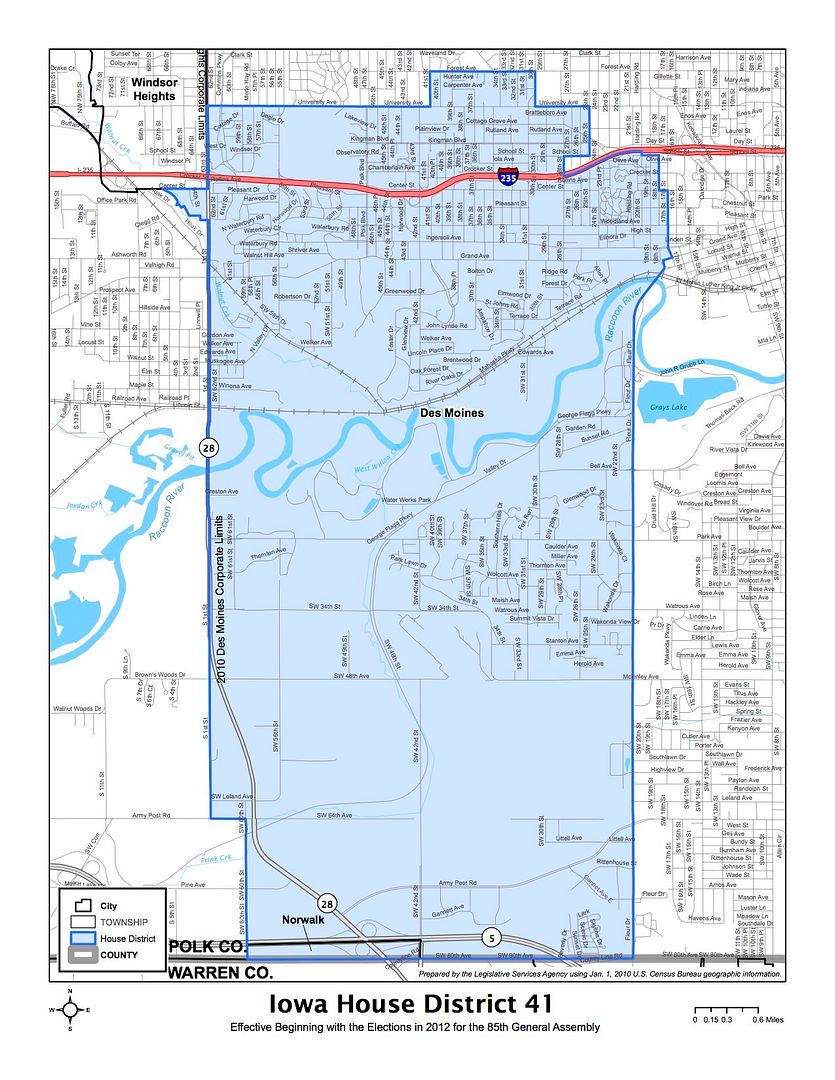 December 7 press release from Eddie Mauro's campaign:
(Des Moines, Iowa – December 7, 2015) Eddie Mauro today announced his candidacy to represent a large portion of the West and Southwest sides of Des Moines as Representative for Iowa House District 41.

"I'm running to bring a fresh, new energy to the state house and to be a bold, fearless voice for the people of this district," said Mauro. "Iowa has many great qualities! But, the reality is, the state is underperforming in certain areas and there are many opportunities still to be realized."

"I will be a dedicated, determined servant of the district and work to improve the performance of our government and empower people – from tax credits for budding entrepreneurs to tools and resources to assist the underserved. To take Iowa to the next level and make it the model for the U.S., we must move beyond fear-based politics and seize every opportunity to upgrade the tools that touch lives," he said.

A Des Moines native, Mauro is President of UIG, a wholesale insurance firm. Eddie and wife, Sharilyn, have shared 25 years together and have two children, Dominic and Mia.

Mauro is a former teacher from both public and private schools. He was an assistant football coach at Dowling and North high schools as well as the head baseball coach at Dowling High School. Mauro is currently the head baseball coach at Lincoln High School. In addition, he serves on several community boards, including the South Suburban YMCA of Greater Des Moines, as well as the Legislative Committee for the Independent Insurance Agents of Iowa and the Immigration Committee for the Iowa Catholic Conference.

Mauro earned his Bachelor of Science from Simpson College as well as a Theology Certificate from Creighton University.

"During my entire career as a teacher, coach and businessman, I've worked hard to put people in a position where they could succeed and I will do the same as a Representative in the Iowa House. While differences of opinion exist on almost every issue, my constituents can rest assured that I will lead fearlessly, advocate tirelessly and work hard to create positive change for each and every one of them," said Mauro.
Oldson is ranking member on the Iowa House Commerce Committee and also serves on the Appropriations, Judiciary, and Transportation committees. From her official biography on the House Democrats website:
Jo graduated from Eagle Grove Community High School and earned her Bachelor of Arts and Juris Doctor from Drake University. Jo has professional experience in both the private and public sectors. She worked for 10 years in the financial services industry. Following that, she worked for eight years in the office of the Insurance Commissioner, eventually serving as the First Deputy Insurance Commissioner. Jo then served as policy advisor to Governor Tom Vilsack. In this capacity, she advised the governor on the issues of health, human services, elder affairs, insurance, banking, utilities, and professional licensing.

Jo and her husband, Brice Oakley, live in Des Moines.

Throughout her career, Jo has demonstrated a strong commitment to public service. In addition, she has been actively involved in the community. She served for 10 years on the Young Women's Resource Center Board of Directors, and is currently serving on the board for the Des Moines Pastoral Counseling Center. She has been engaged in fundraising for United Way, is an active member of Plymouth Congregational Church, and has worked with the Big Brothers/Big Sisters Program. Jo regularly volunteers at Greenwood Elementary.