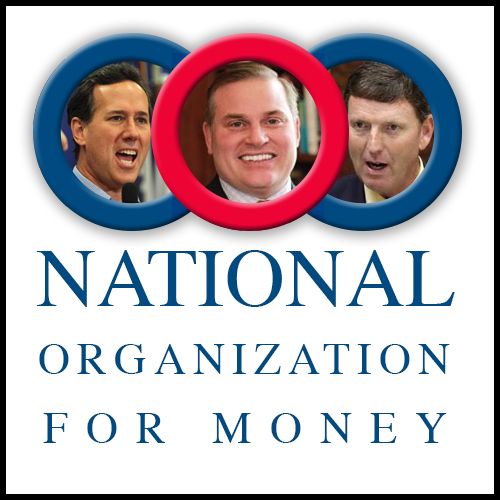 National Organization for Money graphic created by Rights Equal Rights and used with permission.
Donald Trump targeted Bob Vander Plaats on Twitter this week. He speculated that Ted Cruz, who landed Vander Plaats' personal endorsement last month, may not know about past "dealings" by one of Iowa's leading social conservatives. The billionaire called Vander Plaats a "bad guy" and a "phony," claiming the FAMiLY Leader's front man had asked to stay in Trump hotels for free and tried to secure a $100,000 payment for himself after "begging" Trump to do an Iowa event. Jennifer Jacobs confirmed that Trump received a $100,000 fee for speaking to a real estate conference in West Des Moines last year, but Vander Plaats told the Des Moines Register "he was paid nothing" for introducing Trump to the head of the company that organized the event, and "no donation was made to the Family Leader."
The spat reminded me of big news from the final two weeks of the 2012 Iowa caucus campaign, when Rick Santorum confirmed that Vander Plaats had asked for money to promote his endorsement.

The popular media image of Vander Plaats as Iowa Republican "king-maker" may be overblown, but his stature in social conservative circles was very high in 2011. He had been a prominent supporter of Mike Huckabee before the 2008 caucuses and became one of the loudest critics of the Iowa Supreme Court's marriage equality ruling in 2009. Terry Branstad's political comeback frustrated Vander Plaats' hopes to become the GOP nominee for governor in 2010, but the social conservative had bounced back from that disappointing primary loss, leading a successful campaign to oust three Iowa Supreme Court justices in the general election. Soon after, he was tapped to head the new FAMiLY Leader organization, which grew out of the Iowa Family Policy Center, an influential force on the right.
Throughout 2011, several Republican presidential candidates sought the FAMiLY Leader's endorsement, which was initially expected before the Ames Straw Poll in August but postponed until later in the year.
The FAMiLY Leader's board could not agree on a presidential candidate, so opted to remain neutral. But on December 20, 2011, two weeks before the Iowa caucuses, Vander Plaats personally backed Santorum. The former U.S. senator was still trailing the front-runners but rising fast in Iowa polls, and support from Vander Plaats added to his momentum, generating lots of media coverage.
The same day Vander Plaats came out for Santorum, Jennifer Jacobs reported for the Des Moines Register that it was unlikely Iowa evangelicals would unite behind a presidential candidate before the caucuses. A bombshell revelation was hiding in the middle of that piece:
Meanwhile, The Des Moines Register confirmed Tuesday [December 20, 2011] that Vander Plaats had asked for help in raising money to promote the endorsement. [...]

Vander Plaats said he'd like to have the money to do television advertisements to promote his personal endorsement of Santorum, and he urges Santorum backers to contribute money for that purpose.

Questioned about asking for help to raise money, Vander Plaats told the Register in a telephone interview, "That's part of our ethical responsibility. You can't say, 'We endorsed you. Now see you later.' That's not going to do a lot in the long run." Although candidates with more campaign cash could be more viable, that wasn't a factor the Family Leader considered, he said.

"Our endorsement by the board and through Chuck [Hurley] and me was all on the merits of the candidates, not on the funds the campaigns could do," Vander Plaats said.

Vander Plaats said he would share with Santorum the voter lists he compiled while working last year to oust Iowa Supreme Court justices who ruled in favor of legalizing same-sex marriage.
That's grade-A chutzpah for Vander Plaats to claim an "ethical responsibility" to ask a presidential candidate for fundraising assistance. His spin fooled no one.
The story by Jacobs inspired some national reporters to nose around. Shannon Travis reported for CNN on December 22, 2011,
One of the most influential Christian leaders in Iowa told Republican presidential candidate Rick Santorum "he needed money to promote the endorsement" of the candidate, Santorum told CNN on Wednesday.

The conversation between Santorum and Bob Vander Plaats, president and CEO of the Iowa-based The Family Leader, happened before Vander Plaats personally endorsed Santorum on Tuesday.

"What he talked about was he needed money to promote the endorsement and that that would be important to do that," Santorum said, referring to Vander Plaats.

Yet the candidate added: "There was never a direct ask for me to go out and raise money for it."
The next day, Shushannah Walshe and Michael Falcone reported for ABC News that before Vander Plaats announced his decision, Santorum said "the issue of money never came up in his conversations with the Christian leader." However, the ABC reporters heard later in the week from "multiple sources" (all unnamed) that Vander Plaats "was soliciting as much as $1 million from Santorum and other candidates" in exchange for his support.
In 2013, Fred Karger, a political consultant and founder of the LGBT advocacy group Californians Against Hate, later renamed Rights Equal Rights, filed a complaint with the Federal Election Commission accusing Santorum "of coordinating with the National Organization for Marriage to pay $1 million to Vander Plaats to endorse him, with the money eventually going for ads backing Santorum." You can read Karger's whole FEC complaint here. Documents associated with the FEC's investigation are posted here. The Sunlight Foundation's Keenan Steiner summarized the key points well.
Just days after the endorsement, the Family Leader officially registered a super PAC, Leaders for Families, which went on to spent about $135,000 in support Santorum with TV and radio ads and robocalls in Iowa and New Hampshire.

Karger tries to bolster his case by showing the close connections between NOM, Santorum and Vander Plaats. NOM's leaders, Maggie Gallagher and Brian Brown "worked very closely with Mr. Santorum and Mr. Vander Plaats for several years and had exceptionally close political and financial ties to both men," Karger wrote.

He also notes connections between the Family Leader's super PAC and NOM. The public affairs firm of NOM's political director, Frank Schubert, was paid to produce TV ads for the super PAC. NOM's attorney James Bopp was also the super PAC's attorney.

Karger also documents financial backing from NOM to Vander Plaats's two organizations, calling $80,000 in contributions from NOM to the Family Leader and a group it controls, the Iowa Family Policy Center, in 2011 a "down payment" for the Santorum endorsement. Any donations in 2012 are not known because NOM's tax filing with the IRS for that year is not public yet.
The National Organization for Marriage was the biggest spender in the 2010 campaign against retaining the Iowa Supreme Court justices and had collaborated with Vander Plaats on that effort.
The Federal Election Commission moves at a notoriously slow pace. Karger's complaint was pending for more than two years as attorneys for the National Organization for Marriage and a pro-Santorum super-PAC repeatedly asked for more time to prepare their official responses. In a sworn affidavit, Vander Plaats stated that he never "solicited or received any money or thing of value from anyone, directly or indirectly, to secure my endorsement of Rick Santorum," adding
Any mention of the need for money was simply stating the fact that my endorsement two weeks prior to the Iowa Caucus vote would have little effect unless it was quickly and thoroughly broadcast to the Iowa Caucus voters. Therefore, phone calls, television ads and radio ads needed to be purchased. Realizing the Santorum for President Campaign did not have the resources to maximize the impact of my endorsement, I independently secured the necessary funds via my contacts, post-endorsement, directing their donations to the Leaders for Families Super-PAC.
Santorum and his campaign's representatives likewise submitted sworn statements saying nothing of value had been promised or provided to Vander Plaats in exchange for an endorsement. Although Vander Plaats had told Jacobs the FAMiLY Leader would supply a voter list, the Santorum campaign's treasurer denied "receiving 'any lists' from Vander Plaats, the Iowa Family Counsel [sic], or the Iowa Family Leader."
The FEC's general counsel finally reported findings in August 2015. In that 20-page document, attorneys surveyed the facts of the case but found no legal violations and recommended that the complaint be dismissed. Accordingly, commissioners dismissed the complaint in November. Click here to read the full twelve-page factual and legal analysis. Excerpts:
The available information before the Commission in this matter is insufficient to indicate whether the payments identified by Complainant secured Vander Plaats's endorsement of Santorum, even if the fortunes of Vander Plaats's organizations may have increased as a result of his endorsement of Santorum. Furthermore, there is insufficient available information that Santorum or his agents acted in concert to obtain a third party's payment to Vander Plaats to endorse Santorum. [...]

For the foregoing reasons, the Commission exercises its prosecutorial discretion to dismiss the allegations that (i) Respondents violated the Act in connection with alleged payments from NOM and Friess in coordination with the Santorum Committee to secure Vander Plaats's endorsement of Santorum and (ii) the alleged coordinated communications distributed by the Leaders for Families Super PAC in support of Santorum's candidacy. See Heckler, 470 U.S. 821. The Commission could not agree by the required four votes as to the disposition of the allegation that the Santorum Committee may have coordinated communications with Red, White and Blue Fund. The Commission also concludes that there is no reason to believe that Respondents violated the Act as to the voter list.
Partisan deadlock often stops the FEC from taking action, and it sounds like the Democratic commissioners refused to agree to dismiss the allegation about illegal coordinated communications with the Red, White and Blue Fund, a different pro-Santorum super-PAC created in the fall of 2011.
Incidentally, Karger filed a complaint with the Iowa Ethics and Campaign Disclosure Board in 2013. Click through to read the full text; among other things, it alleged that
The National Organization for Marriage made in-kind contributions of time and travel to assist Bob Vander Plaats and the Family Leader's "No Wiggins" campaign in their efforts in the 2012 judicial retention election, and did not disclose those in-kind donations in violation of Iowa Code Chapter 68A.201A.
Iowa Ethics and Campaign Disclosure Board Executive Director Megan Tooker told me last month that Karger's complaint is still pending and may be on the board's agenda for a meeting scheduled in February 2016.
A spokesperson for the Cruz campaign told me last month that the campaign has paid for expenses associated with appearances by Vander Plaats around Iowa in support of the Texas senator.
Although the FAMiLY Leader remained neutral in this year's presidential race, as in 2011, I sought comment on whether the organization had received any donations from presidential hopefuls. Drew Zahn, communications director for the FAMiLY Leader, told me via e-mail on January 26:
I have confirmed with our financial operations manager: No presidential campaign nor known presidential candidate has made any donations to The FAMiLY LEADER in the past year.

Bob's travel expenses and work related to the Cruz campaign are paid for either by the campaign or directly out of Bob's pocket. Even the time he spends working for the campaign is considered personal time off, such that none of his salary dollars pay for campaign-related activities.

We are very intentional and conscientious to keep our promise to supporters that not a dime of their money will be used to benefit one good candidate over another.
Any relevant comments are welcome in this thread.