The Iowa Senate voted today to add protections for transgender people to Iowa's hate crimes law. Currently, hate crimes are defined as offenses "committed against a person or a person's property because of the person's race, color, religion, ancestry, national origin, political affiliation, sex, sexual orientation, age, or disability, or the person's association with a person of a certain race, color, religion, ancestry, national origin, political affiliation, gender identity, gender expression, sex, sexual orientation, age, or disability." Senate File 2284 would add the words "gender identity" and "gender expression" to that list. The full bill text is after the jump.
Democratic State Senator Matt McCoy has championed this bill and addressed his colleagues yesterday about last week's horrific murder of Kedarie Johnson, a 16-year-old high school student in Burlington who was transitioning from female to male. I enclose the video of that speech below.
During today's floor debate, Republican State Senator Mark Chelgren, who is also running for Congress in Iowa's second district, offered an amendment that would have removed all individual classes from the state code on hate crimes. McCoy countered that such an amendment would "destroy the point of a hate crimes statute." Senators rejected Chelgren's amendment by 30 votes to 18, with Republicans Bill Dix, Mike Breitbach, Charles Schneider, and Jack Whitver joining all 26 Democrats to vote no. Chelgren then withdrew another amendment he had proposed, which would have added "military veteran or military personnel status" to the list of protected classes.
Republican Senator Jake Chapman offered an amendment to add "unborn status" to the hate crimes bill, but as he was speaking in its favor (and graphically describing abortion procedures), Democratic Senator Tony Bisignano questioned whether the remarks were relevant. McCoy then formally objected that the amendment was not germane, and Senate President Pam Jochum ruled the objection "well-taken" and Chapman's amendment out of order.
Schneider was the only Republican to join all 26 Democrats in approving the bill on final passage. Republicans Rick Bertrand and Brad Zaun were absent, and the 21 other GOP senators voted no. Schneider represents my own district in the western suburbs of Des Moines, and I'm proud to see him continue a tradition of Republicans from this area supporting protections for LGBT Iowans. The same was true when the Iowa House and Senate added sexual orientation and gender identity to the state's Civil Rights Code in 2007, and when lawmakers approved an anti-bullying bill the same year.
I don't expect Iowa House Republican leaders to bring up Senate File 2284 this year, but I hope to be proven wrong.
UPDATE: The video from today's debate is up on the Iowa legislature's website. Chapman went on for several minutes, starting around the 1:38 mark. Jochum repeatedly asked him to confine his remarks to why "unborn status" should be included in the hate crimes statute, but Chapman kept talking about abortion procedures.

Bill text for Senate File 2284 (click through to read the explanation on the Iowa legislature's website):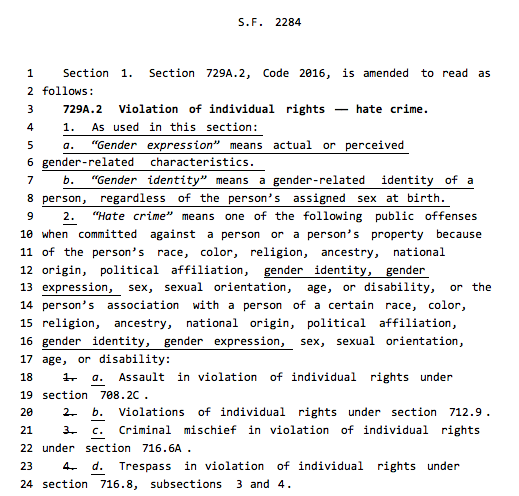 State Senator Matt McCoy speaking in the Iowa Senate on March 7. Uploaded to YouTube by the non-profit Iowa Safe Schools with the following comment:
On March 7th, 2016, Senator Matt McCoy gave a Point of Personal Privilege about the murder of Kedarie Johnson, a 16 year old trans* teen. We must pass SF2284 to protect trans* individuals living in Iowa from hate crimes. We have lost too many kids due to discrimination, harassment, bullying, and other forms of violence. For more information please visit www.iowasafeschools.org or email info@iowasafeschools.org
Statement from Iowa Safe Schools, March 8:
Iowa Safe Schools Applauds Passage of Trans* Inclusive Hate Crimes Bill in Senate

Iowa Safe Schools Executive Director Nate Monson issued the following statement after passage in the Iowa Senate of SF2284, which would add transgender individuals to Iowa's current hate crime law.

"Iowa Safe Schools is a proud supporter of this legislation and we thank the work of Senator Matt McCoy. This past week, a trans* teen in Burlington was murdered. While it is still to be determined if hate was a motivation – we do know that Kedarie Johnson deserved far better. Too many youth in Iowa have hurt themselves and each other because of discrimination and hate. This hate crimes bill will save the lives of many transgender youth across our state. The Iowa House must follow the Iowa Senate's lead and vote on SF2284 to ensure transgender Iowans including youth are protected from hate crimes."