I am thrilled to have Marla Mertz share her stunning pictures and description of a native plant I've never seen "in real life." -promoted by desmoinesdem
When someone comments about an orchid, what do you envision in your mind; beauty, grace, delicate, romantic, exotic, tropical? Seeing beautiful orchids in a gardening center or store, I always have to stop and look at each individual one. If I were to a choose one I don't think I could…each one is more beautiful than the other. It becomes very personal and sometimes it takes a connection to one over the other.
Did you know that Iowa has 32 species of native orchids? According to Bill Witt, author of "Iowa's Wild Orchids," an article written for the Iowa Natural Heritage magazine, "Orchids are among the most prolific of all families in the plant kingdom. Over 20,000 species inhabit almost every imaginable habitat to be found between the polar ice caps, from cold, alpine regions to the deserts. Iowa's orchids, too have matched themselves to just about every available niche, from the white oak swamps of Muscatine and Lee counties to the dry, windswept Loess Hills of Monona and Plymouth counties."
In 1995, I had the great opportunity to extend my career as the Naturalist for Marion County, Iowa. I had only been working out of the Cordova Park office a short while when a very kind gentleman stopped by to introduce himself and extend an invitation to come to his Christmas tree farm the following spring. He didn't hold back his welcoming gesture and enthusiasm, and it wasn't an invitation to see the trees, it was an invite to introduce me to a special woodland orchid growing on his farm called the Showy orchis.
This venture and the gentleman's enthusiasm inspired a 20 year affair with the Showy orchis. I located one beautiful orchis at Cordova Park, which, unfortunately met its demise with some timber management and clearing. I didn't know that the plant's demise would create such personal turmoil. Over the course of the next 19 years I have tromped the earth at Cordova Park searching for more of these hidden treasures. Naturally, some come and go due to successional changes, but I have never located more than five in a year.

The Showy orchis leaves may appear in late April and flower in May, possibly, early June. Two large egg-shaped leaves are a lustrous green color, thick and smooth. The leaves may be as much as 8 inches long and half as wide.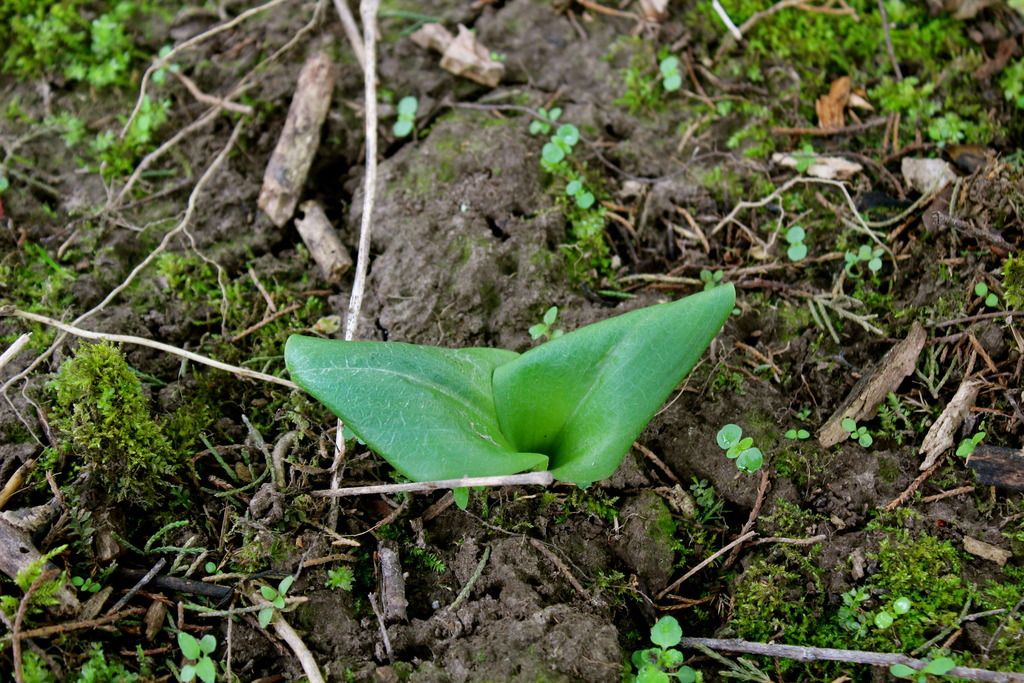 The Showy orchis is a pinkish to purple and white orchid that can be located in rich deciduous woodlands. It grows in damp, shady and slightly acidic soils. It is often located around the edges of trails where it may receive more light. In this shot, orchis is in the bottom center.
Showy orchis, Galearis spectabilis; The scientific name comes from Latin galea (helmet) and spectabilis (notable). Other common names are gay orchis, purple orchis, and spring orchis. The Showy orchis can handle moderate woodland disturbance, appear for a short time under the sunlit canopy, but may disappear as the forest matures. The roots may lie dormant for several years and then produce many plants clumped together.
Three to six inch-long flowers spike at the top of a simple stem where a slight and delicate fragrance exudes. A specialized lower petal is the lip of the landing platform for insects to gather a nectar reward. Bumblebees appear to be the main pollinator. The platform petal is normally white and ruffled with a blunt spur at the base.The two purplish to violet colored petals creating the hood boasts beautiful color and appears to look like a preacher sitting within a pulpit.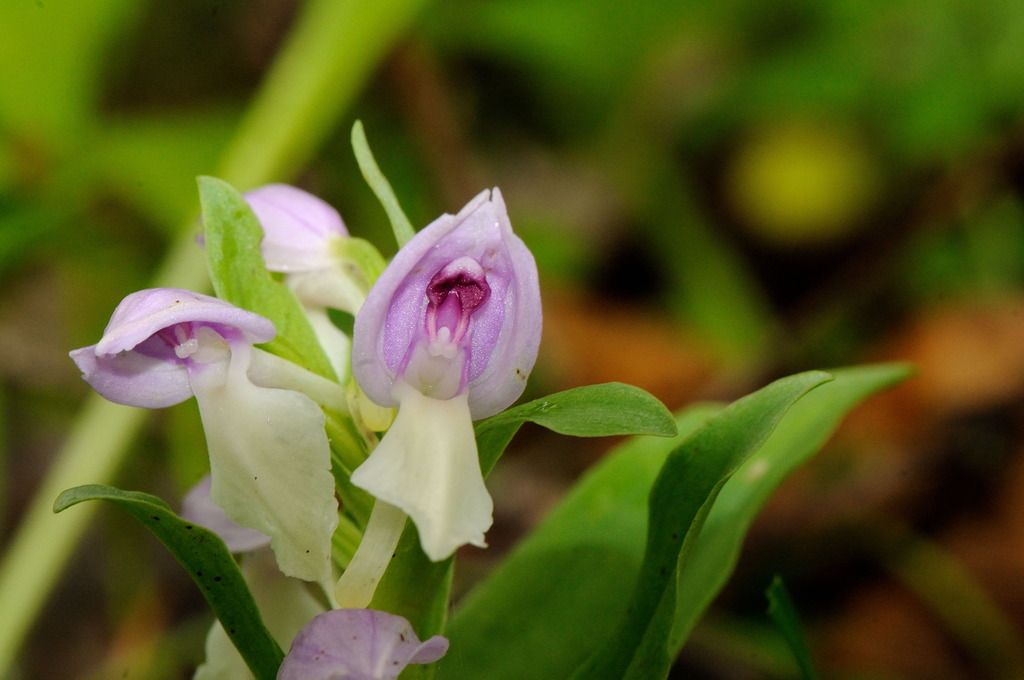 Most orchids, including the Showy orchis produce very small seeds with no energy reserves. It is necessary for germinating seedlings to develop a relationship underground with a fungus (mycorrhizae), within their roots in order to obtain nutrients for growth. That's pretty amazing!
Some people who are amateur enthusiasts of our native orchids have tried to remove the wild plants for their gardening pleasure. Much to their dismay, the orchid does not survive. Orchids are very particular of their surroundings, their reliance of specific soils and fungus to continue. I guess that is another magical mystery and adoration of Iowa's orchids.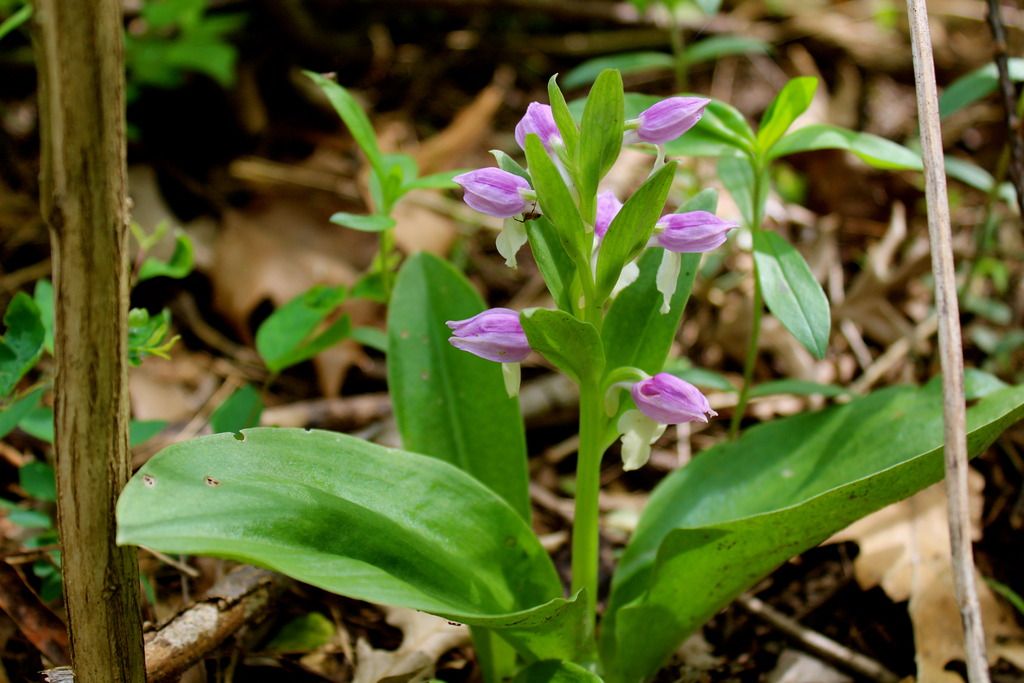 If you would like to learn more about Iowa's orchid species:
Reference Books and Guides:
Wild Orchids of the Prairies and Great Plains Region of North America, Paul Martin Brown
Orchids in your pocket: A guide to the Native Orchids of Iowa, Bill Witt, A Bur Oak Guide
Wildflowers of Iowa Woodlands, Sylvan T. Runkel and Alvin F. Bull
Wildflowers of the Tallgrass Prairie, The Upper Midwest, Sylvan T. Runkel and Dean M. Roosa
Iowa's Wild Orchids, Bill Witt, Iowa Natural Heritage Foundation, Ecology College,
http://www.inhf.org/ec5-wild-orchids.cfm