The Iowa Utilities Board voted today to allow Dakota Access LLC to begin construction of the Bakken pipeline on Iowa land that is not subject to the federal permitting process and where the company has obtained easements from landowners. The decision marks a shift from the stance the board took when approving the pipeline proposal in March.

In its March 10 order granting a permit to Dakota Access, the Iowa Utilities Board had required the company to secure all necessary permits before beginning construction in Iowa. However, the U.S. Army Corps of Engineers has not yet issued a permit for the pipeline to cross federal land, and the U.S. Fish and Wildlife Service recently revoked its approval for a permit that would allow the pipeline to cross the Big Sioux River Wildlife Management Area in Lyon County.
Board Chair Geri Huser voted against today's order, concerned about its effect on the regulatory agency's jurisdiction. Board members Nick Wagner and Libby Jacobs voted for the order, having said at a hearing last week that they support allowing construction on land parcels where Dakota Access has received both government permits and voluntary easements. The company claims to have easements covering about 80 percent of the land parcels.
William Petroski reported for the Des Moines Register,
Wallace Taylor, a lawyer for the Iowa chapter of the Sierra Club, said in a filing Monday with the Iowa Utilities Board that he believes the board does not have jurisdiction to modify its March order to allow construction to begin without the federal permits. That's because the board's March ruling has been appealed by the Sierra Club to Polk County District Court, which now has jurisdiction, he said.

"The board would be committing an illegal act if it allowed construction now before authorization is obtained from the Corps of Engineers," Taylor said.
The Iowa Utilities Board's legal counsel David Lynch asserted today that allowing construction to begin "in areas where Dakota Access has all the necessary permits and other authorizations" would be consistent with the board's March 10 order.
Some landowners have filed suit to block the use of eminent domain to condemn their property for the pipeline. Iowa's State Archaeologist John Doershuk has recommended that one area of the Big Sioux River Wildlife Management Area should be left alone because of a sensitive Indian burial site.
Here is a map of the proposed Bakken pipeline route: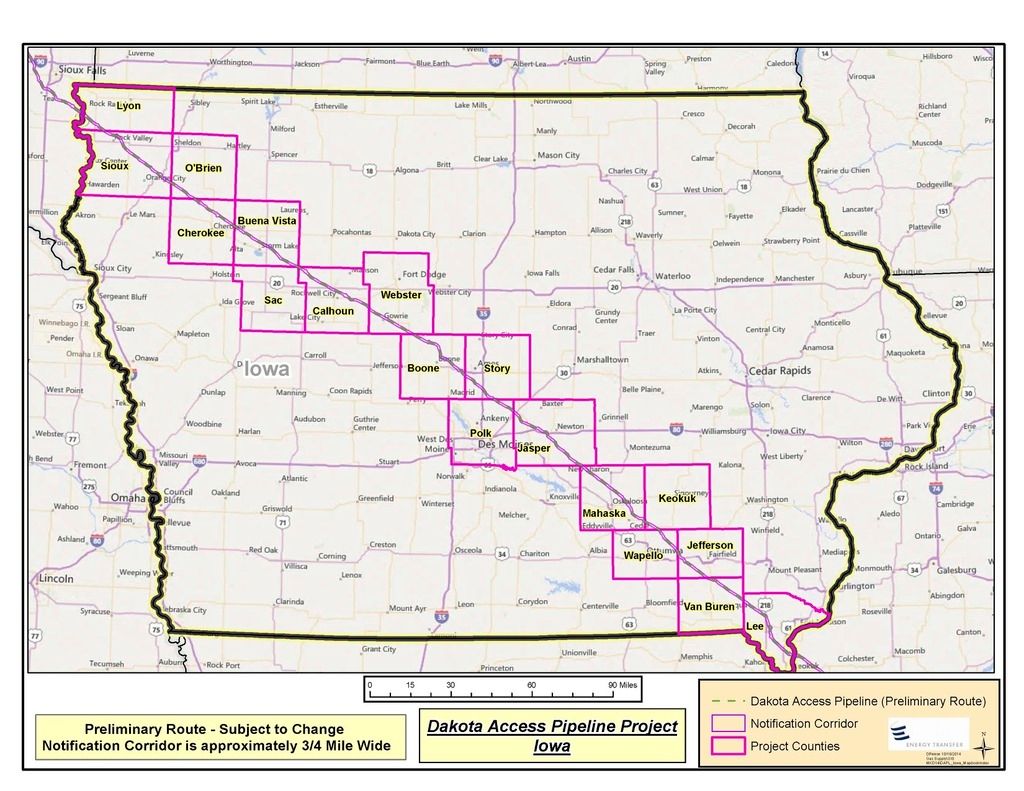 Photo at top shows pipes intended for use in the Dakota Access pipeline being stored in Jasper County, Iowa during 2015. Provided by Wallace Taylor, used with permission.