Today Public Policy Polling released results from six news polls of battleground states, conducted on behalf of Americans United for Change and the Constitutional Responsibility Project. The full results from the Iowa survey are here (pdf). Key findings: only 43 percent of respondents approve of Senator Chuck Grassley's job performance, while 40 percent disapprove and the rest are unsure. If Iowa's U.S. Senate election were held today, 46 percent of respondents would vote for Grassley, 39 percent for Democrat Patty Judge, and 14 percent would be undecided. In the presidential race, 41 percent of respondents support Hillary Clinton, 39 percent Donald Trump. After the jump I've enclosed highlights from Tom Jensen's polling memo.
Another PPP poll taken earlier this month also found Grassley below 50 percent and only seven points ahead of Judge. No public poll released in 2010 ever found the senator so narrowly leading his Democratic challenger Roxanne Conlin. Republicans are likely to discount today's survey, because it was commissioned by progressive advocacy groups. I am reserving judgment until I see other pollsters test these Iowa races. That said, the PPP questionnaire showed no sign of "priming" voters to evaluate Grassley or Trump on any particular issue. Respondents were asked about job approval and candidate preferences before answering questions related to the U.S. Supreme Court vacancy. By the way, 64 percent of respondents support Senate hearings for Judge Merrick Garland, and only 35 percent trust Donald Trump to pick a Supreme Court justice.
PPP surveyed 897 registered Iowa voters on June 22 and 23, producing a margin of error of plus or minus 3.3 percent.
UPDATE: Added below Judge's letter to Grassley, asking for four televised debates and one radio debate.

From Tom Jensen's memo about Public Policy Polling's surveys in six battleground states, released on June 28.
Voters in all six states, by margins ranging from 5 to 23 points, say they don't trust Donald Trump to nominate a Supreme Court justice. Voters in WI (34% trust Trump, 57% don't) and in the home of Judiciary Committee Chair Charles Grassley of IA (35% trust Trump, 52% don't) are particularly skeptical of Trump's ability to name a Justice.

Beyond simply not trusting Trump, voters in all six states clearly say that they *do* trust President Obama with the responsibility of making a Supreme Court selection, especially in contrast to Trump. In the key Presidential battlegrounds of Iowa, New Hampshire, Ohio, Pennsylvania, and Wisconsin Obama has at least a 9 point advantage over Trump on that question in every state. [...]

Because voters trust President Obama to make a Supreme Court choice and don't trust Trump to, there's overwhelming support for the Senate to move forward with confirmation hearings for Merrick Garland's nomination to the Supreme Court. More than 60% of voters in each of these states supports hearings for Garland, by margins ranging from 38 to 46 points. That includes overwhelming support from critical independent voters, and even plurality support from Republicans in 4 of the 6 states: [...]

The reason the issue of the Supreme Court nomination is so important in this set of states is that these Republican incumbents are all highly vulnerable. Their approval numbers are mediocre, their races are close, and voters say that they're less likely to vote for them because of their opposition to hearings for Merrick Garland. Right now 4 of these 6 Senate races currently have the candidates within 1 or 2 points of each other. In all 6 of them, voters say by at least a 15 point margin that they're less likely to vote for their Republican incumbent because of their opposition to hearings for Garland. And these are Senators who don't have much goodwill to fall back on. 5 of the 6 have negative approval ratings and the one exception, Chuck Grassley, still has his worst approval numbers in years with them coming in only narrowly on positive ground at 43/40.
UPDATE: Letter Judge sent to Grassley on June 28: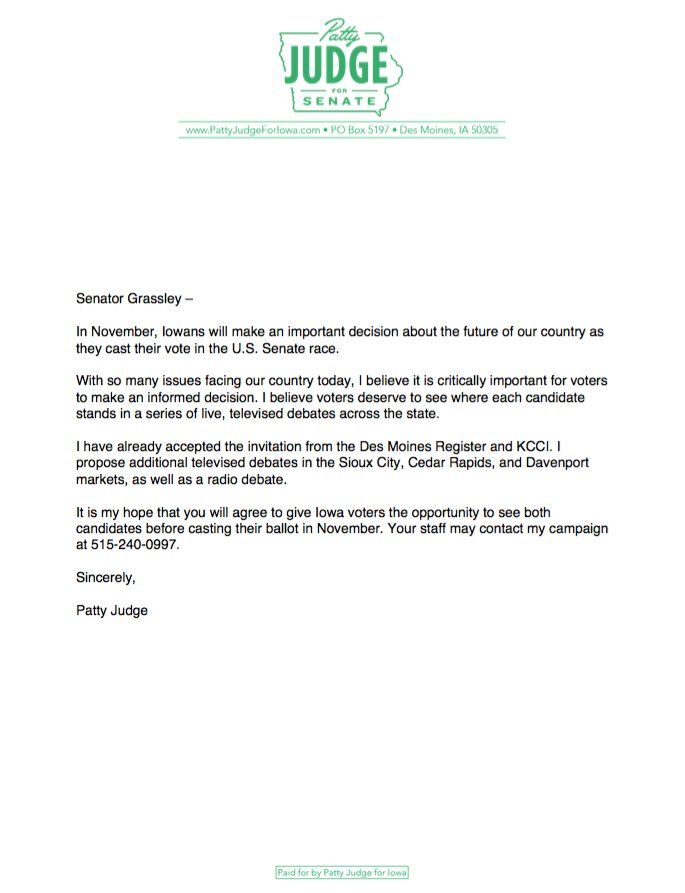 Speaking on behalf of Grassley's campaign, Robert Haus told the Des Moines Register's Jason Noble that Grassley has "received no formal invitation from the Judge campaign and will consider it when it is received," adding that "Iowans should worry whether Patty Judge will even show up," since she missed half of the Democratic primary debates and forums.