Monarch butterfly enthusiasts have prepared more than 50,000 balls containing common milkweed seeds for riders participating in next week's Register's Annual Great Bike Ride Across Iowa (RAGBRAI). As its name suggests, common milkweed (Asclepias syriaca) is the most prevalent among the 17 types of milkweed found in Iowa. However, the use of genetically-modified Roundup Ready corn and soybeans greatly diminished common milkweed on Iowa cropland. "Kelly Milkweed" Guilbeau and a friend scattered some milkweed seeds while doing RAGBRAI in 2014, then prepared about 2,000 balls of seed to hand out during last summer's ride across Iowa.
Elizabeth Hill, who manages the Conard Environmental Research Area at Grinnell College, has collaborated with Guilbeau on the Milkweed Matters initiative, greatly expanded this year. I wish them every success; driving around Iowa last week, I saw huge stands of wild parsnip along too many roadsides.
I enclose below two pictures of common milkweed blooming, as well as a press release explaining where riders can pick up seed balls to toss in unmowed ditches along the RAGBRAI route, which runs across southern Iowa from July 24 through 30.
You can learn more at the Milkweed Matters website and receive regular updates on Twitter (@milkweedmatters) or Facebook. Butterfly fans can find more good links at the Monarchs in Eastern Iowa website. Although I'm not skilled at identifying butterflies, I enjoy the occasional "butterfly forecasts" by the Poweshiek Skipper Project.
P.S.- Hill will always have a special place in my heart as the accidental godmother of Bleeding Heartland's Iowa wildflower Wednesday series.

Common milkweed growing near a bike trail in Urbandale a few years ago: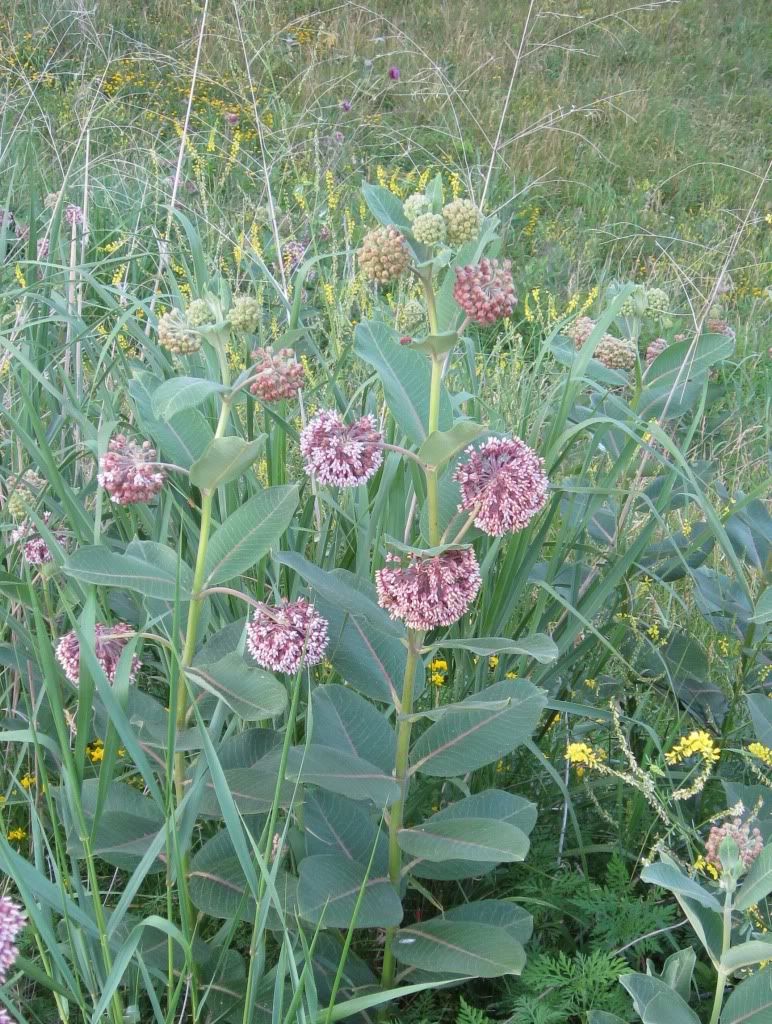 Closer view of buds and blossoms on a common milkweed plant in a butterfly garden: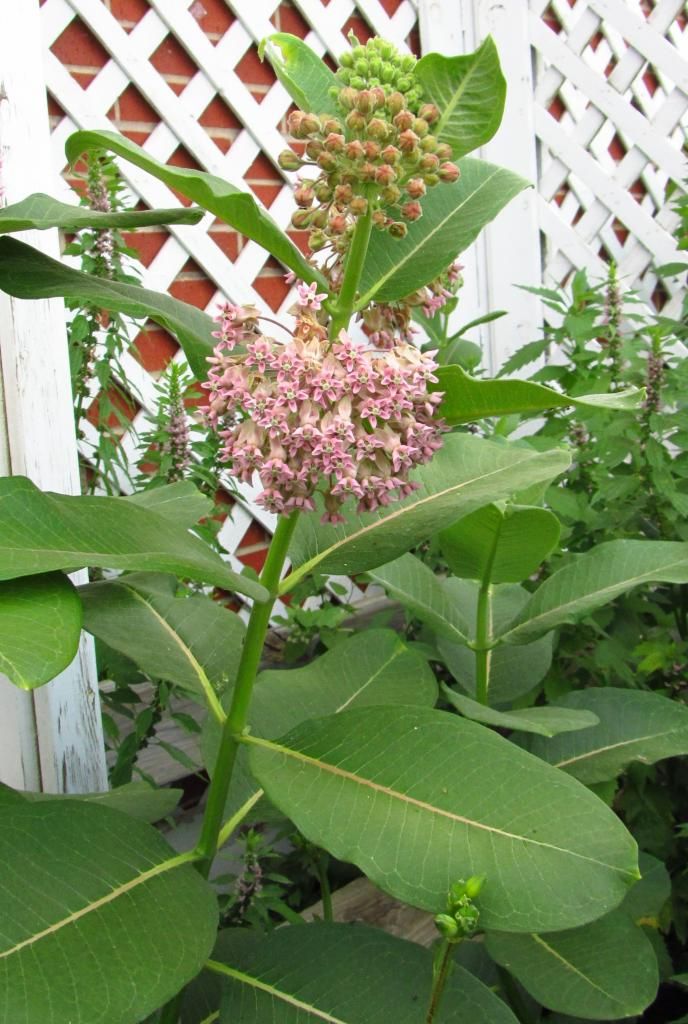 July 13 press release:
Milkweed Matters to RAGBRAI Riders!

In an effort to promote the habitat of the monarch butterfly, riders on the Register's Annual Great Bicycle Ride Across Iowa (RAGBRAI) will participate for the second year in a milkweed planting project July 23-30, along the event's 420-mile route through southern Iowa.

The effort is spearheaded by Milkweed Matters – an initiative established in 2015 by two Grinnell College employees – Kelly Guilbeau of Grinnell, and Elizabeth Hill, of Kellogg; the College has no connection to either the project or RAGBRAI.

"Milkweed plays an important role in the life cycle of the monarch butterfly because adult monarchs lay their eggs exclusively on species in the milkweed family and the larvae feed only on those plants," Hill said.

"Milkweed used to be common in Iowa between rows of soybeans and corn and along fencerows, but because of the large-scale use of herbicides containing glyphosate, it no longer grows there. This lack of milkweed habitat has had a disastrous effect, and the monarch population has declined by as much as 90 percent in the past 10 years."

Earlier this year, Milkweed Matters organized 30 events around the state, where more than 2,000 Iowans learned about the importance of the monarch butterfly's habitat and prepared approximately 50,000 milkweed seedballs. Composed of 50 percent soil and 50 percent clay (donated by Iowa landowners), each seedball contains 3 to 6 common milkweed seeds collected from Iowa roadsides.

The volunteers who rolled the seedballs represented a variety [of] audiences and age-groups, from elementary school students, to scout troops, to nursing homes residents, and members of corporate teams.

During RAGBRAI, in partnership with Milkweed Matters, volunteers from Monarchs in Eastern Iowa, a blog and Facebook community, will staff informational booths at eight (8) sites along the route, where 6,000 seedballs will be distributed each day to RAGBRAI riders to toss into roadsides.

Booths will be located in Glenwood (July 23); Malvern (July 24); 1.5 miles north of Bethesda on Barbara and Stan Johnson's farm (July 25); Mount Ayr (July 26); Humeston (July 27); Moravia (July 28); 2 miles east of Hayesville on Annie Arduser's farm (July 29); and Columbus Junction (July 30).

"Although 17 different types milkweed are found in Iowa, these seedballs contain only common milkweed, the most abundant species in the state and believed to be the most important food source for monarch larvae," Guilbeau said. "Milkweed Matters' mission is not only to plant milkweed for monarch butterflies, but to spread awareness of how fragile our natural world is, and how we as individuals can initiate change, one seed at a time."

Guilbeau and Hill will be riding on RAGBRAI together with Tim Gilbertson, of Cedar Rapids, as Team Milkweed Matters. Guilbeau is assistant director of advising and exploration in Grinnell's Center for Careers, Life, and Service; and Hill is manager of the college's Conard Environmental Research Area and outreach coordinator of its Center for Prairie Studies.

PLEASE NOTE: More information is available at www.milkweedmatters.org, or by following Milkweed Matters on Facebook or Twitter. All inquiries can be directed to milkweedmatters@gmail.com. You can also connect with Monarchs in Eastern Iowa at www.monarchsineasterniowa.blogspot.com or by the same name on Facebook.

JULY 23 UPDATE: Here's a common milkweed plant with seed pods forming.