Since the day he launched his 2010 campaign for governor, Terry Branstad has been promising to raise Iowa family incomes by 25 percent. That aspiration is still highlighted on the front page of the governor's website.
Family incomes haven't increased in any significant way, according to a September 2015 report by the Iowa Fiscal Partnership: "Median household income was $53,712 in 2014 — compared with $53,031 the year before. It was also statistically unchanged from 2007 ($53,994 in 2014 dollars) and from 2000 ($52,483 in 2014 dollars)." U.S. Census Bureau data indicate that as of July 2015, the median family income in Iowa was $52,716.
Despite the lack of progress toward one of his central goals, Branstad has opposed various policies that would raise incomes, especially toward the lower end of the scale.
Most recently, he moved last week to block a new U.S. Department of Labor rule, which would make at least 120,000 Iowans eligible to earn overtime pay.

Branstad's indifference to workers struggling to get by was apparent during his first year back in office, when he vetoed an expansion of the earned income tax credit–twice. That policy would have helped more than 200,000 Iowa households. Senate Democrats weren't able to get Branstad to sign an expansion of this important tax credit until 2013, when they insisted on making it part of a massive commercial property tax cut the governor wanted.
Although Iowa's minimum wage hasn't gone up since 2007 and is way below the level needed to cover essentials in a family budget, Branstad has never used his political capital to push for a minimum wage hike. That policy would raise incomes for about 300,000 Iowans. Early this year, the governor said he might consider signing a minimum wage increase, but he didn't nudge Iowa House Republicans to get a bill to his desk.
Nor has Branstad taken up the call to stop wage theft, which costs our state's workers an estimated $600 million a year, leading to some "$120 million in unpaid sales, income and payroll taxes annually." Whenever the Democratic-controlled Iowa Senate has tried to address that problem, the legislation has died in the GOP-controlled state House, with no help from the governor's office.
The latest policy Branstad opposes would help roughly 120,000 Iowans earning between $23,660 and $47,476 per year. About a quarter of Iowa's salaried workers would benefit from a Labor Department rule announced in May and scheduled to take effect in December.
President Barack Obama set this ball in motion in March 2014, directing his administration "to modernize our nation's overtime rules, which have been comprehensively updated only once since the 1970s." Under the new federal rule, approximately 4.2 million workers who are not currently eligible for overtime pay will be "entitled to time-and-a-half wages for each hour they work beyond 40 a week." Furthermore, "this new level will be automatically updated every three years to ensure that workers continue to earn the pay they deserve." Kevin Hardy reported for the Des Moines Register in May, "Experts predict big implications for low- or mid-management workers in retail and fast food establishments, including Iowa-based convenience store chains Casey's and Kum & Go."
Naturally, employers who have been gaming the system by making more workers salaried have complained about what they called "another arbitrary way for the government to increase their labor costs." Dozens of business groups including the U.S. Chamber of Commerce filed suit on September 20, charging that the Labor Department "exceeded its statutory authority in issuing the regulation and violated the Administrative Procedure Act."
The same day, 21 states also challenged the overtime rule in federal court. Daniel Wiessner reported for Reuters,
Both of Tuesday's lawsuits said the department abused its authority by increasing the salary threshold so drastically, and also failed to account for regional variations in the cost of living.

The agency also violated federal law by indexing the salary threshold to the 40th percentile of income, with automatic increases every three years, the lawsuits claim.

The states' lawsuit says that under the rule many state employees would become eligible for overtime pay even though they perform management duties that should make them exempt.

That would force states to pay workers more or resort to layoffs and other budget cuts, a violation of states' rights, they said.
Branstad signed on to the states' lawsuit. The Iowa Attorney General's Office confirmed that joining the effort to challenge the labor rule was the governor's decision, not that of Attorney General Tom Miller.
Last Tuesday, Branstad tried to spin his action as a way to look out for working people in Iowa. In a statement, he asserted,
"The proposed rule would add $19.1 million of additional costs on the state of Iowa government and our public universities in the first year – a burden that would be carried by Iowa's hard working taxpayers, parents and students."
What about 120,000 hard-working Iowa taxpayers currently forced to work overtime hours without additional compensation? One in four of Branstad's salaried constituents would see a pay increase under the new rule.
The Iowa Policy Project's latest report on the Cost of Living in Iowa shows how much money it takes to cover basic household expenses for different kinds of families. I enclose two of the tables here, but click through for much more data in the full report.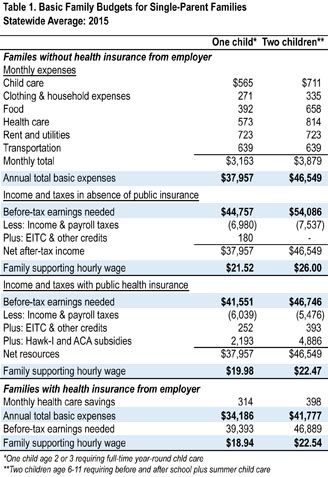 In other words, Iowans earning salaries between $23,660 (the old federal threshold for overtime pay) and $47,476 (the level set by the new federal rule) are not rolling in dough. They may be unable to afford some necessities. Their employers now have three options: pay time-and-a-half for overtime, raise their base salary above $47,476 to avoid keeping track of and paying for overtime, or stop letting them work more than 40 hours per week.
The first two options would help thousands of workers cover household essentials. The third would give salaried workers more leisure time while leaving them no worse off financially–perhaps better off, if eliminating previously-unpaid overtime hours reduced their child care expenses.
Those things should matter to a governor who is committed to raising family incomes.
Instead, Branstad showed yet again that he doesn't let facts get in the way of what business groups want him to do.
UPDATE: Couldn't agree more with the Des Moines Register's lead editorial on September 28:
[I]t is worth noting that before issuing the final rule, the Obama administration listened to employers' concerns, scaled back the original income threshold and allowed bonuses to count toward salary. It is also worth noting that expecting employers to pay people for the hours worked is hardly a radical notion.

Iowa's governor apparently thinks otherwise. And his rationale for opposing the rule is particularly odd. He says he's concerned about an estimated additional $19 million cost to state government, which "may be forced to eliminate some services and even layoff employees," according to a press release issued by his office last week. […]

Since he took office in January 2011, the number of administrative branch workers has decreased from 19,398 to 17,724, or 8.6 percent, according to information provided by the Department of Administrative Services. There are hundreds fewer workers in state agencies responsible for inspecting nursing homes, protecting children, guarding prison inmates and monitoring water quality.

It is difficult to believe the governor's gripe with the federal overtime rule stems from anxiety about the loss of public services and employees. More likely, he's taking a stand on behalf of private businesses opposed to the rule. He has certainly proven to be a champion of them.
Top image: Governor Terry Branstad and goals listed on the the "increase incomes" page of his official website