Some early Iowa voters have received confusing directions along with the absentee ballot that arrived in the mail. As you can see from the enclosed picture of instructions sent by the Polk County Auditor's Office, words advise the voter to mark the ballot with a black ink pen, but the accompanying image shows a hand using a pencil.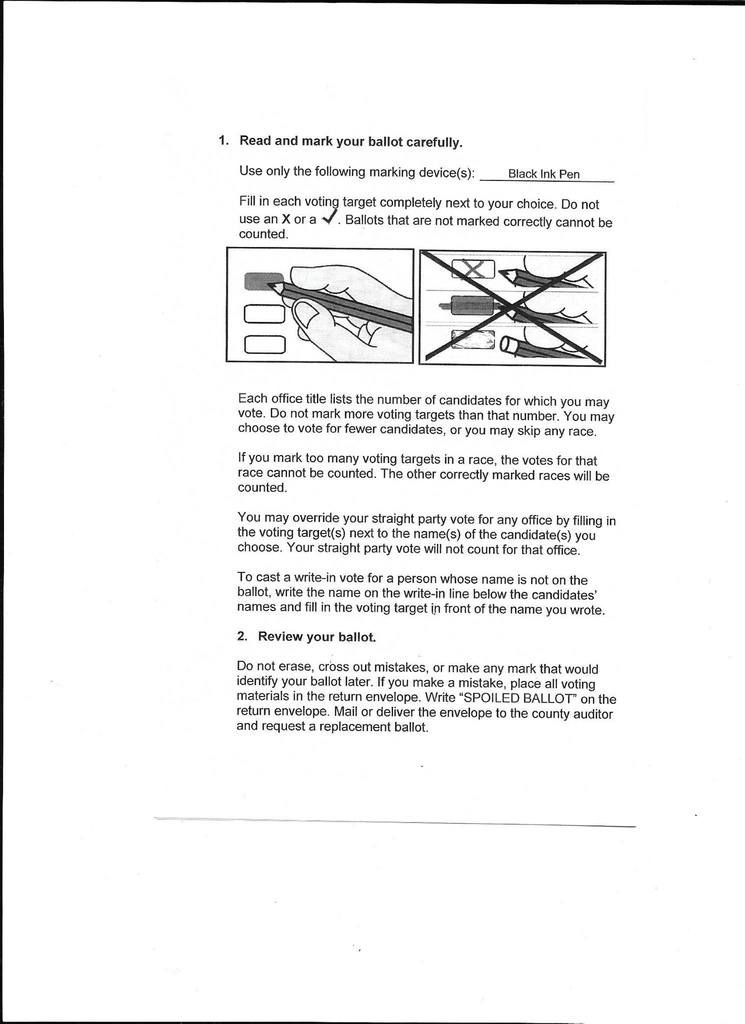 Polk County Auditor Jamie Fitzgerald explained via e-mail,
The instructions are provided by the Iowa Sec[retary] of State and we are required to use their form (IAC 721-22.250(52). Form can be accessed at:

https://sos.iowa.gov/elections/PDF/forms/abinstrdonestic.pdf

We recommend black ink pen as that is the most bold for the optical scan ballot counter. We highly recommend not using pencil for the erasing temptation. It used to be the optical scanners couldn't read red ink as they used a red light to read but this is not an issue anymore. In these cases the special precinct board would look at the ballot and remark it using a Democrat/Republican team. They would then paper clip the ballot together in case there ever was a question and the ballot would be counted.

All ballots will be counted - no matter what color of pen, pencil etc is used.
Fitzgerald later added that even if a scanning machine were unable to read a ballot (for instance, because the voter marked it in a lighter ink), a special precinct board would review the ballot and re-mark it so that it could be counted.
Several other county auditors told me they also encourage voters to mark absentee ballots with black ink pens, which make a darker mark that is easier for optical scanners to process. That said, scanners should be able to read ballots marked with blue ink or pencil, and all ballots will be counted even if initially rejected by a voting machine.
The Secretary of State's Office confirmed, "Black ink is recommended, unless the auditor requests pencil for that particular voting machine. All ballots filled are counted." County auditors have discretion on what to write after "Use only the following marking device(s):____" on the instructions page they send with absentee ballots.
Before the next election, the Secretary of State could reduce the potential for confusion by removing the picture of a pencil from the recommended form for auditors.
In the meantime, voters don't need to panic if they used a pencil on an absentee ballot--as long as they did not erase any marks in order to fill in a different oval. A ballot with crossed-out or erased marks will be considered spoiled.
Iowans who make a mistake on an absentee ballot are advised to "place all voting materials in the return envelope. Write 'SPOILED BALLOT' on the return envelope. Mail or deliver the envelope to the county auditor and request a replacement ballot."
Completed absentee ballots must be sealed inside a secrecy envelope, which must be sealed inside an affidavit envelope, which is then sealed inside the return envelope. Voters must sign the affidavit envelope in order to have the ballot counted. Some county auditors, including Polk's, will contact voters if an absentee ballot comes back without the proper signature, giving the person a chance to correct the mistake before election day. But second chances may not be an option in every county, so early voters should read and follow the instructions carefully.
Any comments or questions about absentee ballots are welcome in this thread. I prefer voting early in person. All 99 county auditor's offices are open every weekday through November 7, and many counties have satellite polling places open now as well.
Iowa Secretary of State's recommended instructions form for filling out absentee ballots (last revised in 2014):