Like many politically active teenagers, I was excited to be old enough to vote for the first time, in 1988. I'd volunteered and caucused for Paul Simon earlier in the year, but I had no trouble coming around to support our party's nominee, Michael Dukakis. I was fortunate to attend part of the Democratic National Convention in Atlanta, where most people were confident we were going to win back the White House. By the time I filled out my absentee ballot in the fall, I was worried, because a disastrous debate moment and a brutal attack ad from George H.W. Bush's campaign had turned things around.
Indeed, Dukakis was wiped out, gaining 7 million fewer votes and losing the electoral college 426 to 111.
As a college student on the east coast for most of Bush's presidency, I felt proud that Iowa had been among the ten states to reject him. In fact, my favorite comeback to rude comments about "flyover country" was, "As least we voted for Dukakis." It was more than people from New Jersey, Pennsylvania, Florida, Illinois, or even California could say.
This week I looked up the Iowa returns from 1988 and realized that Dukakis carried this state much more convincingly than I remembered: 670,557 votes to 545,355 (54.7 percent to 44.5 percent). Dukakis outpolled Bush here by roughly as large a margin as Donald Trump's advantage over Hillary Clinton this week.
When I looked at the county map of results, I was stunned to see that Dukakis carried 75 of Iowa's 99 counties. Bush carried only 24.

Raw votes by county are available on the Secretary of State's website. I adapted the map on this Wikipedia page. Bush counties are in red, Dukakis in blue. Darker shaded counties are those where the leading candidate gained more than 60 percent of the vote.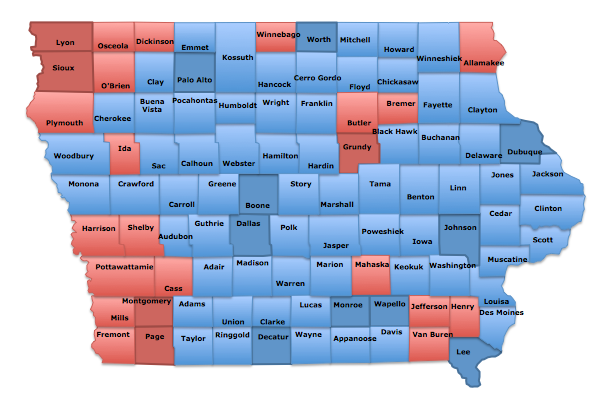 The simplest way to explain what happened here in 1988 is the farm crisis of the mid-1980s turned a lot of Iowans off the Reagan administration. Bush was tainted by association, having been the vice president.
Still, can you believe a liberal governor from Massachusetts carried some of these counties only a generation ago? Marion County, Madison County, Sac County! I double checked against the archived results, thinking Wikipedia's map must have been wrong.
In a week that could hardly have been more discouraging for Iowa Democrats, it's worth remembering that the ground can shift quickly in politics.