Since election day, I've spoken with many Iowa Democrats and have observed many conversations and debates on social media. People process grief in different ways. Some Democrats are still bogged down in arguments over who is to blame (e.g. centrist or "establishment" Democrats, the FBI director, political journalists). Some are despairing over how Republicans will use total control over state government to destroy safety net programs and erode civil rights. Some have already moved on to pondering how we can create a stronger statewide party, and how Democrats could mitigate the harm Congressional Republicans will be able to inflict on Americans.
I applaud the forward-thinking people who are preparing for the tasks ahead. At the same time, I'm concerned that many Democrats haven't absorbed the long-term consequences of what happened here on November 8.
For decades, politically-engaged Iowans have enjoyed the attention that comes with being first in the nominating process and a swing state later in the year. Our popular vote tracked closely to the national popular vote margin in six straight presidential elections. Both major-party nominees campaigned here and paid for field networks to get out the vote, with collateral benefits for down-ticket candidates.
We need to recognize that during the next couple of election cycles, we will likely be on our own.

NO SAVIOR WILL BAIL US OUT IN 2018
Iowa won't have a U.S. Senate race in 2018. The Democratic Congressional Campaign Committee probably will target the U.S. House races in the first and third districts again, for lack of better options, given how many large states have Republican gerrymandered Congressional maps. But after Representatives Rod Blum and David Young defeated their opponents in IA-01 and IA-03 by wider margins this year than in the 2014 midterm election, the DCCC may not spend as much money promoting Democratic challengers in Iowa in 2018. (The DCCC spent $310,681 this year on independent expenditures supporting IA-03 candidate Jim Mowrer, $2,208,255 opposing Young, and $755,817 opposing Blum.)
Iowa's top statewide campaign next cycle will be the governor's race. I've seen lots of Democrats express the hope Tom Vilsack may try to get his old job back, now that working in Hillary Clinton's administration will not be an option. But while Vilsack has promised to help Iowa Democrats rebuild and offered some ideas for improving the party's performance in rural areas, he has already ruled out running for governor again.
The Democratic Governors Association will have many opportunities to win back governorships in 2018, with Republican incumbents retiring or term-limited in fifteen states. Several of those states are larger than Iowa and more important from the perspective of blocking a Republican gerrymander after the 2020 census: Florida, Georgia, Michigan, and Ohio.
Defending the Democratic governor in Pennsylvania and taking on GOP incumbents in Illinois, Wisconsin, Arizona, and Texas would also serve the goal of stopping future gerrymanders. (Actually, I suspect Iowa Republicans may replace our highly-regarded redistricting process with a partisan approach, but that's a topic for another day.)
The DGA and other outside groups that support Democrats are especially unlikely to spend resources here if Governor Terry Branstad runs for a seventh term–not a farfetched scenario. Governor Chet Culver only carried nine of Iowa's 99 counties against Branstad in 2010. Jack Hatch carried one county in 2014.
If Branstad retires, Democratic candidates for governor would have to show strength in polling and raise enough money to campaign statewide before any outside groups commit significant resources to the race. I see lots of people on the Bernie Sanders wing denounce the influence of big money in Iowa Democratic politics, but there aren't enough small-dollar donors here to prevent Republicans like Kim Reynolds or Ron Corbett or Bill Northey from burying our nominee with early negative advertising.
DON'T COUNT ON PRESIDENTIAL CAMPAIGNS PLAYING HERE IN 2020
A spirited Iowa caucus campaign in 2019 and 2020 would engage thousands of activists and benefit local party organizations. However, Iowa may not maintain our first-in-the-nation status. Pat Rynard laid out the optimistic case last week:
First, on the Republican side, the Iowa Caucus' place in the nominating calendar is virtually assured thanks to Terry Branstad's close relationship with Donald Trump. […]

The Republican Party of Iowa's steadfast early solidarity around Trump will likely be rewarded as well. Jeff Kaufmann very specifically insisted on a united front around the controversial nominee, back in a time where other state parties and high-profile Republicans were wavering. He outright stated that it was in part to protect the Iowa Caucus. […]

On the Democratic side, Iowa no longer has to worry about whether a President Clinton would harbor hard feelings over her struggles in Iowa, and allow a new DNC chair to redirect the early nominating process. I have my own personal opinion on what really would have happened, but it's a moot point now, so no need to dwell on it.

As of right now, there is basically no leader of the Democratic Party. The party is going through a deep process of introspection, and has a ton on their plate to fix moving forward. Rearranging the primary schedule would be picking a massive fight, something they simply don't have time for.
Assuming Trump runs for a second term (or Mike Pence runs in 2020 following Trump's impeachment for using the presidency to promote his businesses), there will be no competitive Republican caucuses next time around. So what happens within the Democratic National Committee will have greater influence on the nominating calendar.
Perhaps the next DNC chair will be favorably disposed toward keeping Iowa's first place in line, but frankly, I don't see why. Lots of Democratic insiders dislike the disenfranchising aspects of caucuses compared to primaries. Even if Hillary Clinton advocates don't dominate the DNC, I expect a strong effort to ban caucuses for purposes of presidential selection.
In addition, many DNC members will argue for starting the nominating process in states that are more demographically representative of the country and the Democratic Party than Iowa and New Hampshire. In the past, Iowans could claim our state voted a lot like America, even if we don't look like America. The 2016 results took that argument away from us.
For now, let's say several candidates do compete in a typically exciting, early Iowa caucus campaign. What happens after January or February 2000?
We've been spoiled by Democratic nominees pouring millions of dollars into Iowa field operations for the last five presidential election campaigns. Don't bet on that happening in 2020.
Trump carried the following nine states by a smaller margin than his victory by 9.5 points (51.2 percent to 41.7 percent) in Iowa:
Michigan (Trump won by 0.2 percent)
Wisconsin (0.8 percent)
Pennsylvania (1.1 percent)
Florida (1.2 percent)
Arizona (3.5 percent)
North Carolina (3.6 percent)
Georgia (5.1 percent)
Ohio (7.9 percent)
Texas (9.1 percent)
Those states account for a combined 173 electoral votes.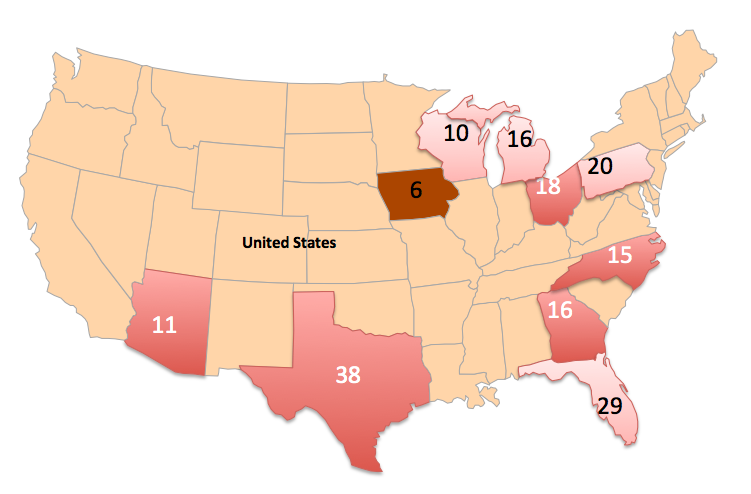 The same nine states also have larger and faster-growing Latino, African-American and Asian-American populations than Iowa does. Why would the 2020 Democratic nominee invest a lot of resources in winning Iowa's six electoral votes? Maybe we'll see some television commercials–air time is cheap here relative to larger states–but I don't expect candidate visits after Labor Day or dozens of field offices or big spending on an early vote drive, which is what local Democrats need most.
Often there has been friction between activists focused on down-ballot candidates and staff running the presidential operation. Sean Bagniewski and Jason Frerichs conveyed some of that frustration in their commentary on "coming together for a stronger Democratic Party":
Local people know the area and their neighbors much better than some young kid from the coast working on the Coordinated Campaign. We spoke with Johnson County resident and former State Central Committee member Maureen Donnelly. She said, "I hated hearing 'I am calling from the Iowa Democratic Party when they were calling from Johnson County into Johnson County.' I told each (person who) called that said that that they would have a better response if they said the local county they were calling for."

We also spoke with Howard County Chair and State Central Committee member Laura Hubka who said, "(t)he Coordinated Campaign also has a bad way of stealing your volunteers. I don't spend all these years building up my people so that the Coordinated Campaign can come in and steal them from the hard work that we're doing in our counties."

Story County resident Jon R. Klein echoed Laura's comments. He said, "The Coordinated Campaign takes county resources and national candidate funding and attempts to get the national candidate elected. If we want to talk about local candidates after we've talked about the national candidate with prospective voters, either at their door or on the phone, that's okay with the campaign — but it has to be AFTER you talk to them about the national candidate, not before. Also, they don't want to hear our suggestions. They want to execute their plan."
I doubt Iowa Democrats need to worry about a bunch of outsiders calling the shots for the next coordinated campaign. The bigger question is whether the national candidate will show enough interest in our state to hire staff or steal local volunteers.
IOWA'S U.S. SENATE RACE MAY NOT BE TARGETED IN 2020
The best opportunity to beat an incumbent is usually after the first term in office, so if Democrats want to stop Senator Joni Ernst from serving in Congress for as long as Chuck Grassley, the time to act will be 2020. But Democrats have lots of opportunities in that year's Senate races, thanks to the 2014 GOP landslide. Maybe Ernst will be among the six or eight most vulnerable GOP senators up for re-election, after voting to privatize Medicare and Social Security and take health insurance away from more than 100,000 Iowans. Or maybe she will look better positioned than eight or ten of her Republican colleagues.
Ernst's approval ratings are not as high as Grassley's, but she has a few more years to build up her visibility through media appearances, franked mail, and visits to all 99 counties. She will also be able to amass millions of dollars in her campaign account before any Democratic challenger declares.
Iowa's open U.S. Senate seat became one of the hottest races in the country in 2014. Ernst and Democratic candidate Bruce Braley each spent about $12 million, and outside groups spent an additional $54 million. The bulk of that money went toward radio and television commercials or direct mail; some went toward field efforts, like identifying supporters and getting them to vote early.
A 2020 Senate race that attracts little interest outside Iowa could leave Ernst's Democratic opponent unable to fund a statewide operation or enough advertising to raise name recognition. Grassley's polling lead over challenger Patty Judge grew in the late summer and fall, once the incumbent was able to run week after week of commercials while Judge's campaign was off the airwaves.
I sincerely hope I have painted too pessimistic a picture today. My intention is not to discourage Democrats from trying to pick ourselves up off the floor.
At the same time, I would caution against thinking Iowa will inevitably regain swing-state status once Republicans overreach by enacting unpopular policies at the state and federal level. As Democrats search for new leaders and new ideas to become more competitive in all parts of the state, we do ourselves a disservice if we fail to acknowledge the potentially lasting impact of Iowa's sharp turn toward Trump in 2016.