I love the story behind this week's featured plant. Sweet coneflower (Rudbeckia subtomentosa), sometimes called sweet black-eyed Susan, is native to more than a dozen states, including Iowa. But this variant of sweet coneflower has a much more limited range in the wild. It's named for Henry Eilers, the retired nurseryman who found it "in a railroad prairie remnant in Montgomery County, Illinois."
Rare plants often grow in the long strips of never-plowed land between rural roads and railroad beds. Next year, I hope to spend some time scoping out one Iowa railroad prairie remnant: the "Rippey strip" along the 144 Diagonal near Rippey in Greene County.
I'd never heard of "Henry Eilers" sweet coneflower before finding these plants in one of the flower beds outside the Greater Des Moines Botanical Garden, between Robert D. Ray Drive and the John Pat Dorrian Trail in downtown Des Moines.

The Illinois Wildflowers, Minnesota Wildflowers, and Eloise Butler Wildflower Garden websites are good resources for botanically accurate descriptions of sweet coneflowers. Like other members of the aster family, what looks like one flower is a flowerhead, with many tiny flowers in a central disc and ray florets that look like petals.
Krzysztof Ziarnek, Kenraiz made his photograph of a sweet coneflower blooming at the Chicago Botanic Garden available through Wikimedia Commons.
The Missouri Botanical Garden's website says of the "Henry Eilers" variant,
In general appearance, the flowers are very similar to those of the species, except the yellow rays are rolled instead of flat, giving the flower a quilled effect. Dome-shaped brown center disks. Flowers bloom in clusters atop strong, sometimes-branching stems from July to September. Dark gray-green leaves (3-6" long) in basal clumps (some 3-lobed) with smaller unlobed stem leaves. Leaves have a mild sweet aroma.
The Northcreek Nurseries website writes that "this marvelous plant" can grow to "five to six feet and full flower by August, often staying in bloom into September. 'Henry Eilers' has finely quilled flowers of true yellow, not gold, and is stunning in a mass planting."
I had no idea what I was looking at when I saw this large stand near the Greater Des Moines Botanical Garden in late July.
You can see the leaves and stems more clearly here:
The ray flowers were rolled up, making me wonder whether the flowerheads were in full bloom.
A closer look at the "quilled" ray florets: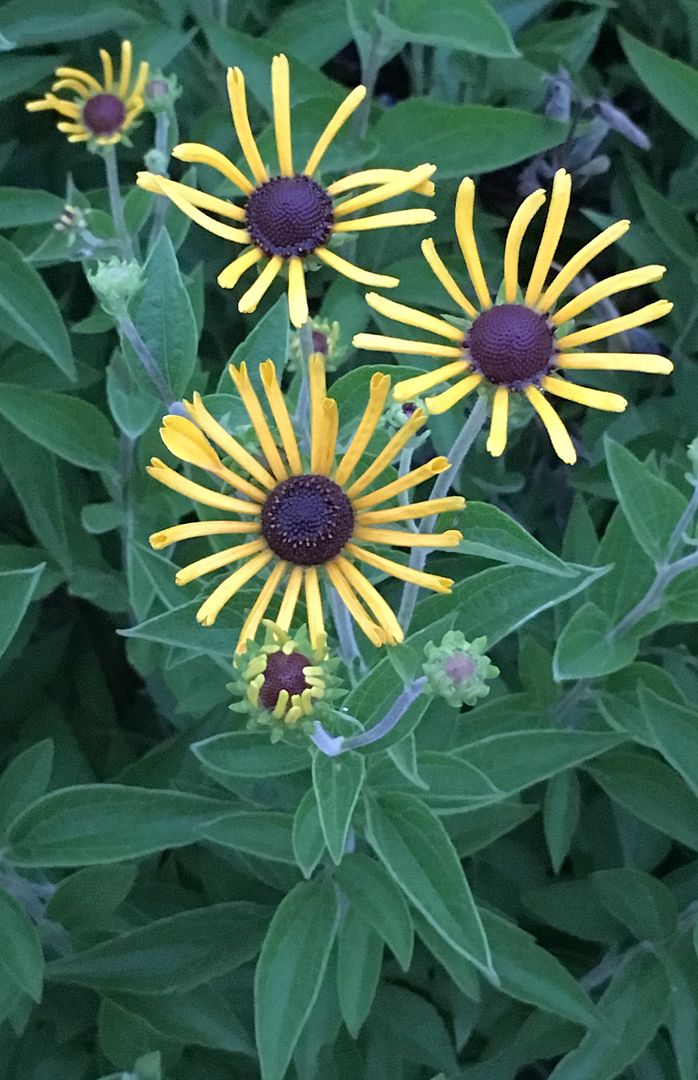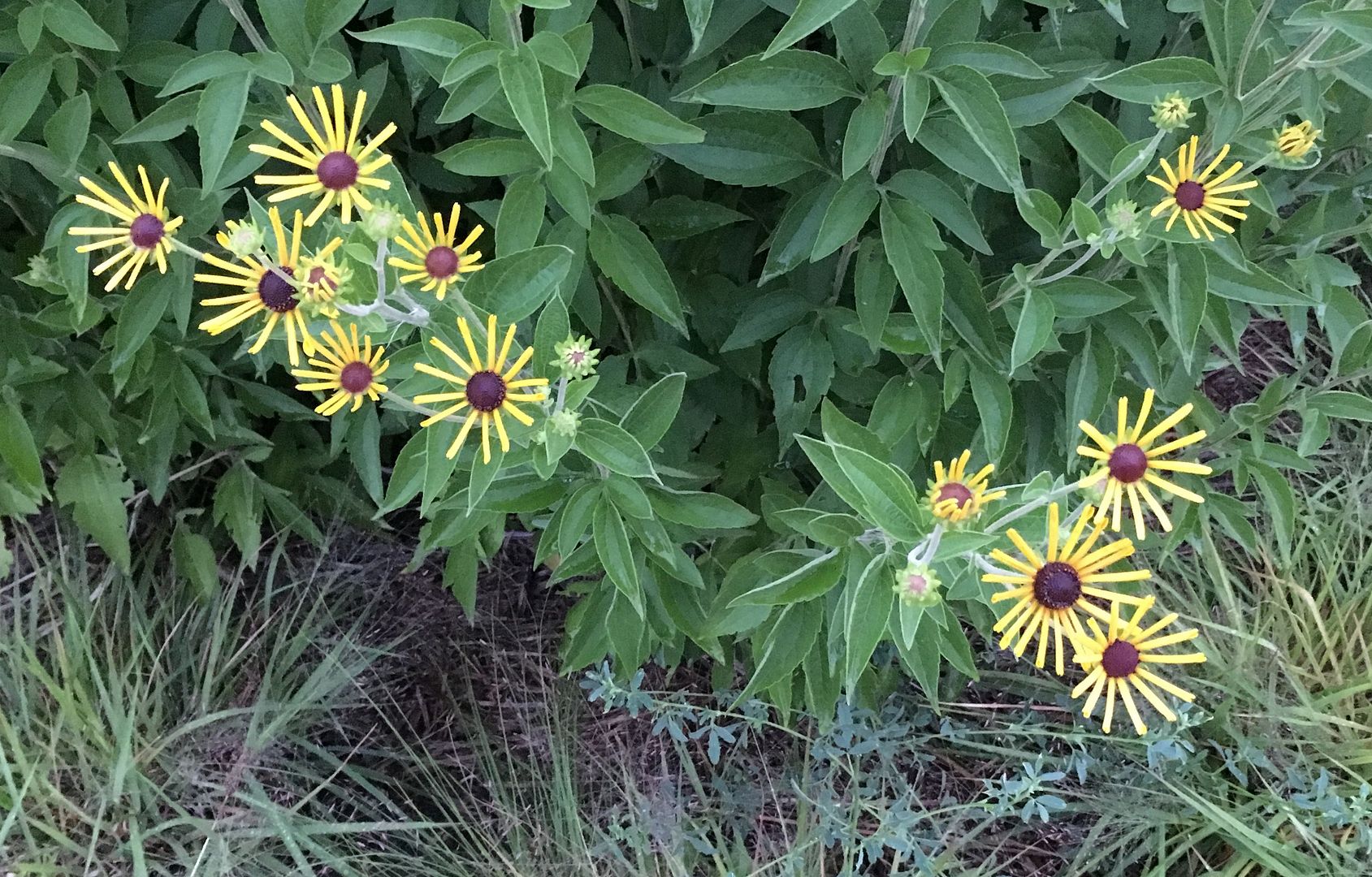 Last week, I went back to check on some wildflowers outside the botanical garden. The "Henry Eilers" sweet coneflowers were fading. Some of the rays had dropped off, and others now had a reddish tint.