I'm thrilled to share another talented photographer's images of a native plant I've never seen. Wildflower enthusiast Katie Byerly found these plants growing in Rock Falls (Cerro Gordo County) in September. Experts in the Iowa Wildflower Report Facebook group confirmed her identification of Riddell's goldenrod (Oligoneuron riddellii), an uncommon species mostly found in Midwestern states and a couple of Canadian provinces.
The scientific name used to be Solidago riddellii, but Leland Searles explained to me, "The genus was changed to Oligoneuron for Riddell's and Stiff Goldenrods (O. rigidum). They are unlike genus Solidago [most other goldenrods] in several ways."
Katie went back to Rock Falls a few days ago, hunting for witch hazel after reading Beth Lynch's post here last week. She had also hoped to find some Riddell's goldenrod gone to seed. Alas, "the county mowed it up." It happens. Fortunately, she captured plenty of beautiful shots earlier in the fall.

As usual, botanically accurate descriptions of Riddell's goldenrod foliage, flowers, and seeds can be found on the Illinois Wildflowers, Minnesota Wildflowers, or Eloise Butler Wildflower Garden websites. The last tells the story of the plant classification, with the Latin name followed by "Frank ex Riddell."
The first to publish this species, 'Frank', refers to Joseph C. Frank ( - 1835), German Botanist who was sent to North America to travel and collect specimens for a German botanical society, the name of which has been lost. While in Cincinnati, he became acquainted with John Leonard Riddell and having discovered a new goldenrod species in his Ohio travels, he named it Riddell's Goldenrod in Riddell's honor. [...] His classification work on Solidago riddellii was later updated by 'Riddell', which refers to the very same John Leonard Riddell, (1807-1865), American chemistry professor, botanist, writer, and medical doctor. He was born in Massachusetts, but most of his botanical observations were in the central states from Ohio southward. His important work was a "Synopsis of the Flora of the Western States" defined in that era as the territory from the Allegheny mountains to the Platte River in Missouri Territory. [...] He served as Adjunct Professor of Chemistry and Lecturer on Botany in the Cincinnati Medical College where he also received his M.D. and he later became chair of the Chemistry Dept. in the Medical College of Louisiana (which then became the University of Louisiana), which position he held until his death. It was there he invented the binocular microscope. The plant genus Riddellia was named for him. Two other plants in Eloise Butler also bear Riddell's name - Sky-blue Aster and Snow Trillium.
Bleeding Heartland featured sky blue aster and snow trillium in 2014.
Back to Riddell's goldenrod. Katie found this plant with buds starting to appear: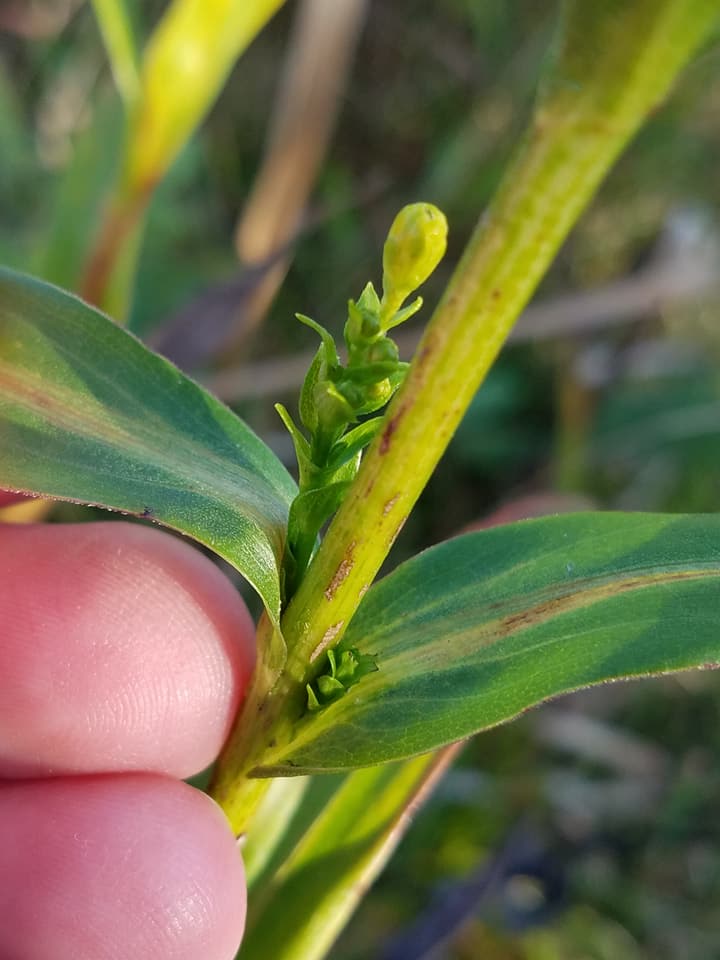 More buds: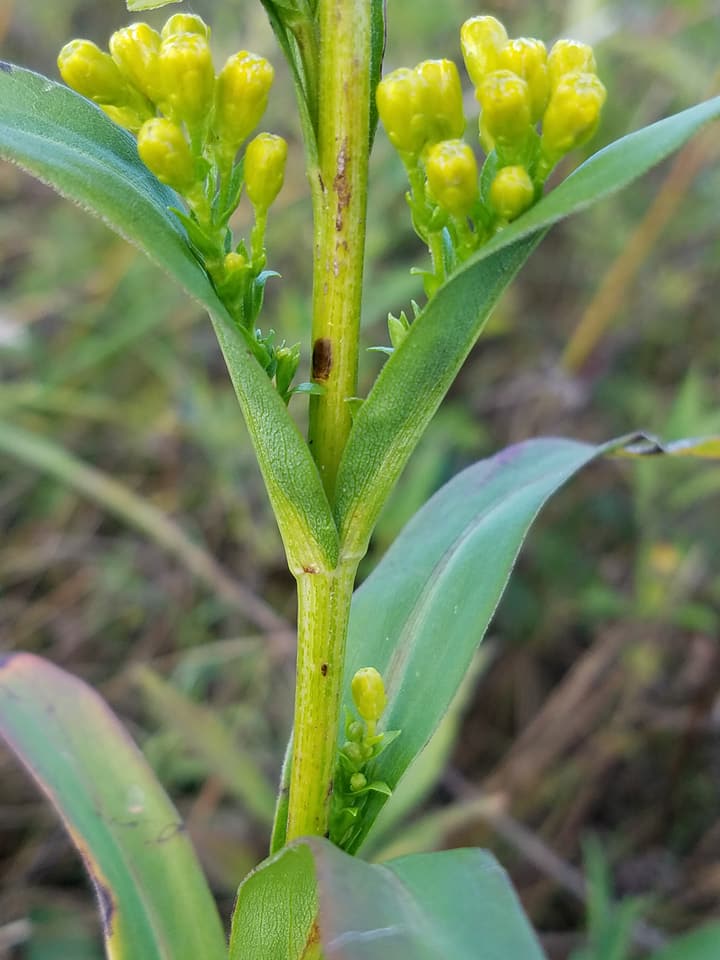 Blooming from the top of the plant first: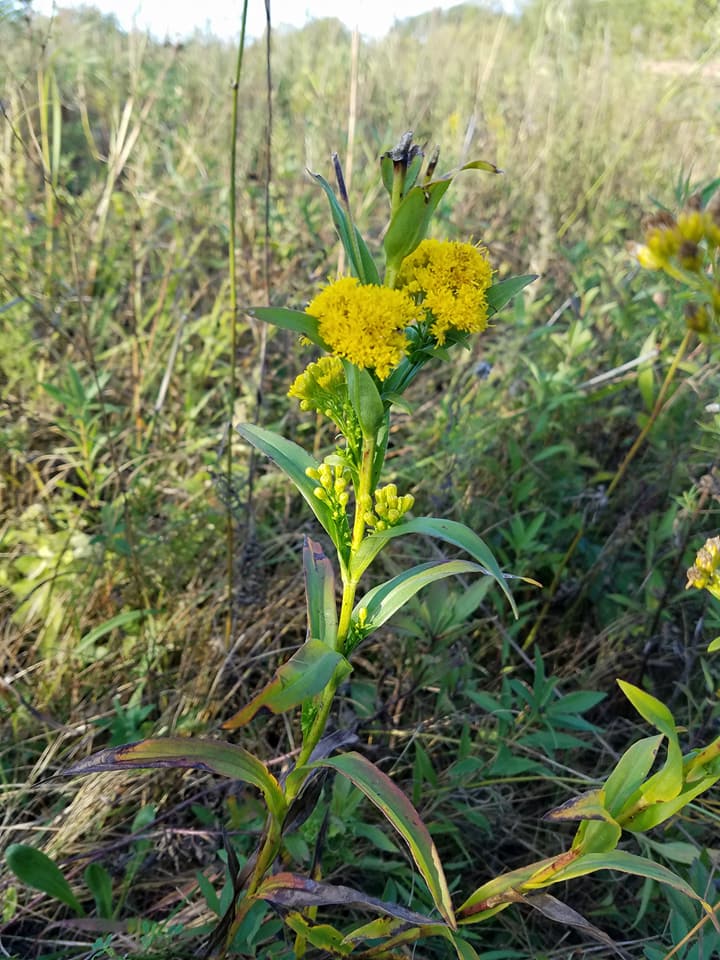 The Minnesota Wildflowers site explains,
The rounded flat cluster [of Riddell's] is unique from all other native goldenrods except Stiff Goldenrod (Solidago rigida) that is also present in its range. But S. rigida prefers dry sandy habitats and its stems leaves are decidedly rounder with rough, hairy surfaces. The folded, arching and often sheathing stem leaves uniquely separate Riddell's Goldenrod from the rest.
For comparison, see Stefanie Running's picture of stiff goldenrod blooming in August at Gray's Lake in Des Moines.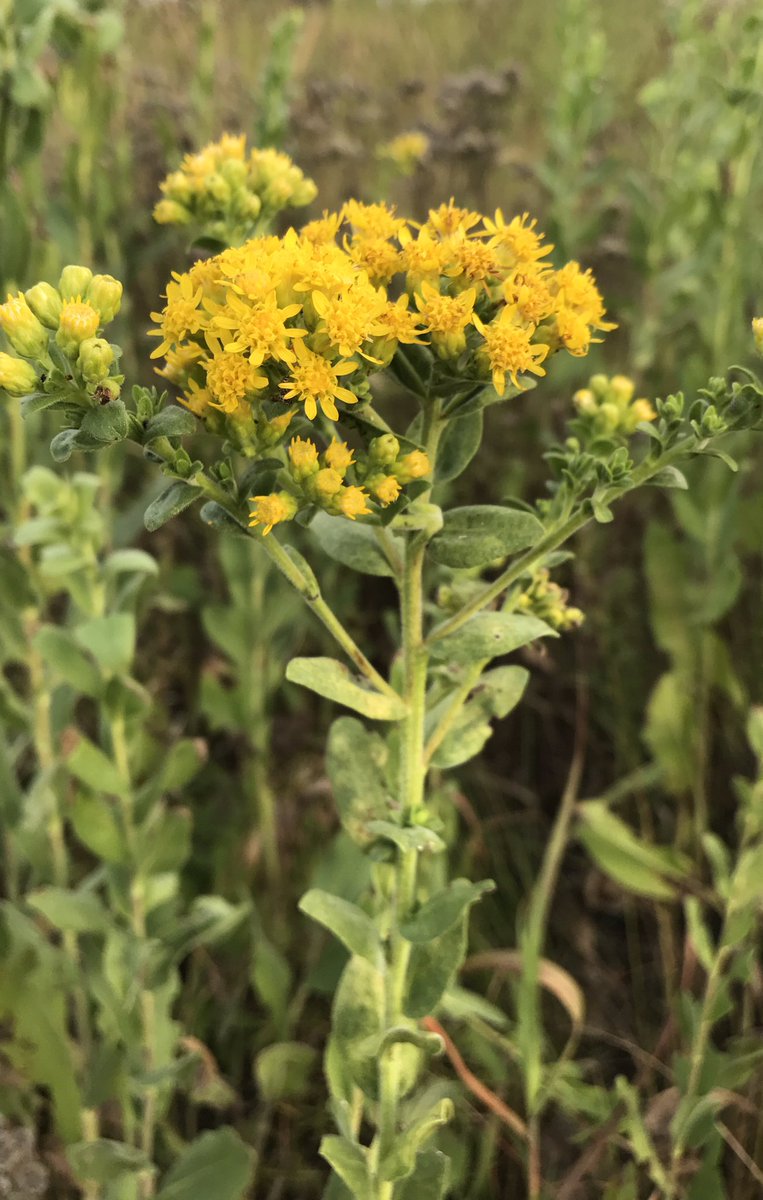 Now, one of Katie's close-up views of Riddell's goldenrod: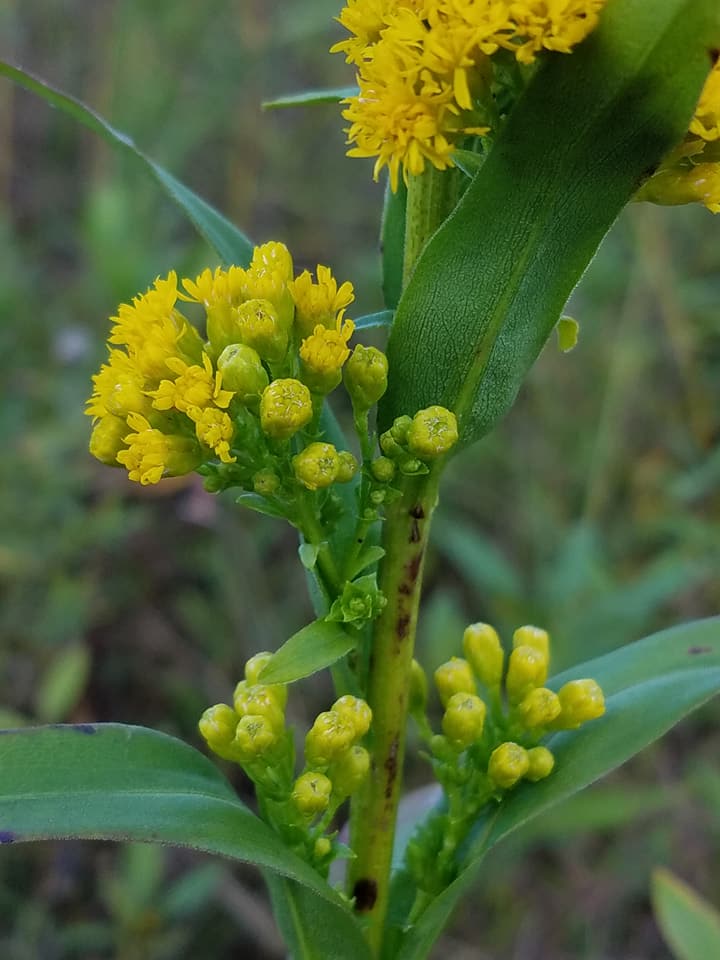 According to the Illinois Wildflowers site,
This goldenrod prefers full sun, wet to moist conditions, and calcareous soil containing some sand or gravel. A steady supply of moisture is required, especially during hot dry weather. New plants can be started from seeds or by division of rhizomes. [...]

This goldenrod is found primarily in the Upper Midwest and adjacent areas of Canada. Habitats include moist dolomite prairies, gravelly hillside seeps, fens, and low areas along springs. This goldenrod occurs in higher quality wetland habitats.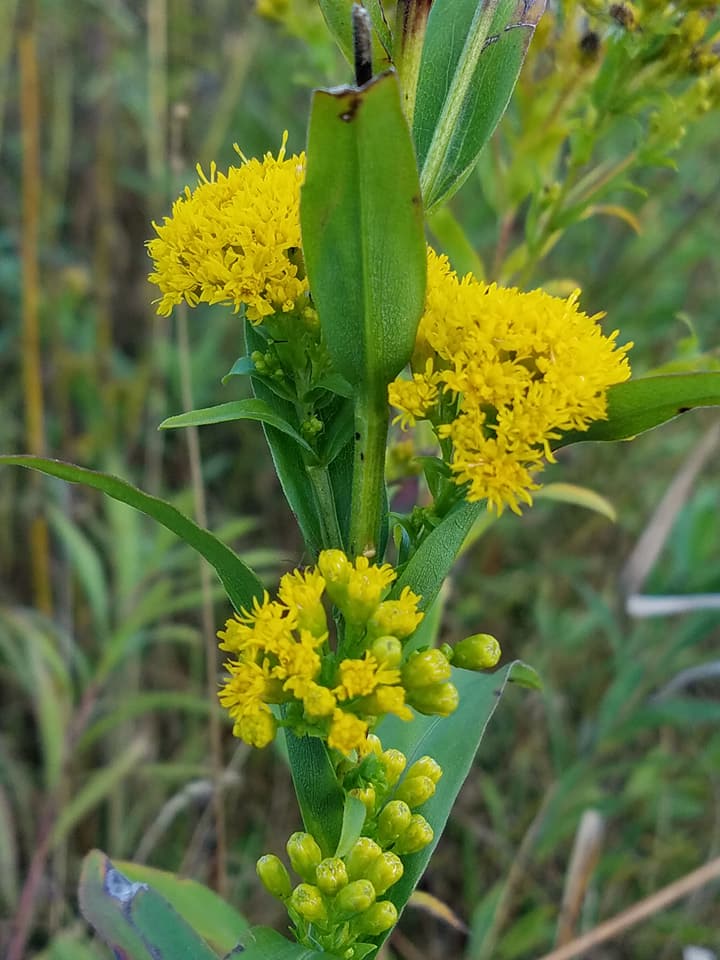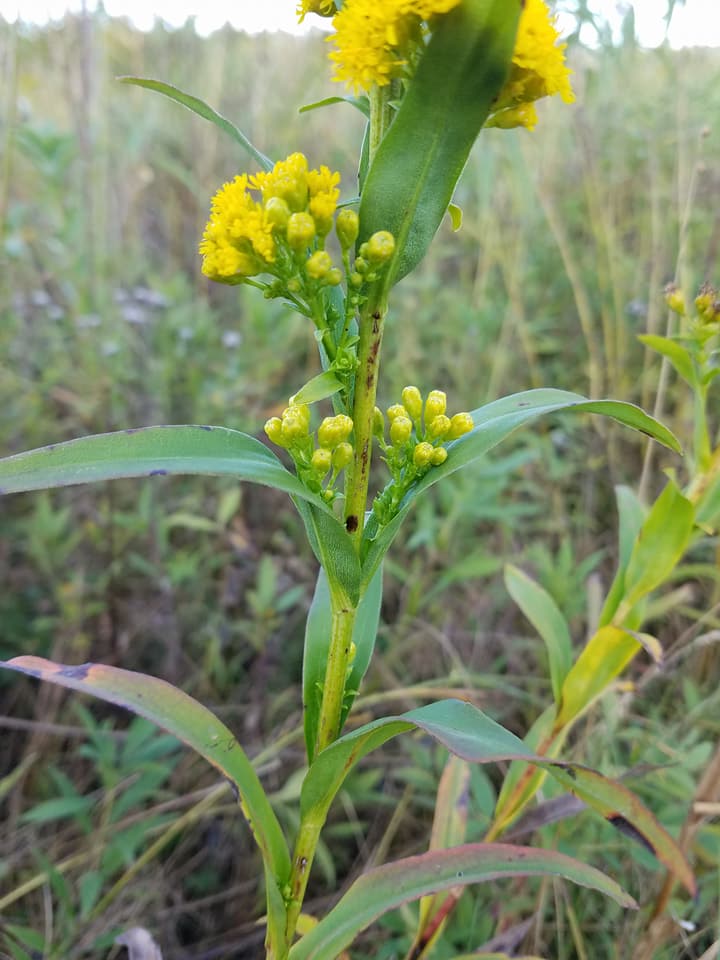 Observers have seen various species of "honeybees, bumblebees, little carpenter bees (Ceratina spp.), long-horned bees (Melissodes spp.), Halictid bees, masked bees (Hylaeus spp.), and Andrenid bees" visiting Riddell's goldenrod flowers. I don't know what kind of insect is crawling on this plant: