Julie Stauch has handled strategy, tactics, and management for campaigns, non-profits, and businesses. She managed Leonard Boswell's 2002 re-election campaign. -promoted by desmoinesdem
"Success is to be measured not so much by the position that one has reached in life as by the obstacles which he has overcome." -Booker T. Washington
Leonard Boswell was a success by any measure. Perhaps the greatest measure is the one stated by Booker T. Washington, because Leonard faced many obstacles and marched right over every single one.

I worked with Leonard on his 2002 re-election campaign when redistricting put Decatur County into the heavily Republican fifth Congressional district. He moved into the redrawn third district, which now contained Polk County. Some 73 percent of the district was new territory, most of it (but not all) in Polk County. I stumbled into the job when a non-profit client went belly up, and Peggy Huppert suggested I should talk with Carl Wiederaenders.
Who was Leonard Boswell? He was a farm kid in southern Iowa. He once told me that his dream as a teenager was to make it far enough to manage migrant crews and travel up from the south every year to lead harvesting crews. He lit up when he spoke of this dream and the joy he saw in traveling and not being stuck on the farm like his father and uncles.
Leonard got the chance to travel when he was drafted in the Army. It's not common for a drafted or enlisted person to make officer candidate school, but Leonard did. Those who do are called "Mavericks." It's a good descriptor for Leonard in everything he did. He was unconventional; just when you thought you knew where he was coming from on an issue or in a disagreement, he'd shift. He rose to become a Lt. Colonel in the Army. He met his greatest love there – flying – and he was like a kid every time he was able to go up.
Carl Wiederaenders recruited him to run for the Iowa Senate, and that's where I first met Leonard. I came to know him when I was scheduler for Bonnie Campbell (the Democratic nominee for governor in 1994). After he became Bonnie's running mate, I worked with his scheduler. Leonard was great to work with, which was why I was open to managing his Congressional campaign.
This was back when Leonard was carrying a lot of extra weight. Many of my friends couldn't believe I'd work with him. I would say to them, "Just because he looks and sounds like a corrupt southern sheriff from TV, doesn't mean that's who he is." It was definitely NOT who Leonard ever was.
My job was to be campaign manager, and among his many attributes, Leonard would get into the details of my work as way to avoid his work as the candidate. Not long after I started, knowing my job was to keep him focused on his tasks and manage the staff team as well, I decided to use my limited knowledge of the Army to convince him of my role.
We were walking out of the "Metroplex" where most of the Democratic campaigns were housed in 2002, and Leonard was talking about his stint in the Army. At a pause, I said, "Congressman, I know what my rank would have been if I'd been in the Army." He was surprised and entertained and asked, "What?"
"Master Sergeant."
He stopped walking and looked at me, astonished, and said, "Julie, the Master Sergeants run the Army."
I nodded in agreement, smiled and said, "I know. That's my point. I run this campaign. You need to be the officer, Lt. Colonel, and I'll be the Master Sergeant. We'll get along just fine." He gave me a mock salute, which I returned and we moved forward.
It worked. Mostly. Except for yard signs. But I think that story is best forgotten.
In everything he did, Leonard was a Maverick. He was a Blue Dog Democrat…but not always. He talked like a southern farmer (an awful lot like my grandfather) but listened like an attorney during depositions. He was surprisingly tolerant and open to minorities, the LGBT community, and went the extra mile as a congressman to help refugees who moved to Iowa, especially the Vietnamese refugee families. When he would hand out medals to the families of soldiers who had died and not received their medals – whether World War II, Korea, Vietnam or the recent Gulf Wars – his dignity and compassion made me tear up every time.
He was as ornery as the mules he talked about punching when they didn't want to do their work.
He was a good man who came a long way, fought through some tough obstacles and kept on going. Definitely a success by any measure. When I heard he had been on a life-flight to Des Moines Thursday morning, I was happy for him that he got to fly one more time, although sorry to know that this would be his last earthly flight.
We remember, Leonard. We remember.
Editor's notes:
Julie Stauch said of the image at the top of this post, "The tractor photo was taken when we were on our way to events in Council Bluffs and he had been negotiating with a dealer to buy a new tractor. So we stopped and looked at it and he wanted me to take photos for his grandson. Classic Leonard!"
She also provided this picture from a ground-breaking for a Des Moines Area Regional Transit project. "He loved his work on the Transportation Committee and loved being able to bring home funding across the district to improve so many transportation facets. DART was a big one, but also there are so many small town airports that he was able to help upgrade and make better. He loved nothing better than being able to fly in and celebrate the new runways, towers, whatever it was that needed fixing."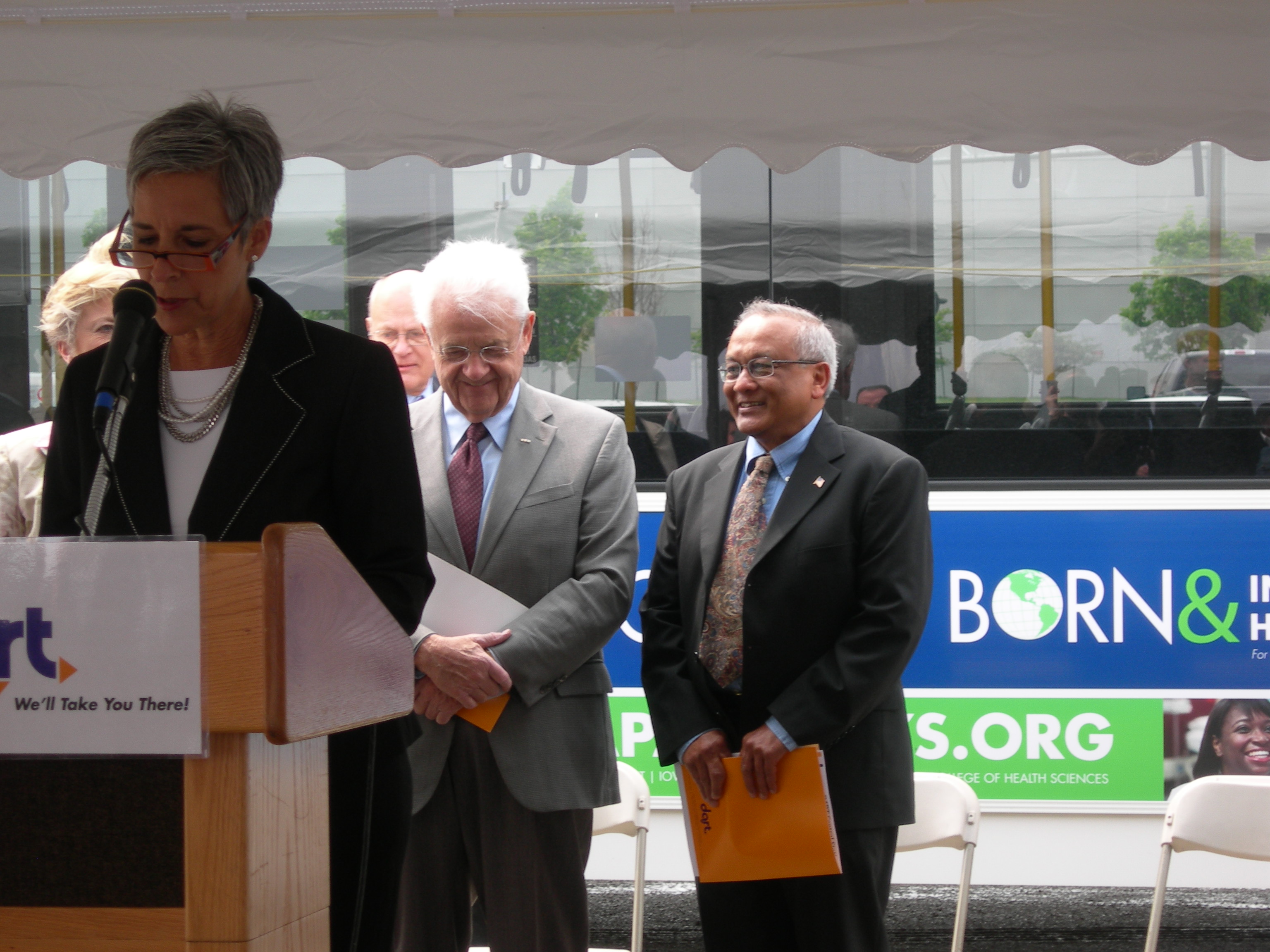 Many people who remain active in Iowa public life are former campaign managers or staff directors for Boswell. In addition to Stauch, they include Carl Wiederaenders, John Norris, John Cacciatore, Jessica Vanden Berg, Jeani Murray, Jay Byers, Patrick Dillon, Grant Woodard, Aaron Pickerell, Sandy Carter, and Sally Bowser.
Grant Woodard, who managed Boswell's 2010 campaign, released the following public information:
A visitation and viewing will occur on Friday, August 24, 2018 from 5:00 PM to 8:00 PM at the Community of Christ Church at 531 West Main Street, Lamoni, Iowa.

Funeral services will be held on Saturday, August 25, 2018 beginning at 10:30 AM at the Shaw Center on the campus of Graceland University in Lamoni, Iowa. The Shaw Center is located at 1 University Place, Lamoni, Iowa at the center of campus. There is ample parking nearby.

Immediately following the funeral, there will be a procession to Rose Hill Cemetery in Lamoni where the Congressman will be laid to rest with full military honors and graveside religious services. Rose Hill Cemetery is located on the west side of Lamoni on West Main Street.

Following the burial, the Boswell family will be hosting a party at the family farm to celebrate Congressman Boswell's life, complete with food, drinks, and fireworks. The address of the farm is 28308 177th Avenue, Davis City, Iowa 50065.

Members of the press are welcome to attend all events.

Slade Funeral Home of Leon, Iowa is handling the arrangements. The funeral home may be contacted at 103 NE Mill Street, Leon, Iowa 50144. The phone number for the funeral home is 641-446-6211.

In lieu of flowers, the family is establishing a scholarship at Graceland University in honor of Congressman Boswell that will benefit young people interested in studying agriculture.

Donations to the scholarship fund may be sent to directly to Slade Funeral Home.