Dan Guild follows up on his previous analysis of Democratic chances to take the U.S. House. -promoted by desmoinesdem
In this last piece before the 2018 general election, three quick points:

1. The Democrats will likely win the largest popular vote majority in more than 20 years.
We tend to forget in the midst of predicting the numbers of seats just how big the Democratic margin in the generic ballot is right now. The table below shows the history.
While this will likely be forgotten tomorrow night, it should not be. The American people are on the verge of an historic rejection of their president. A rejection larger than Presidents Bill Clinton, George W. Bush, or Barack Obama ever received.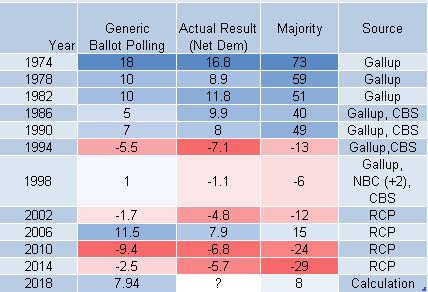 2. The Iowa House seats capture perfectly our politics after Trump's election.
Donald Trump carried all four U.S. House districts in Iowa. But in two of the seats he won, his unpopularity may cost Congressional Republicans their jobs. Trump's approval is underwater in both IA-03 and IA-01. The reaction to the president is palpable.
But of even greater interest in many ways is IA-04. For it is there that we will test the American tolerance for outright white racism. That a seat Hillary Clinton lost by 22 points is even remotely close is remarkable.

3. Anything Can Happen!
A few days ago, I discussed the signs of a Democratic wave beyond expectations. But the reverse is true. By my count, Democrats lead safely in 208 seats. They need to win ten more districts on the list below. A 3-point swing to them and they will shatter even the more optimistic projects. A 3-point swing to the Republicans in these same seats would mean Democrats may not take the House. Much depends on small margins in about 40 seats.