I love Iowa political trivia, so when the keeper of the Ditchwalk blog asked three good questions the day after the election, I could not pass up the chance to walk down memory lane.

I know Iowa is…Iowa…and thus of little interest to anyone else, but how often have two female challengers knocked off male incumbents for House seats in same state/cycle?

How about two women beating two incumbents of the party in power?

How about two D's beating two R's?

— Ditchwalk (@Ditchwalk) November 8, 2018
I don't know how many times that has happened nationally, but if we're talking about Iowa elections, the first two questions are easy to answer.
Many Iowa women–mostly Democrats, but also a few Republicans–have challenged members of Congress or run for open U.S. House seats during the past 40 years. But no woman had ever won a U.S. House race in Iowa until Abby Finkenauer and Cindy Axne accomplished that feat in Iowa's first and third districts this year. They will join the largest contingent of women ever elected to the lower chamber of Congress.
How about two Democrats beating two Republican incumbents from the same state in the same year? Before Tuesday, the last time that happened in Iowa was in the post-Watergate landslide of 1974.
Tom Harkin defeated Representative William Scherle in what was then Iowa's fifth district, covering the southwest quadrant and stretching up to Story County. Harkin had unsuccessfully challenged Scherle in 1972, but in a more favorable national environment, he won by 51.1 percent to 48.9 percent.
Berkley Bedell defeated GOP incumbent Wiley Mayne in the sixth district (northwest Iowa) by 54.6 to 45.4 percent. He too had run against the same incumbent in 1972.
Harkin's district is light blue and Bedell's dark blue on this map of Iowa Congressional districts during the 1970s.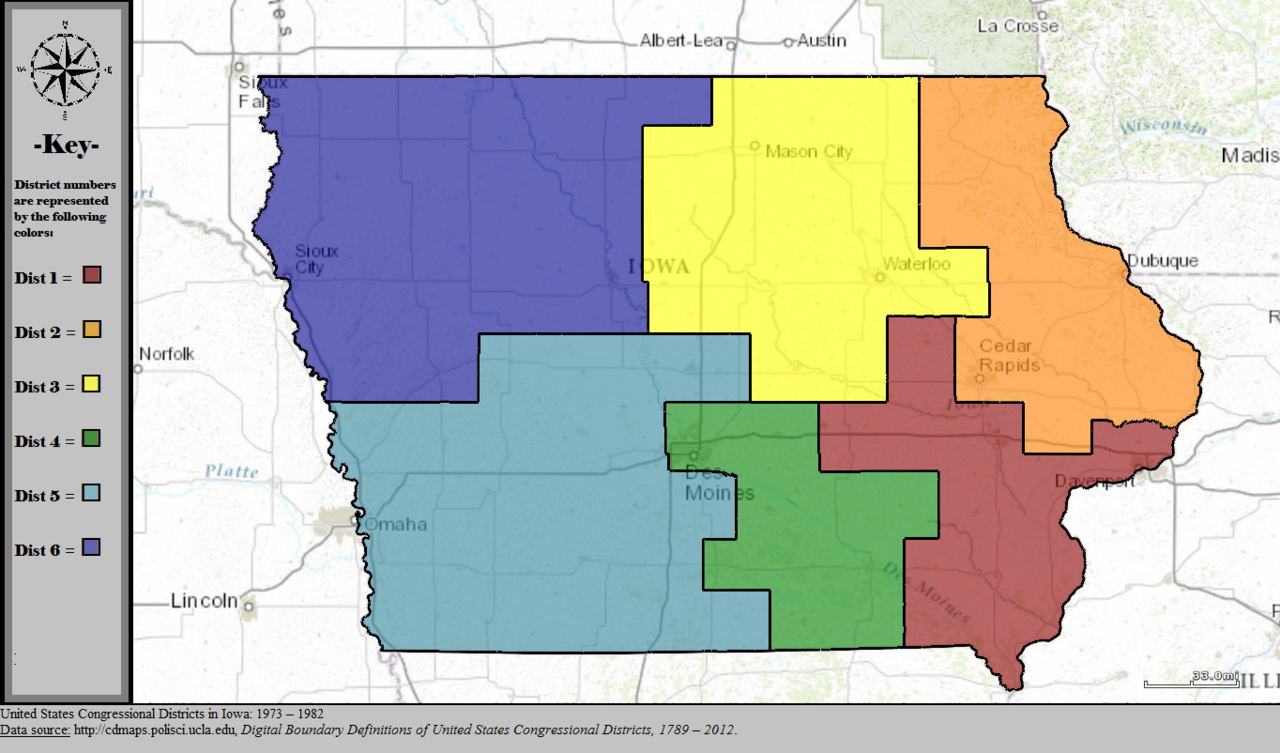 Harkin was re-elected to the House four times before running for U.S. Senate in 1984, beating Republican incumbent Roger Jepsen. No one in Iowa history has defeated more GOP members of Congress than Harkin. He dispatched three of them in subsequent Senate elections: Tom Tauke (1990), Jim Ross Lightfoot (1996), and Greg Ganske (2002).
Bedell won five more elections in IA-06, then retired from Congress in 1986 while battling Lyme disease.
It's not easy to beat an incumbent in Iowa. Rod Blum and David Young join a relatively short list of U.S. House members from our state who have lost re-election bids during the past 50 years. Most of those happened either in a wave year or because of redistricting.
1972
Republican Fred Schwengel lost to Ed Mezvinsky in IA-01
Republican John Henry Kyl lost to Neal Smith in IA-04 (the two incumbents were thrown into the same district when Iowa dropped from seven to six U.S. House seats)
1974
Republican William Scherle lost to Tom Harkin in IA-05
Republican Wiley Mayne lost to Berkley Bedell in IA-06
1976
Democrat Ed Mezvinsky lost to Jim Leach in IA-01
1978
Democrat Mike Blouin lost to Tom Tauke in IA-02
1992
Democrat Dave Nagle lost to Jim Nussle in IA-02 (the two incumbents were thrown into the same district when Iowa dropped from six to five U.S. House seats)
1994
Democrat Neal Smith lost to Greg Ganske in IA-04
2006
Republican Jim Leach lost to Dave Loebsack in IA-02
2012
Democrat Leonard Boswell lost to Tom Latham in IA-03 (the two incumbents were thrown into the same district when Iowa dropped from five to four U.S. House seats)
2018
Republican Rod Blum lost to Abby Finkenauer in IA-01
Republican David Young lost to Cindy Axne in IA-03
Top image: U.S. Representative Tom Harkin (IA-05) on the left and U.S. Representative Berkley Bedell (IA-06) on the right, in official photos from the 1970s.