Amy Adams is an organizer with Progress Iowa. -promoted by Laura Belin
On Thursday, April 4, Iowans rallied in four locations across the state (Indianola, Red Oak, Cedar Rapids, and Dubuque) as part of a nationwide day of action to demand a full release of Special Counsel Robert Mueller's report.
Attorney General William Barr has released only a four-page summary of more than 400 pages submitted to the Department of Justice regarding Russian interference in the 2016 election and contacts between President Donald Trump's campaign and Russian operatives.

Six U.S. House Committee chairs had given Barr a deadline of April 2 to submit the full report to Congress for review. Barr's failure to release the report by the deadline launched a nationwide call to action lead by groups such as MoveOn, Indivisible, Progress Iowa and many more.
"The Mueller report belongs to us, the people. Our representatives in Washington should receive the whole report and then release it to us, it's ours," said Dubuque rally organizer Shari Flatt. According to recent polling, three-quarters of Americans — including a majority of Republicans — want the full Mueller Report released.
Michael Culver attended the Cedar Rapids rally, outside the Federal Building which houses the offices of U.S. Senators Joni Ernst and Chuck Grassley. He stated, "If there is nothing to hide then there is no reason to hide it. The Starr report was released in its entirety, so why not this one. This report provides more crucial information to legislators. Our government just needs to be much more transparent in ALL matters, not just this report."
Tammy Gertsen, who attended the Dubuque rally, believes the same: "We need more transparency as this is a non-partisan issue."
Barr's summary asserted that Mueller did not find evidence of conspiracy or coordination with Russia in the 2016 election. However, it left out much of what was discovered from the almost two-year investigation. Some of Mueller's team have come forward in the days since the release of the report, stating that the Barr summary was insufficient and did not fully represent the findings presented by Mueller's team.
That is why Iowans rallied on Thursday – to demand the release of the full report.
Top image: Iowans rally in Red Oak (home town of Senator Joni Ernst), used with permission of Progress Iowa.
Photo from the day of action in Dubuque: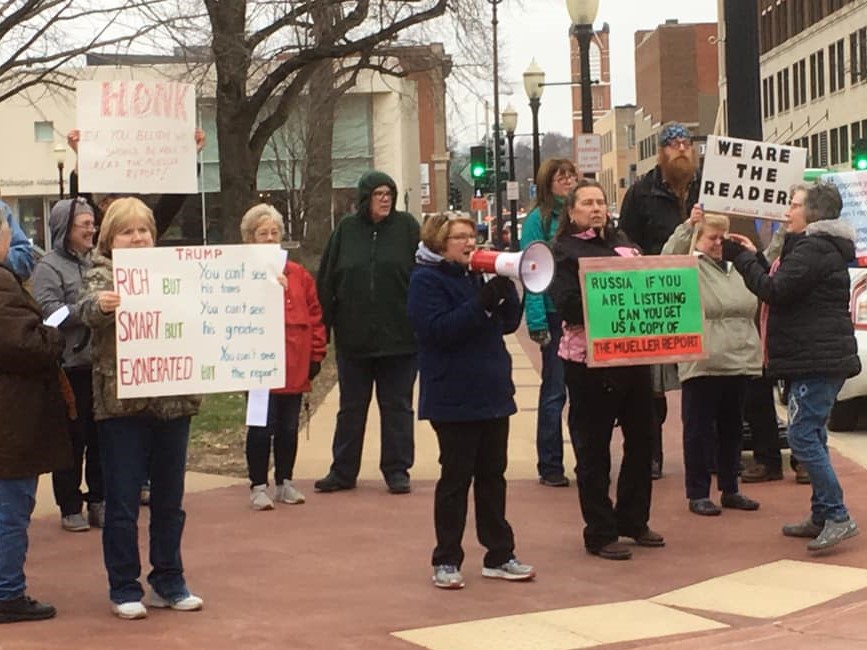 From the Cedar Rapids rally: