For many years, the Des Moines Register regularly published dispatches from Washington on what the Iowans in Congress were doing. Coverage deteriorated after the newspaper laid off Jane Norman in 2008. To my knowledge, no Iowa-based news organization has had a correspondent in the nation's capital since the Register let Philip Brasher go in 2011.
In a wide-ranging review of the Register's political reporting four years ago, I commented, "If a member of Congress didn't brag about it in a press release, conference call, or social media post, the Register's readers are not likely ever to learn that it happened."
The newspaper's recent coverage of U.S. Senator Chuck Grassley illustrates that problem.

PHONE CALL FOSTERS IMAGE OF A "CHAMPION"
Conference calls with Iowa journalists have become an effective tool for Grassley and junior Senator Joni Ernst. Their staffers control who asks the questions. The format rarely allows for follow-up if the senators are evasive. Whatever message they are pushing that day will likely find its way into news articles, especially if they drop an attention-getting word or phrase.
So it was on April 3, when Grassley reacted to President Donald Trump asserting the previous day, "they say the noise [from wind turbines] causes cancer."
Brianne Pfannenstiel's story for the Register framed the news in the best possible way for Grassley. First two paragraphs:
Iowa Sen. Chuck Grassley — a champion of the wind energy tax credit — said President Donald Trump's comments that wind turbines cause cancer were "idiotic" in a call with reporters Wednesday.

"I'm told that the White House respects my views on a lot of issues," Grassley said. "(Trump's) comments on wind energy — not only as a president but when he was a candidate — were, first of all, idiotic, and it didn't show much respect for Chuck Grassley as the grandfather of the wind energy tax credit."
"Idiotic" is a strong word, great for a headline. Lots of Iowa-based and national media ran similar stories, all putting "idiotic" in the headline. Thursday's print edition teased the write-up on the front page: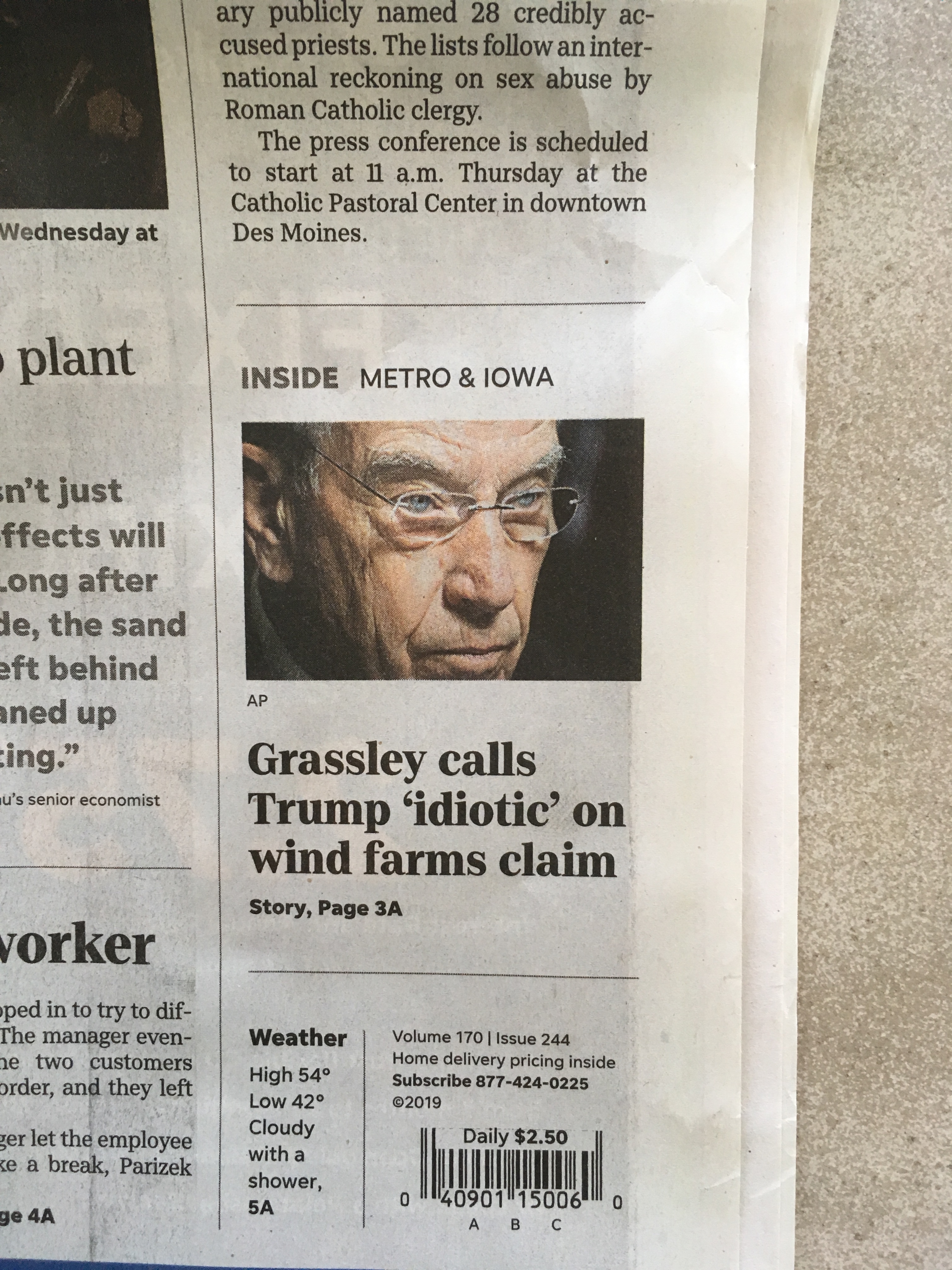 The news was the top story on page 3A, with a flattering headline and sub-heading for Iowa's "Wind energy tax credit champion."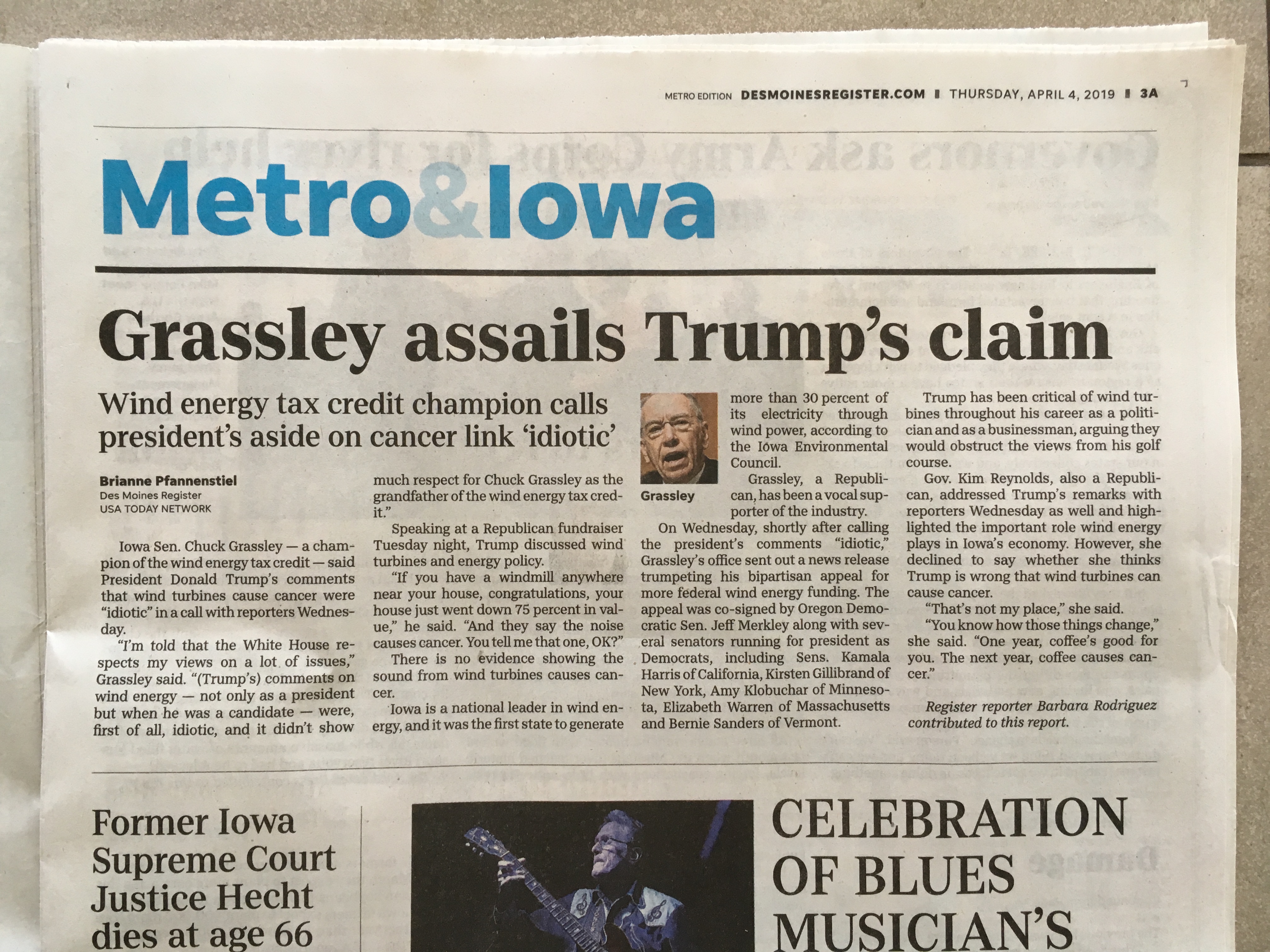 Trump's comment was idiotic, of course. And Grassley has supported policies that helped expand wind power in Iowa. Several paragraphs down, Pfannenstiel's story cited a news release from the senator's office "trumpeting his bipartisan appeal for more federal wind energy funding."
Plus, it's not every day that a member of Congress uses such pejorative language about a president from his own party. (In contrast, Governor Kim Reynolds couldn't summon up the courage to criticize Trump's wind-bashing or even question his assessment, telling reporters, "You know how those things change. One year coffee is good for you and the next year coffee causes cancer.")
So Grassley's remarks were newsworthy.
By the same token, widespread coverage of those remarks aligned Grassley with a popular industry and depicted him as an independent-minded public servant who will stand up to Trump. If the senator's own communications director had written the story, he could hardly have left the Register's readers with a more favorable impression.
NEWS RELEASE FOSTERS IMAGE OF A WATCHDOG
Jason Clayworth reported for the Register on April 3 that in his role as Senate Finance Committee chair, Grassley and the panel's ranking Democrat "launched an inquiry into a company named in multiple Iowa cases where abuse or neglect of people with intellectual and developmental disabilities is alleged." The article drew from a joint news release, which linked to letters sent to the company.
This story was also newsworthy. The Register has periodically exposed substandard care at assisted living facilities and lax government oversight of such care providers. That topic is a matter of life and death for vulnerable Iowans and should be a continuing focus for reporters. Among the 20 or more news releases Grassley's office sends out in a typical week, some are worth writing up.
The question is: who's dedicated to keeping readers informed about actions that don't reflect well on Grassley, or decisions his office isn't trying to publicize?
GRASSLEY STORIES NOT COVERED
Spouting off in a conference call grabbed headlines for Grassley with no real consequences for the White House. Iowa's senior senator has not used the powers of his office to constrain Trump in any meaningful way, but the Register's readers have heard little about that.
Stories not covered by the newspaper this year, as far as I can tell with help from the website's search engine, include:
The Register's Robin Opsahl did report in March that Grassley and Ernst voted against an effort to overturn Trump's use of emergency powers to build a wall along the southern border. But that story didn't make clear that presidents had never before used an emergency declaration to redirect money to a project Congress specifically declined to fund. Nor did it mention how Grassley often thundered against less ambitious "executive overreach" by President Barack Obama.
Adequately covering the Iowans in Congress is a challenge without a correspondent or even a stringer on the ground in Washington. In an understaffed and overworked newsroom, it's simpler to report on a conference call or press release. Some days, those materials deserve space in the news hole.
But the Register and other Iowa media outlets should strive not to let Grassley, Ernst, or other officials drive their story selection too often. In wise words often attributed to George Orwell (though he probably did not say them), "Journalism is printing what someone else does not want printed: everything else is public relations."
UPDATE: If the Register still had a DC-based reporter, that person could land exclusives like Seung Min Kim's April 8 story for the Washington Post.
In an interview with The Washington Post, Sen. Charles E. Grassley (R-Iowa) said he was "very, very concerned" regarding reports that [director of U.S. Citizenship and Immigration Services Lee Francis] Cissna could be next in a series of rapid-fire DHS dismissals that began late last week when the White House suddenly pulled the nomination of Ronald Vitiello, who had been tapped as director of Immigration and Customs Enforcement. […]

Grassley had already worked closely with Cissna, who had been detailed from the administration to work on the Senate Judiciary Committee when the Iowa Republican served as its chairman. Other Grassley alumni hold senior positions at the citizenship agency, including Kathy Nuebel Kovarik, who is the chief of USCIS's Office of Policy and Strategy.

"The president has to have some stability and particularly with the number one issue that he's made for his campaign, throughout his two and a half years of presidency," Grassley said. "He's pulling the rug out from the very people that are trying to help him accomplish his goal." […]

The GOP senator was also critical of Stephen Miller, a senior White House adviser who has been one of the leading voices within the administration that has lobbied for the wholesale housecleaning at DHS.

"I think it would be hard for him to demonstrate he's accomplished anything for the president," Grassley said. When asked to elaborate, the senator chuckled and added: "It's pretty hard to elaborate on it when there hasn't been any accomplishments."