Heather Nahas will leave a senior position at a large Iowa health system next month to become the first public relations manager for Governor Kim Reynolds.

Nahas is resigning effective August 2 after nine years as UnityPoint's director of marketing and communications and has accepted the position in the governor's office, according to a July 16 internal memo from UnityPoint Senior Vice President Emily Porter. "This new role was one of Heather's professional aspirations and we are thrilled to see her achieve this goal. She will work with the Governors [sic] staff to create a proactive communications position."
Nahas has not yet updated her LinkedIn profile, which notes that since 2010 she has led "all marketing and communications activities which advance the strategic priorities of UnityPoint Clinic and UnityPoint at Home. Responsibilities include oversight of online marketing, content development, advertising, relationship marketing, public relations, internal relations, employee communications, provider communications and more."
UnityPoint is a non-profit serving hundreds of thousands of Iowans at sixteen hospitals and hundreds of clinics around the state, and its network of more than 1,000 physicians extends into parts of Illinois and Wisconsin. Nahas worked on the leadership team that re-branded what was known as the Iowa Health System to UnityPoint Health in 2013.
Nahas will have her work cut out for her. Reynolds' unexplained decision to force Jerry Foxhoven out as Iowa Department of Human Services director has become a public relations nightmare. Foxhoven has said the governor's staff "asked me to do something I thought was illegal" and told him to quit after he said he wanted to seek a legal opinion. Yet in her latest public comments about the controversy, Reynolds told KCRG-TV on July 22 Iowans don't have a right to know why she dumped Foxhoven: "I'm just not going to get into that [...] I just don't think that's healthy and there is just no reason to do that."
The governor's office did not announce plans to bring on an experienced PR professional before advertising the new position last month. The state budget for the 2020 fiscal year, which began on July 1, allocated an extra $200,000 for staff supporting Reynolds and Lieutenant Governor Adam Gregg. Republican leaders of the legislature's relevant budget subcommittee told Iowa House and Senate members in April that the governor's office requested the additional appropriation in order to hire two new analysts, covering tax and health policy.
Reynolds' communications director Pat Garrett has ignored Bleeding Heartland's repeated inquiries about recent hires and did not answer questions about the starting date and salary for Nahas. The job listing said the public relations manager would be paid between $95,097 to $135,262 annually to write Reynolds' speeches and work with staff in her office and other state agencies to to ensure consistent messaging about the governor's initiatives and goals. Given Nahas' extensive, high-level private sector work, I would guess that she will land near the high end of the advertised salary range.
Liz Matney left a senior position in the Iowa Department of Human Services to become the governor's health policy advisor in June. Matney earned $102,172 in gross pay at DHS during the 2018 fiscal year, state data show. Whether anyone new is joining Reynolds' staff to work on tax policy is unclear.
Reynolds' chief advisor Catherine Huggins is returning to a consulting job on August 1, the governor's office announced on July 9. State data indicate Huggins' gross pay was about $100,000 during the 2018 fiscal year. The news release did not mention plans to replace Huggins, so her departure may free up funds to support other positions on Reynolds' staff.
I will update this post as needed if the governor's office provides further information.
Appendix 1: July 16 internal communication from UnityPoint Senior Vice President Emily Porter to the organization's health leadership and marketing staff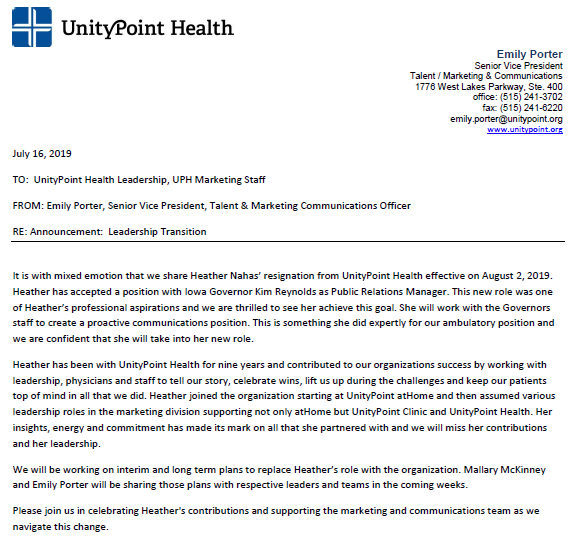 Appendix 2: Job listing posted in early June for a public relations manager in the governor's office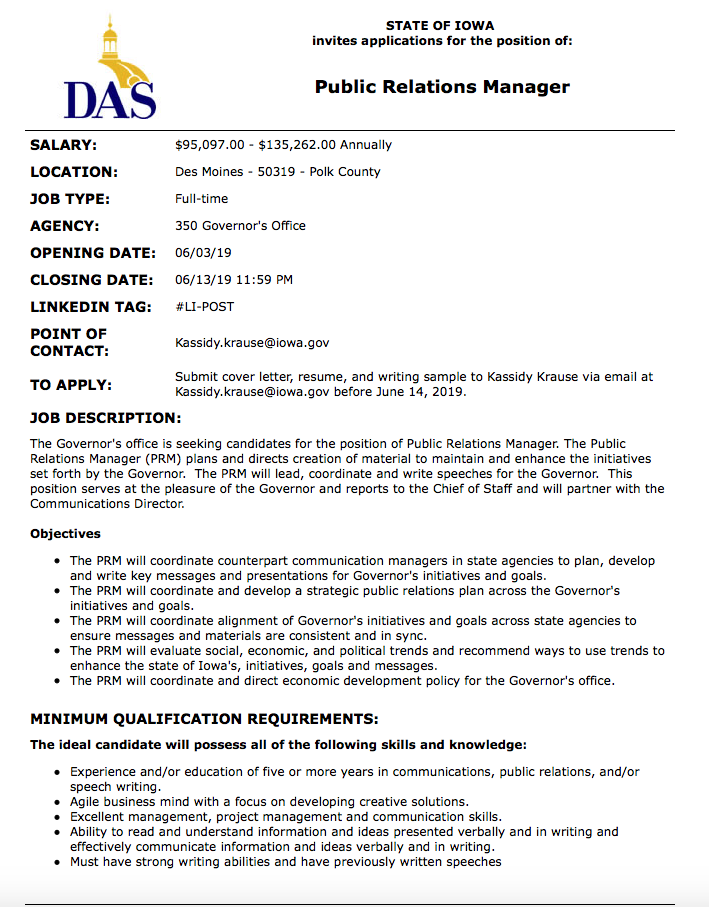 Appendix 3: Cover letter Heather Nahas submitted as part of her application (provided to Bleeding Heartland as part of a public records request)