Governor Kim Reynolds asked for and received a nearly 10 percent budget increase for her office operations during the fiscal year beginning on July 1, with a view to hiring two additional full-time employees. Republican lawmakers told members of the Iowa House and Senate the extra funding was for analysts to focus on health policy and tax policy.
This week the governor's office posted a new job listing on a state government website. Instead of seeking a health or tax policy analyst, the governor is hiring a full-time "public relations manager" to coordinate messaging about her initiatives.

"THOSE ARE FOR TAX POLICY AND FOR HEALTH"
Republicans included about $2.3 million for the governor's office in House File 759, the fiscal year 2020 budget bill covering administration and regulatory agencies. Democratic lawmakers objected that they had heard no justification for increasing the governor's appropriation by $200,000, compared to the current year.
Presenting the budget bill on the Iowa House floor in April, State Representative John Landon said, "The governor's office tells us they would use that as an analyst for tax policies and another analyst for health care policies."
Democratic State Representative Karin Derry offered an amendment to strike $200,000 from the governor's appropriation. While most state agencies and departments were told to submit status-quo budgets, she noted, the governor's office was slated for a 9.5 percent increase in dollars and a 10.5 percent increase in full-time employees.
Derry added that even though she serves on the Administration and Regulation budget subcommittee, which Landon co-chairs, "I received no details about why these two positions are needed. In fact, the information that Representative Landon just shared about there being analyst positions is the first that I've heard that."
Landon countered that in his discussions with the governor's chief of staff Sara Craig Gongol, "it became very apparent why the need was there." He also asserted that the governor's staff "reached out to the minority party" to go over the budget request "and no one took them up on that." (The ranking Democrats on the subcommittee, Representative Timi Brown-Powers and Senator Claire Celsi, deny that anyone from the governor's office offered to meet and walk through the proposal.) House Republicans rejected Derry's amendment along party lines and later approved the bill on the same 54 to 46 vote.
During the Iowa Senate debate two weeks later, subcommittee co-chair State Senator Dennis Guth likewise said the extra $200,000 was "for two new policy analysts for the governor's office. Those are for tax policy and for health." The upper chamber approved the bill mostly along party lines.

"DEVELOP AND WRITE KEY MESSAGES AND PRESENTATIONS"
The job listing posted on the state government's site on June 3 seeks a public relations manager for an annual salary ranging from $95,097 to $135,262. It is the only position in the governor's office currently being advertised.
The new employee will write speeches for Reynolds and work with communications staff in other agencies to "develop and write key messages and presentations for Governor's initiatives and goals," and "coordinate alignment of Governor's initiatives and goals across state agencies to ensure messages and materials are consistent and in sync." The employee "will partner with the Communications Director" and needs to have at least five years experience in communications, PR, or speech writing.
The job listing does not mention health or tax policy but indicates the public relations manager will "evaluate social, economic, and political trends" and "coordinate and direct economic development policy for the Governor's office."
How long the governor has been planning to bring on a PR pro is unclear. Staff for Reynolds did not respond to inquiries in April and this week about the new positions and whether the office will also hire someone to handle health or tax policy.
Landon and Guth did not respond to phone calls and emails seeking comment on the planned hire.
Brown-Powers and Celsi told Bleeding Heartland in June 5 telephone interviews that the listing was not consistent with what they were told while the budget was under consideration. Both mentioned that Landon had discontinued regular meetings of the appropriations subcommittee after mid-February.
Brown-Powers said she had been told the new hires would improve "transparency" and "constituent service" in the governor's office. Upon hearing the new job description, she observed that it sounded like the work of a campaign manager.
Celsi, who has worked extensively in public relations, commented, "I'm glad that the governor's office is hiring a public relations professional, because they truly need help."
It's hardly surprising that Reynolds' staff did not feel constrained by the previously stated plan for the extra funding. This Republican-controlled legislature has been deferential to politically-motivated budget requests from the governor. In 2017, the House and Senate approved a last-minute $150,000 appropriation to the governor's office, ostensibly for "transition expenses" but not needed (or used) for the handover from Terry Branstad to Reynolds. The following year, Republicans retroactively approved the governor's illegal emergency transfer of funds, which Reynolds had used to balance the budget without calling a special legislative session.
Appendix: Job listing for Public Relations Manager, posted on June 3: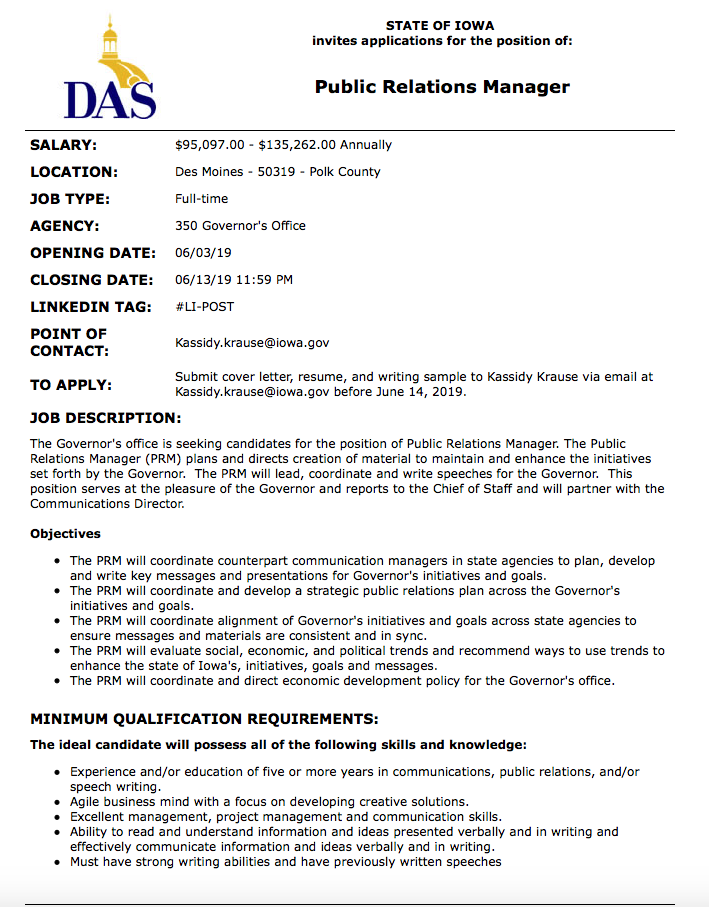 Key passages from the job listing:
JOB DESCRIPTION:
The Governor's office is seeking candidates for the position of Public Relations Manager. The Public Relations Manager (PRM) plans and directs creation of material to maintain and enhance the initiatives set forth by the Governor. The PRM will lead, coordinate and write speeches for the Governor. This position serves at the pleasure of the Governor and reports to the Chief of Staff and will partner with the Communications Director.

Objectives

The PRM will coordinate counterpart communication managers in state agencies to plan, develop and write key messages and presentations for Governor's initiatives and goals.
The PRM will coordinate and develop a strategic public relations plan across the Governor's initiatives and goals.
The PRM will coordinate alignment of Governor's initiatives and goals across state agencies to ensure messages and materials are consistent and in sync.
The PRM will evaluate social, economic, and political trends and recommend ways to use trends to enhance the state of Iowa's, initiatives, goals and messages.
The PRM will coordinate and direct economic development policy for the Governor's office.

MINIMUM QUALIFICATION REQUIREMENTS:
The ideal candidate will possess all of the following skills and knowledge:

Experience and/or education of five or more years in communications, public relations, and/or speech writing.
Agile business mind with a focus on developing creative solutions.
Excellent management, project management and communication skills.
Ability to read and understand information and ideas presented verbally and in writing and effectively communicate information and ideas verbally and in writing.
Must have strong writing abilities and have previously written speeches