Matt Chapman closely follows Iowa legislative affairs, including bills targeting people on public assistance programs. -promoted by Laura Belin
Two bills related to oversight of Iowans on public assistance were in subcommittee on January 28 at the state capitol.

HOUSE BILL: REDUNDANCY AND NEW BARRIERS
House File 2030, introduced by Republican State Representative John Wills, had some features in common with bills considered last year, but not "workfare" elements. For instance, it contained the quarterly re-application components and home visits to confirm eligibility.
Many lobbyists expressed the same concerns they raised about similar bills last year. It seems redundant as the Iowa Department of Human Services already has many of the same elements in place to deter fraud. The consensus of those opposing the bill is that money could be used more wisely to return folks back to the workforce or educate the 78 percent of Iowans on Medicaid who already work to obtain better paying jobs.
The Child & Family Policy Center raised a concern over proposed home visits to ensure compliance with the Supplemental Nutrition Assistance Program (SNAP, formerly known as food stamps) and Medicaid programs. The center has worked to build trust and relationship with families in the field, and they worry that another agency doing compliance checks could undermine that trust.
Many advocates for Iowans with mental illness, addiction issues, brain injuries (think veterans who have been exposed to explosions), or those who already struggle warned that doing the paperwork four times a year will cause unprecedented churn in these programs, leading to bad outcomes that never needed to happen.
As someone who has always lived around the poverty line, I told the subcommittee members how this bill would impact me. I explained that this is yet another January where I screwed up my re-application and must start all over again. I can't imagine doing it four times a year. I am able to find these subcommittees. Imagine someone worse off than I am, with no help trying to stay enrolled.
House Human Resources Committee chair Shannon Lundgren ended the subcommittee hearing on a positive note, tabling the bill until more information and thought could be put into it.
She made clear that this was not a workfare bill and said that last year, when they discussed the matter with the Department of Human Services, they didn't have the confidence that people who should be working were working.
Democratic State Representative Ross Wilburn, who was just elected to the Iowa House last summer, suggested a poverty simulation so that the legislators who haven't experienced it could get that point of view.
You can view the lobbyist declarations on the bill here. Just like last year, Americans for Prosperity and Iowans for Tax Relief are the only groups endorsing it. (Opportunity Solutions Project, which backed last year's bills, seems to have pulled out of Iowa.) A broad spectrum of organizations are lobbying against the legislation.
SENATE BILL: LESS CLARITY, MORE CRUELTY
Later the same day, a Senate Labor and Business Relations subcommittee considered Senate Study Bill 3068, proposed by that committee's chair, State Senator Jason Schultz. The legislation is similar to House File 2030, but with looser language. As with the House bill, at least two dozen organizations are lobbying against the proposal, while only Americans for Prosperity and Iowans for Tax Relief favor it.
Those speaking to the subcommittee raised the same concerns they had shared in the morning about the House bill.
Among other things, the United Way lobbyist pointed out that when the Nexus Lexus Clearing House was used to find people registered for public assistance in multiple states, the average share of SNAP beneficiaries found was 0.13 percent. That would translate to 206 people out of 318,106 receiving SNAP benefits in Iowa, according to July 2019 statistics. You can read that study here. It includes this table: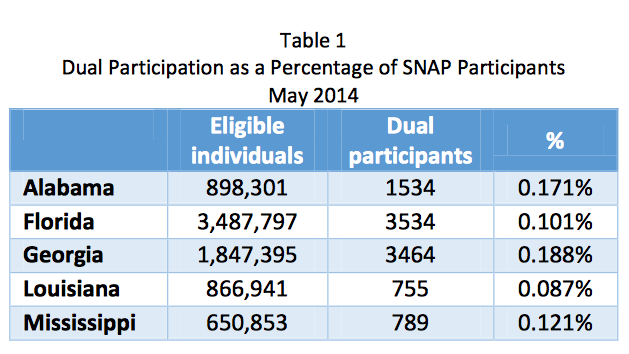 It was also noted that after the first round of eligibility ran through Nexus Lexus, results were found to be only 85 percent accurate. After a second run, 7 percent of files remained to be screened individually by people working at DHS.
If you look at page 9, lines 10 through 12, of the Senate bill, you will find this clause:
Public assistance shall not be granted to a household if a member of the household has been found guilty of fraudulent activity directly related to any public assistance program.
One of last year's proposals (I called it the deadbeat parent bill) stated that a member of the household who was behind in child support couldn't get SNAP benefits. The concern was if such people were in a household with other relatives, either everyone would get smaller portions, or the family would run out of food early.
This clause in Schultz's new bill would prohibit the whole household from receiving assistance. I grew up in a household of alcoholics and drug abusers, and I knew hunger as a child. This is just cruel.
The Des Moines Area Religious Council's lobbyist brought up the matter of elder abuse. Would the senior citizen lose their benefits if the abuser were charged?
After the subcommittee, which Schultz chaired, I asked him about that provision. He told me it might not even be in the final bill. That wasn't encouraging.
The bill's language on re-certification is unclear. I put that question to Schultz, and he replied that I may never have to re-certify again until a life change like when I turn 64. But nothing currently in the bill addresses that point.
The lone Democrat on the subcommittee, State Senator Nate Boulton, also expressed concerns. He noted that this vulnerable population already faces a lot of barriers. Adding these restrictions to the process could cause a lot of collateral damage.
If a John Smith in Illinois is mistaken for me, the same people who removed me from the rolls may not believe me. That means I might need a lawyer–not easy for someone already struggling to get by. (For each Legal Aid lawyer, some 8,000 people qualify for legal assistance.)
Schultz and fellow Republican Senator Zach Whiting agreed to advance the bill from subcommittee, with a recommendation that it be amended when it comes before the full Labor and Business Relations Committee. However, in my view, this bill needs to go back for an overhaul. It is so unclear regarding re-certifications. Not to mention the malice of denying assistance to a whole household for one person's fraud–which could be just a mistake like applying for overlapping programs. Stay tuned.