The Iowa Democratic Party's State Central Committee voted on February 29 to certify the 2020 Iowa caucuses, as published on the party's official results page.
In most election cycles, that vote would be a formality. But about a third of those who participated in today's meeting opposed certifying, due to questions about the accuracy of reported numbers in some precincts that were not part of the recanvass or recount requested by the Bernie Sanders and Pete Buttigieg campaigns. They wanted the IDP to further review and if necessary correct results for certain precincts.
Follow me after the jump for highlights from a contentious debate and a list of SCC members who voted for or against certifying.

WHAT CHANGED BETWEEN FEBRUARY 3 AND TODAY
Soon after the SCC convened, Rules Committee chair Melissa Peterson and the party's attorney Shayla McCormally spent about 20 minutes walking through the steps the party had already taken to adjust results. Due to concerns about the accuracy of numbers initially reported, party officials conducted a review of 95 precincts. That review led to changes in official tallies for 55 precincts, where the initially published results were not consistent with the caucus math worksheets.
Next, party officials conducted a recanvass in precincts requested by the Buttigieg or Sanders campaigns. During that recanvass, some corrections were made, where the precinct chair had "misapplied the rules" on February 3.
Finally, a recount in a smaller number of precincts flagged by the Buttigieg or Sanders campaigns produced more changes. At that stage, the recount committee consulted the presidential preference cards signed by individual caucus-goers, to recreate all movement in each precinct and assign the delegates as would be required.
During the presentation, McCormally alluded to some of the problems independent observers have identified in certain precincts that weren't recanvassed, because the results there would not affect delegate totals for Buttigieg or Sanders. While not addressing any specific irregularities, she quoted from the party's Delegate Selection Plan, which the SCC approved in October: "due to rounding, it is possible to apportion more or fewer delegates than the caucus is required to elect." The relevant passage is on pages 4 and 5.
McCormally and Peterson noted that representatives of both campaigns were able to observe the entire recanvass and recount process.
"WE NEED TO TAKE ACTION TO CORRECT IT"
Next, state party treasurer Ken Sagar presided over the discussion on whether to certify the caucuses.
Bill Brauch offered an amendment to the motion to certify, "to condition certification on the reduction of the delegates awarded in precincts that awarded more than the number they were allocated, down to the allocated sum, if warranted by the results as shown after a neutral review of the caucus math worksheet, and to correct our own records for Des Moines County precinct 3, to the numbers that were actually recorded by that precinct."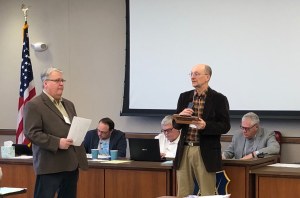 Bill Brauch, holding microphone, explains his amendment. Ken Sagar stands at left.
Brauch told the committee members,
I believe that there is a very, very good chance that in any circumstance in which an extra delegate or two were awarded in precincts beyond those that were allocated [to those precincts], it was done in error. It is very, very seldom you'd have any situation, if it's even possible, that the math would work out to award more delegates than you are allocated.

There's nothing that requires the awarding of more delegates, and nothing that requires us to certify that today.

Now some have said, somehow, we could correct this at the county credentials committee level [during the county conventions on March 21], if there's an error.

And my answer is, if we're saying that the law requires us, if Iowa Code section 43.4 requires that the party not amend the results from the caucus math worksheets [from individual precincts], then we can't do it at all at the county level, unless there's something in Iowa law that would allow the county to change those results.

I've taken a close look at Chapter 43. I don't see anything in there. So that means we have to live with that particular error.

Now I'm not bringing a motion forward to correct every error that we could possibly find in there. We have got to give information to the county central committees, to the county chairs, so they can prepare for their county conventions in three weeks. We don't have time to correct every error.

But to me, over-allocating delegates is such a critical error, and raises such a question of unfairness, that we need to take action to correct it.
Note that Brauch's motion did not encompass the handful of precincts that seem not to have awarded their full complement of county delegates. Regarding those anomalies, Brauch told me on February 28, "it is possible to comply with all the rules and award one fewer delegate than authorized, if the numbers break out in a certain way." Sometimes, after all viable candidates have been rounded up to the next whole number, the precinct may have one or two delegates left. Rounding up a candidate a second time would dramatically overstate that person's support in the room, which in Brauch's view would be "a totally unfair outcome, just to award that one extra delegate."
Jean Hessburg recalled that the Delegate Selection Plan allowed for precincts to award more or fewer delegates than assigned. She questioned why the SCC should call for any further review, since the committee had approved the plan and followed the process. Brauch responded that his reading of the same passage indicated the plan foresaw how a precinct would reduce the number of delegates down to the level they were allowed to award. "I do not think we contemplated by that language actually authorizing a precinct to award more delegates than it was allocated."
Supporting Brauch's amendment, Lindsey Ellickson cited similar problems that have been identified in the precinct-level results from Nevada. She expressed concern that moving forward without correcting known errors would hurt the Iowa Democratic Party and prospects for remaining first in the presidential nominating process.
Hessburg rose again to oppose Brauch's proposal: "This is all rear-view. We cannot look and see what happens after the caucuses and then nitpick our Delegate Selection Plan based on what happens in the caucuses."
Speaking in favor of Brauch's amendment, Nick Kruse countered, "This is not changing the Delegate Selection Plan. This is enforcing the Delegate Selection Plan." He would have preferred not to certify today, but given the short time frame before county conventions, he felt the best option would be to certify the results, leaving open the possibility of correcting a few demonstrably wrong precinct numbers.
Brauch's amendment failed by a recorded vote of fifteen SCC members in favor and 26 against.
"WE ARE NOT REQUIRED BY LAW TO CERTIFY THIS"
The meeting moved on to debate certifying the caucus results without further adjustments. Kruse spoke first. He noted that the Associated Press determined it will not declare a winner in the caucuses because of irregularities. "If a neutral observer of elections like that can't declare a winner, I think we shouldn't be declaring a winner until we can get these results fixed. So we should delay certification until a later time […]."
Sunny Story wanted to know what criteria the Buttigieg and Sanders campaigns used in selecting precincts to be recanvassed. Peterson said they followed the procedure laid out in the IDP's Recount and Recanvass Manual. McCormally added that the party doesn't know whether the campaigns contemplated asking for reviews of other precincts. "That is not our process." The party's recount committee considered the requests it received.
Brauch rose to speak against certifying. Published results include "at least one blatant error" in Des Moines County precinct 3. (Bleeding Heartland discussed that in depth here; the party's website repeats totals from Winneshiek County precinct 3 on the line for Des Moines County 3.)
Brauch added, "We are not required by law to certify this." Iowa Code chapter 43 calls for county committees–not the SCC–to certify delegates selected at the precinct caucuses.
Peterson said she understood the concerns and "frustrations," but as Rules Committee chair for the party, believes "It is really important that we follow the process."
Every step was approved by this body. That included mechanisms for the request of recanvass and recount, should there be questions on the part of the individual [presidential] campaigns.

What is not included is a mechanism for addressing concerns that perhaps were brought up by the press. Or brought up by other individuals that do not represent individual campaign.

It's not a matter of whether or not, "coulda, shoulda," it's that we literally do not have a mechanism to address those issues.

We have addressed every issue we can with the rules and mechanisms that have been provided with us. We have tried to be as transparent–again, as someone who has put in hours of volunteer time since caucus night–to help address this issue and make sure we're appropriately applying all of the rules before us.

We have tried to do this as transparently as possible and, frankly, address each of the concerns that was appropriately raised through the appropriate avenues presented to us, and again, approved by this body.

We have done that in these cases, and I would encourage you to vote in support of certification and help us move forward so we can get to the real important activity of this committee, which is helping to elect Democrats in November of 2020.
A number of SCC members applauded Peterson's remarks.
Ellickson expressed concern that some people will view the certified results as unfair, especially since the gap between Buttigieg and Sanders in state delegate equivalents is so small. She's worried someone will challenge Iowa's delegation to the Democratic National Convention, possibly causing Iowa's representatives not to be seated in Milwaukee.
Jon Klein asked what exactly the SCC was certifying. Was the committee vouching for all results "as true and accurate"? Sagar explained the committee was certifying results that came out of the process outlined in the Delegate Selection Plan, including a recanvass and recount.
At that point, Pat Loeffler called the question, and the committee moved to a vote.
THE ROLL CALL
During the SCC meeting, officials announced that the motion to certify passed by 22 votes to thirteen. About an hour later, IDP communications director Mandy McClure told me the secretary had recorded a vote of 24-14. She later emailed to note the party's records show the final vote to certify was 26-14.
After listening to my recording multiple times, I count 26 yes votes and fourteen no votes. Here's the audio clip, for those who want to conduct their own count. Note that all names were called, even of SCC members who didn't participate in the meeting, in case they had joined by phone after the initial attendance was taken.
Here is my roll call (not the party's official record), in the order people voted. After each person's name, I've included the Congressional district, committee, or constituency caucus that person represents on the SCC. The following 26 people voted to certify results without any further adjustments for accuracy:
Kelli Harrison (IA-01)
Pete Hird (IA-01)
Pat Loeffler (IA-01)
Shelley Parbs (IA-01)
Rosemary Schwartz (IA-01)
Joey Zahorik (IA-01)
Sunny Story (IA-01)
Jean Pardee (IA-02)
Ryan Drew (IA-02)
Tanner Halleran (IDP 2nd vice chair)
Melinda Jones (IA-02)
Allison Ritchie (IA-02)
Carl McPherson (IA-03)
Mary Jane Cobb (IA-03)
Paula Martinez (IA-03)
Penny Rosfjord (IA-04)
Emma Schmit (IA-04)
Julie Goepfert (IA-04)
Sandy Opstvedt (DNC member)
Scott Brennan (DNC member)
Karen Mackey (Affirmative Action chair)
Olivia Habinck (College and Young Democrats)
Melissa Peterson (Rules Committee chair)
Ron Healey (Armed Forces/Veterans caucus)
Danny Homan (Labor caucus)
Jean Hessburg (Women's caucus)
These fourteen SCC members voted against certifying the results:
Janice Weiner (IA-02)
Bill Brauch (IA-03)
Bonnie Brown (IA-03)
Annaleah Moore (IA-03)
Al Womble (IA-03)
Sean Bagniewski (IA-03)
Jeremy Dumkrieger (IA-04)
Jon Klein (IA-04)
Catherine Crist (Disability caucus)
Tisha Dumkrieger (Native American caucus)
Lindsey Ellickson (Progressive caucus)
Colleen Caldwell (Rural caucus)
Terry Stewart (Senior/Retiree caucus)
Kyla Paterson (Stonewall caucus)
UPDATE: Holly Brown, acting chair of the Asian/Pacific Islander caucus, told me she was unable to attend due to work obligations but would have voted against certifying the results as presented.
AFTER THE VOTE
Shortly after the SCC certified the results, state party chair Mark Smith announced that Kevin Geiken recently resigned as the IDP's executive director. Geiken will continue to help the party through the convention process. Smith has picked Mike Frosolone for the executive director position going forward. Most recently, Frosolone was state director for Cory Booker's presidential campaign. Prior to that, he worked on the House Democrats' Truman Fund, when Smith was Iowa House minority leader.
Most SCC members then broke into subcommittees to work on party business. Though officials arranged no media gaggle, I had a chance to speak with Hessburg (who once served as IDP executive director) and communications director McClure.
The top question on my mind was, why wouldn't you want to include accurate numbers from Des Moines County precinct 3 in the certified results? On the morning of February 29, I'd spoken by phone with Des Moines County Democratic co-chairs DiAnne Lerud-Chubb and Tom Courtney, as well as Sandy Dockendorff, a former IDP Rules chair who helped organize the caucuses in Des Moines County. They all expressed frustration that the correct results for that Burlington precinct still weren't showing up on the official results page.
"It doesn't change the results," Hessburg said. "It doesn't change the overall results of the caucuses. It doesn't change anything."
So we should never know the preferences of those people who caucused in that precinct? "Doesn't change anything."
We're supposed to be recording what happened. What if it were your precinct? Hessburg turned the question back on me: "Does it change Pete Buttigieg, Bernie Sanders, or anything in the results?" (I have confirmed that correcting numbers from Des Moines County precinct 3 would not affect state delegate equivalents for Buttigieg or Sanders.)
"Democracy isn't perfect," Hessburg said. She cited a few examples of elections from around the country with irregularities, such as Florida in the 2000 presidential election. It's not just a caucus problem.
Still, why wouldn't we want to put in the right results? Dockendorff told me she alerted the state party to the incorrect numbers from that precinct on February 4. "This has been explained to you before," McClure broke in. She said that precinct "was not submitted to us" as something to review, nor was it included on the recanvass or recount requests from any campaign. (That's not surprising, since changing that precinct would not affect delegates awarded to Buttigieg or Sanders.)
"Those are the processes that we have laid out," McClure told me.
And we have followed the procedures and rules to explain them the entire time. Those were the processes. We are bound by the processes that we have.

So I really–you have asked this question ten times, this exact same way. You are getting the same answer.
But Des Moines County co-chairs told me they have asked the state party to correct the official results. They don't understand why the results are still wrong. McClure stood her ground: "I have just outlined the process, which I have done multiple times for you. This is not the way that we conduct our business here. I have tried to answer your questions."
Hessburg said not just anybody can call the party and say the website is wrong. There's a process to follow, and "The people you're talking about didn't follow the process to make the changes."
What should the county co-chairs have done? McClure explained, "As part of the independent review, we accepted precincts that were sent to us under that process. That was not a precinct that was sent to us as part of that process."
Dockendorff disputed that account. She says she mentioned the problem in that precinct in phone conversations with IDP officials on February 4. She also sent scanned images of caucus math worksheets in a February 6 email to Geiken with the subject heading, "Des Moines County discrepancies worksheets."
Furthermore, Dockendorff told me that at some point, correct numbers from the disputed precinct did appear on the official website. So someone from the state party presumably did correct the totals. She didn't know why the results reverted back to double-counting Winneshiek County 3 later.
One thought crossed my mind: perhaps when the party updated results for 55 precincts on February 9, those changes were added to a spreadsheet that had been saved earlier, which had the wrong totals for Des Moines County 3. When I've checked the results page numerous times since February 10, I've only seen inaccurate numbers for the precinct.
McClure insists that Des Moines County 3 "was not sent to us" during that first week, when the party accepted input about precincts that should be reviewed for data entry errors. "We are bound by those rules and the processes that we have to follow. So I understand that others have flagged these things. But if it did not come to us through those channels, then we unfortunately do not have a mechanism for fixing them."
Caucus-goers from the precinct are not happy their results were not reported, I told Hessburg and McClure. It's hard for people to understand why a simple data entry error couldn't have been fixed weeks ago. It seems that the SCC could have directed that mistake to be fixed, the way the committee instructed the recanvass committee to correct some mistakes.
Hessburg disagreed. "The State Central Committee voted on this process that Mandy's talking about. We said yes, that's the process, we're going to stick to that. And all I'm saying is, we fucking have to stick to it. Otherwise it becomes pandemonium."
When called on during the certification vote, Hessburg stood and said, "Yes, and I support the Iowa Democratic Party and the Iowa caucuses." Is it her position that people who have raised concerns about the accuracy of the results don't support the Iowa Democratic Party and the caucuses? Hessburg said "some people don't support the Iowa caucuses."
Does that include SCC members who voted against certifying? "I think some of them don't." She didn't want to speculate about "what's in the hearts and minds of all of them," but she has seen "disparaging remarks" on some people's Facebook pages about the state party and its staff, the caucuses, the "Democratic establishment," or organized labor.
People all over the country will point to the disputed results as an argument for scrapping the caucuses and not letting Iowa go first anymore, I said. McClure encouraged me to put things in perspective.
Just if I could be real here, I understand that. And I understand the situation here. But we are talking about one precinct out of 1,756, where the information reported out of that precinct does not have an impact on the actual delegate race that we're tracking, that matters for this race.

So I understand that those numbers [from Des Moines County 3] might not be reflective. But it is one precinct out of over 1,700 where we're reporting more information than we ever have before. So I don't know if one precinct–if four numbers in one precinct is really an argument to be made that the entire process is wrong. […] So I don't accept the argument that this four or five numbers from one precinct being misreported will bring down the caucuses.
If results from one precinct were missing from the Iowa Secretary of State's website in a regular election, would we be fine with that, because it does't affect the statewide result? "I'm not saying that," McClure objected. "No, that's not what anyone is saying," Hessburg said. McClure explained,
I'm trying to offer some perspective, that we're reporting out more numbers than we ever have before, and those numbers have gone through three different rounds of critical review. And of those numbers, four or five from one precinct are being talked about right now.
More than one precinct is being questioned, for the record. The error in Des Moines County 3 is only the most obvious one left uncorrected.
I believe in accuracy for its own sake, but even if I didn't, why give critics of the Iowa's role any more ammunition?
The SCC may have closed the door on changing the official Iowa caucus results, but we haven't heard the last about this headache.
MARCH 1 UPDATE: Hessburg and McClure were misinformed about when Des Moines County Democrats flagged the problem with precinct 3. Dockendorff forwarded to me the email she sent IDP executive director Geiken at 2:08 am on February 6, with the subject line "Des Moines County discrepancies worksheets." Five photos were attached to the email, including this one of the caucus math worksheet from Des Moines County precinct 3 in Burlington.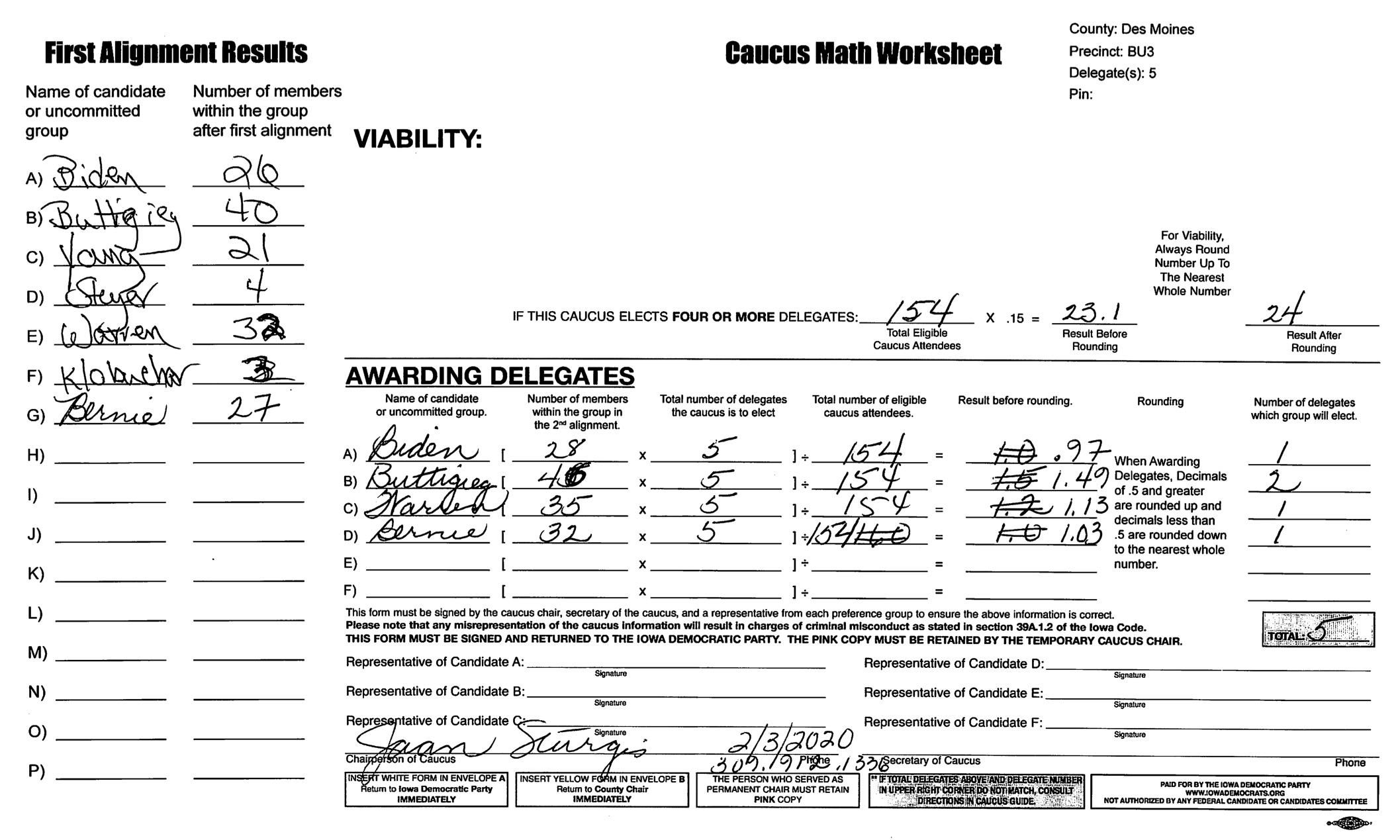 As mentioned above, Dockendorff told me on February 29 that at some point the correct numbers for this precinct were entered on the IDP's results page. She didn't know when the line for that precinct reverted to showing Winneshiek County numbers.
Commenting on Facebook after I published this post, Dockendorff wrote,
Clearly, a simple transcription error was made. I am not and have not suggested that anything nefarious is or was going on. I simply want the error corrected to match the math worksheet. The degree of push back from some at the IDP seems to me to be grossly out of proportion to the request.
Throughout the past month, state party leaders have gotten bad legal advice about how and whether errors in precinct-level results can be corrected. Brauch (who worked for the Iowa Attorney General's office for many years) gave them an opportunity this weekend to fix some of the problems. Approving his amendment would have resolved many people's concerns and would have produced a nearly unanimous SCC vote to certify. Instead, IDP leaders dug in.