In the clearest sign yet that the business establishment is preparing for a Democratic administration in Washington, the U.S. Chamber of Commerce will endorse 23 first-term House Democrats, including U.S. Representatives Abby Finkenauer (IA-01) and Cindy Axne (IA-03).
Alex Gangitano was first to report the planned endorsements for The Hill on September 1. Other political reporters soon confirmed the news.

Although the Chamber of Commerce is not an overtly partisan organization, it has predominantly supported Republican candidates for federal offices, especially in recent years. Grace Aylmer of Public Citizen analyzed $29.8 million the organization spent on U.S. House or Senate races in 2016 and found "the entirety" of the spending "was to aid Republicans and/or hinder Democrats." Craig Sandler of Public Citizen found the same pattern examining $10.9 million in Chamber spending on Congressional races during the 2018 cycle: all buys went to benefit GOP candidates.
However, this year the Chamber will endorse 23 Democrats as well as 29 Republicans first elected to Congress in 2018. Gangitano reported,
The committee that voted on the endorsements reached an overwhelming majority consensus in favor of members on both sides of the aisle. The committee voted 75 percent in support of the full set of recommended freshmen for political endorsements, according to the memo. […]

The Chamber produces an online public scorecard for all members of Congress.

Twenty-three House [Democratic] freshmen received over 70 percent on their score cards, according to a review by The Hill.
Here's how the scorecard looks for Iowa's current representatives and senators.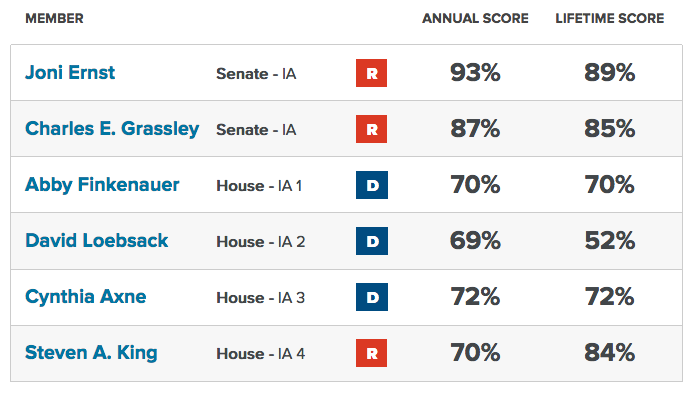 Whether or not the Chamber puts money behind its endorsed Democratic candidates, today's news will be a blow to Republicans hoping to portray Finkenauer and Axne as socialists or copycats of Representative Alexandria Ocasio-Cortez. A heavyweight among GOP-aligned business lobby groups would not be supporting these candidates if they weren't moderates.
Anyone who closely follows Congressional happenings already knows that Iowa's two first-term Democrats are not on the left wing of their caucus. If a roll call vote in 2019 or 2020 shows a dozen or two Democrats voting with most Republicans, there's a good chance Axne and Finkenauer will be among them. The Progressive Punch database indicates that retiring Representative Dave Loebsack is the 173rd most progressive current House member (out of 232 Democrats), Finkenauer is 222nd, and Axne is 223rd.
Most likely the Chamber would not publicly support any Democrats for federal offices if they weren't worried about a potential Democratic trifecta under President Joe Biden. If Republicans lose control of the U.S. Senate in November, moderates in the House could become a firewall against some progressive policy initiatives.
Bleeding Heartland will soon publish comprehensive overviews of the state of play in all of Iowa's U.S. House districts. Notably, Simone Pathe's CNN review of ten House seats most likely to flip in 2020 included the open IA-02, where former State Senator Rita Hart faces State Senator Mariannette Miller-Meeks, but not IA-01 or IA-03.
The Cook Political Report rates all three Democratic-held House seats as toss-ups. Inside Elections rates the same three seats as "tilt Democratic." Sabato's Crystal Ball sees IA-01 as a toss-up and IA-02 and IA-03 leaning Democratic.