Tyler Granger: Impaired waterways and the ongoing drought are a 1-2 punch that could create incredible hardships for Iowans in 2021. -promoted by Laura Belin
The coronavirus and the economic fallout from the pandemic has made 2020 one the hardest years for Iowans. Unfortunately, two environmental catastrophes are on the horizon for 2021.
Nearly 60 percent of Iowa's bodies of water are impaired, according to a report the Iowa Department of Natural Resources released this week. The trend is concerning, since Iowa has lax laws on scientific measurements regarding water quality as well as an inadequate, all-voluntary strategy to reduce toxic nutrients in our lakes, rivers, and reservoirs.

The Iowa Environmental Council analyzed the new DNR report and concluded that the drinking water of hundreds of thousands of Iowans is threatened. The impaired water crisis means more boil advisories, more recreational lakes shut down, and more harmful bacteria buildups.
Iowa's poor water quality is partly related to the other looming crisis: drought.
The latest U.S. Drought Monitor report, also released this week, shows much of Iowa is still facing moderate to severe drought conditions.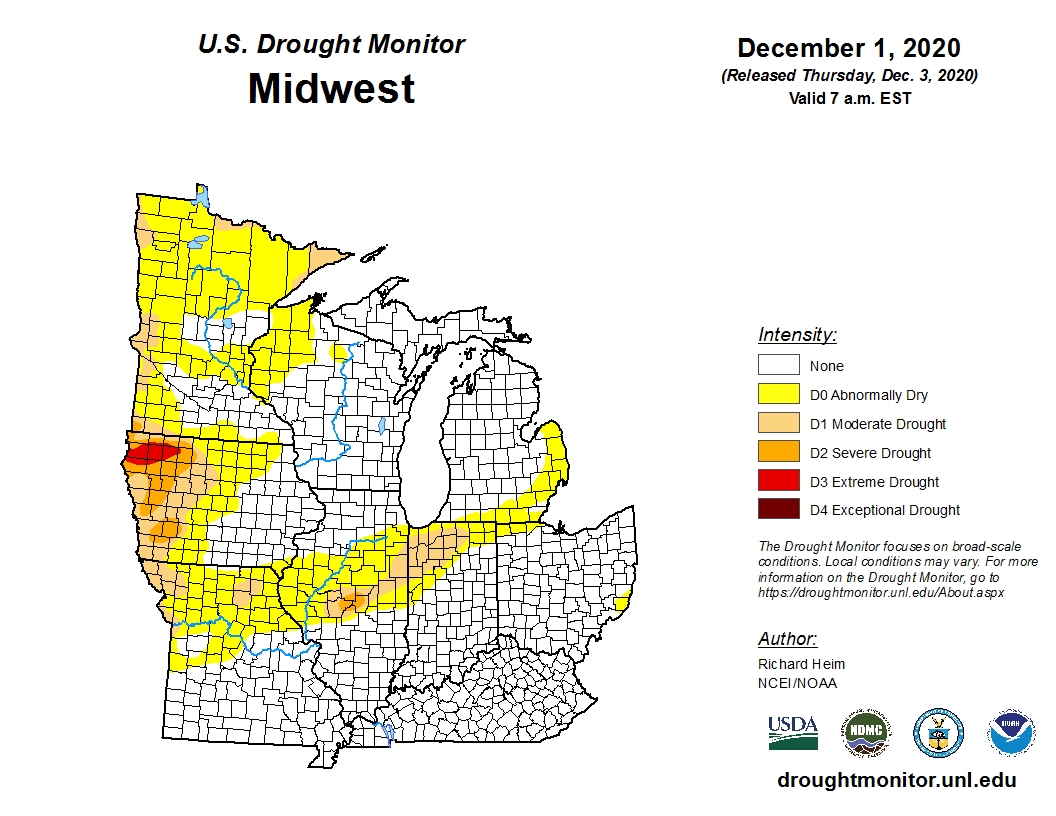 Iowa's state climatologist Dr. Justin Glisan has expressed deep concern about the report, which concludes drought has increased over the year and has worsened under continued high temperatures and heavy winds. September was the hottest September on record, continuing a trend of remarkably high temperatures with abnormal heat waves for that time of year.
Impaired waterways and the ongoing drought are a 1-2 punch that could create incredible hardships for Iowans in 2021, not only for farmers but for all who depend on safe water for drinking or recreation.
While the coronavirus pandemic has ravaged Iowa, money can pay for some effective mitigation strategies. We can buy masks and gloves, spend more on COVID-19 testing, or pay people to quarantine.
Fighting drought is much harder. We can't buy our way out of that problem. To combat drought, we need Iowa's U.S. senators to understand the science of climate change and why Iowa's drought is worsening. We must commit to eco-friendly agriculture and take longer term actions to conserve our natural resources, such as investing in prairie restoration and protecting Iowa's remaining wetlands.
Senator Chuck Grassley co-authored an editorial this week that called for oil and gas companies to "pay fair market value for the public resources they extract and sell." While it's good to see Iowa's senior senator on record for raising rents and royalty fees for fossil fuel companies that use public land, that industry is also dependent on freshwater to refine their fuels. Iowans should encourage Grassley to support conservation steps that would address our looming water and drought crisis, before it is too late.
Tyler Granger is a field representative with the National Wildlife Federation in Iowa.
Top image: Very low water levels at Saylorville lake in November 2020. Photo by Tyler Granger, published with permission.