A reality check courtesy of Jim Chrisinger. -promoted by Laura Belin
There are some true socialists on the left fringes of the Democratic Party, just like there are some true fascists on the right fringes of the Republican Party. It's offensive, however, that people who should know better accuse Joe Biden, Kamala Harris, and Nancy Pelosi of being socialists, or even communists.
My wife and I lived in a socialist and communist Czechoslovakia from 1987 to 1990. We saw socialism and communism up close.
Let's get real.

First, socialism is essentially an economic concept. Communism as practiced in the 20th century is essentially a political concept. You can have socialism without communism but communism necessarily includes socialism. There are many definitions of these incendiary (in America) terms. Here's my take.
Socialism is the state owning the "means of production." That means the state owns the "businesses," hires and pays workers, and determines how the work is done. So the National Health Service in the United Kingdom is socialist. The British government owns the facilities, hires and pays health providers, and determines how care is delivered.
"Obamacare" (the Affordable Care Act) and Medicare are not socialism. While the government pays for most of the service, the private sector owns the facilities, hires and pays the workers, and determines (within a government regulatory structure) how the care is delivered. Adding a public option would essentially be more coverage via Medicare. Not socialism. Even Medicare for All is not socialism.
Most countries, including the U.S., have "mixed" economies, including various combinations of private sector, government, and non-profit ownership, funding, and direction. Republicans prioritize the private sector, Christian non-profits, and accept a limited role for government. Democrats are more open to public action via government and non-profits and support free enterprise and capitalism.
Both parties believe a "free market" needs regulation; Democrats want more, Republicans want less. Democracy and government are how we move those dials back and forth depending on who won the last election.
There is nothing even remotely communist about the Democratic Party. Quite the opposite. Bernie Sanders and a few other prominent Democrats call themselves "democratic socialists." They advocate for European-style democratic socialism, where there is a much wider and stronger social safety net and larger government role in society, funded by higher taxes. That's not Cuba, that's not Venezuela.
On top of socialism, communism adds a self-selected one-party state that does not believe in free and fair elections. That sounds a lot more like the Republican Party these days.
Republicans have done a great (though unfair) job of branding the Democrats over the last 40 years. Democrats need to get better at branding the GOP. The Trump years have given the Democrats a lot of raw material with which to do so.
Jim Chrisinger is a retired public servant living in Ankeny. He served in Democratic and Republican administrations in Iowa and elsewhere.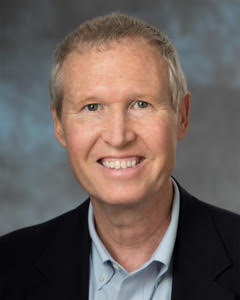 Top image: Symbol representing communism, by Alfaain Zohra Fathima and available via Wikimedia Commons.