The Campaign Legal Center has sued Iowa Values, a 501(c)4 nonprofit that backed U.S. Senator Joni Ernst's re-election campaign without disclosing its fundraising or spending.

The complaint filed in U.S. District Court in Washington, DC on February 12 argues that under federal campaign finance law, Iowa Values was required to register as a political committee with the Federal Election Commission. By "concealing critical information" about its contributions and expenditures in support of Ernst, the group broke the law, harming both the Campaign Legal Center "and the electorate at large."
As Bleeding Heartland previously reported, the Campaign Legal Center first filed an administrative complaint with the FEC regarding Iowa Values, then filed suit in June 2020 over the commission's failure to take action on its complaint. After the FEC did not defend the lawsuit, a District Court judge issued a default judgment order in October, giving the commission 90 days to act on the matter. On February 11, the court ruled that the FEC had "failed to conform" to its previous order and recognized Campaign Legal Center's right to sue Iowa Values under the Federal Election Campaigns Act.
The plaintiffs provided Bleeding Heartland with a copy of today's court filing, enclosed in full below. Like the group's earlier lawsuit, it cites news releases, a strategy memo, fundraising appeals, and digital advertising, which all demonstrate that helping Ernst win the 2020 election was the "major purpose" of Iowa Values.
Erin Chlopak, the director of the center's campaign finance strategy, said in a February 12 telephone interview that the next step will be to serve Iowa Values, which lists an office address in Clive. The group will have several weeks to file its response in federal court.
Representatives of Iowa Values did not immediately respond to Bleeding Heartland's inquiry via email. Assuming the group mounts a legal defense, it will likely claim it was focused on educating voters about public policy, rather than mobilizing voters for Ernst. Well-connected Republican blogger Luke Martz wrote on his website in late October, "Throughout the 2020 cycle, no conservative group has been more focused on issues surrounding the US Senate race than Iowa Values." Martz noted that "Iowa Values Action, the affiliated Super PAC, does the heavy lifting of direct advocacy for candidates it supports."
FEC filings by Iowa Values Action show that it received contributions totaling $1.45 million from the 501(c)4 Iowa Values, which amounted to most of the $2.2 million the super-PAC spent to influence the Senate race.
In addition, Iowa Values was clearly engaged in advocacy for Ernst well before its leaders created a super-PAC in July 2020. A strategy memo first reported by the Associated Press discussed an "election-long effort" to identify key voting blocs and "communicate directly with specific segments of the electorate that will be determinant in winning or losing in 2020."
Iowa Values had spent tens of thousands of dollars on digital advertising by the time the Campaign Legal Center filed its administrative complaint with the FEC in December 2019. The Google and Facebook ad libraries show that "every advertisement" Iowa Values ran on those platforms in 2019 "named or pictured Senator Ernst, or directly pertained to Defendant's efforts on her behalf," the new lawsuit observes.
I pulled these two videos from the Iowa Values YouTube page. Both were uploaded in January 2020, nearly six months before the Iowa Values Action super-PAC registered with the FEC. Here's "Iowans Deserve Quality, Affordable Choices":
The spot is barely distinguishable from a campaign commercial and closes with this image.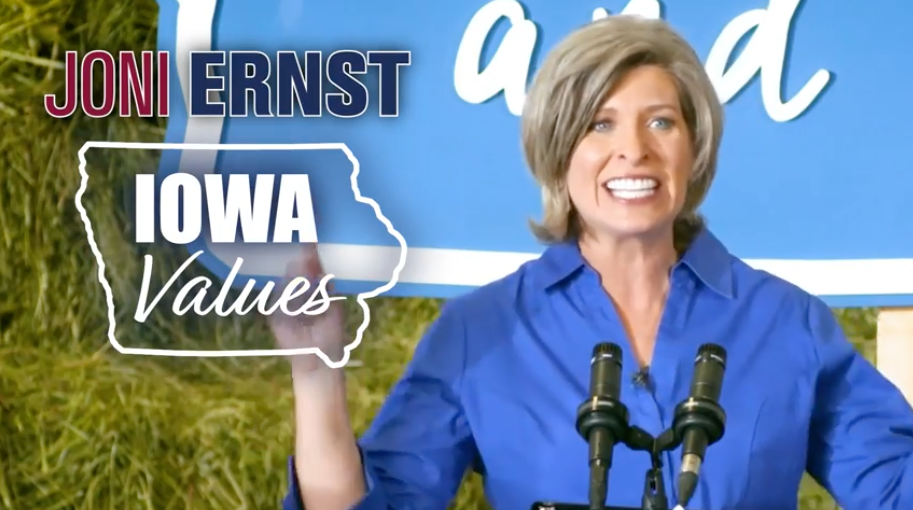 Iowa Values posted "Won't Stand For It" later the same month.
Again, the video has the look and feel of an incumbent's campaign commercial. It closes with this shot.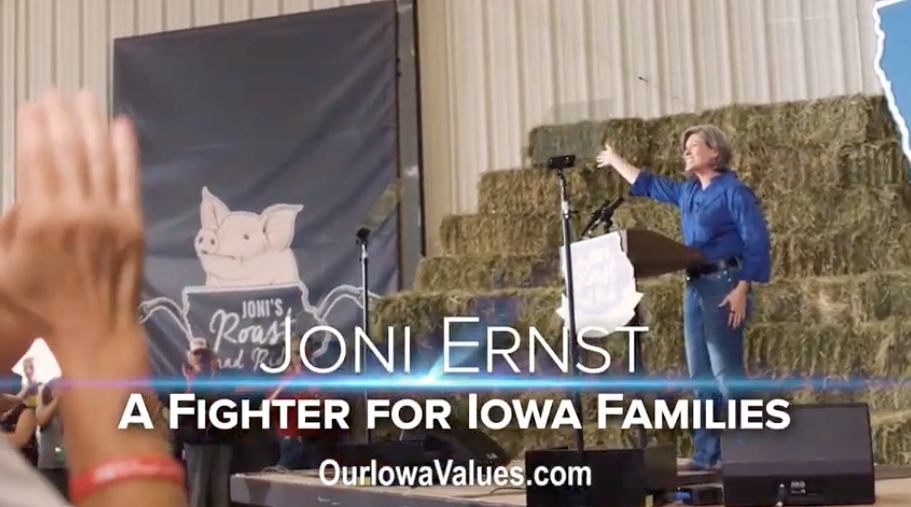 I will update this post as needed.
---
Appendix: February 12, 2021 court filing by the Campaign Legal Center, which is suing the Clive-based group Iowa Values
Top image: Screen shot from an advertisement Iowa Values created to promote Senator Joni Ernst.