Dominica Borg is perpetually enamored with the Midwest's landscapes, people, and wind driven weather. Their interests are food, farming, conservation, small business, and equal rights.
Supporters of Fairfield's second annual Pride Month gathered at City Hall an hour before the May 23 city council meeting. By the time Mayor Connie Boyer arrived, a large circle had formed. The mayor greeted the group and stepped in with a smile, confirming she had the proclamation and would read it.
Once City Hall was unlocked, the meeting room filled quickly. All available chairs were brought out until the room was at maximum capacity.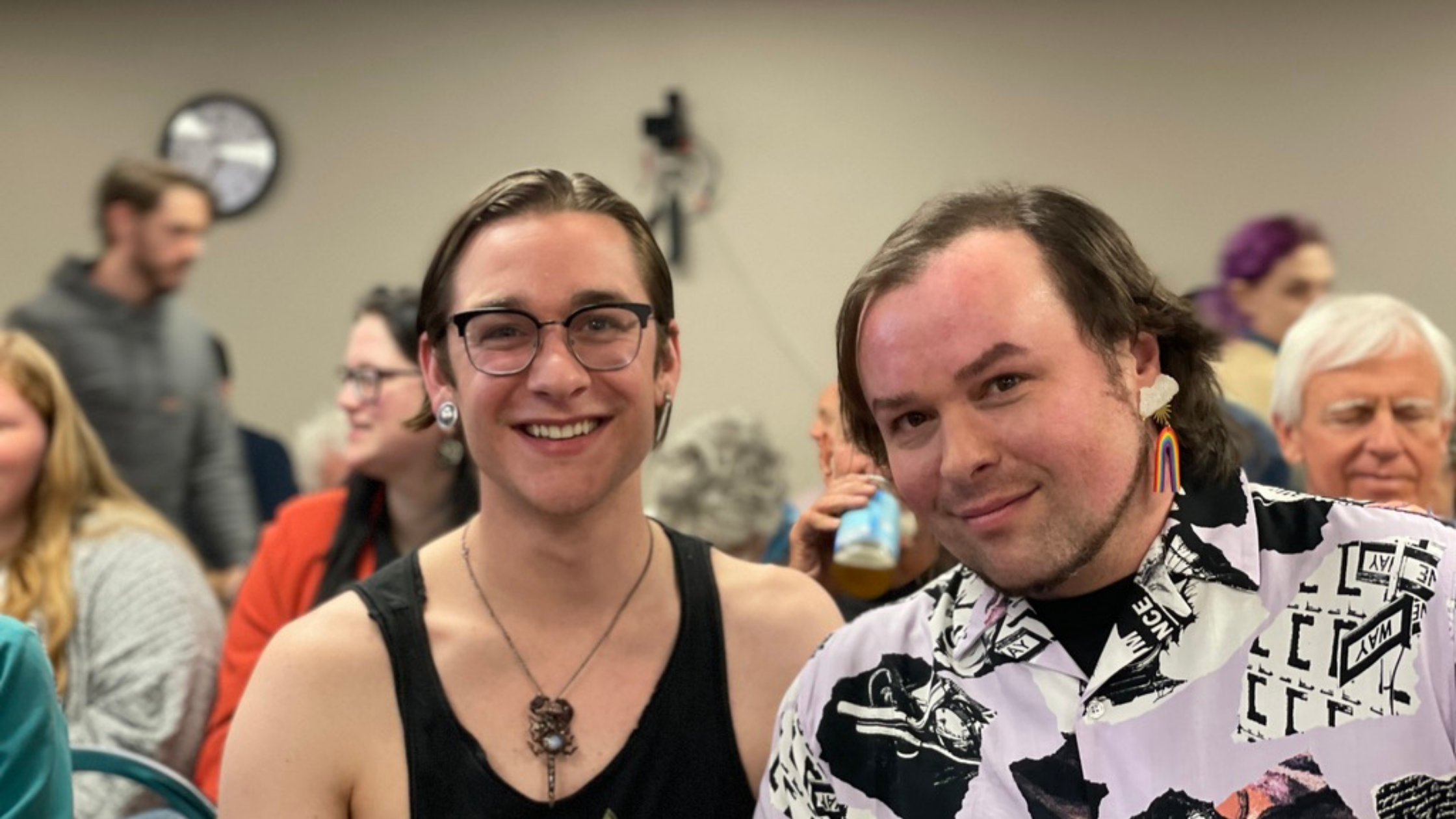 Jared Brown with partner Sebastian Gillepsie, Fairfield Queer Parliament
Jared Brown of the Fairfield Queer Parliament spoke immediately following Dave Neff's Carnegie Museum quarterly update. "I'm not here to talk about flags," Brown began, a subject that had prompted most of the evening's citizen speakers to protest the LGBTQ+ flag–or any other flag–being flown on the city's Central Park flag pole. 
"The first pride was led by Queer women of color who were fed up with the New York City police's targeting of queer individuals," Brown said.
Today, Pride is exceedingly important for community, visibility, and activism as has proven progress is not easily won or maintained. Even after 70 years we still receive a considerable amount of pushback. That is why Pride is important. It allows a deep look at our queer past, present and future. . . . It says to those who may be isolated in their queerness that they are not alone.
Brown speaks to the Council on the importance of Pride Month
Brown was followed by several community members speaking about city flag poles. The first speaker, Mary Cathryn Olson, recited the pledge of allegiance and requested the council pass a resolution to not allow any flags other than the U.S. and Iowa ones.
Joseph Perna sang the national anthem, and many joined in. When Perna paused to begin speaking, everyone continued singing, and he joined back in to lead the end of the song with gusto. Perna recalled childhood memories. Pointing to a small American flag he held, Perna said, "This is mom and dad. This is home. This is all of us." Another speaker described the American flag as sacred.
Brad Fregger expressed sympathy for anyone who might feel discriminated against, describing how he was turned away from people's homes when door knocking because of his conservative beliefs. "Blacks, Jews, and Conservatives are treated as badly or worse than LGBTQ," Fregger said. He continued that "the central flag is for unity," and he would "never promote Black, Jewish, or Don't Tread on Me flags" being flown there either. He shared that he had just celebrated his son's marriage to a man, and that his son-in-law agreed there was no flag more important than the U.S. flag. 
Ed Hipp expressed concern that allowing any flags besides the national and state flags would set a precedent and result in future conflict. Hipp said that the national and state flags remind us of "what we have in common." He also distinguished between private and public flags, saying, "let no one usurp tax resources" to fly flags besides the U.S. and Iowa flags on city flag poles.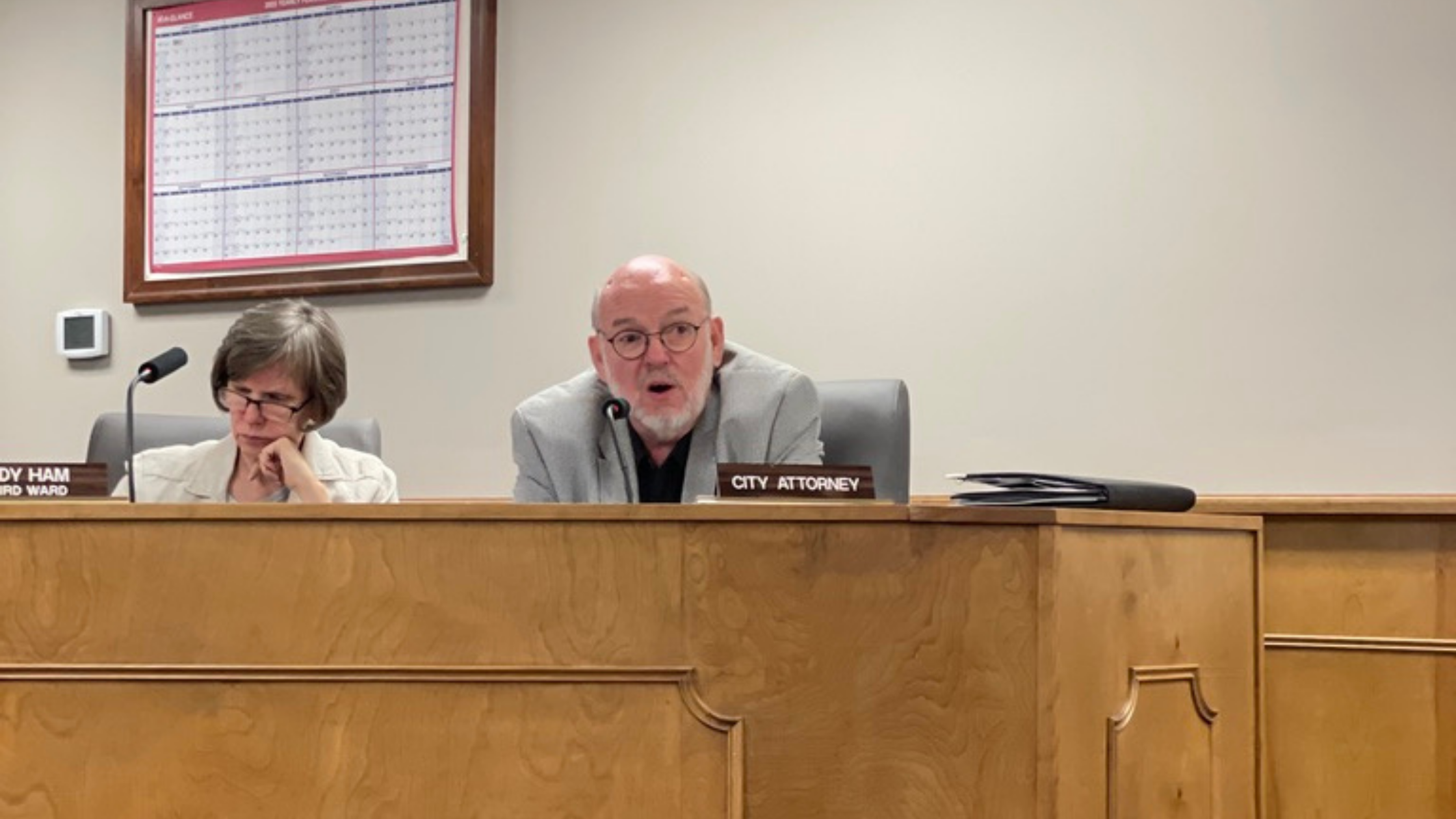 City Attorney John Morrissey advises the council
City Attorney John Morrissey advised the council against breaking the "longstanding tradition" of exclusively flying the national and state flags, citing the U.S. Supreme Court's recent ruling in Shurtleff v City of Boston. He explained that the city of Boston allowed hundreds of flags, which opened them to charges of discrimination when they did not approve the Camp Constitution flag.
Morrissey described the city of Fairfield as "the other end of the spectrum," suggesting the unbroken tradition of exclusively flying the national and state flag legally shields the city from charges of discrimination. 
The council did not further discuss the city's flag policy. Mayor Boyer acknowledged the different feelings and beliefs in the room and said, "I think we're all Americans first," before proceeding to the next agenda items, among them a new fire station, replotting 12th street, completion of the new Lamson woods entrance and an updated Fairfield Arts & Convention Center lease–all the logistics that keep a city going.
The agenda then returned to Fairfield's second annual Pride Month. Mayor Boyer read the proclamation, followed by applause.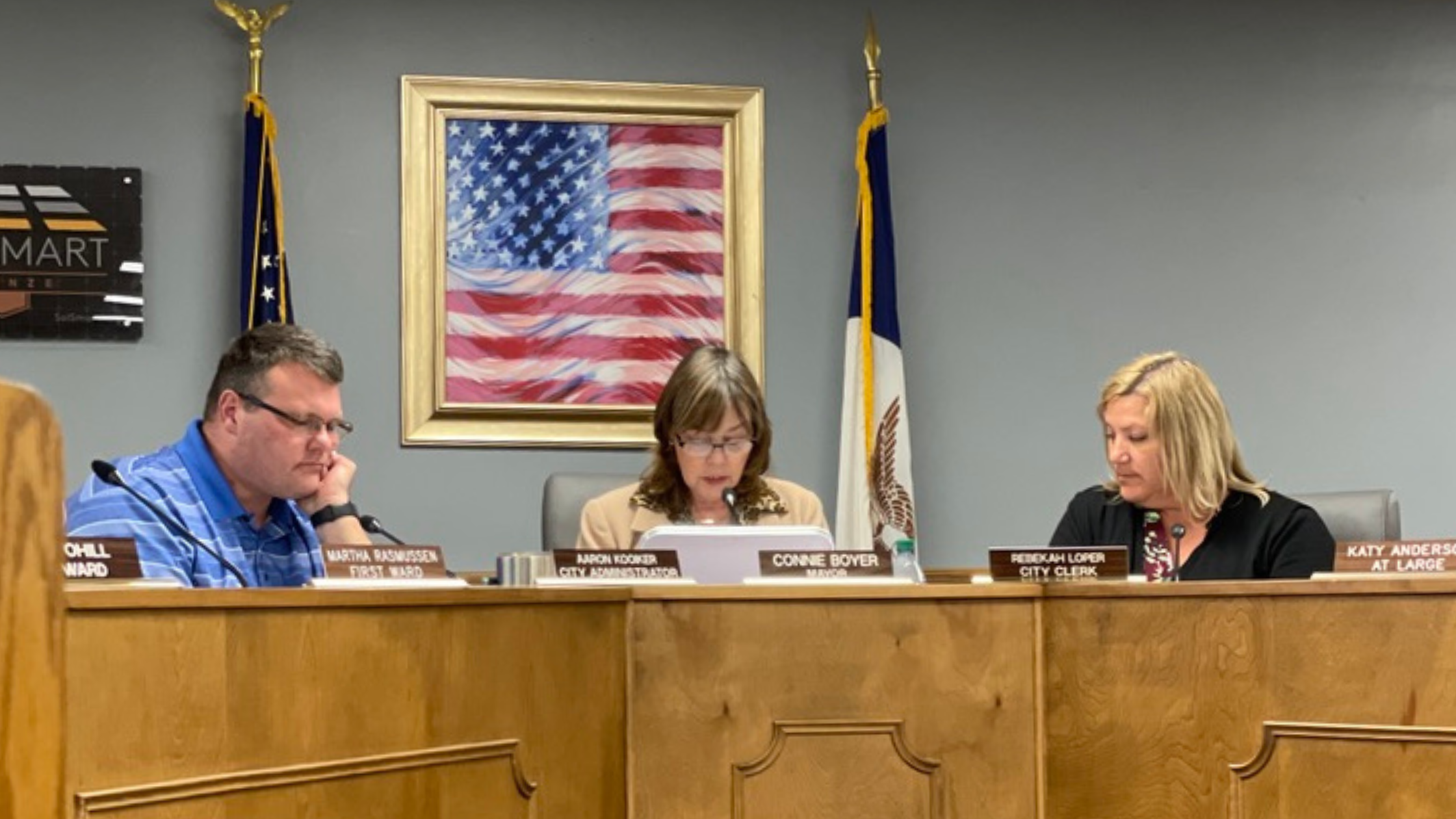 Mayor Boyer reads Pride Month Proclamation
Supporters of Pride Month lingered to visit after the council meeting adjourned. For many the next focus is Pride Fest on June 25. Will there be Pride flags? Absolutely–just not on the central park flag pole. "If someone says you're too gay, get 10 percent gayer," said Tamlin Day. 
Fairfield Safe Spaces Initiative organizer Lore Oliver is already prepared to order flags. "The Pride flags we intended to purchase averaged around $10, so we set our fundraising goal at $200 so that we could provide at least 20 flags to display at FSSI (Fairfield Safe Spaces Initiative) businesses," Oliver said. "Within two hours of launching the fundraiser, we fulfilled our goal, and throughout the subsequent night we exceeded our goal by $140."
The safe spaces initiative is growing rapidly. "There are currently nine businesses that are accepted FSSI members, and a handful more are waiting to be approved. It seems that the vast majority of businesses in the downtown area are keen to participate in Pride month events, and any others that may be interested can contact the Fairfield Queer Parliament or Fairfield Safe Spaces Initiative."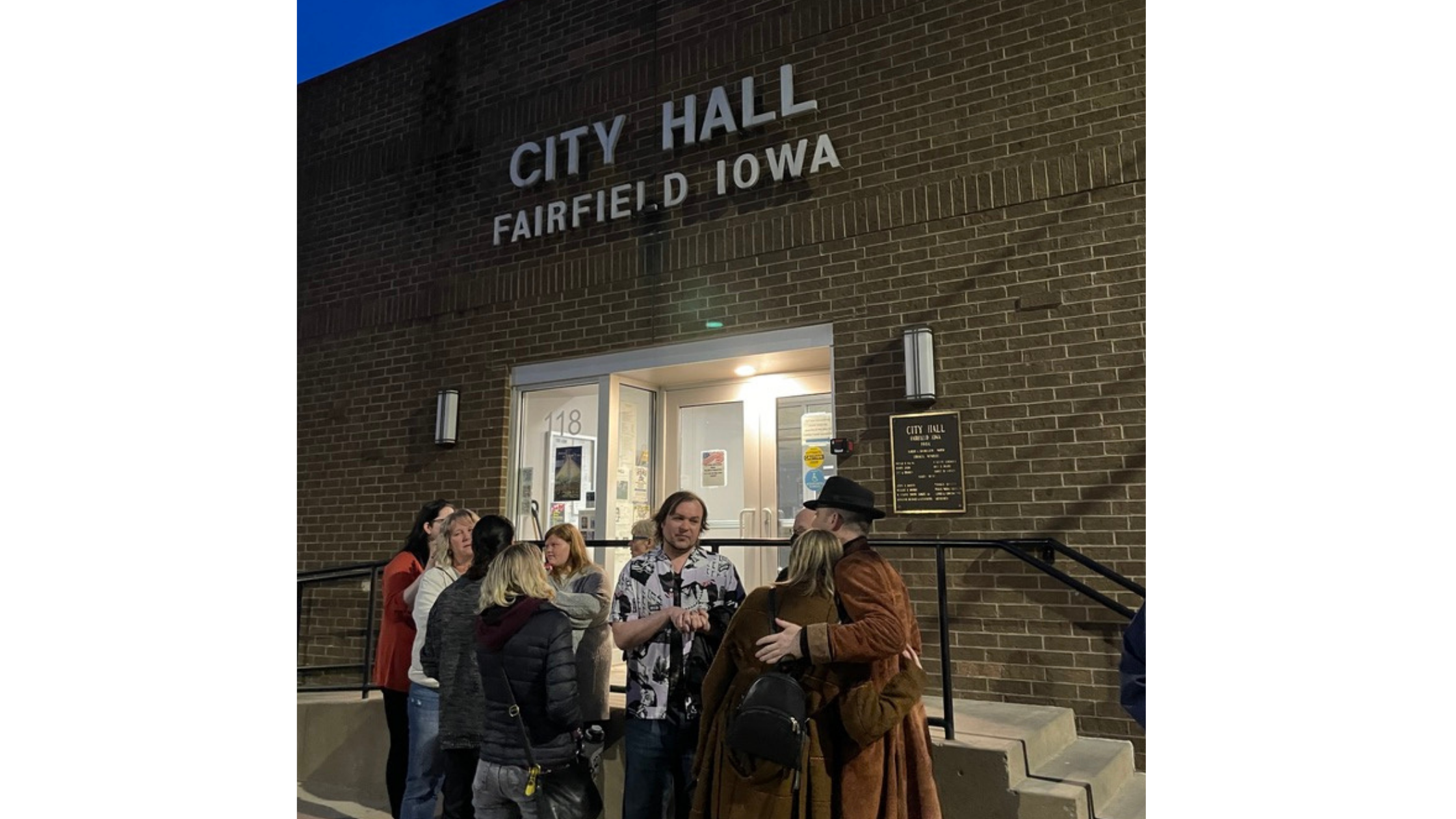 Pride Month supporters visit outside City Hall after the meeting adjourns
All photographs were taken by Dominica Borg and are published with permission.