Julie Gammack writes about a campaign event she co-hosted. She published a version of this piece on her Substack, Julie Gammack's Potluck.
I was in Carey's Electronics shop in downtown Spencer on Thursday. As we concluded our business, the subject of kids, his kids, their health, and safety came up. I was curious to see where the conversation would go.
"To get a driver's license, I needed to pass a test," said the man behind the counter. "To own a car, I must have insurance. If I don't wear my seatbelt, I can get a $275 ticket.
"But my 18-year-old son can go down the street and buy an assault rifle, no questions asked. This is just insane!"
And at that moment, in this reddish, northwest corner of Iowa, I came to believe that the slaughter of children in Texas, the lack of police response, and the ridiculous reaction from the GOP (it's the school door's fault, said Ted Cruz), is different. Check out Iowa Starting Line's report from a Grassley town hall in Louisa County and the audience reaction to his answers.
Vice Admiral Michael Franken was in Spencer for a meet-and-greet held at the local library. He is running in the June 7 Democratic primary, hoping to face U.S. Senator Chuck Grassley in November.
Organizers had set the room for just a handful of people. It was the first gorgeous day of the year, so folks would be forgiven for not showing up for a political event. But they did. It was standing-room-only.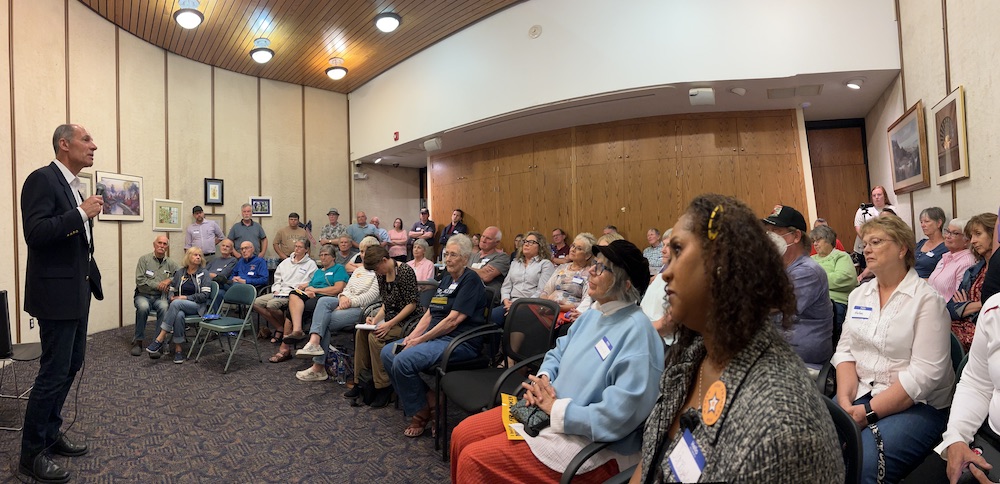 Franken speaks to a crowd in the Spencer Public Library on June 2
As my pal Chuck Offenburger noted in his Franken endorsement column last week, the candidate is relaxed, engaged, sometimes funny, and answers every question with depth, specificity, and authenticity. The crowd applauded his answers on guns, codifying Roe; health care; farming; eminent domain pipeline concerns, Ukraine war, immigration, and Social Security. One approached him privately about her son who served under his command.
Retired teacher Jan Myers and her friend Jacqueline Johnson had heard Franken speak in Storm Lake a few weeks earlier. They became excited about his candidacy and swung into action to introduce their friends to Franken. They made signs, went door to door, and posted about the event on their Facebook pages. There's no paid campaign field staff there. This reaction popped up organically, and it's happening around the state. This feels like a movement.
Deadly shootings are happening so fast, that it's hard to keep track. Wednesday a gunman killed his surgeon and three other people in Tulsa. Thursday, people were shot at a cemetery near Milwaukee, Wisconsin. In Ames, Iowa on Thursday night, two women were killed in a church parking lot.
Ames, Iowa.
Ames, Iowa.
Ames, Iowa.
Franken and the crowd fueled one another on Thursday night. It feels different. This time, Chuck Grassley could be retired.
Top photo provided by Julie Gammack and published with permission. Jan Myers and Jacqueline Johnson co-hosted the Spencer event, along with Julie Gammack and Marti Nodland.