This week, I'm returning to one of my all-time favorites. I have a better camera now than when Bleeding Heartland featured American bellflower (Campanulastrum americanum) seven years ago, and these plants are easily accessible to me along wooded trails in Windsor Heights or Urbandale. Although I'm getting around reasonably well six months after severely breaking my ankle, I'm still not up to bike rides or very long walks.
Also known as tall bellflower, American bellflower is native to most states east of the Rocky Mountains. In Iowa, it usually starts blooming in early July, and you can often find some of the flowers well into the late summer. A couple of times I've even seen one of these plants blooming in October.
According to the Illinois Wildflowers website, "Habitats include moist to slightly dry deciduous woodlands, disturbed open woodlands, woodland borders, and thickets. This plant is often found along woodland paths, and it appears to prefer slightly disturbed areas."
American bellflower can form large colonies, like this group along the trail in Walker Johnston Park, behind the Urbandale Public Library.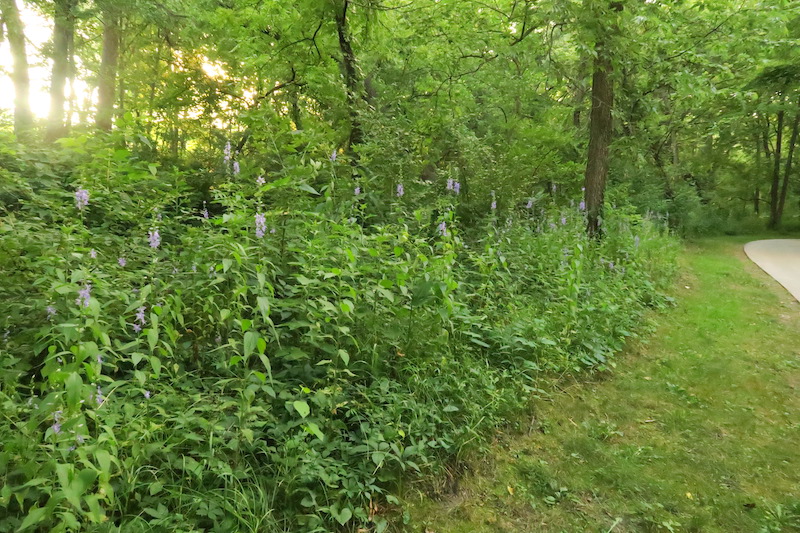 Once you've seen these bluish-purple flowers, which resemble a five-pointed star with a pale circle in the middle, you won't mistake them for anything else. This picture is from July 2020: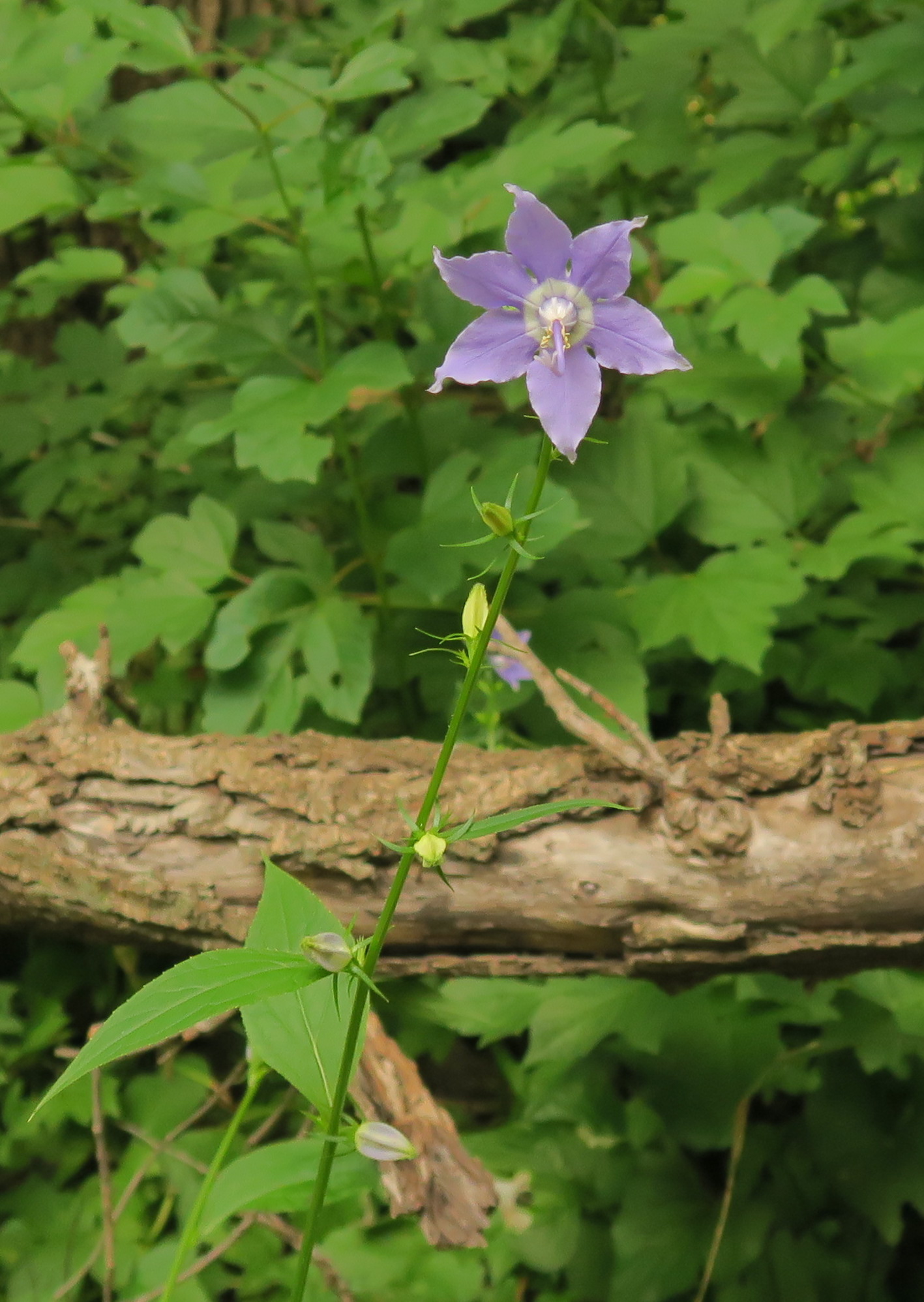 Minnesota Wildflowers, Illinois Wildflowers, and the Friends of the Eloise Butler Wildflower Garden website are good resources for botanically accurate descriptions of the foliage, flowers, and fruit of American bellflower. The alternate leaves have serrated edges. Here's how the plant looks a few weeks before flowers appear.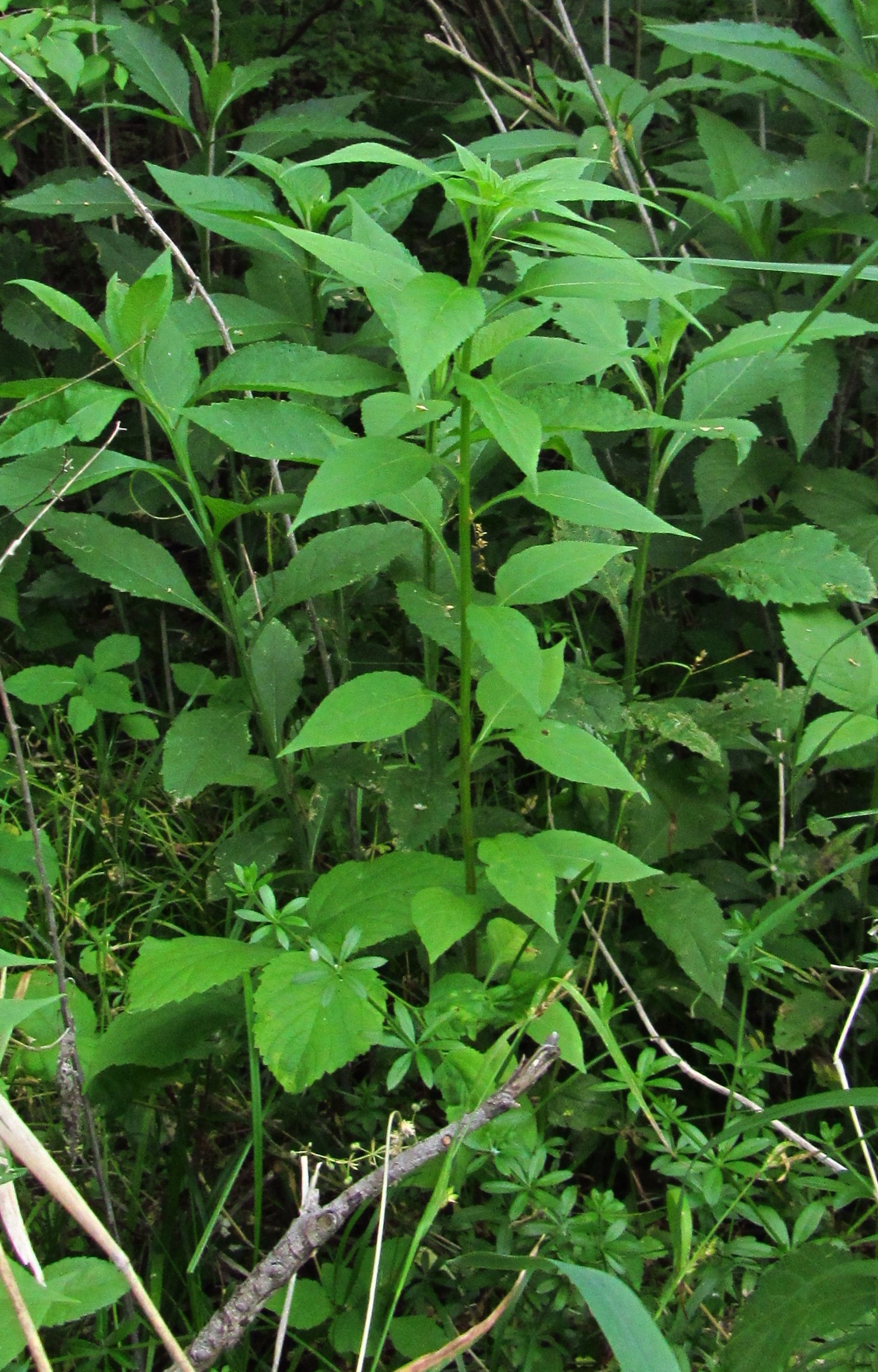 One American bellflower plant will usually have many flowers. They often start blooming from the bottom of the raceme, but sometimes the flower at the very top also opens early in the blooming period.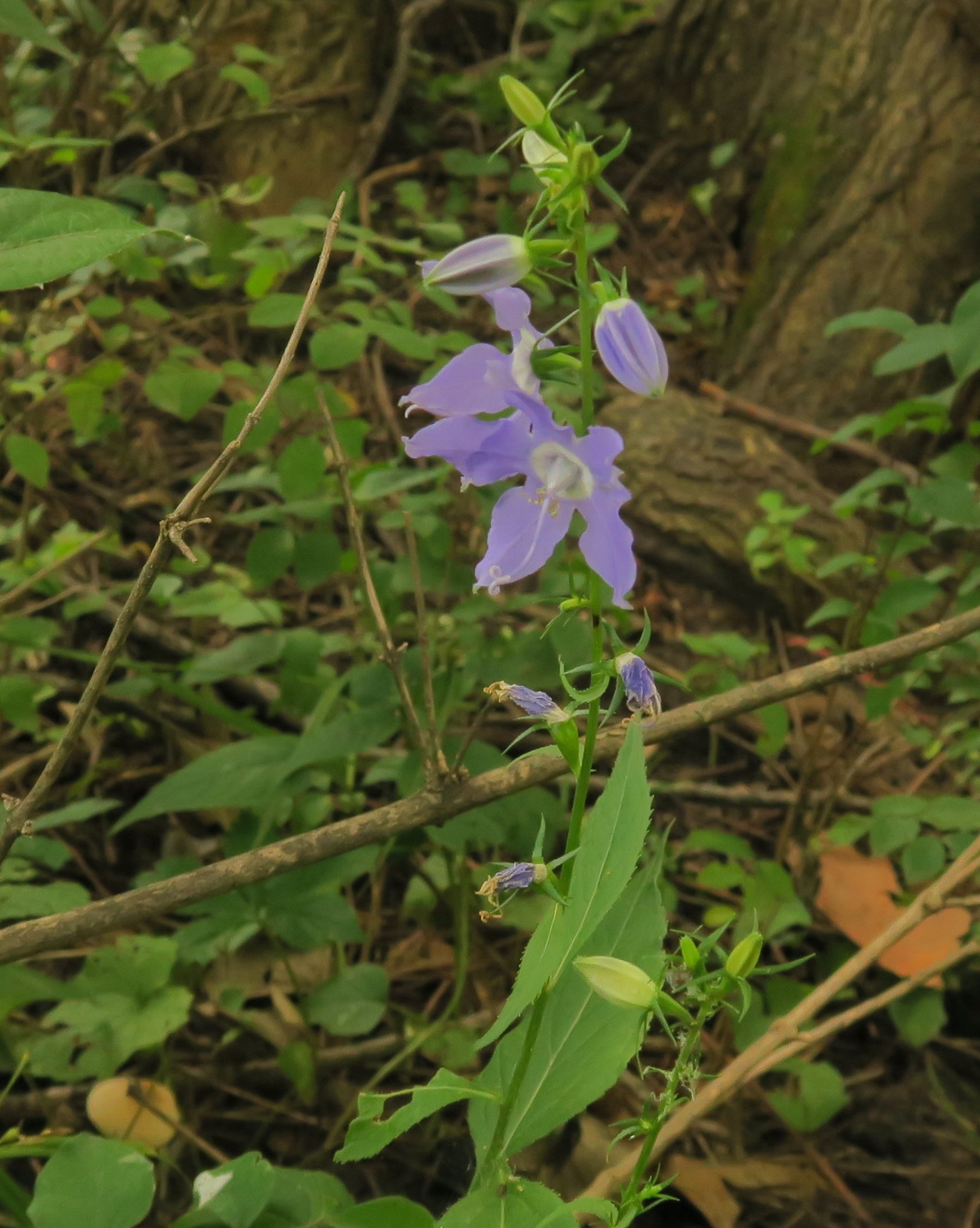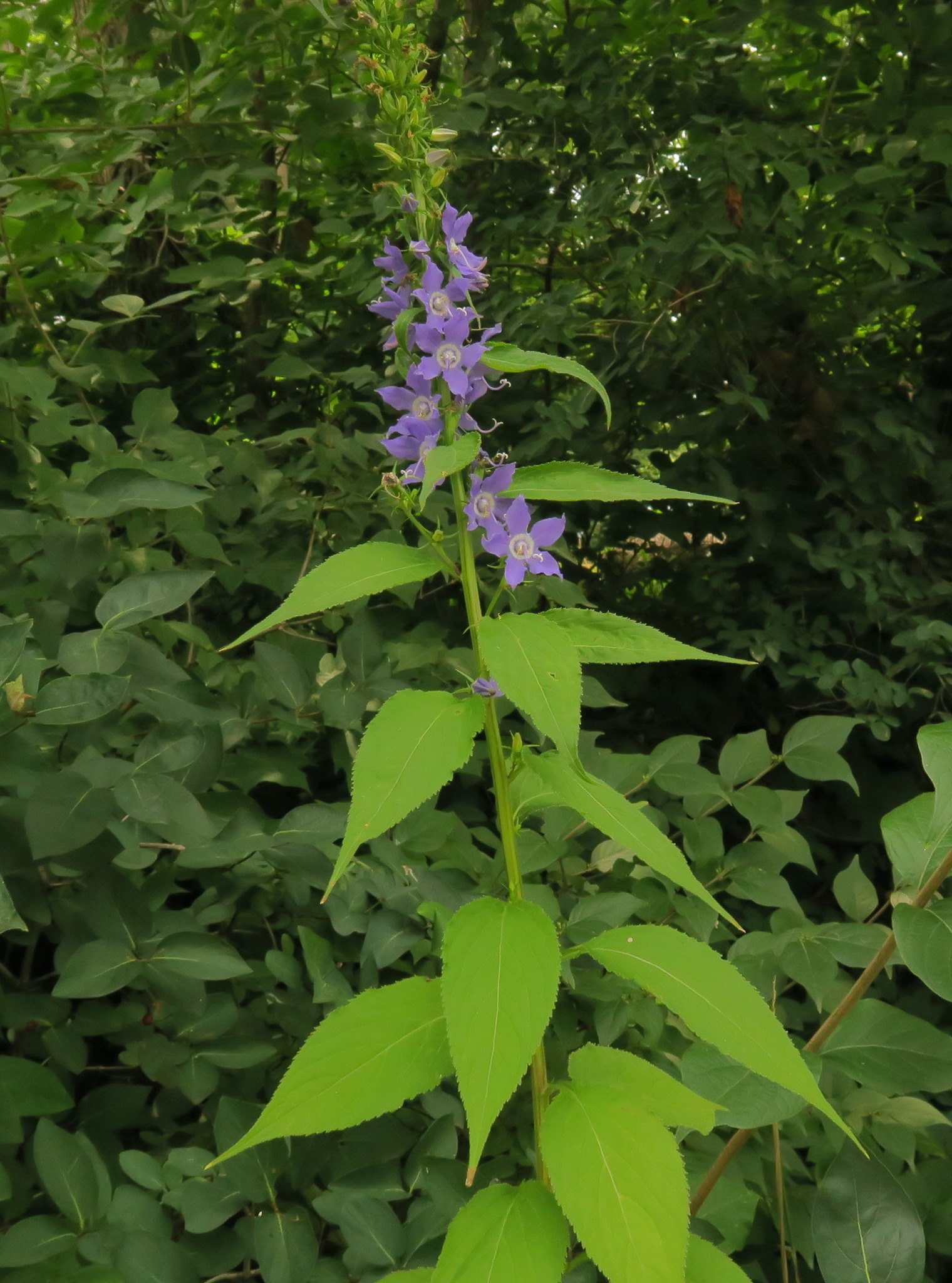 Minnesota Wildflowers notes, "Behind the flowers are 5 linear sepals fused at the base."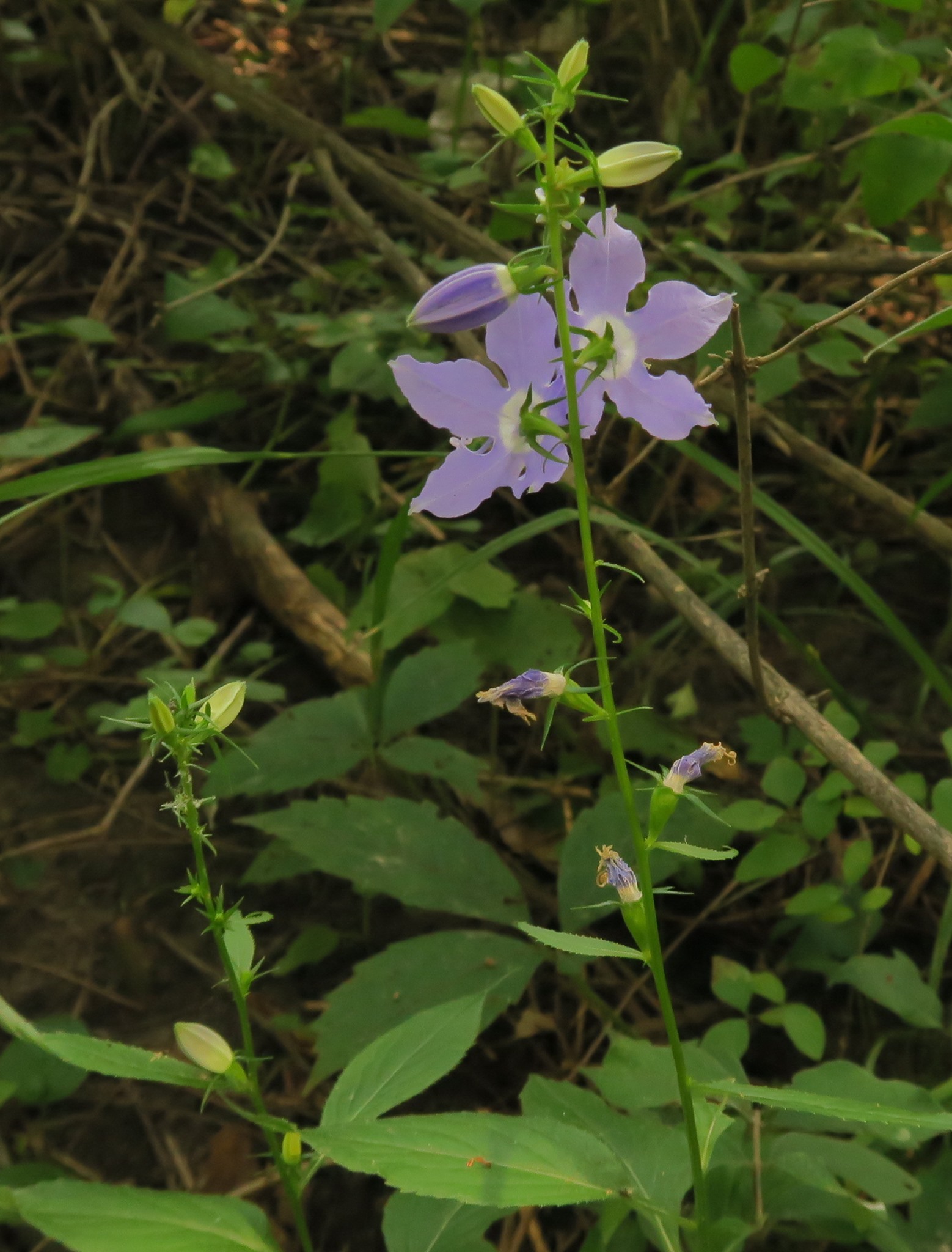 Some flowers are a deeper purple, others paler, as on the right side of this image.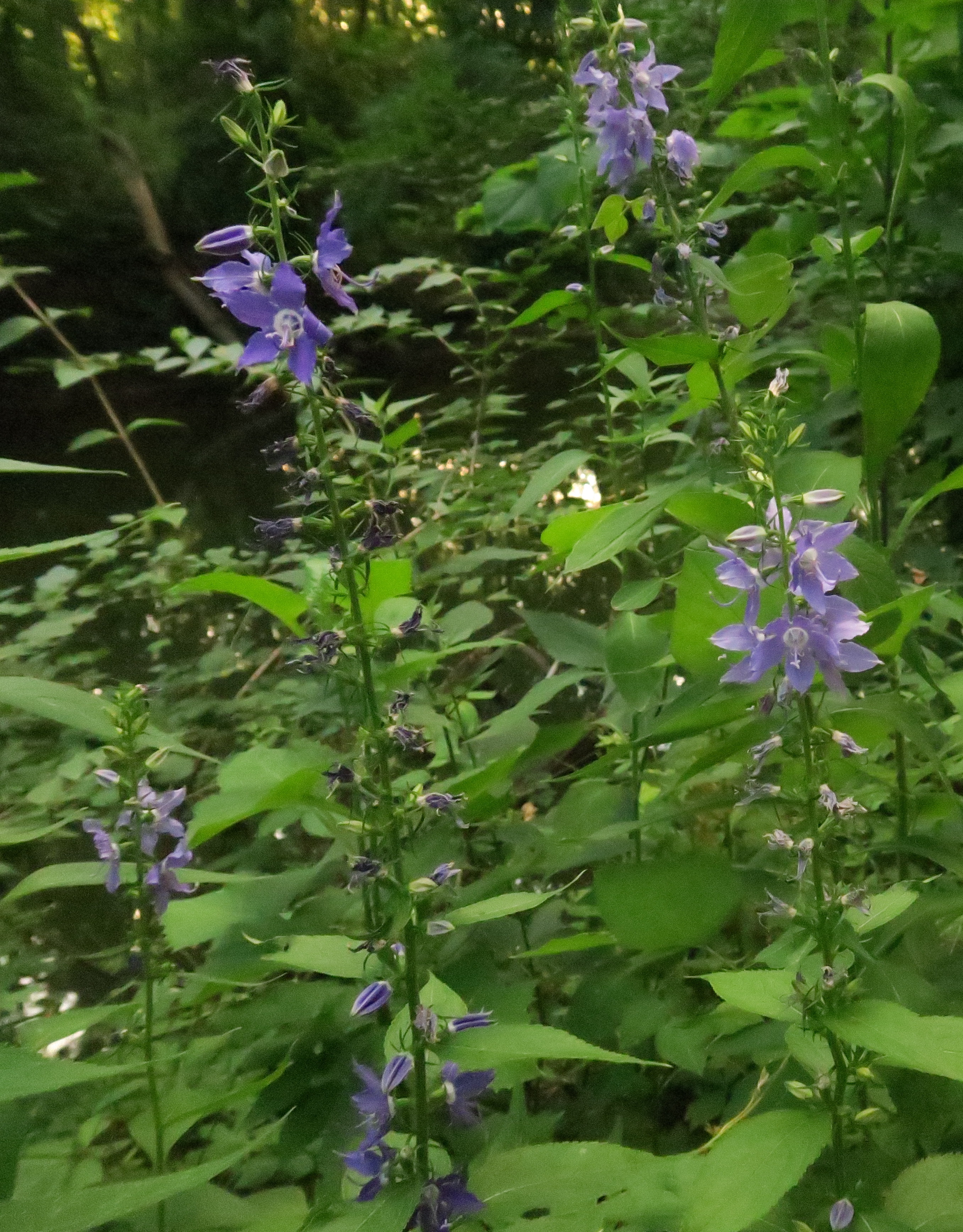 A couple of weeks ago, my son and I saw a rare sight at Walker Johnston park: an American bellflower plant with white flowers. My son captured this image with his phone. (Unfortunately, we couldn't find the plant again when I came back with my camera a few days later.)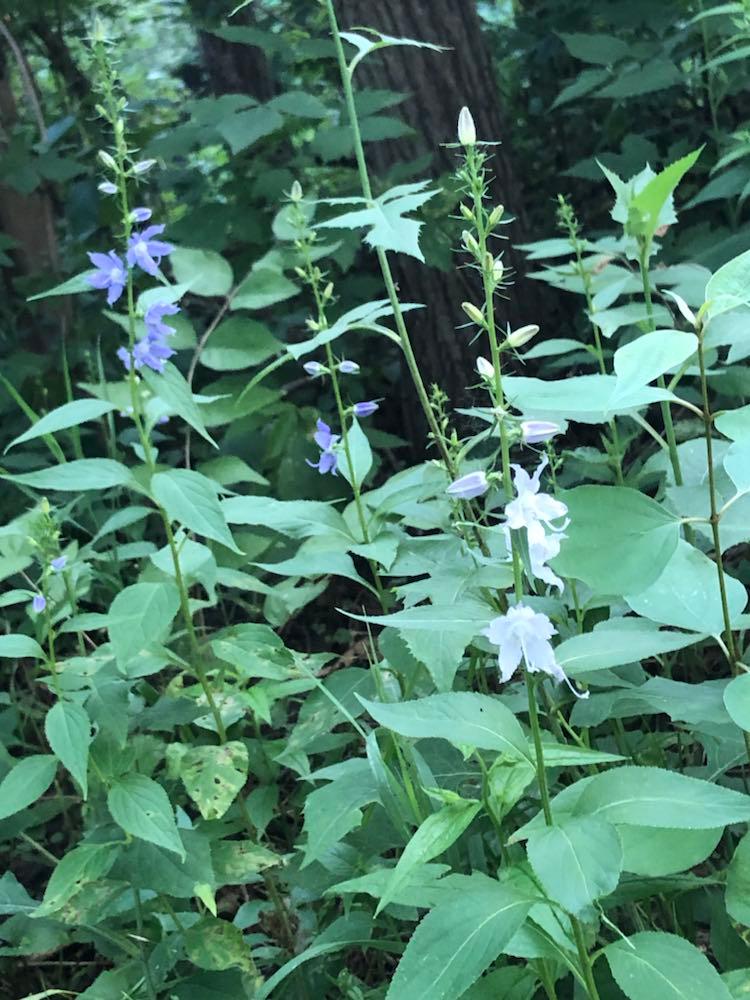 In the dim evening light, the flowers often look more blue than purple.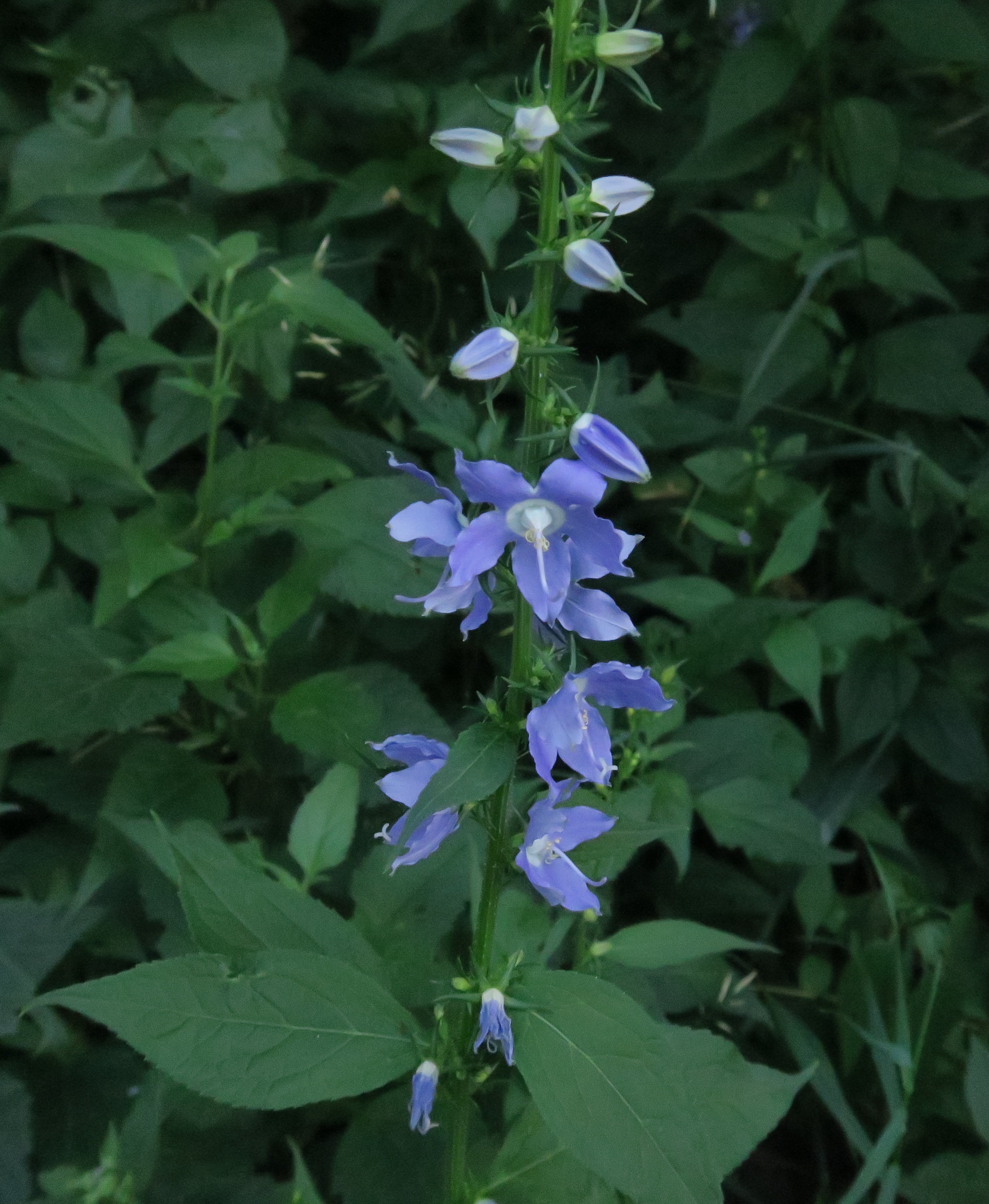 This underexposed photo shows another rare sight: an American bellflower blossom with four petals.
According to Illinois Wildflowers, "Long-tongued bees are the primary pollinators of the flowers, including bumblebees and leaf-cutting bees." Some kind of bumblebee was sampling here: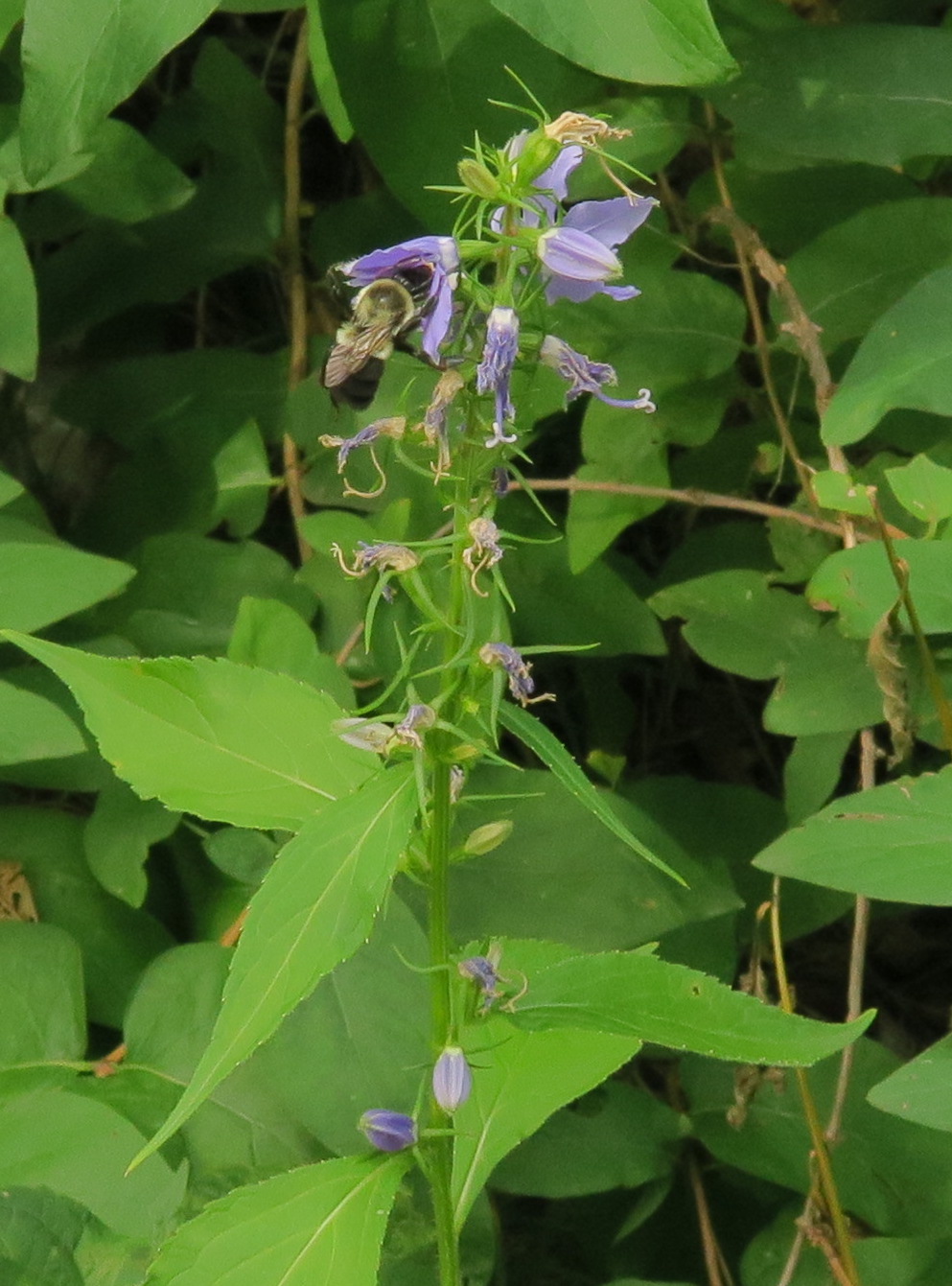 American bellflower plants usually reach heights of two to six feet, but I've seen much shorter plants as well. This flower was barely six inches off the ground.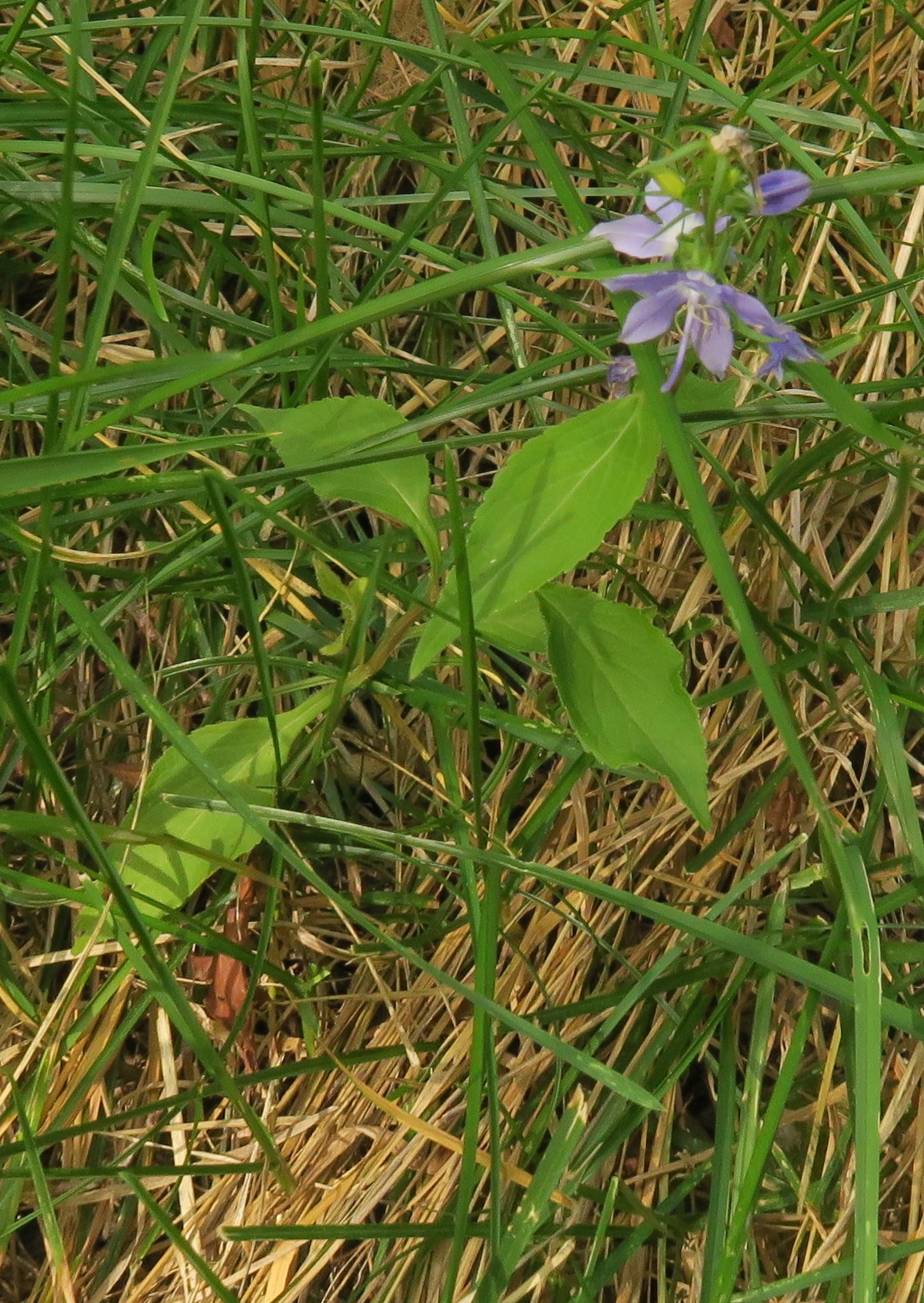 Some flowers on this plant haven't opened yet, while seed capsules are starting to form lower down.