Fake newspapers designed to drive Illinois voters away from Democratic candidates are being printed at the Des Moines Register's plant, Gannett staff confirmed to Bleeding Heartland.
At least eleven printed publications, which are part of the conservative network Local Government Information Services (LGIS), have been distributed to Illinois residents since August. Sometimes known as "pink slime" journalism, such publications combine political advocacy with stories resembling neutral coverage of local news or sports. The material has the look and feel of a newspaper, but the content is more like political advertising.
Jem Bartholomew of the Columbia Journalism Review was first to report in early October that Gannett had taken over printing of the LGIS products. The previous publisher, which also owns the suburban Chicago newspaper Daily Herald, canceled its commercial printing contract with LGIS in late September, saying "Many critics cannot or refuse to differentiate between a commercial printing operation" and the Herald's "editorial mission to be unbiased and fair."
The Des Moines Register's executive editor, Carol Hunter, had no comment beyond confirming in a November 4 email that "these are commercial print clients." She provided a statement from Gannett's corporate communications staff: "We do not discuss our commercial print clients and have no further comment."
The Illinois mailings have featured numerous materials targeting Governor J.B. Pritzker or promoting his Republican challenger, Darren Bailey. The fake newspapers don't appear on a regular schedule. Many "articles" contain inaccurate information or push conservative talking points about issues such as COVID-19 and how schools approach sex education or gender identity. Pritzker has denounced the publications as "racist"; they have highlighted people of color alleged to have committed crimes.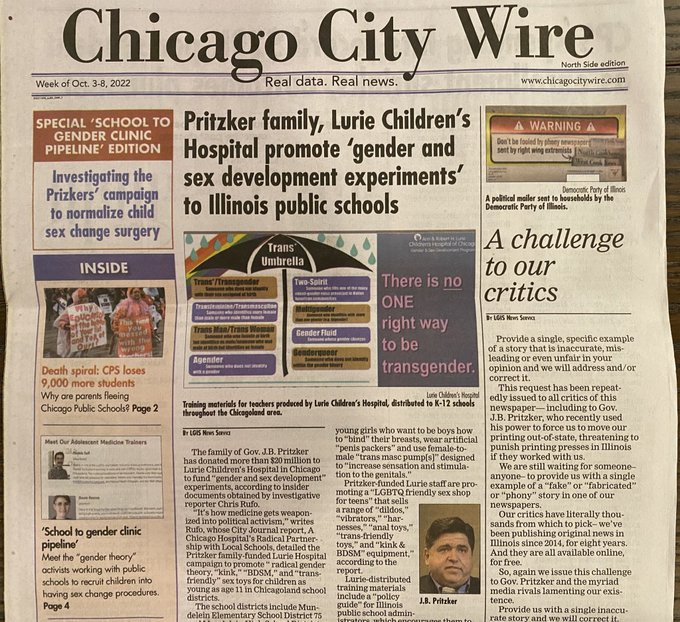 Photo provided by Illinois recipient, published with permission
Journalist and media critic Dan Froomkin, who runs the Press Watch website, told Bleeding Heartland, "The image of real news and fake news coming off literally the same presses—presses owned by a legitimate news organization—is horrifying."
Froomkin added that the groups pretending to be news organizations "are inherently fraudulent. They do enormous damage to real news organizations both by misinforming people and by blurring the line between news and propaganda."
Priyanjana Bengani of Columbia University's Tow Center for Digital Journalism recently published new research on a network of some 1,200 conservative sites purporting to provide local news. The sites have offered "a range of campaign services to conservative candidates" before the 2022 elections. They are also running "stories that boost the positions of special-interest groups interspersed between thousands of algorithmically generated stories and republished press releases."
"While publishing news sites or newspapers to exert influence is not new," wrote Bengani in the Columbia Journalism Review on October 31, the network's tactics "create a challenge for independent local journalism and demonstrate how modern political campaigning makes it harder for readers to distinguish between political advertising and journalism."
For Froomkin, "Fake news should be at the top of the list" of things Gannett won't publish. "As news organizations, presumably including Gannett, fight to reduce the spread of disinformation on social-media platforms, the idea that they are letting groups like this use their own presses is incredibly hypocritical," he said.
In 2018, the Des Moines Register's editorial board joined more than 400 other newspapers in a coordinated effort to denounce then President Donald Trump's comments portraying accountability journalism as "fake news" and reporters as "enemies of the people."
Many Iowans received a fake newspaper purporting to be the "Iowa Catholic Tribune" in October. The eight-page publication, not affiliated with any Catholic organization in Iowa, pushed negative storylines about Democratic candidates and positive messages about Republican ones, along with misleading information about abortion and LGBTQ materials in schools. Some of the content was nearly identical to the "Arizona Catholic Tribune," distributed around the same time.
Photo by Laura Belin
The slogan "Real data. Real value. Real news" appears on the fake Catholic newspaper's masthead, similar to what appears on the LGIS products in Illinois ("Real data. Real news").
Hunter told Bleeding Heartland the Des Moines Register's plant did not print the Iowa Catholic Tribune. Asked whether another Gannett facility printed that product, she referred the question to corporate communications.
UPDATE: A Chicago resident provided this photo of a newspaper that arrived in the mail November 5.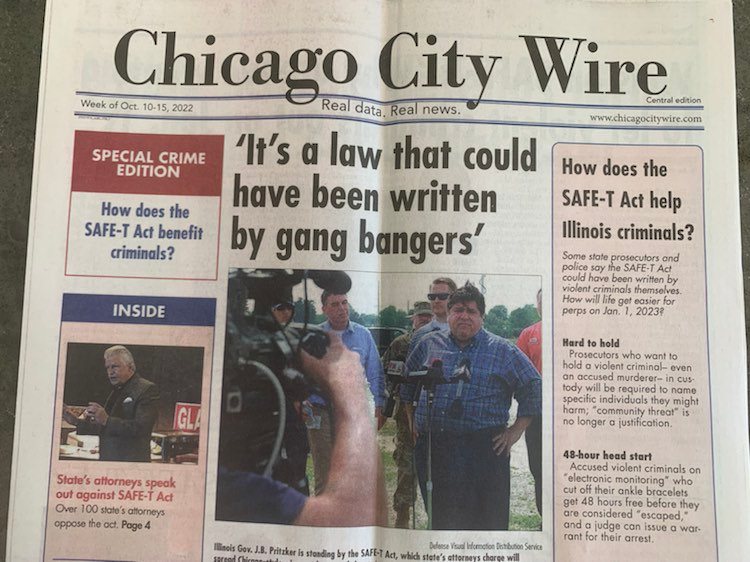 Top image of fake "Chicago City Wire" newspaper provided by an Illinois resident and published with permission.