Iowa Senate Democrats offered Governor Terry Branstad a compromise this week to address his concerns that the federal government will not keep its promises to fund the Medicaid expansion provided under the 2010 health care reform law. Follow me after the jump for details on their latest offer and a cost comparison of Medicaid expansion and Branstad's "Healthy Iowa Plan."
Senate President Pam Jochum, Human Resources Committee Chair Amanda Ragan, Ways and Means Committee Chair Joe Bolkcom, and Health and Human Services Budget Subcommittee Chair Jack Hatch met with Branstad's staff on March 13 to make their latest offer on Medicaid expansion. Ragan, Jochum, and Hatch discussed the terms at a press conference on March 14. You can read the full transcript from the press conference or watch video footage here.
Ragan praised Branstad's focus on "wellness and prevention" and noted that Democrats have included "innovation grant language" and other proposals favored by the governor in Senate File 71, their Medicaid expansion bill. She said, "We believe in the integrated care system, and we agree with him in moving with outcome-based Medicare is the way to go." (One of Iowa Republicans' key talking points is that Medicaid doesn't offer "outcome-based solutions.")
Jochum told reporters yesterday,
Following the lead of other Republican governors in other states, we have offered to re-evaluate Iowa's participation in Medicaid expansion if the federal government does not keep its promise.

In other words if it would renege on its commitment of paying 100 percent of the cost for the next three years and then of course it's on a sliding scale that by 2020 it's 90 percent participation by the federal government and 10 percent participation by the state government.

The language we suggested would protect Iowa taxpayers from any risk, and it would address the Governor's concerns.

In short, if the federal government's sky falls, WE will be off the hook as a state.

I want to mention, and we should all remember, that the federal government has never, never failed to meet its obligations to Medicaid in nearly its 50 years of existence.
When it was his turn to speak, Hatch focused on the additional costs Branstad's plan would incur, compared to the Medicaid expansion. He referred to the document I enclose below. Not only would the governor's plan cover fewer Iowans at greater cost to state and county governments, it would also require an additional federal budget appropriation.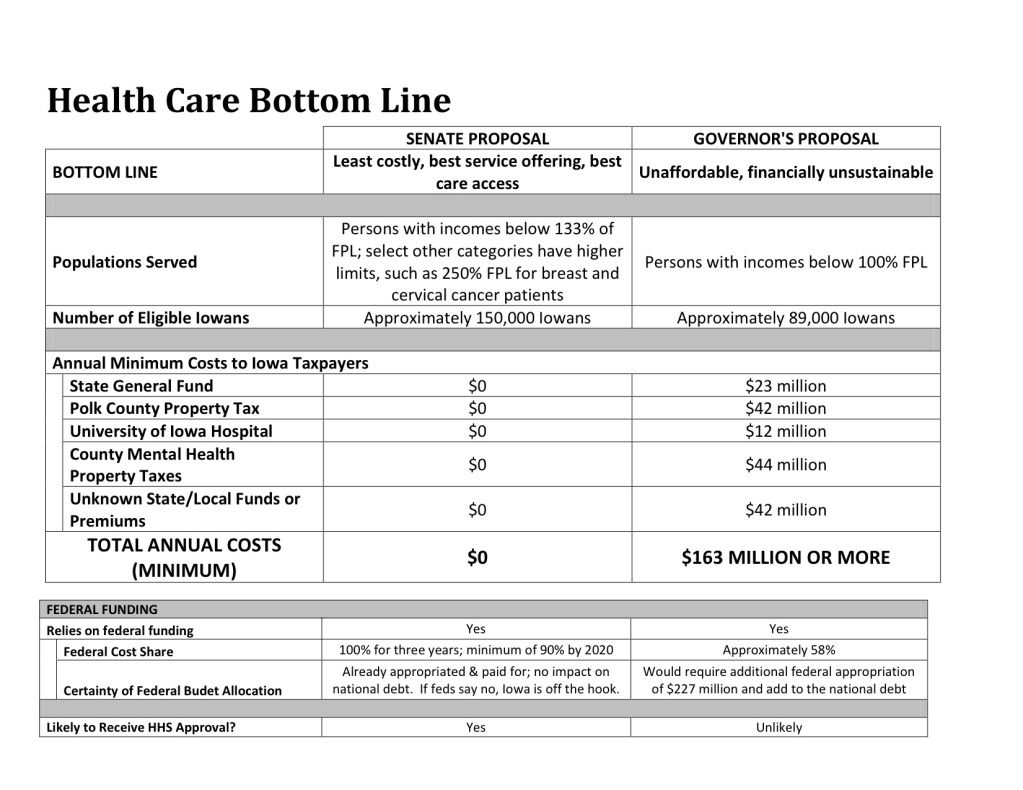 Hatch explained the cost differences as follows:
His structure of financing his proposal is a huge obligation of state dollars of $163 million dollars a year. He is asking that we remain under the old 60/40 plan, and that the state taxpayers incorporate and invest $163 million dollars to fund Medicaid expansion. That doesn't do as well, provides fewer services to fewer people and costs us $163 million dollars a year.

It's important to know that this is a hit on Iowa taxpayers.

It's a hit we don't have to take because the Senate plan fully [accepts] the federal investment in Medicaid Expansion, and if you look at the bottom of your sheet we gave you there is a very significant irony in his plan.

He asks for $224 million dollars in federal dollars to match the $163 million that he is proposing. The difference is that under Medicaid expansion through the budget reconciliation plan of 2010 the federal governments contribution to states is already obligated and is already part of the deficit reduction figures that we're hearing about in Washington.

Under the Governor's plan he's actually asking the federal government to appropriate new money $224 million dollars that is not covered under the reconciliation plan.

So he is actually adding to the federal debt and the very program and the very criticism that he says he wants to avoid. It's a strange phenomenon. One in which we realize that his people have to work a little harder in understanding the law.

Now there is another part of this plan that he's cobbled together state and local money that is also disturbing to a lot of us and should be disturbing to Republicans who have worked so hard on mental health.

Mental health redesign the past three years has focused not only on a regional basis but how the state and the local counties fund mental health services in his plan you will notice that he is asking for $44 million dollars in mental health property taxes to fund part of the state's share.

Which means he has to go out to each of the 99 counties get an agreement with all of the supervisors to literally scoop that money back to pay for the Medicaid services under his plan, which would lower the available local money for counties to fund other mental health services that we have been working so hard to protect.

His plan doesn't make sense at all on the local level at the state level and purposely it is a plan that will take Iowa tax payers away from the state and possibly away from taxpayers who could who know why there giving taxes to state and expect us to spend it reasonably.

In the end his proposal is unaffordable, unsustainable, and unworkable.
Neither Branstad nor the top two Republicans in the Iowa House are ready to accept reality, judging from this report by Radio Iowa's O.Kay Henderson.
A spokesman for the governor says Branstad is "pleased to see Senate Democrats are presenting an alternative approach." Branstad communications director Tim Albrecht says while it's a "first step," this is no "grand bargain" that resolves the impasse.

Republicans like House Speaker Kraig Paulsen of Hiawatha are siding with the governor who is developing a different plan that would give about 80,000 Iowans a state subsidy to buy private insurance.

"The current Medicaid system is not a particularly efficient way to provide health care to any Iowans," Paulsen says, "let alone low cost, you know, or low income Iowans."

House Republican Leader Linda Upmeyer of Clear Lake disputes the idea putting more low income Iowans on Medicaid will reduce hospital charity care costs.

"To the extent that we can find an Iowa program that works for Iowans, creates quality, integrated care – that's a far preferable way to go," Upmeyer says.
The Iowa Hospital Association and many other advocacy groups involved in health care strenuously disagree with Upmeyer's assertion. You can review the lobbyist declarations on the Senate's Medicaid expansion bill here.
Unless the U.S. Health and Human Services Department makes clear quickly that it would not grant a waiver for Branstad's alternative, the Medicaid dispute is likely to send this year's legislative session well into overtime.
UPDATE: On March 17, the conservative Sioux City Journal's editorial board became the latest major Iowa newspaper to endorse the Medicaid expansion.
To turn down this substantial federal commitment of support for insuring more residents of Iowa when so many other states have said "yes," based only on the perhaps-misplaced fear of a shift in costs some day in the future, isn't in the best interests of Iowa.

Like the IowaCare Medicaid waiver program it would replace, Branstad's proposed alternative to Medicaid expansion, the Healthy Iowa Plan, would cover fewer Iowans and provide less coverage than the Medicaid expansion but would cost the state more money, we fear.

Besides, it's unclear if the Legislature will pass Branstad's plan or if it would get federal approval as a Medicaid waiver. […]

Medicaid expansion is strongly supported by hospitals–key economic local pillars–in Iowa.