Last week Governor Terry Branstad finally introduced legislation to enact his Healthy Iowa Plan instead of the Medicaid expansion foreseen under the 2010 federal health insurance reform law. Strangely, neither the governor's office nor the Iowa House Republican caucus held a news conference or even posted a press release about House Study Bill 232. The bill arrived at the statehouse on Thursday, April 4, after many legislators had left for the weekend.
So far House and Senate Republicans appear united behind Branstad's approach, while the governor's office strives to counter the obvious case against his plan (costs more, covers less). I've posted arguments for both sides and other news links after the jump.
The Democratic-controlled Iowa Senate already approved a Medicaid expansion bill in late March, along party lines. On April 4, Republicans on the Iowa House Ways and Means Committee took up that bill and replaced the entire text with one paragraph stating the "intent of the general assembly that health care delivery in the state result in improved patient health outcomes, improved patient care, and reduced cost."
Later the same day, Branstad's bill finally arrived at the statehouse. You can read the full text of House Study Bill 232 here.
State Representative Walt Rogers will floor-manage Branstad's plan in the House. He talked to Tony Leys of the Des Moines Register about the process.
Rep. Walt Rogers, a Cedar Falls Republican who is managing the new bill, said the Republican-controlled House will consider Branstad's ideas and the Medicaid-expansion proposal put forth by Democrats controlling the Senate.

Rogers said he liked the notion of encouraging personal health responsibility, but he suggested the House would consider changes to Branstad's proposal. "I would expect us to look at it and tweak it here and there. … I'm hoping we can make this even better," he said.

Rogers said there was no conscious attempt to time the bill's introduction so it would gain little attention.
Sure there wasn't.
Side note: Rogers is also a possible candidate for Congress next year. If he seeks the Republican nomination in the first district, whatever compromises he makes on expanding health insurance coverage could hurt him in the GOP primary. The public benefit in reducing the number of uninsured Iowans might seem obvious to most people, but hard-core Republican primary voters are more likely to oppose any expansion of health care at the government's expense.
Back to the main topic of this post: Branstad's alternative to Medicaid expansion. The immediate reaction from Senate Democratic leaders was quite negative. Senate Majority Leader Mike Gronstal told an audience in Council Bluffs that the governor's plan is "absurd."
Branstad, who has rejected federal funding in fear that it won't be sustainable, has a plan with accountability by Medicaid-eligible patients requiring them to pay $500 to $1,000 with the state matching that amount.

"These are people who can't keep their washing machines running," Gronstal said at the year's final Legislative Coffee. "The concept of them coming up with $500 to $1,000 is absurd on its face. The governor doesn't have any idea what poverty is in this state."

What's more, Gronstal said, the governor's plan would only help a portion of low-income people leaving up to 60,000 who are eligible without any coverage. That means everyone else pays up to $1,000 a year for uncompensated services like this.

"It will be rejected in the Senate," Gronstal said of the governor's plan.
Democratic Senator Mary Jo Wilhelm delivered this speech on the Senate floor on April 8 (transcript provided by the Iowa Senate):
Thank you, Madam President.

Since I talked about when I was an Iowa worker who couldn't afford health insurance, I've heard from many Iowans in the same situation.

People like this woman from southeast Iowa:

"For years I worked as a waitress, and had no insurance.

"A lot of people do not realize that if you don't have insurance, it probably takes everything you earn just to make ends meet."

That is the best argument for Medicaid expansion.

Here's a woman who made it in just one sentence.

"As a small business owner and recently divorced woman, I do not have health insurance as of the first of this year."

These are the Iowans who need our help.

Working Iowans living without health insurance.

Most other states are expanding Medicaid.

What happened to Iowa?

Well, Governor Branstad has finally released his plan. It is packed with premiums, co-pays and other "gotchas" to deny working people health insurance.

How did we get here? Well, let me tell you.

Last July, the U.S. Supreme Court said states could choose to expand Medicaid or not.

Governor Branstad immediately announced he would come up with a better plan.

A couple of days later, he changed his mind.

On July 15, in a C-SPAN interview, Governor Branstad said he was working instead to elect Mitt Romney so health care reform would be repealed.

Well, we know how that turned out.

What has Governor Branstad done since the election?

He's encouraged Iowans to walk more and eat more fruits and vegetables.

He's joked that helping working Iowans get health insurance was like letting people drink at an open bar.

He's said he wants working people who can't afford real insurance to pay for some sort of Branstad Insurance-Lite.

Last week, he released a plan that does just that.

Here's what Governor Branstad didn't do.

Governor Branstad did not come up with a plan that is better than Medicaid expansion.

The Governor's plan costs more, covers fewer people, and provides less health care.

That's why the Branstad plan is no plan at all.

Thank you, Madame President.
I can't see why the U.S. Health and Human Services Department would approve this alternative to expanding Medicaid. It doesn't cover as many people or provide the same kind of benefits. At this writing, no advocacy groups in the health care arena have registered their lobbyists in support of House Study Bill 232, in contrast to more than 50 organizations that support expanding Medicaid in Iowa. Nevertheless, so far I haven't heard any Republican lawmaker criticize the governor's plan. Senate Minority Leader Bill Dix made several unconvincing arguments on its behalf over the weekend on WHO-TV. He seems to believe that any state-specific "Iowa plan" will be superior to a federal program.
As Bleeding Heartland has discussed before, Senate Democrats addressed the governor's concern that the federal government would not meet its commitments on Medicaid funding in future years. The bill approved by the Iowa Senate would allow Iowa to opt out of the Medicaid expansion if federal funding fell through. However, Branstad is still warning that Iowa can't afford to take a chance on Medicaid. This week, he has tried to push back against a core problem with his alternative: it costs more and delivers less. I enclose a chart the governor's staff began circulating around the statehouse this week: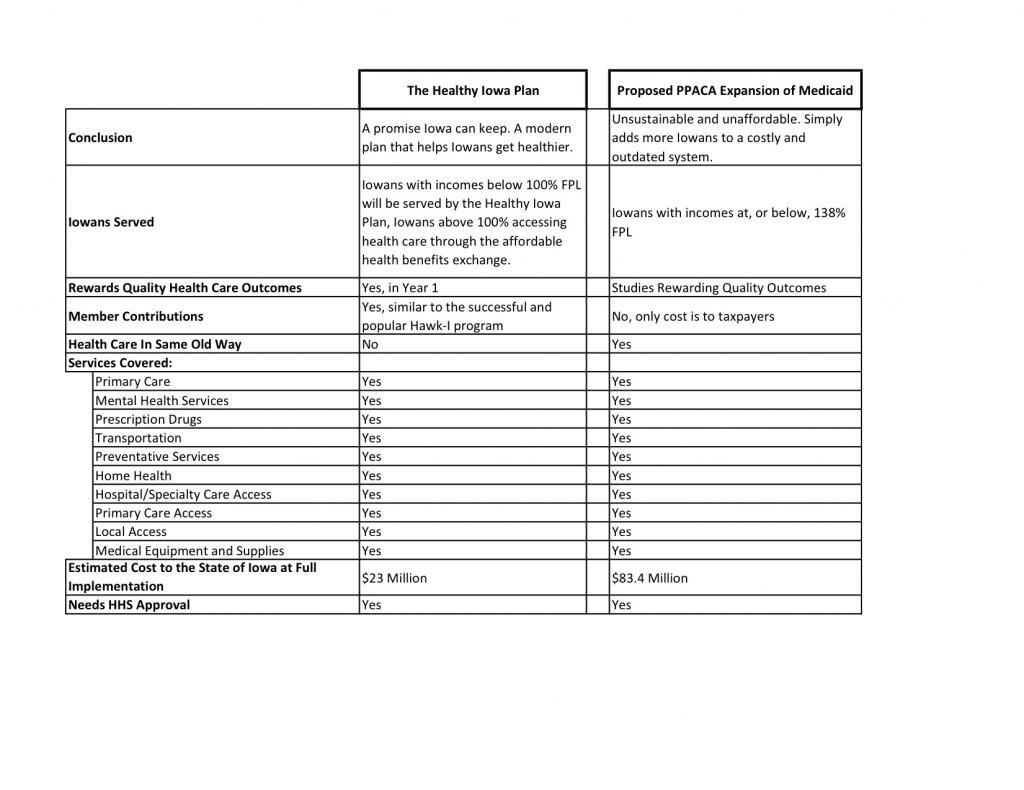 The Iowa Senate responded with this joint statement by the main Democratic lawmakers working on the Medicaid expansion:
Refuting the Governor's "true side-by-side comparison" on health care

Joint statement by Senators Jochum, Hatch, Ragan, and Bolkcom

"We welcome the fact that Governor Branstad is finally engaging in the health care debate.

"Yet the 'true side-by-side comparison' he issued today is a disappointment. Below is a factual rebuttal.

"At stake is health insurance for struggling working Iowans, lower health care costs for all Iowans, and the long-term strength and competitiveness of our state's health care system.

"Based on public statements and private conversations, we are confident that the Iowa House and Senate will do what is necessary to move Iowa forward in this area."

end

Refuting the Governor's "true side-by-side comparison" on health care

Governor's document can be found here: http://tinyurl.com/br5gjan

Branstad Claim: "Iowans with below 100% FPL will be served by the Healthy Iowa Plan,…"

89,000 uninsured working Iowans making less than 100% of FPL would be covered under the Governor's "Healthy Iowans Plan," under the federal waiver the governor hopes to receive.

If the Governor receives such a waiver, Iowa will pay 40% of the cost while the fed pay 60%. Under Medicaid expansion, Iowa would pay at most 10% while the feds pay at least 90% after the 7th year. There is no state share for the first three years.

Branstad Claim: "…Iowans above 100% accessing health care through the affordable health benefits exchange."

61,000 uninsured working Iowans who earn between 101 and 138 % of FPL would buy private insurance throughout the federal exchange. Each person covered in this way will cost the federal government up to $3000 more than if they were covered by Medicaid. To recover some of that extra expense, Iowa small businesses will penalized as much $19 million by the federal government.

Branstad Claim: "Rewards Quality Health Care Outcomes: Yes, in Year 1"

Everyone knows this claim is not true. The governor is talking about Accountable Care Organizations (ACO), a complex new approach to improving health care outcomes. There is only one ACO currently in Iowa, a pilot project located in Fort Dodge. There is no simply no realistic way for the Governor's untried approach to implemented next year. Establishing working ACOs will take several years to accomplish.

The Senate plan for Medicaid expansion expands "medical homes," the cost-effective coordination of a single patient's care by medical and community support providers. The study referred to by the governor is the Senate's responsible strategy of working with Iowa's health care providers so the move to ACOs will be successful.

Branstad Claim: "Member Contributions: Yes, similar to the successful and popular Hawk-I program"

The Governor's effort to rebrand insurance premiums as "member contributions" will be rejected by the federal government. Medicaid funds clearly cannot be used for premium-based insurance schemes for persons under 150 FPL.

In addition, charging struggling working people premiums for insurance results in denying them insurance. Under the Governor's plan, Iowans who pay their rent, buy food, or make car payments and therefore miss a premium payment, will lose their insurance for a year. By failing to insure these people, the Governor's plan will drive every other Iowan's health costs.

Branstad Claim: "Estimated Cost to the State of Iowa at Full Implementation: Branstad Plan – $23 million"

Governor's claim that his plan costs $23 million leaves out the following annual costs:

$43 million in property taxes from every county in Iowa, an action which will likely torpedo the new mental health reform effort

$42 million from Broadlawns Hospital

$13 million from the University of Iowa Hospitals

$42 million dollars in general fund money

Branstad Claim: "Estimated Cost to the State of Iowa at Full Implementation: Medicaid Expansion – $83.4 million"

The $89 million listed by the Governor is the estimated cost of for a FULL year of the Senate plan for Medicaid expansion in 2020, when the state share finally reaches 10%. For the first three years, the state share is 0%. After that, it increases to a maximum of 10% of 2020.

The true apples- to-apple cost of each plan in the first full year is $162 million for the governor's plan and $5 million for the Senate Democratic plan. This $5 million is for administrative costs, no matter which plan is approved.

The true apples- to-apple cost of each plan in 2020 is difficult to determine. Since the Governor's plan costs $162 million in 2014 and increases from there, the cost is certain to be more than the estimated $89 million cost of the Senate plan in 2020.
Anyone can read House Study Bill 232 and see that it's going to cost a lot more than $23 million per year.
At the governor's weekly press conference on Monday, Branstad said lawmakers should "get past the hyper-partisanship and try to come up with a practical plan that will meet the needs of this state for the long-term." His communications director Tim Albrecht accused State Senator Jack Hatch of being
a "political opportunist" hoping to launch a gubernatorial campaign on the backs of Medicaid recipients.

"Jack Hatch is angry, because he attached his health care hopes to a failed, 1960s' program like Medicaid while Gov. Branstad instead offers a modern health care plan that will make its patients healthier," said Tim Albrecht, Branstad's communications director.
The Iowa House has scheduled a public hearing on the governor's plan and the Medicaid expansion on Tuesday, April 16 at 5:30 pm. Count on fireworks at that event. I'll be curious to see which interest groups (if any) show up to defend the governor's plan. The Iowa Hospital Association continues to advocate strongly for expanding Medicaid as a boon for the Iowa economy as well as for Iowans' health. According to Des Moines Register reporter Jason Noble, some corporations are pushing for a compromise.
Representatives from hospitals and others in the medical field said they favored the funding mechanism included in the Democrats' preferred plan: an expansion of the existing Medicaid program that would draw down substantial new federal dollars.

But they also lauded the innovative changes to the way the state provides health care to the poor envisioned in the alternative plan Republican Gov. Terry Branstad rolled out last week.

An ideal compromise, they said, would accept federal dollars but move away from traditional Medicaid and toward care that aims to prevent serious illnesses and pays providers for keeping patients healthy.

"We could make major reforms to our Medicaid program in a way that is meaningful and saves costs and provides quality care to the patients," said Sabra Rosener, a lobbyist for the Iowa Health System. "But it's going to take some guts and it's going to take some real thought and getting past whether we take the federal money or not."
In my opinion, the controversy over expanding Medicaid will keep lawmakers working for weeks if not months after the 2013 legislative session was scheduled to end.
Any relevant comments are welcome in this thread.
UPDATE: On April 11, State Treasurer Michael Fitzgerald held press conferences in Des Moines, Cedar Rapids, and Davenport to discuss the competing health coverage plans. Here is the press release from the Iowa Democratic Party:
FITZGERALD: EXPANDING MEDICAID IS THE FINANCIALLY SMART MOVE FOR IOWA

Branstad Plan is a "bad financial deal" for Iowans

DES MOINES – State Treasurer Michael Fitzgerald today gave his assessment on the competing health care plans that have been introduced in the legislature. After review of the Senate proposal and the Branstad plan, he has concluded that the only financially sound course is to do what the Democrats have proposed and expand Medicaid to 150,000 Iowans.

"I view it as my responsibility to not get caught up in the rhetoric and let Iowans know when they are getting a good or bad financial deal," said Treasurer Fitzgerald. "I have sat down read through the Senate and the Governor's health care plans. Governor Branstad's plan is a bad financial deal for Iowa, while expanding Medicaid is the financially smart move for the state of Iowa."

Fitzgerald cited a fiscal impact statement that found that the Senate plan spends only $4.7 million in taxpayer dollars in FY15, while the Governor's plan would spend more than $163 million. In addition, while the Governor has said he believes the Federal government would not fulfill its commitment under Medicaid expansion, the Governor actually asks the Federal government to spend an additional $90 million in FY15 to enact his plan – $667 million under his proposal while only $577 million under the Democratic plan.

"Today, I am asking Iowans to look at these numbers, think about the people affected, and contact Governor Branstad and leaders in the legislature," said the Treasurer. "Tell them that it is time to expand Medicaid. It makes financial sense. It makes common sense. And, it is the right thing to do."