I heard the rumor, Civic Skinny heard the rumor, and now The Iowa Republican blog reports that Dave Funk will soon be the Republican nominee for supervisor in Polk County's third district.
The two Republican Polk County supervisors aren't up for re-election this year, and the GOP isn't fielding candidates against Democratic supervisors John Mauro and Angela Connolly. As a result, the third district race between Funk and two-term incumbent Tom Hockensmith will determine control of the five-member board of supervisors. Democrats have had a majority on that body for decades.
Without question, Funk is the best candidate Republicans could have recruited for this race. Two pictures tell that story after the jump.
The third supervisor's district includes part of Des Moines' east side, the eastern suburbs of Pleasant Hill, Altoona and Bondurant, several small towns and large rural swaths of northern and eastern Polk County: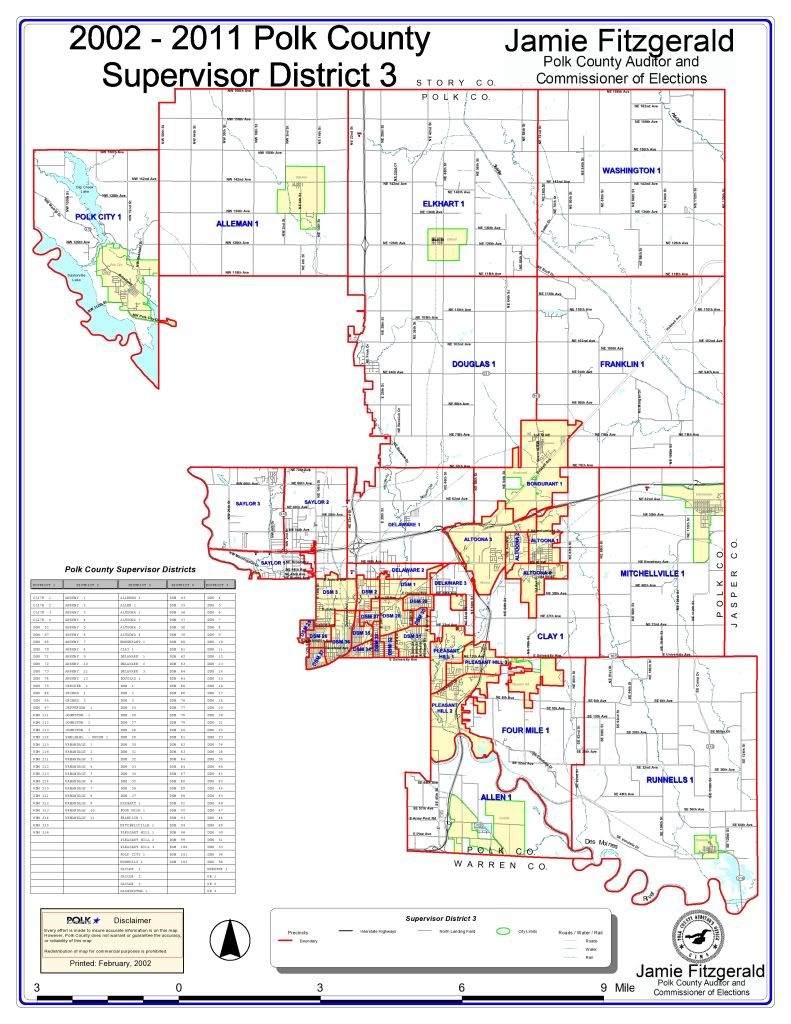 Funk finished third with about 20 percent of the vote in the Republican primary to represent Iowa's third Congressional district. In Polk County, he received about 19 percent of the vote but ran particularly strong in the eastern part of the county. The Polk County auditor's office provided this map: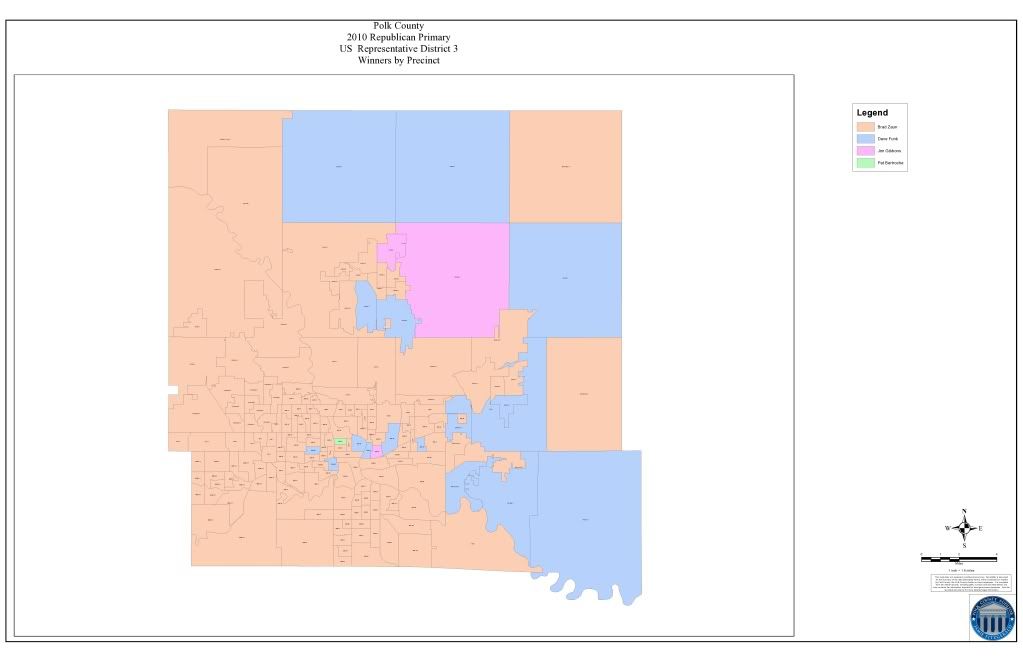 The peach color represents Polk County precincts Brad Zaun carried. Precincts where Funk led are in blue, and almost all of them are in the third supervisor's district. (He lives in rural southeast Polk County and volunteers as a reserve police officer in Pleasant Hill.) Funk carried more precincts than second-place finisher Jim Gibbons, who raised several times more money for the Congressional race. Gibbons advertised heavily on Des Moines television for a month before the primary. Funk finished only about 600 votes behind him in Polk County while spending very little on television. In the Congressional primary race, most of the big Republican money was behind Gibbons, but Robinson claims "a number of influential donors" are ready to donate to Funk's county supervisor campaign.
Funk was the first Republican to announce plans to challenge Congressman Leonard Boswell. A veteran of the Iowa Army National Guard and retired commercial airline pilot who's been active in hunters' groups, he campaigned around the district for a full year before the primary. His close ties to local "tea party" activists will help him recruit volunteers for the county supervisor race. Republican blogger Craig Robinson thinks an energetic campaign by Funk will boost Zaun's chances against Boswell as well as Joe Pirillo's campaign against State Senator Dennis Black in Iowa Senate district 21. (Side note: four-term incumbent Black won by a comfortable 3,000 vote margin in 2006. Even after the recent surge in Republican voter registrations, registered Democrats outnumber Republicans by about 3,500 in Senate district 21.)
I'm sure Hockensmith would prefer to be running unopposed, but he has to be favored in this race, even with the wind at Republicans' backs this year. Democrats still hold a fairly large registration advantage in Polk County (pdf file). Although I don't have the registration totals for Hockensmith's district, Polk County's GOP-dominated precincts tend to be in the western and northern suburbs, in the supervisor districts Republicans already represent. Hockensmith was re-elected in 2006 with 60 percent of the vote against Republican Wes Enos.
Funk starts the race with higher name recognition than Enos had four years ago. He's had plenty of practice campaigning on a message of small government and lower taxes. But Hockensmith has strong roots in the community, and I think his issues agenda and specific accomplishments for his constituents reflect what people want in a county supervisor.
Organized labor will likely invest considerable resources to help former union member Hockensmith. He's "always a sure vote for any union-backed issue," and Republican control of the board of supervisors would shift Polk County policy away from union-friendly policies. A strong GOTV effort from labor would benefit Democratic candidates up the ticket, particularly State Senator Black and Representative Boswell but also Democratic candidates for statewide offices. They will need strong margins in Polk County.
Democrats who want to support Hockensmith as a donor or volunteer have a good opportunity to connect with his campaign this Saturday, July 17. He's holding the 8th Annual Hockensmith Family Picnic from noon to 3 pm at Doanes Park, Shelter #1, 451 S. Pleasant Hill Blvd. The suggested donation is $10 per person or $25 per family.
Any relevant thoughts are welcome in this thread.