Republican attorney general candidate Brenna Findley has been one of the hardest-working challengers in Iowa this year. For months, she's been campaigning across the state, and she's raised lots of money, helped by her close ties to Representative Steve King and an enthusiastic booster in Terry Branstad. Findley launched her introductory television commercial this week and has had a radio ad running since mid-September. In contrast, 28-year Democratic incumbent Tom Miller has been mostly invisible on the campaign trail.
Findley's introductory tv and radio ads are after the jump, along with some other recent news from the attorney general's race.
Findley's first tv ad is called "Choice":
My transcript:
Male voice-over: Your choice for attorney general?

Unidentified man: Brenna Findley.

Unidentified woman: Brenna Findley.

Second unidentified woman: I'm with Brenna Findley.

Voice-over: She'll stop the Washington-style spending and start enforcing Iowa's balanced budget rule.

Second unidentified man: Brenna Findley is my choice.

Voice-over: She'll protect our children by catching sexual predators, locking them up and keeping them behind bars.

Third unidentified woman: Brenna Findley all the way.

Voice-over: Findley says Washington does not have the right to force you to buy their hand-picked health insurance, and she'll fight stop them. Brenna Findley for attorney general.

Third unidentified man: Brenna's the new kind of leadership we need.
This commercial strikes me as a very solid introduction to Iowa voters. It mentions Findley's name eight times and shows her in a variety of flattering settings (talking with different people, speaking to a supportive crowd, writing at a desk looking professional). It features one of the most unpopular elements of the national health insurance reform law. It avoids mentioning Findley's mentor, the polarizing Representative Steve King. She worked for the Republican Iowa Senate staff when King served in that body, then was King's Congressional chief of staff for seven years.
I could nit-pick the substance of the commercial. Iowa's budget is balanced. Republicans have complained that too much state spending was supported by reserve funds or federal allocations, but it's not the attorney general's job to tell the state legislature or the governor how to balance the budget. Incidentally, Attorney General Miller had to educate State Auditor David Vaudt on this subject earlier in the year.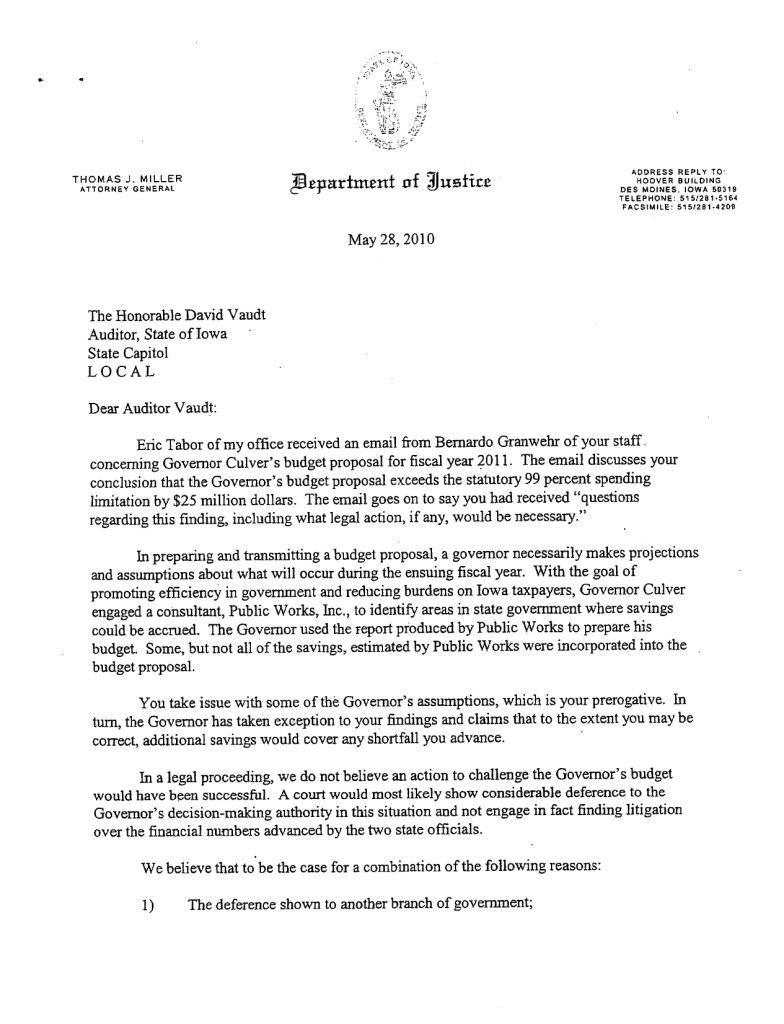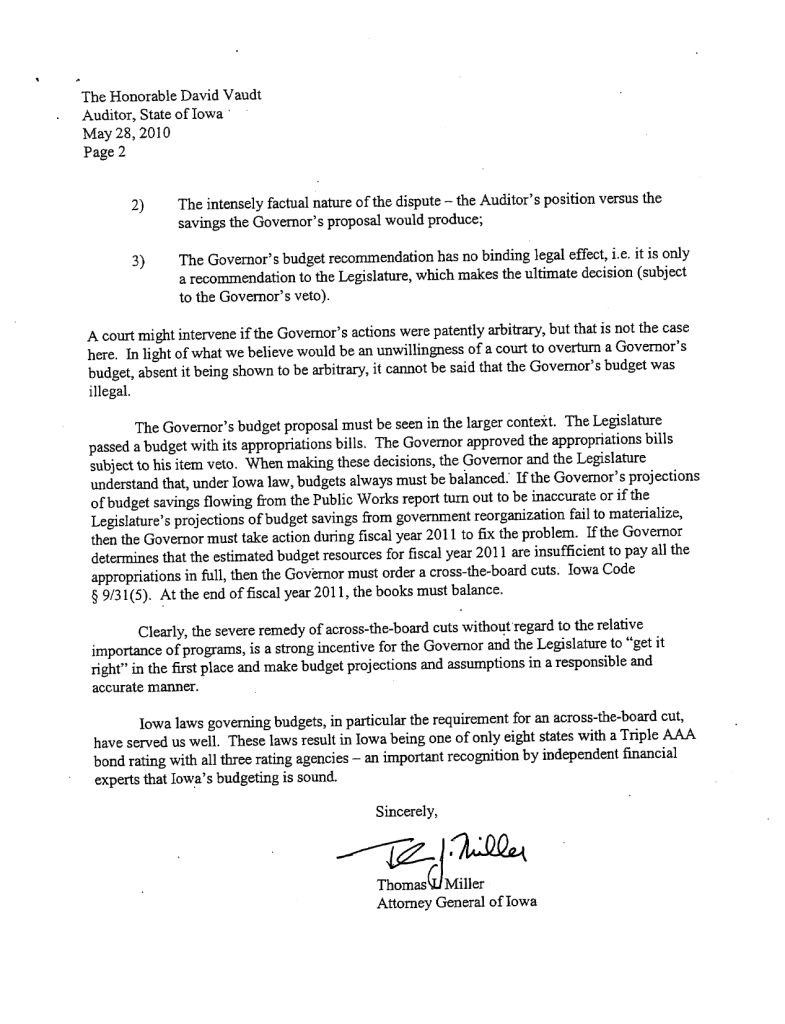 Getting back to Findley's tv ad, prosecuting sexual predators is primarily the work of county attorneys in Iowa. The Attorney General's Office does have an area prosecutions unit to handle cases involving sexually violent predators and other matters referred by county attorneys. Miller has worked to strengthen laws against exploiting children. Findley has no basis for suggesting that the incumbent hasn't protected children.
Finally, the individual mandate to buy health insurance is being litigated already by other states' attorneys general. If federal courts throw out that provision, the effect on Iowans will be the same as on all other Americans. There is no benefit to having our attorney general spend staff time on this lawsuit when so much consumer protection work needs doing in Iowa.
Findley's 60-second radio commercial includes more biographical information. You can listen on YouTube. Here's my transcript:
Male voice-over: Meet Brenna Findley. Her Iowa values are farm-raised.

Findley: Batches and Katie were my first 4-H project. I started walking beans on the family farm in Dexter at age nine.

Voice-over: Brenna Findley: a new leader who will help get Iowa back on track.

Findley: I cleaned houses to help pay for school. Now we need fresh leadership to clean house again in November, to get Iowans back to work.

Voice-over: After law school and serving as a private-practice attorney, Brenna Findley has advocated for families and for Iowa values.

Findley: The federal government has no right to force you to buy health insurance or face the IRS. As attorney general, I'll stand up for the Constitution and fight big Washington mandates.

Voice-over: Brenna Findley will oppose Washington-style spending and enforce Iowa's balanced budget rule. Findley will tackle job-killing regulations and crack down on the predators who abuse and exploit our children. Brenna Findley for Iowa. For attorney general.

Findley: I'm Brenna Findley, and Findley for Iowa paid for this ad. Visit my website at findleyforiowa.com.
This is a good introductory ad. To raise her name recognition, the script works Findley's name in many times. Again, there is no mention of Steve King. The commercial plays up her "private practice" work (not mentioning that it happened in California's Silicon Valley). Instead, we learn Findley grew up on an Iowa farm. A listener unfamiliar with Findley's background would never guess that she has spent most of her professional career as a staffer in Congress or the Iowa legislature.
The issues covered here are mostly the same as in Findley's television commercial. Everyone likes balanced budgets and cracking down on sex predators. If Findley is concerned about "job-killing regulation," though, she's running for the wrong office. The state legislature writes laws, and regulations are further refined during executive branch rule-making. Findley should stick to private practice work if she primarily wants to help corporations fight regulations. The attorney general is a law enforcement official.
Speaking of law enforcement, I wonder how Findley thinks the state attorney general should be protecting Iowans from facing the IRS.
I'm a bit surprised Findley's introductory commercials don't talk about job creation. That's been a central focus of her stump speech.
In every campaign stop, Brenna Findley promises to bring jobs to Iowa if elected Iowa's Attorney General over seven-term incumbent Tom Miller.

The 34-year-old Republican challenger says she would work with state economic development officials to entice more businesses to Iowa. Findley promises to serve as a "problem-solving lawyer" on the state Economic Development Board, and fight what she describes as frivolous litigation. […]

"No company wants to locate in Iowa if they think they're going to be sued," Findley said. "I've worked with businesses. If they want to expand and/or locate, I want them to expand and locate in Iowa."
Again, Findley seems to be running for the wrong position. Corporations hire their own attorneys to fight litigation. The attorney general is supposed to enforce laws and represent the public interest. That's why Miller's office does consumer protection work and oversees the Office of Consumer Advocate. The last thing we need is to send corporations the signal that they won't have to worry about scrutiny from the AG's office. No wonder the Iowa Association of Business and Industry's PAC wants to get Findley elected.
Furthermore, other state government bodies are primarily concerned with job creation. That just isn't the attorney general's responsibility.
Up to now, Findley and Miller have not scheduled any formal debates, just a joint appearance on Iowa Public Television later this month. In fact, Findley's been bashing Miller for months for allegedly dodging debates. However, Miller's campaign manager Erica Rasey told me yesterday that the incumbent has invited Findley to debate, and the two campaigns are working out the logistics.
Conventional wisdom says an entrenched incumbent has little to gain from debating a lesser-known challenger, but I am very glad to hear Miller and Findley will meet head-on to discuss the issues. That's an opportunity for Miller to talk about his record and expose how Findley is unprepared for the job she's seeking. Speaking to the Iowa Democratic Party's state convention in June,
Miller said [Findley] experience is in Washington, D.C., and is based on politics, not law.

"Most of her career has been spent as the chief of staff for Congressman Steve King," Miller said, followed quickly by a chorus of boos. "The attorney general should base decisions on the law, but her career has been based in D.C., where judgments are made based on ideology and politics."
If I were Miller, I would mention during the debate how political Findley plays up her private practice experience, but spent most of the last decade working as Steve King's chief of staff. It's not clear what kind of legal work she has done for the Hagenow and Whitaker firm. Republican State Representative Chris Hagenow and former Bush-appointed U.S. Attorney Matt Whitaker head that firm, which lists Findley as an associate.
Findley's attorney general campaign has backing from Sarah Palin and Mike Huckabee's political action committee, and nationally-known right-wingers like Michele Bachmann and Rick Santorum have headlined fundraisers for her. Republicans might be enthusiastic about these politicians, but do Iowa moderates want someone with that profile running the AG's office?
A debate would also be a good opportunity for Miller to push this message:
Miller said Findley looks at how the AG position functions in a much different way than he does.

"It is an ideological difference," he said. "I believe that use the law to further the interests of ordinary Iowans. And, in doing that, you enforce the law, effectively but fairly, in regarding to business. That furthers the interests of ordinary Iowans and it also furthers the interest of legitimate businesses. When businesses are violating the law, they have a competitive advantage over those that are law-abiding. So we help the law-abiding businesses.

"My opponent, on the other hand, thinks that enforcing the law against businesses generally is bad. She comes from very anti-regulation point of view and anti-enforcement view."

Miller said Iowans mulling which attorney general candidate to vote for should bear in mind that he supports consumer protections and has worked hard to help Iowans prevent foreclosure on their mortgages, including helping people get modifications of loan terms. He said that effort has seen Iowa fall from 26th to sixth nationally in the fewest number of foreclosures since the mortgage crisis hit two years ago.
I wish I could write more about the case Miller is making for his own re-election, but he has not been active on the campaign trail. Findley frequently updates her website and sends out press releases. For a long time Miller didn't even have a campaign website, and I rarely saw any public events scheduled for him. Now the site is up, with some material about what he's been doing all these years. I would like to see more accomplishments listed. The AG's office has wide-ranging responsibilities (see the "What We Do" section here), and Miller's done a lot for Iowans in 28 years.
The Governing. com website lists Iowa's attorney general race as a tossup, noting, "Findley has been a strong fundraiser, has run an aggressive campaign and has an especially strong Republican wind at her back in the Hawkeye State." A few months ago, I would have said Miller was favored, because he survived the 1994 Republican landslide and has a long record of achievements. But the tossup rating seems fair now, given the national climate and Miller's mostly inactive campaign.
I haven't heard any information about internal polling of this race. A poll commissioned by The Iowa Republican blog in late July showed Miller leading Findley 41 percent to 26 percent. Since then, radio and tv ads have probably raised Findley's name recognition. Presumably Miller has some advertising planned before the election, but nothing has hit the airwaves yet.
Share any thoughts about the attorney general's race in this thread.
UPDATE: I forgot to mention that Virginia Attorney General Ken Cuccinelli campaigned for Findley in Des Moines, Cedar Rapids and Dubuque this week.
"It'd be nice to have another ally, which we don't really have here in Iowa now, on health care, on EPA – on any of the things that the federal government is doing that are frankly so threatening to future opportunity and the economies of every state," Cuccinelli says.
When Miller debates Findley, he needs to be prepared to explain why he hasn't joined some of the lawsuits right-wing AGs have filed against the federal government.