On Monday, Family Research Council Action and the National Organization for Marriage will launch a "Judge Bus Tour" to campaign against retaining Iowa Supreme Court justices Marsha Ternus, Michael Streit and David Baker. Organizers will take their bus through 45 Iowa counties, stopping at 20 planned rallies. Featured speakers at the rallies will include nationally-known heroes on the religious right: Family Research Council Action President Tony Perkins, National Organization for Marriage President Brian Brown, Representative Steve King of Iowa's fifth Congressional district, and former Senator Rick Santorum of Pennsylvania.
My hunch is the big purple judge-hating bus will drive more votes toward retaining than ousting the Supreme Court justices.
1. The tour calls attention to the out-of-state groups bankrolling the campaign against the judges.
Three-time Republican gubernatorial candidate Bob Vander Plaats chairs the Iowa for Freedom campaign targeting the Supreme Court justices. Most of the money backing the effort comes from outside the state. In fact, Iowa for Freedom is just the name selected for the Mississippi-based American Family Association Action's campaign in Iowa, according to this document from the Iowa Ethics and Campaign Disclosure Board. The lead organizers on the Judge Bus are based in Washington, DC (Family Research Council) and New Jersey (National Organization for Marriage). These groups are spending hundreds of thousands of dollars to influence the Iowa retention vote.
Fair Courts for Us, which recently formed to advocate a "yes, yes and yes" vote on the Iowa Supreme Court justices, is organizing a "Homegrown Justice Tour" from October 25 through 28. That tour is scheduled to hit many of the same cities on the same day the Judge Bus comes to town. (I've posted the schedule at the bottom of this piece.) Local media will have to cover the events to balance their news reports. The "homegrown" speakers are likely to emphasize how much out-of-state money is being thrown at the justices. The Judge Bus also gives supporters of retention an opportunity to talk about the extremist agenda of people like Tony Perkins. The Family Research Council doesn't just oppose same-sex marriage; they would also like to ban homosexual sex practices and end no-fault divorce, among other things.
Those opposing the judges warn that none of Iowans' freedoms are safe under the out-of-control Supreme Court, but their case is weak. Ternus has been on the high court since 1993, Streit since 2001, Baker since 2008. Where's any record of "activist" decisions threatening property rights, gun ownership, homeschooling and so on?
The "no" advocates aren't defending Iowans from activist judges. They're making an example of Iowa judges to advance their agenda across the country.
2. The tour connects the anti-judge vote with politicians outside the mainstream in Iowa.
The smartest thing opponents of retention have done so far is keep Vander Plaats out of their statewide television commercials. They need more than conservative Republicans to keep the judges below a 50 percent "yes" vote. Since Iowa adopted the current judicial system in 1962, no Supreme Court justice has ever lost a retention vote.
Now the Judge Bus rallies will put Steve "10 Worst" King at the center of the retention campaign a week before the election. King is not popular among independents or moderates, especially outside his district. Republicans know how polarizing he is, which is why his longtime chief of staff, attorney general candidate Brenna Findley, avoids mentioning him in her campaign advertising.
Not only will King appear at Judge Bus rallies in western Iowa, he'll speak at the tour's kickoff event in Des Moines on Monday morning. Television newscasts in central Iowa and beyond will probably feature a sound bite from him. I hope King stays with the bus as it goes through eastern Iowa on October 27 and 28. Every undecided voter should be aware that getting rid of the Supreme Court justices would make King's day.
For similar reasons, I can't see how giving the spotlight to Rick Santorum will help the Judge Bus crowd win over people on the fence about retention. Santorum is so far out of the mainstream that he lost re-election in the swing state of Pennsylvania by more than 15 points in 2006. He has been laying the groundwork for a presidential campaign with multiple visits to Iowa and a new political action committee formed to support Iowa Republicans. Now he's positioning himself to claim partial credit if Iowans vote out Ternus, Streit and Baker. Santorum will probably score points with conservatives this week, but his presence underscores how right-wingers are using the retention elections to advance their own political goals.
3. The bus looks like a mean-spirited attack on the judges.
Look at this thing: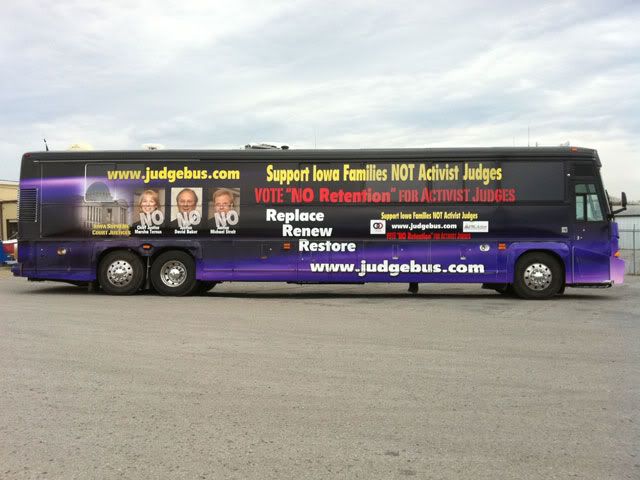 Why put the justices' photos on the side of the bus, with a big "NO" superimposed on each picture? They could have stuck with slogans on the bus, or used a reproduction of a ballot marked "no." This bus looks like it's on a revenge mission against Ternus, Streit and Baker. The image may fire up the conservative base, but passionate opponents of the Varnum v Brien ruling don't need a bus tour to get excited about throwing the judges out.
The only public poll on retention showed Iowans divided almost evenly. Not everyone who disapproves of gay marriage will identify with activists on the religious right, however. A Hawkeye poll taken in March 2009, just before the Iowa Supreme Court announced its marriage ruling, found that about 28 percent of respondents statewide opposed gay marriage but supported civil unions. The crosstabs indicate that not only independents and moderates, but quite a few conservatives and Republicans fell into the group supporting some legal recognition for same-sex couples.
The fate of the judges depends on voters in the middle, who may be uncomfortable with same-sex marriage, but also have misgivings about politicizing the judiciary. The Fair Courts for Us radio ad is tailored to that group. In that commercial, former Republican Governor Bob Ray doesn't try to argue that Varnum v Brien was decided correctly based on the Iowa Constitution and case law. Instead, he appeals to people's sense of fairness: "Listen, we'll never agree with every call, but you shouldn't fire the good referees over just one call." Ray's closing line in that commercial is, "There's enough politics out there. We don't need it in our courts."
Some conservatives, like the Sioux City Journal editorial board, have argued that retention should be used only to remove incompetent or corrupt judges. Ousting Supreme Court justices over one unpopular decision would force future judges to "raise money and run political campaigns to win retention," degrading judicial independence. From where I'm sitting, the Judge Bus tour only reinforces that argument.
What do you think, Bleeding Heartland readers: will the Judge Bus round up more "no" votes on retention, or will it backfire?
UPDATE: Now Vander Plaats claims the Iowa Supreme Court will get to decide who lives and who dies if voters don't oust the judges on the ballot this year:
"They don't get to evolve our Constitution, only we the people get to amend the Constitution," Vander Plaats. "If they do this to marriage – make law, execute law, amend the Constitution, hand out rights that our Founders could never have imagined – they won't even blink an eye as they take your private property. They won't even blink an eye as they take away your Second Amendment rights, they won't even blink an eye while telling you how you have to educate your children. They won't even blink an eye when they get to determine who gets to live and who gets to die, in regards to which life is valuable and which one is not."
Naturally, he can't cite any case or court ruling supporting his "slippery slope" argument. I hope voters don't fall for that one.
Iowa Independent reports that groups opposing retention have spent about $700,000 in Iowa so far. Most of that funding came from the National Organization for Marriage, which has kicked in a half a million dollars. On the pro-retention side, Fair Courts for Us has spent about $230,000 advocating a yes vote on the justices.
If you want to register your opposition to the Judge Bus organizers, you can attend any of the following scheduled events:
Homegrown Justice Tour Kickoff: Des Moines

October 25, 2010, 9:00 AM

Iowa State Capitol

400 Finkbine Dr., Des Moines, IA

Homegrown Justice Tour: Council Bluffs

October 25, 2010 5:15 PM

Bayliss Park

158 Pearl St., Council Bluffs, IA

Homegrown Justice Tour: Sioux City

October 26, 2010 10:00 AM

Location TBA

Homegrown Justice Tour: Carroll

October 26, 2010 1:00 PM

Carroll County Courthouse

551 N. Court St., Carroll, IA

Homegrown Justice Tour: Mason City

October 26, 2010 5:30 PM

Central Park

75 1st St. NW, Mason City, IA

Homegrown Justice Tour: Waterloo/Cedar Falls

October 27, 2010 10:00 AM

Lincoln Park

451 E. 4th St., Waterloo, IA

Homegrown Justice Tour: Cedar Rapids

October 27, 2010 12:30 PM

Linn County Courthouse

51 3rd Ave., Cedar Rapids, IA

Homegrown Justice Tour: Clinton

October 27, 2010 5:45 PM

Chancy Park

280 23rd Place, Clinton, IA

Homegrown Justice Tour: Davenport

October 28, 2010 10:00 AM

Lafayette Park

700 W. 4th St., Davenport, IA

Homegrown Justice Tour: Ottumwa

October 28, 2010 2:15 PM

Central Park

198 4th St., Ottumwa, IA

Hometown Justice Tour Finale: Des Moines

October 28, 2010 5:30 PM

Iowa Supreme Court

1111 E. Court Ave.