The U.S. Census Bureau released a ton of new Iowa demographic information yesterday.
Data for Iowa show that the five most populous incorporated places and their 2010 Census counts are Des Moines, 203,433; Cedar Rapids, 126,326; Davenport, 99,685; Sioux City, 82,684; and Waterloo, 68,406. Des Moines grew by 2.4 percent since the 2000 Census. Cedar Rapids grew by 4.6 percent, Davenport grew by 1.3 percent, Sioux City decreased by 2.7 percent and Waterloo decreased by 0.5 percent.

The largest county is Polk with a population of 430,640. Its population grew by 15.0 percent since 2000. The other counties in the top five include Linn, with a population of 211,226 (increase of 10.2 percent); Scott, 165,224 (increase of 4.1 percent); Black Hawk, 131,090 (increase of 2.4 percent); and Johnson, 130,882 (increase of 17.9 percent).
Click here to find the Iowa numbers and charts. I haven't had as much time as I'd like to look through the data, but I'm posting a few starting points for discussion here.
Rick Smith's piece on growth in the Cedar Rapids-Iowa City corridor is worth a read. I'm not surprised Linn County grew substantially during the decade, especially in the suburbs, but the population growth in Cedar Rapids itself is impressive. I didn't expect to see that after the 2008 floods destroyed whole neighborhoods in the city.
After the jump I've posted official 2010 population numbers for all 99 Iowa counties, along with a map putting the counties in different population categories and a map grouping counties by population gain or loss (percentage). Ten Iowa counties have populations larger than 65,000 people. Another 14 counties have populations between 25,000 and 64,999; 29 counties have populations between 15,000 and 24,999; and 46 counties have populations between 4,029 (Adams) and 14,999. Dallas led the 33 Iowa counties that gained population between 2000 and 2010.
Although I wasn't able to reproduce this chart showing the racial and ethnic breakdown of the Iowa population by Congressional district, I did include those numbers at the end of this post. I was surprised to see that even though Polk County has the largest Latino/Hispanic population in Iowa, there are more Latino/Hispanic residents in IA-05 than in IA-03, with IA-02 and IA-04 not far behind. Meanwhile, IA-01 has the smallest Latino/Hispanic population but the largest African-American population. The largest Asian population is in IA-03 with IA-02 not far behind. View the chart here or scroll down for more details.
Share any thoughts about the census data or details that caught your eye in this thread. For example, the Newton Independent posted 2000 and 2010 numbers for Jasper County and area cities.
UPDATE: The Des Moines Register has lots of census coverage here. Statewide, Iowa's population grew by 4.1 percent from 2000 to 2010. The Latino population was up by 83.8 percent, the Asian population was up by 44.9 percent, and the African-American population was up by 44.1 percent.
2010 U.S. Census data for Iowa population by county:
Total 3,046,355

Adair County 7,682

Adams County 4,029

Allamakee County 14,330

Appanoose County 12,887

Audubon County 6,119

Benton County 26,076

Black Hawk County 131,090

Boone County 26,306

Bremer County 24,276

Buchanan County 20,958

Buena Vista County 20,260

Butler County 14,867

Calhoun County 9,670

Carroll County 20,816

Cass County 13,956

Cedar County 18,499

Cerro Gordo County 44,151

Cherokee County 12,072

Chickasaw County 12,439

Clarke County 9,286

Clay County 16,667

Clayton County 18,129

Clinton County 49,116

Crawford County 17,096

Dallas County 66,135

Davis County 8,753

Decatur County 8,457

Delaware County 17,764

Des Moines County 40,325

Dickinson County 16,667

Dubuque County 93,653

Emmet County 10,302

Fayette County 20,880

Floyd County 16,303

Franklin County 10,680

Fremont County 7,441

Greene County 9,336

Grundy County 12,453

Guthrie County 10,954

Hamilton County 15,673

Hancock County 11,341

Hardin County 17,534

Harrison County 14,928

Henry County 20,145

Howard County 9,566

Humboldt County 9,815

Ida County 7,089

Iowa County 16,355

Jackson County 19,848

Jasper County 36,842

Jefferson County 16,843

Johnson County 130,882

Jones County 20,638

Keokuk County 10,511

Kossuth County 15,543

Lee County 35,862

Linn County 211,226

Louisa County 11,387

Lucas County 8,898

Lyon County 11,581

Madison County 15,679

Mahaska County 22,381

Marion County 33,309

Marshall County 40,648

Mills County 15,059

Mitchell County 10,776

Monona County 9,243

Monroe County 7,970

Montgomery County 10,740

Muscatine County 42,745

O'Brien County 14,398

Osceola County 6,462

Page County 15,932

Palo Alto County 9,421

Plymouth County 24,986

Pocahontas County 7,310

Polk County 430,640

Pottawattamie County 93,158

Poweshiek County 18,914

Ringgold County 5,131

Sac County 10,350

Scott County 165,224

Shelby County 12,167

Sioux County 33,704

Story County 89,542

Tama County 17,767

Taylor County 6,317

Union County 12,534

Van Buren County 7,570

Wapello County 35,625

Warren County 46,225

Washington County 21,704

Wayne County 6,403

Webster County 38,013

Winnebago County 10,866

Winneshiek County 21,056

Woodbury County 102,172

Worth County 7,598

Wright County 13,229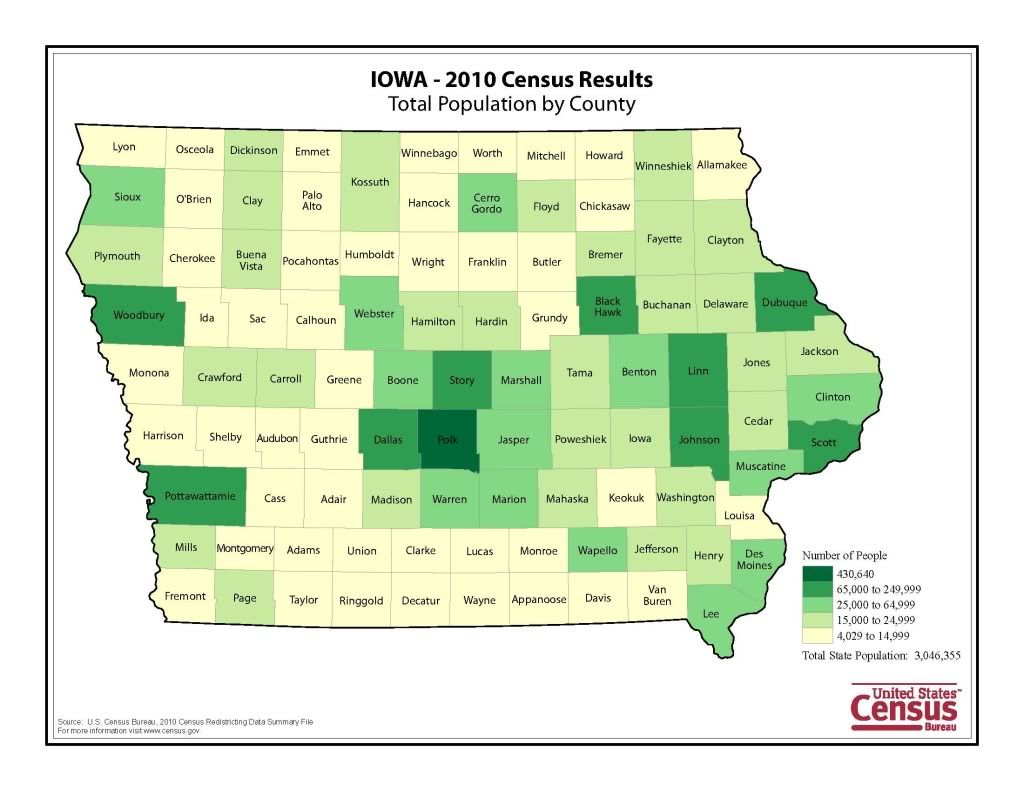 Percent Change in Iowa Population by County: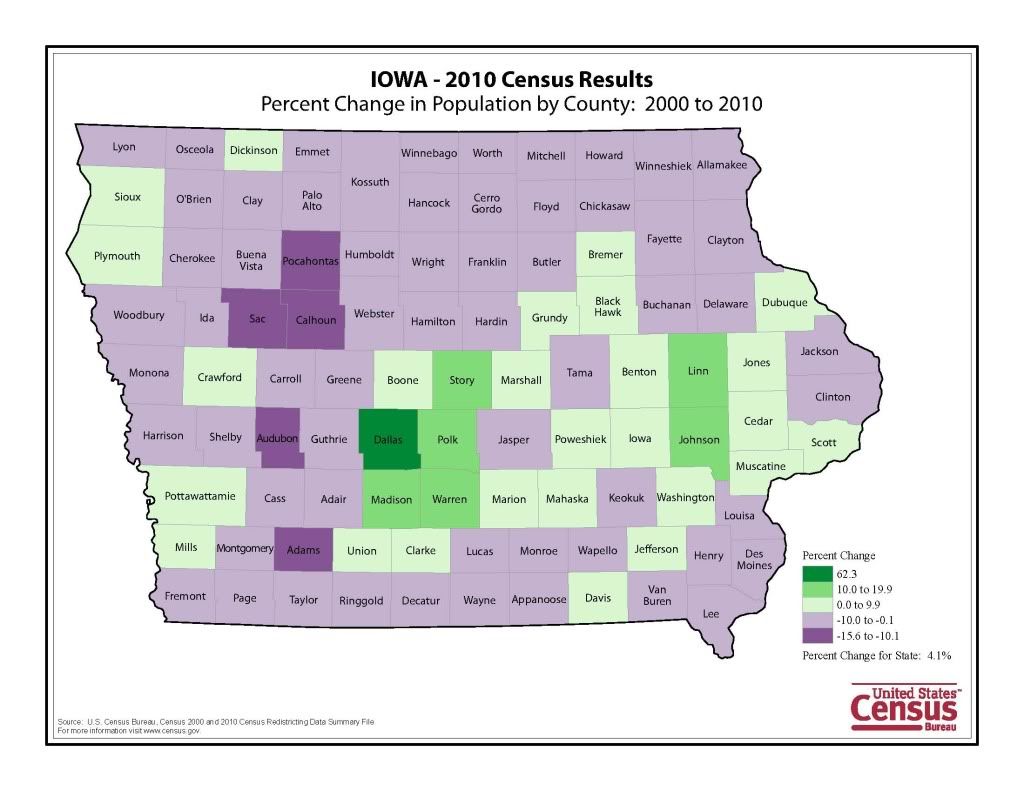 Summary file on Race and Hispanic or Latino by Congressional District
Iowa statewide
total population: 3,046,355

identified by race: 2,993,022

white: 2,781,561

black or African-American 89,148

American Indian and Alaska native: 11,084

Asian: 53,094

Native Hawaiian or Pacific Islander: 2,003

Some other race: 56,132

two or more races: 53,333

Hispanic or Latino (of any race): 151,544
IA-01
total population: 596,443

identified by race: 585,084

white: 542,199

black or African-American 28,205

American Indian and Alaska native: 1,309

Asian: 6,831

Native Hawaiian or Pacific Islander: 699

Some other race: 5,841

two or more races: 11,359

Hispanic or Latino (of any race): 19,084
IA-02
total population: 620,856

identified by race: 608,386

white: 562,459

black or African-American 19,927

American Indian and Alaska native: 1,611

Asian: 13,965

Native Hawaiian or Pacific Islander: 375

Some other race: 10,049

two or more races: 12,470

Hispanic or Latino (of any race): 28,721
IA-03
total population: 642,116

identified by race: 629,417

white: 568,207

black or African-American 27,358

American Indian and Alaska native: 3,101

Asian: 16,536

Native Hawaiian or Pacific Islander: 311

Some other race: 13,904

two or more races: 12,699

Hispanic or Latino (of any race): 36,903
IA-04
total population: 609,487

identified by race: 601,472

white: 573,138

black or African-American 7,638

American Indian and Alaska native: 1,347

Asian: 10,000

Native Hawaiian or Pacific Islander: 216

Some other race: 9,133

two or more races: 8,015

Hispanic or Latino (of any race): 27,250
IA-05
total population: 577,453

identified by race: 568,663

white: 535,558

black or African-American 6,020

American Indian and Alaska native: 3,716

Asian: 5,762

Native Hawaiian or Pacific Islander: 402

Some other race: 17,205

two or more races: 8,790

Hispanic or Latino (of any race): 39,586