Two-term State Representative Nate Willems announced this morning that he will run for the Iowa Senate in the new district 48 in northeast Iowa. Willems was first elected in 2008 to Iowa House district 29, comprising parts of Linn and Johnson Counties. He is the ranking Democrat on the Iowa House Education Committee.
Senate district 48 comprises all of Delaware County, most of Linn County (other than Cedar Rapids and its suburbs), and part of Jones and Buchanan counties. Part of Willems' current district (southeast Linn County, including the towns of Mount Vernon and Lisbon) are in Senate district 48. He grew up in Anamosa (Jones County), which is also in the district. After the jump I've posted the detailed map of the Senate district 48, the map showing all 50 new Iowa Senate districts, and Willems' campaign announcement.
No incumbent senator lives in the new district 48, and it is one of the most evenly-balanced districts created in the redistricting plan. As of April 2011 the district contained 11,553 registered Democrats, 11,552 Republicans and 15,559 no-party voters.
Democrats currently hold a 26 to 24 majority in the Iowa Senate. For Democrats to maintain that majority after the 2012 elections, district 48 is probably a must-win.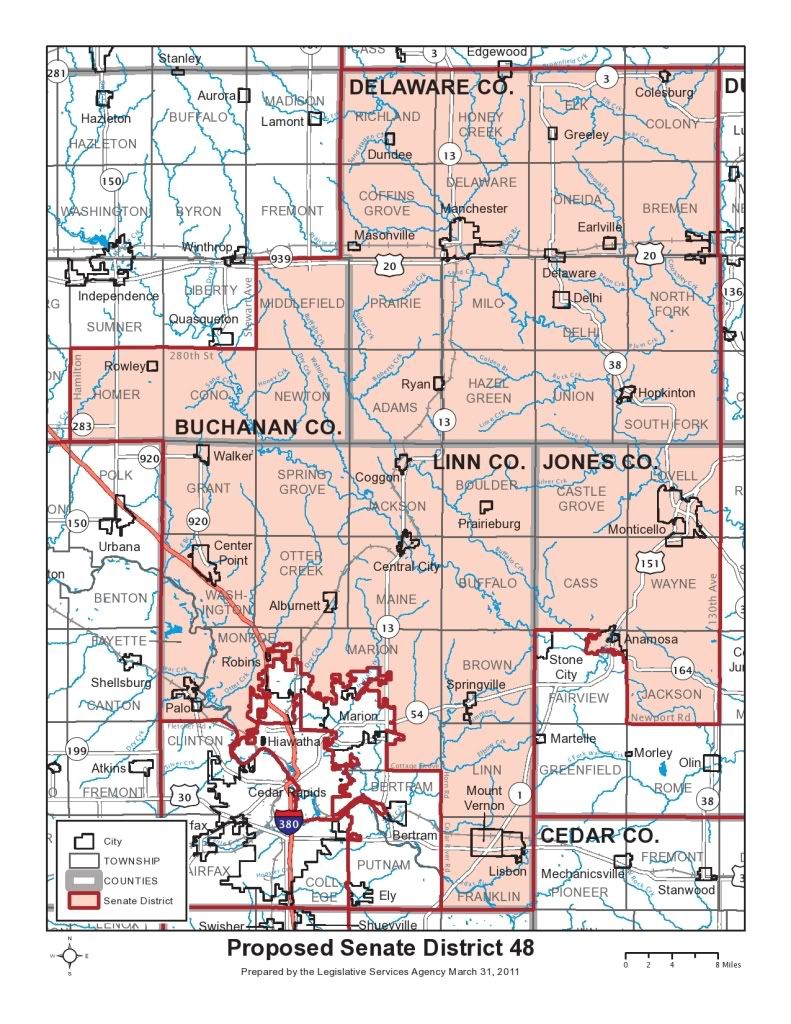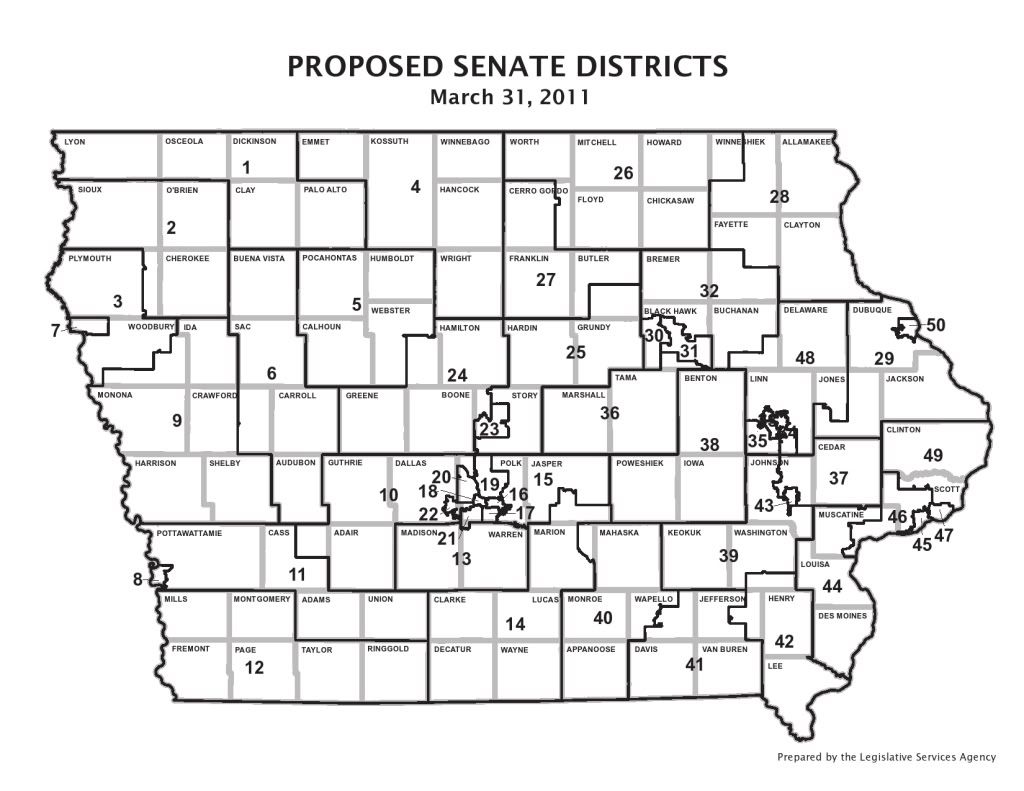 April 18, 2011:
Willems Announces Candidacy for State Senate

Nate Willems, an employment attorney and two-term State Representative from Lisbon, has announced his candidacy for the Iowa State Senate. Willems will run for Senate District 48, which includes Delaware and parts of Linn, Jones & Buchanan counties. The district is currently vacant due to redistricting.

"I have worked hard in the Iowa House on programs that foster job growth and improve access to quality, affordable education for Iowa families," Willems said. "I believe that a strong, forward-looking educational system is critical to the future economic success of our kids. We must continue to improve our schools and colleges so that our workers can get the job training that today's economy demands and so our kids can learn the skills for the jobs of tomorrow."

Willems said he was excited by the opportunity to represent the communities that make up Senate District 48.

"It has been a tremendous privilege to serve the people of Eastern Iowa in the Iowa House and I look forward to opportunity to continue to serve them in the Iowa Senate," Willems said. "My wife and I grew up in this new senate district and we're raising our family here because it's a great place to live."

Willems and his wife, Maggie, live in Lisbon and are the parents of two daughters, Ava who is 2 and Emery, 1. Nate is an Associate at Rush & Nicholson, P.L.C. He is also active in the Lincoln Highway Lisbon Lions Club. Maggie teaches Social Studies at Mount Vernon High School and coaches high school volleyball and track. Nate and Maggie are members of First Presbyterian Church in Mount Vernon.

Willems is a 1997 graduate of Anamosa High School, a 2001 graduate of Georgetown University and a 2007 graduate of the University of Iowa College of Law.

Willems promised to campaign by talking personally with as many voters as possible across the district.

"I believe that listening is one of the best ways to learn," said Willems. "People are welcome to call me at my home, 319-455-3014 or email me at nwillems@gmail.com."