UPDATE: Rich Olive withdrew from this race in October 2011.
Democratic State Representative Lisa Heddens, the ranking member of the Iowa House Health and Human Services Appropriations Subcommittee, announced today that she will seek re-election in the new Iowa House district 46. The district covers most of northern Ames in Story County, and Heddens has represented most of its residents for five terms. As of April 2011, the district contained 6,336 registered Democrats, 5,055 registered Republicans and 7,040 no-party voters. Heddens will need to move before the 2012 election, because Iowa's new map put her home in House district 48, which has a slight Republican registration advantage. To my knowledge, no one else has announced plans to run in the new House district 46. In 2010, Heddens had a Libertarian opponent as well as a Republican challenger. The Libertarian Party has nominated candidates in several college-town districts in recent years.
Heddens' impending move leaves the new House district 48 without an incumbent, but the House Democrats didn't keep anyone guessing. Former State Senator Rich Olive announced his candidacy there today. District 48 covers Gilbert and rural areas in northwest Story County, Madrid and several townships in eastern Boone County, much of eastern Webster County and all of Hamilton County. As of April 2011, House district 48 contained 5,991 registered Democrats, 6,445 registered Republicans and 7,300 no-party voters.
A lot of the territory in House district 48 was in the old Senate district 5, which Olive represented for one term. He squeaked by in the 2006 Democratic wave election with a 55-vote margin in that district, left open when Republican Stewart Iverson retired from the Senate. Iowa Democrats considered him a favorite to win re-election in 2010 despite the GOP voter registration advantage in his district. Senate Republicans did not appear to be targeting him for much of the year. Conservative interest groups like the Iowa Farm Bureau and the Iowa Association for Business and Industry endorsed Olive in 2010. Now that Republicans control the Iowa House, I doubt those groups will support Olive's comeback effort. I'm not aware of any announced Republican candidate in district 48.
Olive is the second state senator defeated in 2010 to seek a seat in the Iowa House. Last month Bill Heckroth announced plans to run in the new House district 63, covering territory he represented for four years in the Senate. Iverson returned to the capitol via the Iowa House, defeating Democratic State Representative McKinley Bailey in 2010. He may jump back to the upper chamber next year via the new Senate district 4.
After the jump I've posted maps of House district 46 and 48, along with today's campaign announcements from Heddens and Olive. Any thoughts about the 2012 state legislative races are welcome in this thread.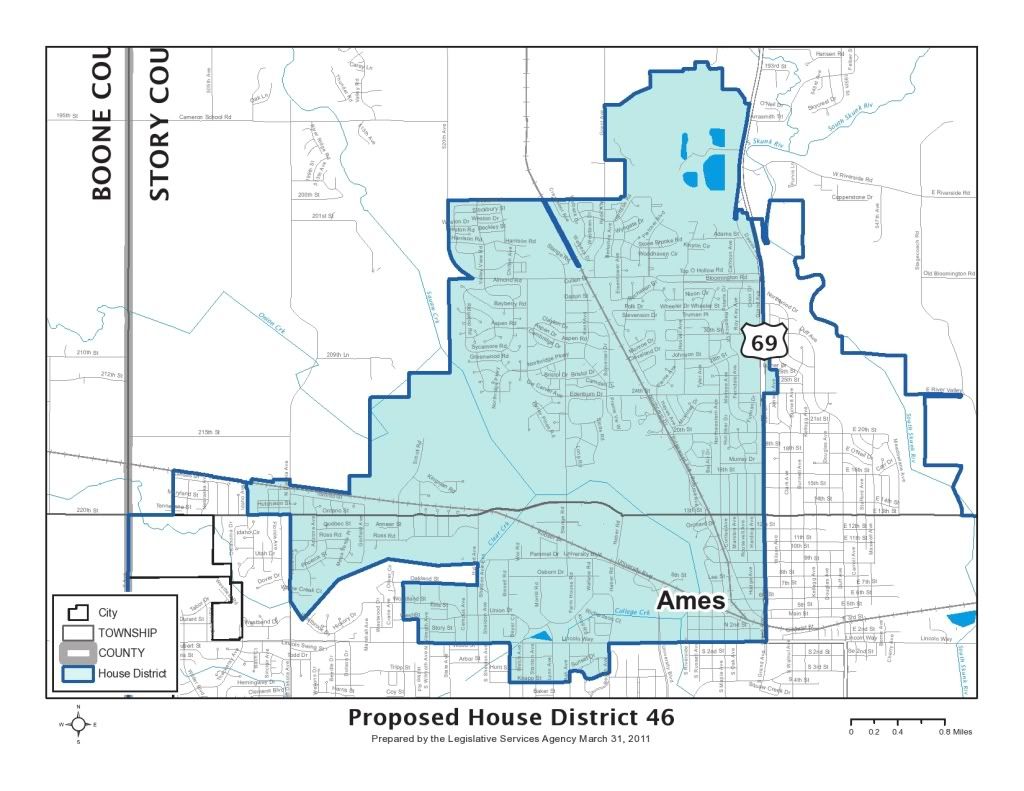 Tuesday, June 7, 2011

For More Information, Contact:

Rep. Heddens, 515-450-2957

HEDDENS ANNOUNCES RE-ELECTION BID

Ames, Iowa -- State Representative Lisa Heddens of Ames today announced that she will seek re-election to Iowa House in the new District 46, which covers the north half of Ames. Heddens serves most of those citizens in her current district.

"It is a great honor serving the people of Ames in the Iowa House and I look forward to continuing to serve them at the State Capitol," said Heddens. "I'm proud of my work expanding health care for families and children as well as strengthening education from preschool to higher education."

Heddens is currently serving her 5th term in the Iowa House and is the Ranking Member of the Health and Human Services Appropriations Subcommittee. She also serves on the Appropriations, Economic Growth/Rebuild Iowa and Veterans Affairs committees.

In 1989, Lisa earned a teaching certificate in elementary education at Iowa State University and has spent most of her professional life working with family service agencies. She currently works at Lutheran Services of Iowa (LSI) People Place in Ames. People Place provides parent education and support in an informal, drop-in setting as well as classes, support groups and workshops.

"I will never stop working to strengthen Iowa's middle class and build a highly skilled workforce. We need world class schools from preschool to high school and affordable, quality higher education. The state also has a critical role to play helping entrepreneurs and small business owners create good-paying jobs."

Lisa's husband Jeff is a Construction Engineer with the Iowa Department of Public Defense and they have two children. Makenzie is a student at Iowa State University and their son, Paul, attends Gilbert High School.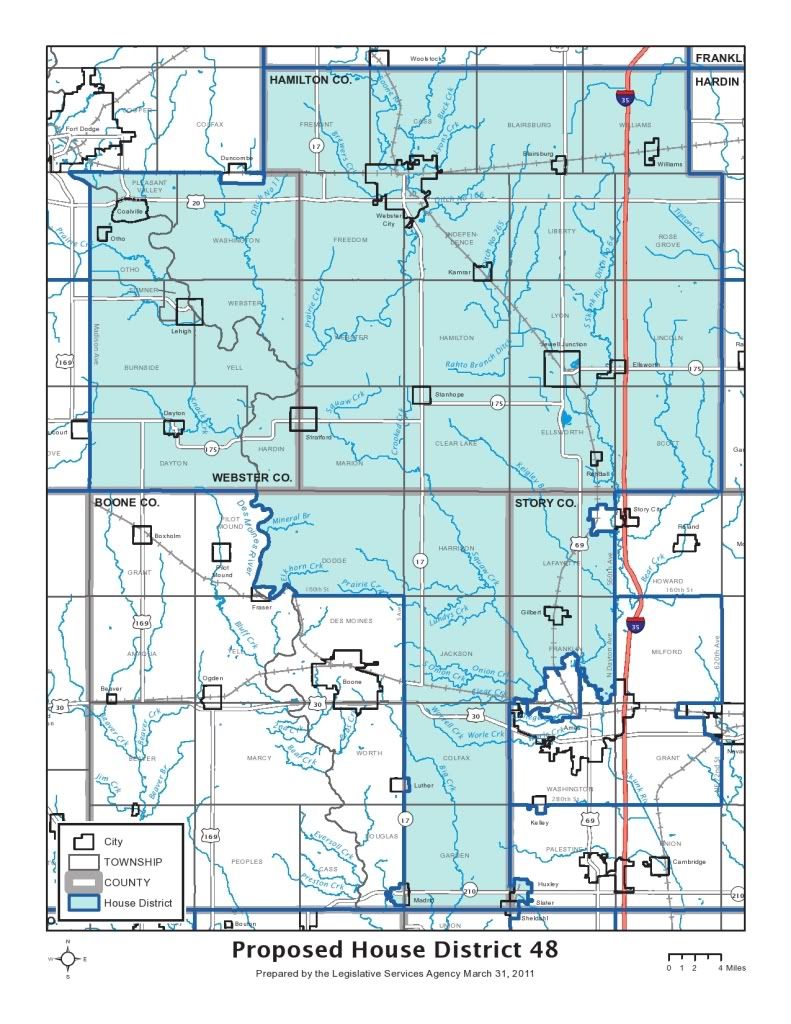 Tuesday, June 7, 2011

For More Information, Contact:

Rich Olive, 515-450-1086

Olive to Run for State Representative

Small business owner and community activist Rich Olive announced today that he will run for state representative in the new House District 48, which includes part of Story, Webster, and Boone Counties as well as all of Hamilton County. Olive previously served those citizens in the Iowa Senate.

"As a small business owner, I understand the challenges small businesses face every day to make payroll and provide affordable health care for their families and employees," said Olive. "I also understand the critical role the state must play to help revitalize rural communities and create good-paying jobs in key industries like advanced manufacturing and renewable energy."

Rich is currently the owner and president of Norsemen Realty, Ltd and previously owned and independent insurance agency for 30 years, Norsemen Insurance Services, Ltd. He is an active member of the community and led recruitment efforts to bring new businesses and good-paying jobs to Story County as chair of the Story City Economic Development Corporation. He serves as a board member for the Bethany Life Community Foundation, the Mary Greeley Medical Center Foundation, and the Riverbend Golf Course Board. He is a member of the Lions Club and two-time recipient of the Governor's Volunteer Award.

"A quality education and good-paying jobs are key to keeping our kids and grandkids in Iowa. We can keep the state budget balanced without giving up on the middle class or a quality education for our kids," added Olive.

Olive is a graduate of Story City High School and, following graduation, joined the Army National Guard and worked as an assistant manager for a furniture factory in Roland. While serving in the Legislature, Olive served as chair of the Government Oversight Committee and vice-chair of the Economic Growth and Agriculture committees. He also served on the Commerce and Local Government committees.

"It is a great honor serving in the Iowa Legislature and I look forward to serving the people of Story, Hamilton and Webster Counties again," concluded Olive.

Olive is a member of American Legion Post #59 and the Roland-Story Athletic Boosters. He announces Roland-Story football games and is an active member of the Immanuel Lutheran Church Choir. Rich and his wife, Marian, have three daughters and eight grandchildren.