Democratic State Senator Swati Dandekar is stepping down from the legislature in order to accept an appointment to the Iowa Utilities Board, the Des Moines Register reported today. Her resignation forces a special election this fall in Iowa Senate district 18, which covers suburban and rural areas in Linn County.
Democrats currently hold a 26-24 Iowa Senate majority, so a Republican victory in the special election would deadlock the upper chamber for the 2012 legislative session. Follow me after the jump for a district map and first take on the race to replace Dandekar.
Here's a closer view of the "old" Senate district 18, where the special election will be held: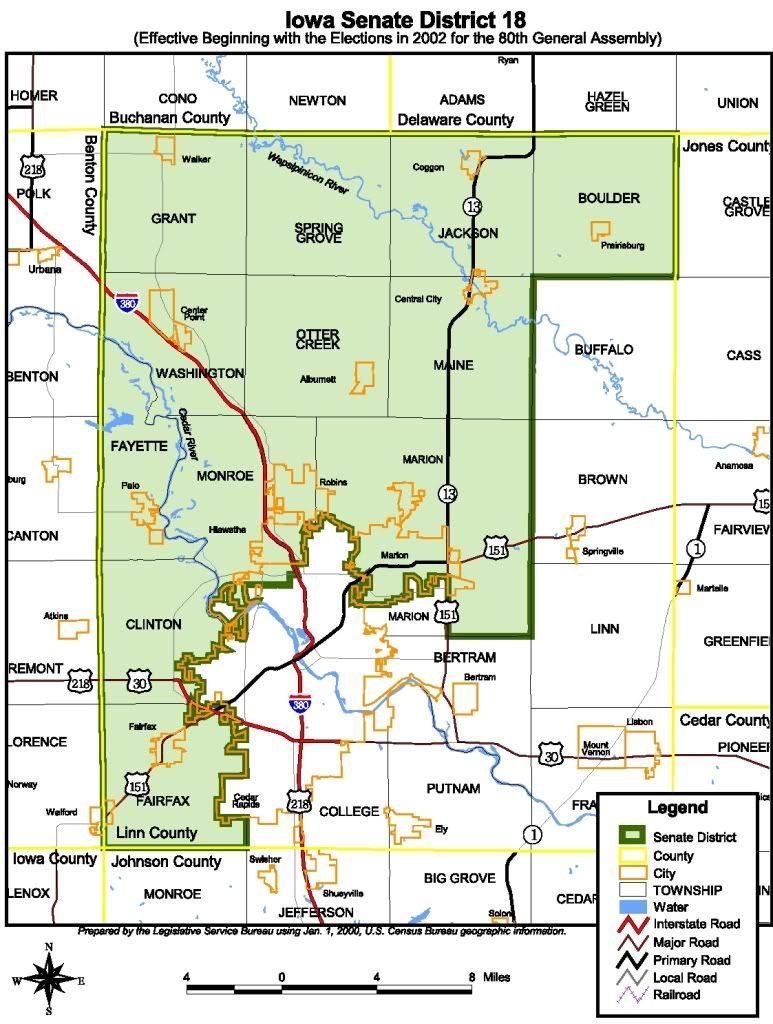 Redistricting put Dandekar in the new Senate district 34 (map). That's where the winner of this fall's special election will be on the ballot in 2012.
The current Senate district 18 contained 15,750 registered Democrats, 15,972 registered Republicans and 19,873 no-party voters as of September 1, according to the Iowa Secretary of State's office. It's a swing district, but that part of Linn County was represented by Republicans for many years until Dandekar won an open-seat race in 2008. She replaced Republican moderate Mary Lundby, who retired.
At this writing, I have not heard of any candidates seeking to replace Dandekar, but I will update this post when a Democrat and/or a Republican candidate declares. Special district conventions for each party will choose the nominee. Typically only one candidate from each party steps forward for a special election, but if more than one candidate from either party wants to run for Dandekar's seat, it may take several ballots for district delegates to decide on a nominee. That happened on the Republican side in Senate district 35 last December.
Dandekar is known as one of the more conservative members of the Senate Democratic caucus, but she didn't go against party leaders on any high-profile vote during the last legislative session. Why would she step down now, putting the Democratic majority in danger? The Under the Golden Dome blog speculated today that Dandekar was upset that Senate Majority Leader Mike Gronstal did not bring a bill promoting nuclear power to a vote on the Senate floor. Dandekar was floor manager for that bad bill and shepherded it through the Senate Commerce Committee, which she chaired. The bill sailed through the Iowa House, and although the Senate didn't act on it this year, it will be eligible for debate at any time during the 2012 legislative session. Senate Republicans and Governor Terry Branstad are solidly behind this legislation, which would greatly benefit MidAmerican Energy at the expense of their Iowa ratepayers. Some Senate Democrats strongly oppose the bill, but it could pass with mostly Republican votes in the upper chamber.
As one of three Iowa Utilities Board members, Dandekar will be in a position to assist the expansion of nuclear power in Iowa, if MidAmerican seeks the board's approval for such a project during the next few years.
Dandekar will fill the vacancy created when Rob Berntsen resigned from the Iowa Utilities Board, effective this month. Democratic Governor Chet Culver appointed Berntsen to the IUB in March 2009 for a full six-year term, which will end on April 30, 2015. A few weeks ago Berntsen became Vice President of Government and Regulatory Affairs for the Midwest Region at MISO, a "regional transmission organization" serving 12 U.S. states and Manitoba, Canada.
Note: if Republicans win the special election in Senate district 18, that does not mean that they would be able to bring legislation to the floor unilaterally in 2012. The Iowa Senate was split 25-25 after the 2004 election. In 2005 and 2006, Democrats and Republicans agreed that legislation would come to the floor only if leaders of both parties agreed. Senate Democratic leader Mike Gronstal has said many times that he will not allow a constitutional amendment banning same-sex marriage to come to the Senate floor under any circumstances.
UPDATE: I forgot to mention that Branstad needed a Democrat to fill the Iowa Utilities Board vacancy. The other two current board members are Republicans: Culver appointee Darrell Hanson and former State Representative Libby Jacobs, whom Branstad appointed board chair.
SECOND UPDATE: Dandekar's resignation is official, and on September 16 Branstad set the special election for November 8, to coincide with local elections around the state.
THIRD UPDATE: According to Gary Barrett, Senate GOP leader Paul McKinley admitted that whatever the outcome of the special election, Republicans won't be able to bring a marriage amendment to the floor without Democratic assent.
FOURTH UPDATE: Assuming Dandekar is confirmed by the Senate, this will be the first time in decades that none of the three Iowa Utilities Board members is an attorney, according to Mark Lambert, who served on that board from 2001 to 2005 as an appointee of Governor Tom Vilsack. Lambert added that unlike many state board positions, IUB members work full-time. Regulating investor-owned utilities is a big job involving "technical and complex subject matter."
FIFTH UPDATE: Jeff Patch reports from Senator Tom Harkin's Steak Fry on September 18:
State Senate Majority Leader Mike Gronstal fired up the crowd with his trademark bulldog bark of a pep talk.

"Sit down, sit down, shut up! Shut up!" Gronstal yelled over a boisterous standing ovation from 200-some Democratic activists. "It's a rainy day out there. Don't let that dampen your spirits. It's a sign of fertility. We can't harvest the crop of absentee ballot requests without a little rain, and that's what we're going to be doing over in Cedar Rapids."

"Are we going to let Republicans take this seat away from us and walk away from the minimum wage in this state?" he said. "Folks, this race in Cedar Rapids is ground zero. We are Wisconsin now. We must win this race. I need every live body in this room that can get over there to get over there and help us pick up absentee ballot requests."

"We're gonna prove that little, old smart game Terry Branstad-'let's see if we can knock off some Democrat by givin' 'em, appointing them to a good job and then we'll get that seat'-let's prove him not so smart," Gronstal said. "See you in Cedar Rapids!"

In an interview with TheIowaRepublican.com, Gronstal declined to speculate on Dandekar's motivation for resigning. Many politicos speculated that Dandekar's departure was at least in part due to Gronstal's refusal to allow the Senate to consider a bill on nuclear power, a priority for Dandekar.

"I would encourage people who want to know what motivated Swati to ask Swati," Gronstal said. "I think Sen. Dandekar saw an opportunity. I think that it will allow her background as a scientist, and so I think she made that decision. I don't agree with her decision. I don't particularly like her decision, but that's the decision she made, so we'll live with that. We will find a great candidate, we will run a great campaign and we will do our very best to win."
SIXTH UPDATE: Lynn Campbell reported on September 19,
Dandekar became emotional Monday in an interview with IowaPolitics.com, as she explained that this past week hasn't been easy. She said it hurts to hear people suggest that her move was intended to strike back at Iowa Senate Majority Leader Mike Gronstal, D-Council Bluffs, for not taking up a nuclear power plant bill she advocated for this past session.

"Sen. Gronstal has been one of the best leaders I have worked for. He has been the best leader and best mentor I have had in politics," said Dandekar, Iowa's first India-born state legislator who served in the Iowa House since 2002 and the Iowa Senate since 2008.

Dandekar said it all happened so quickly, in the span of four days. She said she and her husband, Arvind, on Thursday night took the four-and-a-half-hour, 263-mile drive from her house in Marion to Gronstal's in Council Bluffs to tell him about her decision and "look in his eyes." […]

Dandekar, a scientist with a degree in chemistry, said the scientist in her thought it would be a great opportunity to serve Iowa in a different way. She said Iowa needs transmission lines, not just windmills.

She declined to speculate what will happen with same-sex marriage, state-funded preschool, tax cuts and collective bargaining should Democrats lose control of the Iowa Senate.

"I have taken a new position now, and I am going to focus on what is right for Iowans from a different point of view," she said. "I am going to make sure we have affordable and safe and secure energy for Iowans."