The National Organization for Marriage has started spending money supporting Republican candidate Cindy Golding in the Iowa Senate district 18 special election. After the jump I've posted the first direct-mail piece from the group, which puts a questionable spin on Golding's comments about marriage.
For now, NOM has pledged to support Golding "with a series of mailers and other activities" before November 8. Bob Vander Plaats' FAMiLY Leader organization will also be involved with the independent expenditures. NOM spent heavily on the 2009 Iowa House district 90 special election, paying for television and radio commercials as well as direct mail. Those efforts didn't stop Democrat Curt Hanson from winning by a narrow margin.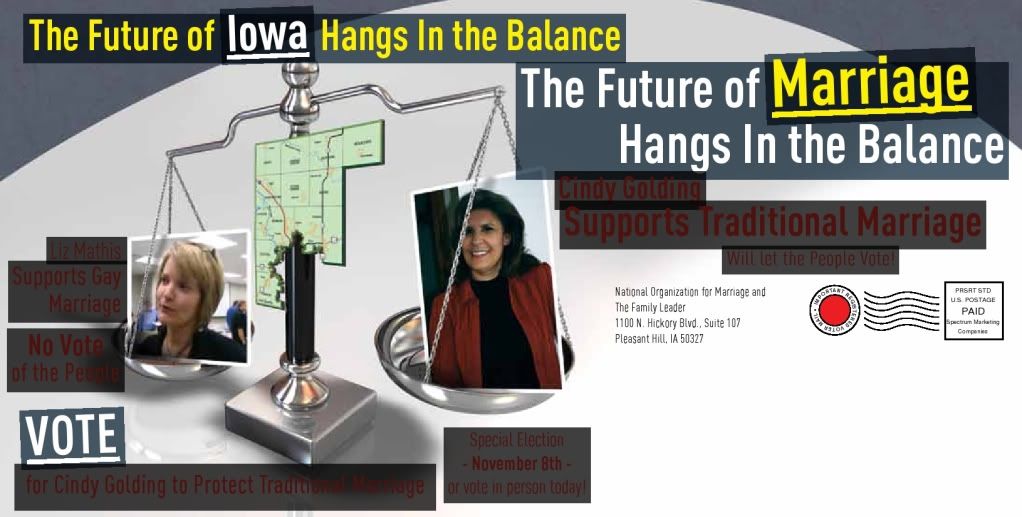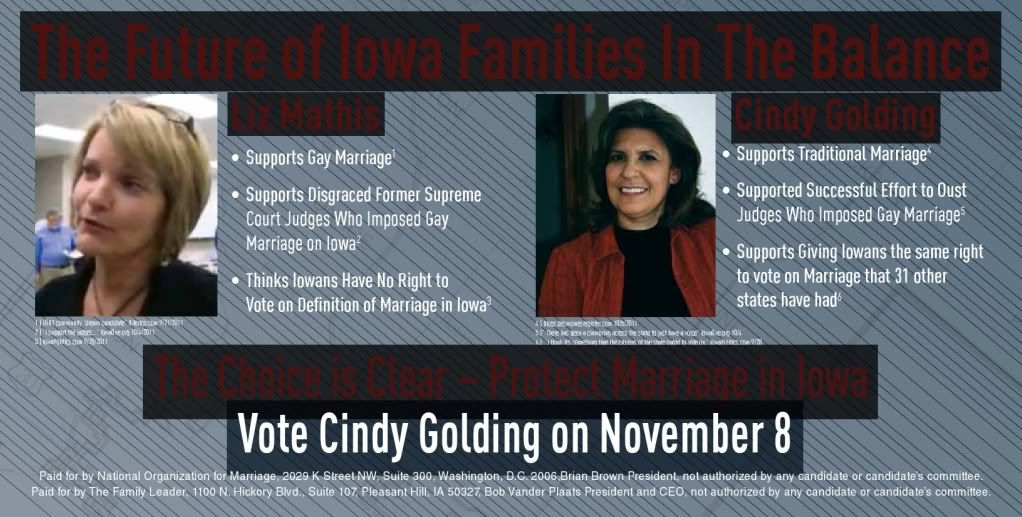 In case anyone has trouble reading the print, here's the text from the front side:
The Future of Iowa Hangs In the Balance

The Future of Marriage Hangs In the Balance

Cindy Golding Supports Traditional Marriage

Will let the People Vote!

Liz Mathis Supports Gay Marriage

No Vote of the People

VOTE for Cindy Golding to Protect Traditional Marriage

Special Election November 8th or vote in person today!
Here's the text from the flip side of the mailer:
The Future of Iowa Families In The Balance

[Next to photo of Liz Mathis] Liz Mathis

Supports Gay Marriage1

Supports Disgraced Former Supreme Court Judges Who Imposed Gay Marriage on Iowa2

Thinks Iowans Have No Right to Vote on Definition of Marriage in Iowa3

[in tiny print under Mathis photo]

1)LGBT community "dream candidate" Bilerico.com 9/21/2011

2)"I support the judges..." IowaOne.org 10/4/2011

3)IowaPolitics.com 9/28/2011

[Next to photo of Cindy Golding] Cindy Golding

Supports Traditional Marriage4

Supported Successful Effort to Oust Judges Who Imposed Gay Marriage5

Supports Giving Iowans the same right to vote on Marriage that 31 other states have had6

[in tiny print under Golding photo]

4) blogs.desmoinesregister.com 10/5/2011

5) "There has been a clamoring across the state to just have a voice" IowaOne.org 10/4

6) "I think it's something that the citizens of the state ought to vote on" IowaPolitics.com 9/28

The Choice is Clear - Protect Marriage in Iowa

Vote Cindy Golding on November 8

[in small print at the bottom]

Paid for by National Organization for Marriage, 2029 K Street NW, Suite 300, Washington, D.C. 2006, Brian Brown President, not authorized by any candidate or candidate's committee. Paid for by The Family Leader, 1100 N. Hickory Blvd., Suite 107, Pleasant Hill, IA 50327, Bob Vander Plaats President and CEO, not authorized by any candidate or candidate's committee.

Note: I did not see anything on the Des Moines Register blogs specifically quoting Golding as a supporter of "traditional marriage."
Where the direct-mail piece cites "IowaOne.org," I believe they mean the website of the LGBT advocacy group One Iowa (OneIowa.org).
I do not recall seeing Golding advocate against retaining the Iowa Supreme Court justices in 2010. The comment used to support that point ("there has been a clamoring" etc.) comes from this column by Todd Dorman of the Cedar Rapids Gazette. From the context, it's not clear where Golding stood on retaining Supreme Court justices.
The quote about "something that the citizens of the state ought to vote on" does not come from IowaPolitics.com's September 28 article about the Senate district 18 candidates. Rather, it comes from the same Todd Dorman column. He followed up and got this reply:
So Golding supports proposing the amendment. But does she support the actual amendment banning all same-sex unions?

"I support the people's right to voice an opinion on the amendment," Golding said.

"I have friends on both sides. I have friends who are gay couples and I have friends who are 100 percent opposed to gay couples. So I just stand on that. I believe the citizens of Iowa should have their day in the sun, their day to stand up and voice their opinion and put the whole issue to rest, up or down," Golding said.
That's quite different from NOM's spin on Golding's position.
That IowaPolitics.com article from September 28 explored the same question and got a similar answer:
Cindy Golding, a businesswoman from rural Cedar Rapids who's the Republican candidate in Iowa Senate District 18, told IowaPolitics.com that Iowans deserve to have a vote on the issue, but declined to shed light on her personal beliefs about same-sex marriage.

"I have friends who are in gay relationships, and friends who abhor gay relationships," Golding said, proposing that Iowans should make their own "cultural" decisions.
All in all, NOM's mailer was quite poorly-researched. That doesn't mean it won't be effective with their target audience, though.
Share any relevant thoughts in this thread.
Incidentally, Golding also received the National Rifle Association's endorsement this week, based on her answers to their questionnaire. Democratic candidate Liz Mathis declined to fill out the NRA quesionnaire. It's not clear whether the NRA plans to spend any money on Golding's behalf in Senate district 18.