Megan Day Suhr announced this week that she is running for Iowa House district 28 in 2012. A map of the swing district and background on Suhr are after the jump.
The new Iowa House district 28 covers about half of Lucas County (but not its largest town, Chariton), a small area of southern Jasper County, and most of Marion County, including county seat Knoxville but not the notoriously conservative town of Pella. Here's a close-up view: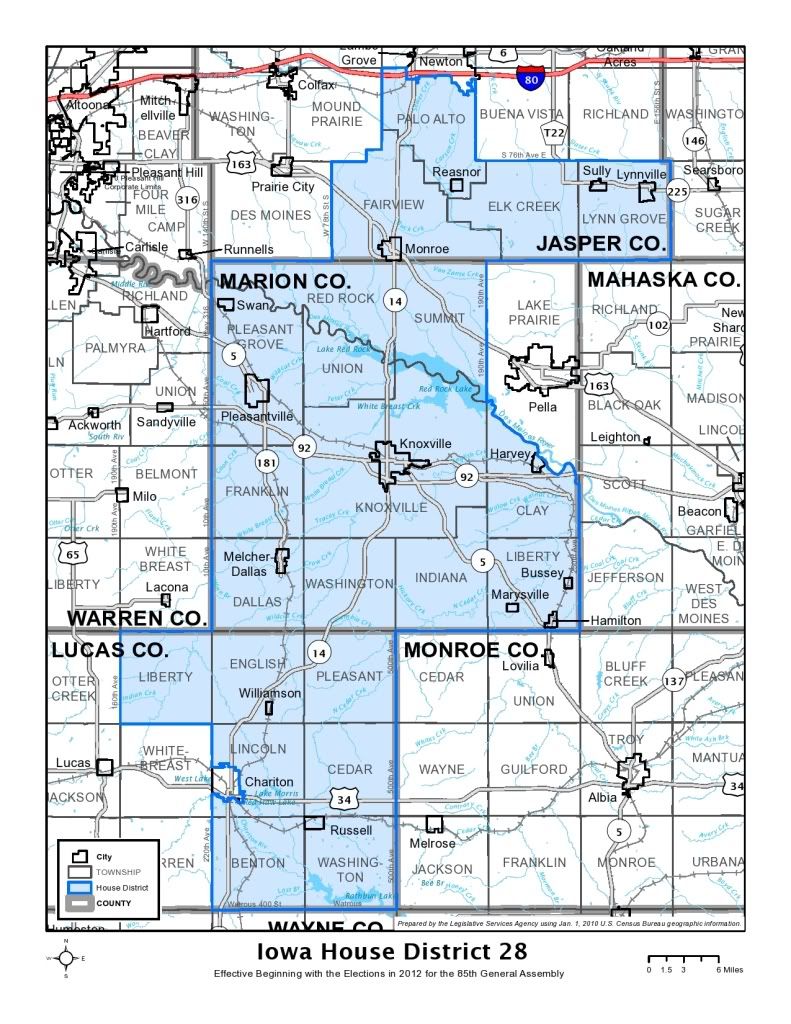 Nine-term Republican State Representative Rich Arnold is the only House incumbent living in this district. Soon after Iowa's redistricting plan was finalized, he announced plans to retire rather than seek re-election in 2012. Maybe Arnold got tired of being a back-bencher. He was one of only four experienced Iowa House Republicans to be passed over for a committee chairmanship after the GOP regained the majority last year.
Or maybe Arnold didn't care to run in a swing district after being comfortable in a strong Republican area for the last decade. Independents have a plurality in the new Iowa House district 28 with 7,355 registered no-party voters, but there were nearly as many registered Democrats (6,386) as Republicans (6,614) in the district as of April 2011. The absence of Pella puts this seat in play for Democrats.
To my knowledge, no Republican candidate has announced plans to run in the new House district 28.
Suhr's campaign website is here. It includes the following "leadership" statement:
I am ready to lead District 28 and to bring your voice back into the conversation. I am passionate about the economy, health care, education for our children, and veterans services. I feel there are very important issues to be addressed, that have been put on the back-burner amidst too much political posturing and too little governing. My aim is to work for you, in a bi-partisan manner, to support what is important to District 28.
Suhr's bio notes that she grew up in rural Packwood (Jefferson County). She is a trained doula, running a business to serve women in central and southeast Iowa during pregnancy and childbirth. Suhr also volunteers her doula services at the Young Women's Resource Center in Des Moines. She has two children who attend public schools in Knoxville.
Suhr is a leading advocate and lobbyist for Friends of Iowa Midwives, a group formed in 2007 "to ensure that Iowans have access to midwife-attended out-of-hospital birth as one of many safe childbirth options." Certified Professional Midwives are recognized in 28 U.S. states. Their training differs from that of Certified Nurse Midwives, who primarily attend births in hospitals.
In 2010, a bill to license Certified Professional Midwives made it out of an Iowa House committee but never received a vote on the floor. During the 2011 session, a similar bill was never debated in the Iowa Senate despite backing from members of both parties. It will be eligible for debate in 2012 but presumably will not be called for a vote unless the floor manager, Democrat Jack Hatch, is confident it has the votes to pass. Hatch chairs the Health and Human Services subcommittee of the Iowa Senate Appropriations Committee and has been a top advocate of the midwife licensing bill. Some Republicans also support the measure, because women who choose home birth are scattered all over the political spectrum. There's also some overlap between the midwife advocacy community in Iowa and those who promote home-schooling.
Suhr plans to kick off her Iowa House campaign at the Marion County Courthouse on Friday, November 4 at noon. In a letter to friends and potential supporters, she wrote:
Having attended the legislative session for the past several years, I've become quite fond of the legislative process. I love reading the bills that come up, and enjoy the conversations surrounding them. I've had the opportunity to build relationships with many legislators within the House and Senate, and have a great group of friends in the lobby. [...]

I am running because I want to put District 28 back into the conversation. I don't believe the legislature should be dealing with so many social issues at a time like this, but should be focused on our jobs, economy, education, and healthcare. We have the opportunity to assist the middle class families to put money back into their pockets, and to help 4 out of 5 small businesses in Iowa. We have the opportunity to give incentives for businesses hiring Iowans. I believe we need more transparency when we can't pay our bills, and have over 200 million in our savings account. We deserve to know the truth about why we can't agree to pay our state attorneys on time, or to set an education budget before teacher contracts are issued. We have the right to know that Mid American can raise our rates significantly to study building a nuclear energy plant. Our children deserve to have our schools funded, and to receive a great education within our community.
I don't know whether Suhr will face competition in the 2012 Democratic primary. Her letter states that she is running "with the support of the Marion County Democratic Committee." To win this district, Suhr would probably need to run up big margins in the Knoxville area, where she has lived since 2005. Knoxville is the largest town in House district 28, with a population of 6,870 according to the 2010 U.S. census.
Share any relevant thoughts in this thread.