The new Iowa House district 28 is one of several competitive districts without an incumbent seeking re-election. Two candidates have declared so far: Republican Greg Heartsill and Democrat Megan Day Suhr.
Iowa House district 28 covers about half of Lucas County (but not its largest town, Chariton), a small area of southern Jasper County, and most of Marion County, including county seat Knoxville.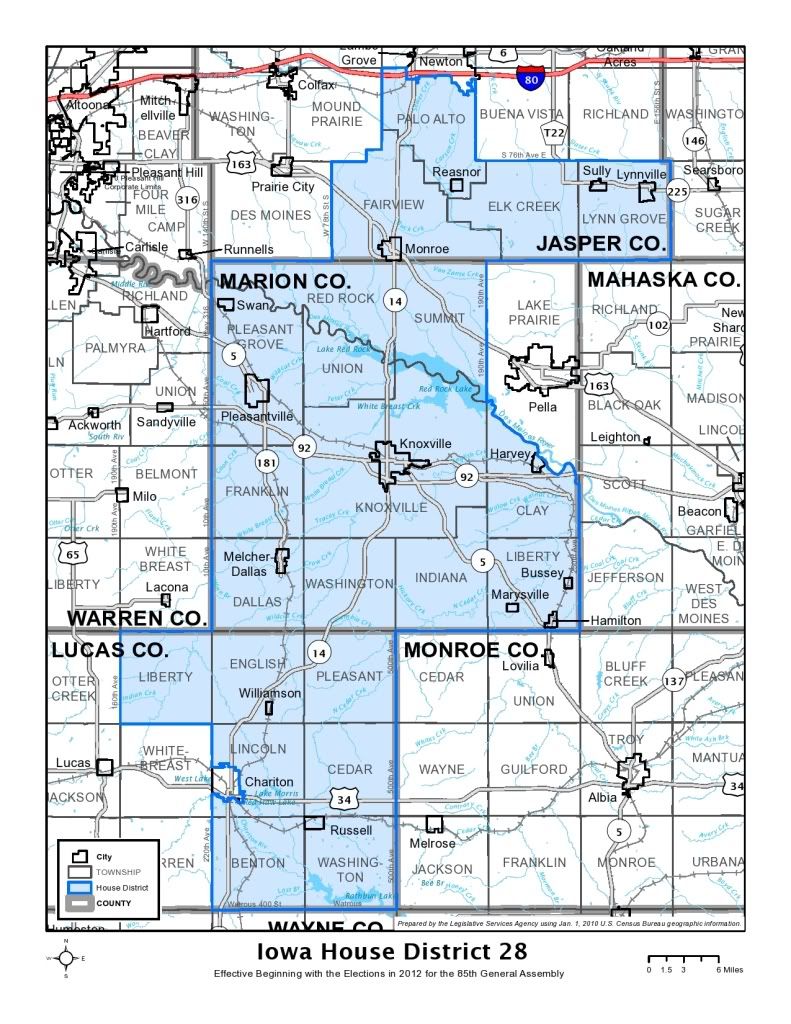 Voter registration numbers tilt slightly to the GOP. The new House district 28 contained 6,386 registered Democrats, 6,614 Republicans and 7,355 no-party voters as of April 2011. Republicans would have a much greater advantage if the district also included Pella, a conservative stronghold.
The only incumbent living in the new district 28 is Republican State Representative Rich Arnold. He announced plans to retire earlier this year, as did State Representative Jim Van Engelenhoven, who was paired with another House Republican in the nearby district 79.
When I learned that Democrat Megan Day Suhr was running in House district 28, I was not aware that a Republican candidate had already announced his candidacy.
Greg Heartsill kicked off his campaign on October 11, KNIA/KRLS radio reported. His campaign website notes that he grew up in Salem (Henry County), graduated from Mt. Pleasant high school, received a degree in computer programming from Indian Hills Community College and a business degree from Buena Vista College. He worked in IT for various Des Moines companies for more than a decade, but "left the corporate world and embraced the small business climate of Iowa to begin his own business in order to have more time with his growing family." He has owned and operated Heartsill fencing since 2004 and lives in Columbia, an unincorporated community in Marion County. Heartsill and his wife are active in the Marion County Republican Party central committee as well as homeschoolers with nine children.
Heartsill's website lays out the following five "pillars" of his campaign:
1. Promote Economic Growth & Fiscal Responsibility

*Less Taxation + Less Regulation = Vibrant Economy

*Government needs to live within its means

2. Protect the Family

*Defend Traditional Marriage

*Recognize Personhood at Conception

*Secure Parental Rights

3. Preserve our Right to Self-Defense

*Support "Castle Doctrine"

*Support "Stand Your Ground" Legislation

*Support "Constitutional Carry" Bill

4. Prohibit Property Rights Encroachment

*Strengthen eminent domain laws to protect private property

5. Prevent Election Fraud

*Require photo ID when voting

*Reform same-day voter registration
The gun-related policies Heartsill supports are consistent with the National Rifle Association's legislative agenda for Iowa. None of those priorities advanced during the 2011 legislative session.
A bill to require photo ID for election-day voters passed Republican-controlled Iowa House this year, but the bill died in the Democratic-controlled state Senate. Republican Secretary of State Matt Schultz has said he will continue to advocate for photo ID.
Speaking to Dr. Bob Leonard of KNIA/KRLS radio on October 10, Heartsill said he is a lifelong Iowan who fears we are losing some of what has made the state great. He wants to "reclaim" what is "wholesome" and "good" about Iowa. Heartsill also described himself as a fiscal and social conservative, and repeatedly said Iowa needs to "get its spending under control." (I think he would be surprised to learn that state government isn't growing, and Iowa general fund spending has decreased as a percentage of personal income.) Heartsill emphasized economic and business-related issues throughout the interview. He called for cutting state spending in non-essential areas but wasn't specific about which programs or services could be cut. You can listen to Heartsill's full interview with Leonard here.
Bleeding Heartland covered Suhr's background here. Her campaign website includes a bio and a summary of her priority issues. Suhr officially kicked off her campaign on November 4 at the Marion County courthouse in Knoxville. Click here to watch her announcement speech on YouTube.
On November 3, Suhr gave a lengthy interview to Leonard of KNIA/KRLS radio. You can listen to that segment here. If elected, Suhr said, she would focus on health care and education, but she also expressed interest in issues relating to agriculture, taxes, veterans, and business development. Having grown up on a farm in rural Packwood, Suhr sees herself as an advocate for farmers and making local food more available. She also backed property tax changes that would benefit small businesses and tax breaks for working families who are struggling to make ends meet. (Side note: Governor Terry Branstad has twice vetoed an earned income tax credit expansion backed by Democrats.)
Suhr said school districts weren't able to plan for the current academic year adequately because the legislature was so late to adopt a state budget for fiscal year 2012. She rejected the premise that there wasn't enough money to fund growth in K-12 school budgets for the current year. Branstad and Iowa House Republicans advocated no allowable growth for K-12 budgets for two fiscal years, which became a major sticking point in negotiations over the state budget. A compromise agreed with Senate Democrats in June called for no growth in K-12 budgets for the current year, followed by 2 percent allowable growth during the next fiscal year.
Marion County Democrats Chair Anita Martin introduced Suhr at her campaign kickoff last Friday, but the Iowa House Democrats did not appear to be represented at the event, nor did I receive a press release about Suhr from the House Democrats. In contrast, the House Democrats publicized campaign announcements by Joe Riding in district 30, Rich Olive in district 48, Bill Heckroth in district 63, Art Staed in district 66, Daniel Lundby in district 68, Rachel Bly in district 76, Joe Judge in district 80, Sara Sedlacek in district 88, and Frank Wood in district 92.
The failure to promote Suhr's kickoff event suggests to me that the House Democrats are recruiting someone else to run in district 28, though I have not been able to confirm that hunch. A contested primary can strengthen candidates in a competitive district, so I would not consider it a problem to have two Democrats out looking for supporters in House district 28 before the June 2012 primary. There's no guarantee that locals would favor a candidate hand-picked by House Minority Leader Kevin McCarthy, especially if there is strong support for Suhr on the Marion County Democrats central committee. In 2008, Chuck Isenhart beat two candidates in the Democratic primary to represent House district 27 in Dubuque. One of his opponents had the backing of then House Speaker Pat Murphy.
Share any relevant thoughts in this thread.