Iowa Senate Democrats announced today that a former teacher and community volunteer, Rita Hart, will run in the new Senate district 49 in 2012. The district is a must-win if Democrats are to retain their slim Senate majority. A map and background on Hart are after the jump.
Senate district 49 covers all of Clinton County and part of northern Scott County: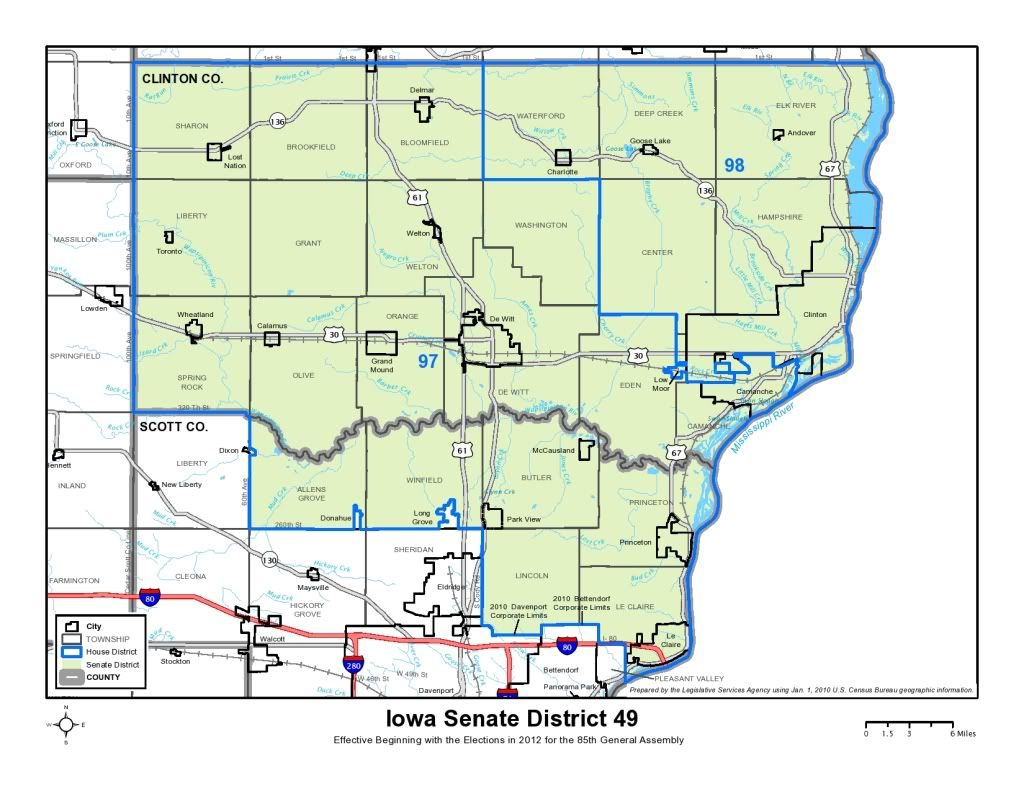 This open seat should be a relatively easy hold for Democrats. As of April 2011, the new district 49 contained 13,524 registered Democrats, 10,139 Republicans and 16,918 no-party voters.
Republican Andrew Naeve announced his candidacy in the new Senate district 49 more than six months ago. Naeve demonstrated in 2010 that he can perform well in a Democratic district, nearly beating Tod Bowman in the old Senate district 13. He is a sixth-generation family farmer from the Clinton area and a former high school and college basketball star.
State Senator Bowman currently represents Clinton County but lives over the border in Maquoketa (Jackson County). When he opted to stay in the new Senate district 29 rather than move into district 49, Democrats were left with no obvious candidate against Naeve.
Enter Hart. From her official campaign announcement of December 7:
Rita Hart of Wheatland, a community volunteer, mother of five and an educator of more than 26 years announced today that she is running for the Iowa State Senate in District 49. Senate District 49 covers all of Clinton County and rural, northern Scott County, including the towns of Le Claire, McCausland, Park View and Princeton.

"Getting the necessary skills to get a good job today means getting the right education first," said Hart. "That means providing our children with every educational opportunity possible, and providing displaced workers with the opportunity to go back to school-to our community colleges, to get the skills they need to re-enter the workforce. Too many politicians in Des Moines have lost sight of achieving these critical goals and that's one reason I am running for the Iowa Senate."

Hart added: "We need practical, problem-solving legislators at the state level for the benefit of our local communities. I believe that it will take respectful dialogue and collaboration to overcome the partisan climate that's causing gridlock and delaying key economic recovery initiatives. I pledge to go to the State Capitol and be a positive force working hard for the people of Senate District 49 because our community and our kids simply can't afford any more delays."

Hart, a Democrat, received her degree in English Education from the University of Northern Iowa in 1978. She taught junior and senior high school English from 1978-1999 at Bennett Community Schools and the Calamus-Wheatland School District. Rita earned her Masters in Educational Administration from the University of Iowa in 1989 and from 2000-2004 she worked as both the Gifted & Talented (G/T) and School-to-Work program administrator at Calamus-Wheatland Community Schools. Rita and her husband have also owned and operated a farm in western Clinton County since 1986.

In her community, Rita is a volunteer Befriender at Genesis West Hospital in Davenport where she makes weekly visits to patients in need. Rita also serves on the Clinton County Planning & Zoning Commission and the Clinton County Justice Commission. Rita has served as the past president and vice-president of the Calamus-Wheatland High School Athletic Boosters. And since 2007, she has placed foreign exchange students at Calamus-Wheatland, Central of DeWitt and North Scott High schools as an International Exchange Coordinator.

Rita Hart is 55. She and her husband Paul have five children: Michaela, a credit analyst in Ankeny, IA; Marae, who attends a writing program in Maine; Karen, who is attending Drake Law School in Des Moines; Tressa, a sophomore at the University of Iowa and Alec, a senior at Calamus-Wheatland High School. Rita and Paul are active members of St. Ann's Catholic Church near Long Grove.
I would not be surprised to see more Democrats declare in this district, given the party's voter registration advantage in Clinton County. For now, it appears that Senate Democrats have lined up a candidate with a strong resume. Hart has held a variety of jobs in the education field. Her work on planning and zoning should give her a good understanding of land use issues. Naeve won't be able to claim she doesn't understand agriculture, because her family has run a farm for about 25 years.
Any comments about Senate district 49 are welcome in this thread.