There will be a competitive Democratic primary in Iowa Senate district 49. Attorney and small business owner Dorothy O'Brien announced her candidacy today, less than a week after Rita Hart became the first Democrat to declare in this district.
Senate district 49 covers all of Clinton County and part of northern Scott County: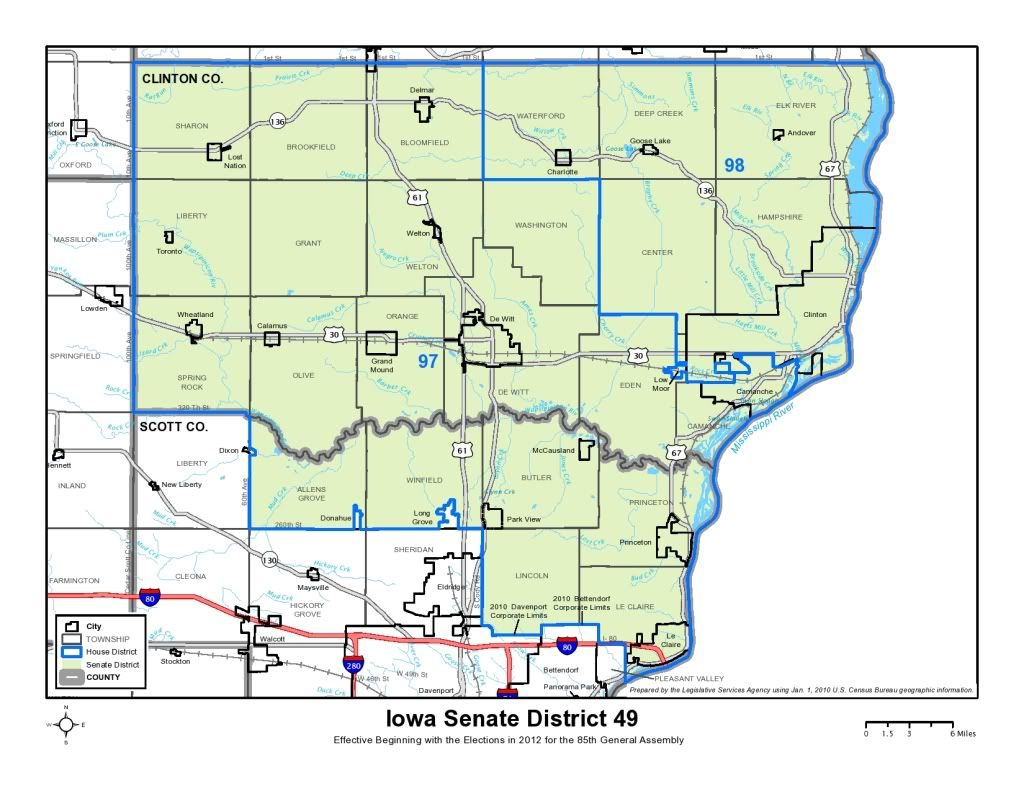 Bleeding Heartland posted background on Hart here. O'Brien's press release today covered her biography and priorities:
Dorothy O'Brien, an attorney and small business owner from Clinton announced today that she will run for election for Iowa Senate District 49. O'Brien is a Democrat.

"The economy isn't improving fast enough for working families in Eastern Iowa," O'Brien said. "We need good jobs and new initiatives to grow Main Street businesses. I'm a small business owner and advocate for Iowa workers. I believe my experience in working together with both sides to get things done is needed at the State Capitol today. And that's why I'm running for the Iowa Senate."

O'Brien added that her primary concerns are working with small business and employees to improve the state's economy; ensuring that families are paid fairly for a hard day's work; and restoring the high standards of excellence to Iowa's public schools.

"Getting the economy moving again means harnessing the creativity and ambition of small business with the hard work, intelligence and dedication of Iowa's workforce," O'Brien said. "And to do this we've got to make sure that our workforce is educated. Students and displaced workers need every educational opportunity available in order to get the 21st-century job training that today's employers need."

O'Brien founded Wide River Winery in 2005 and employs 14 people. She has served as President of the Clinton Symphony, President of the Clinton County Bar Association and on the Executive Board of the Scott County Bar Association. O'Brien was Legal Education Chair of the Iowa State Bar Association--Labor and Employment, and has volunteered as a trainer for high school students against sexual harassment. O'Brien was recognized with a Gold Key Award by the Clinton Community School District for her work as a volunteer mock trial coach. She is a frequent speaker at legal education seminars.

O'Brien has lived in Clinton County for 38 years. She and her husband C.H. Pelton live on a farm north of Clinton. They are the parents of 5 children: Ann Pelton, Elizabeth Quinn, Carol Pelton Balducci , Matthew Cardoni and Brent Pelton. O'Brien is an attorney who represents employees against large corporations. She has won employee benefits, unpaid wages and wrongful firing cases for her clients in a 27-year legal career.

O'Brien noted that while some cases must be fought to the end, the vast majority are resolved through negotiations. Listening, compromise and negotiation are how the legislature should work.

"I think the best way to learn is by listening," O'Brien added. "I want to hear from anyone with a concern or a good idea for moving our community forward. Please contact me at (563) 340-5678 or email to iowasenate49@gmail.com"

I wouldn't be surprised to see more Democrats join this race before the filing deadline for state legislative candidates in March. Four Democrats competed to represent the old Senate district 13 (containing Clinton County) in 2010. Having multiple candidates pounding the pavement before the June primary should help Democrats in the general election, as long as the primary campaign doesn't turn extremely negative.
I asked O'Brien today how she would make the case to primary voters who have more than one Democrat to choose from in Senate district 49. She said her "experience speaks volumes" and cited her work managing small businesses in particular. Looking ahead to a possible general election campaign against a Republican who will also emphasize small businesses and job creation, O'Brien said that Democrats have a "proven better agenda" for running "smart government" and improving the economy. She added that she is a "pragmatic" person and would be willing to negotiate to find common ground with legislators on the other side.
The winner of the Democratic primary in the new Senate district 49 should be favored against likely Republican nominee Andrew Naeve, the GOP candidate who almost won the old Senate district 13 in 2010. As of April 2011, the new district 49 contained 13,524 registered Democrats, 10,139 Republicans and 16,918 no-party voters. Democratic turnout in a presidential election year should be higher than it was in 2010, unless the Iowa Democratic Party's coordinated GOTV campaign is a total failure.
Share any relevant thoughts in this thread.