Iowa Senate Democrats received unwelcome news from Marshalltown yesterday when former Republican State Senator Larry McKibben announced that he will run in the new Iowa Senate district 36 this year. McKibben's decision makes this seat a tougher hold for first-term Democratic incumbent Steve Sodders.
The new Senate district 36 covers all of Marshall and Tama Counties, plus a small rural area in southwest Black Hawk County.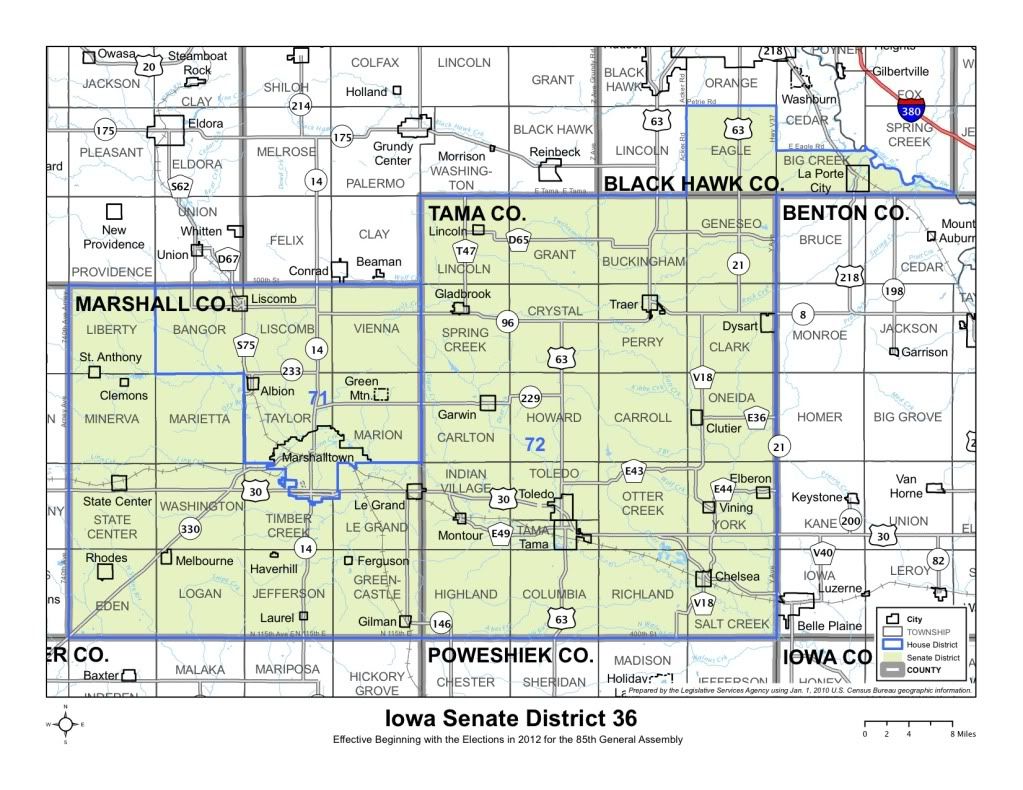 According to the Iowa Secretary of State's office (pdf), the new Senate district 36 contained 12,368 registered Democrats, 13,060 Republicans and 16,226 no-party voters as of February 2012. When the legislature approved the new Iowa map last April, the GOP voter registration advantage was several hundred votes smaller in this district. Thanks to the Iowa caucuses, the GOP made registration gains all over the state. It's too early to know how many of those new registrants were just "Republicans for a day."
McKibben served three terms in the Iowa Senate before retiring from the current Senate district 22 in 2008. That district covered all of Marshall and Hardin counties, plus a tiny sliver of Franklin County. During the 2005 and 2006 legislative sessions, Democrats and Republicans shared power in the evenly-divided Senate, and McKibben co-chaired the State Government Committee and the Justice System Appropriations subcommittee. After Democrats gained the Senate majority, McKibben served as ranking member on both the Ways and Means and Judiciary committees during the 2007 and 2008 sessions.
McKibben spoke yesterday to the Marshalltown Times-Republican newspaper:
McKibben grew up in Marshalltown and is an attorney and senior partner in the Marshalltown law firm Moore, McKibben, Goodman and Lorenz, LLP.

McKibben, 65, said he felt called to run again and he believes he has proven himself to be an electable candidate.

"It's a challenge that I want," he said. "I feel like I owe it to my community to do what I can to make this a vibrant community." […]

McKibben said he would like to focus on job creation, education reform and commercial property tax reform if he is elected. He believes he has enough local support to give him a good chance to be elected.

"I wouldn't be doing this if I didn't think I had strong Republican leadership and strong grassroots support," McKibben said.
Republicans have had another announced candidate in Senate district 36 for months. Jane Jech previously ran for the Iowa House twice against Democrat Mark Smith of Marshalltown. He defeated her easily in 2008 but survived the 2010 Republican wave by only about 300 votes. From the short bio on Jech's Iowa Senate campaign website:
Jane and her husband moved to Marshalltown in 1978. She was employed at Commercial State Bank for approximately twelve years. During that time their four children were born. Their oldest son, Adam, is married to Brook Eastman of Marshalltown and they have three daughters: Tia, Felicity, and Ellie. Their second son, Jeremy and his wife, Leah, live in Cozad, Nebraska where Jeremy is a pastor. Their daughter, Amanda Freiberg, teaches fourth grade at Fisher Elementary School in Marshalltown. She and her husband, Brian have one son, Gavin. Kerry and Jane's youngest son, Jordan, is employed with CIRSI in Marshalltown. All four children attended the Marshalltown School District where Jane frequently volunteered, including serving on the School Improvement Team (SIP) for a number of years.

Jane returned to college in 1991 and graduated with her Bachelor of Arts Degree in Music Education from Iowa State in December of 1994. She taught music for three years, including two years at Anson Elementary. She later did substitute teaching in Marshalltown and other surrounding school districts while also working part time at New Hope Christian Church. Her employment at the church as Worship Director eventually became full-time. She left her position at New Hope in April of 2009.

Jane served nine years (ending in September of '08) as an elected Trustee on the Iowa Valley Community College District Board. She considers that experience a great preparation for serving in the Iowa State Senate. She continues to volunteer at her church, the House of Compassion as an overnight monitor, as a Resident Advocate at Iowa Veteran's Home, and more. She is again working as a substitute teacher in the Marshalltown School District.
Jech formally announced her candidacy in September but was already campaigning at parades and local events around Senate district 36 last summer. She didn't raise much money during 2011, though. Her campaign finance report filed last month showed just a few thousand dollars in donations and expenditures. At year-end, her campaign's cash on hand was a meager $784.13.
Speaking to the Times-Republican yesterday, Jech didn't sound ready to stand aside for McKibben:
"I'm not surprised but I'm very disappointed in him running since he told me in December he was not running," Jech said of McKibben's announcement. "We'll continue to go out and meet the people of this district.
I'll go out on a limb and guess that some Marshalltown Republicans were "very disappointed" to learn that their Iowa Senate candidate had less than a thousand bucks in the bank. The incumbent Sodders reported raising more than $31,000 in 2011 and had $26,630.39 cash on hand going into the election year.
Moreover, logic suggests that a Republican who couldn't beat an incumbent in a swing Iowa House district in 2010 is not the best candidate against an incumbent in a swing Iowa Senate district this year.
I would bet that McKibben has been heavily recruited since he told Jech in December that he wasn't running for the Senate. Why shouldn't he try to make a comeback like Governor Terry Branstad?
No doubt Sodders would rather run against Jech, but he tried to sound unfazed in this statement released by the Iowa Senate Democrats yesterday:
"The Republican primary between Jane Jech and Larry McKibben should be something to watch.

"In the meantime, I will continue to focus on jobs, education, public safety and other issues that matter most to Iowa families and businesses. I will continue to be a bi-partisan, common sense voice for middle class priorities, including a property tax cut for all Iowa businesses and other economic initiatives to get Iowans back to work."

Steve Sodders of State Center, a Marshall County Deputy Sheriff, coach and community activist, announced last year that he would run for re-election in the new Senate District 36. District 36 covers all of Marshall and Tama Counties and two precincts in southern Black Hawk County,including La Porte City.

Recently, Sodders received the Iowa Valley Community College Outstanding Contribution Award.

His accomplishments in the Legislature include:

· Providing incentives to boost production of renewable energy, which results in creating jobs in Iowa that won't be exported to another state or country.

· Balancing the state's budget without raising taxes.

· Maintaining basic funding for local public schools and teachers.

· Preserving Iowa's successful voluntary preschool program so tens of thousands of Iowa children can continue to get a jump start on their education.

· Holding down tuition costs at our community colleges so workers can get the training they need for 21st century jobs.
I doubt the primary battle between Jech and McKibben will be competitive, even if Jech stays in the race until June. For her to beat a former three-term senator would be an upset on the scale of Christine O'Donnell beating Mike Castle in the 2010 Delaware U.S. Senate primary–except Jech has less of a rationale for her campaign, since McKibben isn't a moderate like Castle was.
A race between Sodders and McKibben will be more like a clash between two incumbents than a typical incumbent versus challenger race. McKibben goes into the campaign with extremely high name recognition in the Marshall County part of the district. He'll be financially competitive too. Since Marshalltown is the base for both candidates, Sodders may need to run up the score in Tama County to win.
Sodders won his open-seat race in 2008 by a roughly 3,000 vote margin (pdf), even though Republicans had a slight registration advantage in the district (pdf). (At that time, Senate district 22 contained 12,279 registered Democrats, 12,703 Republicans and 15,457 no-party voters.)
The presidential election results by county (pdf) show that Barack Obama performed very well in Marshall and Tama counties in 2008. In contrast, Obama barely edged out John McCain by a few dozen votes in Hardin County. Sodders must be glad to have traded Hardin for Tama on the new map. (The latest voter registration numbers by county are here.) If the 2008 trends hold, Sodders may benefit a bit from Obama's coat-tails. Then again, I'd be surprised if Obama won Iowa this year by as large a margin as in 2008.
Sodders chairs the Iowa Senate Economic Growth Committee. In his December 21 press release announcing his re-election bid, he indicated that his campaign will rely on direct voter contacts and a message of bipartisanship. Presumably that stance would help him with the no-party voters who have a plurality in the new Senate district 36. Excerpts:
"I'm running for re-election because the job of economic recovery for Iowa families isn't over," said Sodders. "I will continue to be a bi-partisan, common sense voice for middle class priorities, and I will continue to work for more economic initiatives to get Iowans back to work."

He added: "As parents, my wife and I know everyone wants their children to have the best education possible and the opportunity to find good jobs here in Iowa. I will work for continued investment in our local schools and an even playing field that encourages economic development and creates good jobs in Senate District 36." […]

"Good ideas don't come with party labels," Sodders said. "As chair of Economic Growth, I worked with both Republican and Democratic members of the Iowa Senate, as well as business leaders, labor organizations and the governor's office to pass a bi-partisan bill to restructure the Iowa Department of Economic Development into a public-private partnership. It's my belief that we must continue to work together to put more Iowans back to work."

Prior to serving in the Marshall County Sheriff's Office, Sodders worked in the Grundy County Sheriff's Office, and police departments in Huxley, Eldora and State Center. Sodders currently serves as a field training officer for the Marshall County Sheriff's Office; he's also a D.A.R.E instructor and was a detective on the Mid Iowa Drug Task Force, which serves Tama, Marshall, Grundy and Hardin Counties. While on the Task Force, Sodders was instrumental in breaking up one of the major drug cartels coming into and through Iowa for which he received the U.S. Attorney's Office Law Enforcement Coordinating Committee Award.

Steve has been active in the YMCA, the Iowa Rivers Red Cross and is currently active with Youth and Shelter Services, Iowa Teamsters Law Enforcement League, and Hope United Methodist Church. He is a member of the Iowa Sheriffs & Deputies Association. Sodders has also coached soccer and wrestling to middle school and high school students. Sodders is also a Mason with Full Moon Lodge in Melbourne.

Sodders and his wife, Carrie, have been married for 19 years and they have two children who attend West Marshall schools. Carrie works as the Early Head Start Educational Services Coordinator for Mid-Iowa Community Action. She also serves on the board of the Marshall County United Way. Sodders has a two-year degree from Marshall Community College and is also working to earn his Bachelor's degree at Iowa State University.

Sodders said his campaign will focus on talking personally with as many voters as possible.

"I believe that listening is one of the best ways to learn. I'm interested in listening to everyone with a concern or an idea about how we move Iowa forward," said Sodders. "People are welcome to call me at my home, (641) 483-2383 or email me at soddersshrew@partnercom.com."
State Representative Mark Smith is seeking a seventh term in the Iowa House from the new district 71, which covers Marshalltown and a small rural area in Marshall County. I am not aware of a declared Republican challenger to Smith. The rest of Senate district 36 is part of the new House district 72, open because Republican State Representative Lance Horbach decided to retire. To my knowledge, neither party has an active candidate in this district.
Any relevant comments are welcome in this thread.